Knowledge bases are powerful customer service tools. Not only do they provide self-service solutions without using a support agent, but they also help service personnel support customers during calls and emails.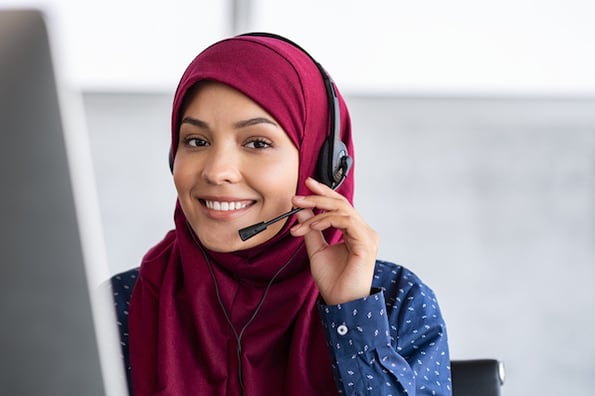 If you've never worked in a call center, then you might be surprised how often service reps will search the knowledge base after listening to a customer's problem. Most of the time, it's not that the agent doesn't know the answer, but rather they want to make sure they're communicating accurate information. And, what better place to confirm that than a standardized database built by your customer service team?
In this post, we'll explain how call centers can build and manage effective knowledge bases for their customers. Then, we'll wrap up by providing a few examples of call center knowledge base software that you can use to get started with customer self-service.
How to Build a Knowledge Base
1. Analyze Your Call Center Data.
If you're building your knowledge base from scratch, you should start by looking at your call center data. Try to identify the most common customer inquiries and make note of the products and services that customers are calling about frequently. It's okay to start small then build your knowledge base over time, but you should start with your most popular and straightforward cases before moving on to more unique ones.
2. Categorize Common Customer Inquiries.
The next step is to categorize these cases into clusters or groups that you can expand over time. If your call center uses a help desk, then you may have a tagging tool that can help you complete this step. By creating tags for each group and tagging each new piece of content, you'll have a system in place that not only identifies the type of problem you're solving but also stores that knowledge base article with other resources that document similar problems.
3. Create Clear and Straightforward Content.
Once you know which problems you're going to provide solutions to and how they'll be categorized, you can now start creating your knowledge base content. Remember, customers should be able to answer their questions using only the resource, so your writing should be clear, concise, and easy to follow. If possible, try to add images or videos that can walk customers through your troubleshooting steps.
If you're looking for a handy to guide to creating this type of content, check out these tips.
4. Optimize Your Content's Layout and Design.
With the writing done, you can now focus on how you'll organize and design your knowledge base. You can do this from scratch, or you can use a template to save you some time. Regardless of what you choose, your knowledge base should look and feel like the rest of your website.
5. Add a Search Function.
It's incredibly important that your knowledge base has a search function so visitors can easily locate answers by typing in their questions. Customers want fast solutions, which means they won't be excited about having to click through a series of links to find one resource article. At that point, they'll probably just call your support team which defeats the purpose of your knowledge base. Adding a search function gives customers a familiar way to navigate your content, even if they haven't visited your site before.
6. Publish Your Knowledge Base.
Once everything is set up, it's time to publish your knowledge base. Most businesses will upload it as a subsection of their website, adding a subfolder to their primary domain's end URL. But, you can also publish your knowledge base as a subdomain, depending on your DNS provider and how your site is designed. Whichever you decide, your knowledge base should be easily accessible from your home page so people can find quickly within moments of visiting your site.
7. Gather Customer Feedback.
Now that you have your knowledge base up and running, the next step is to find out if it's actually helping customers. The best way to do this is to survey your customer base and ask if your content is actually useful and relevant. You can use an exit survey on your knowledge base to ask customers about their experience, or you could use a Likert scale or Net Promoter Score to get more quantitative feedback. This information is extremely valuable if you want to continuously improve your knowledge base content.
8. Repeat Continuously.
Knowledge bases aren't one-time marketing campaigns. They're living databases that need to be updated and managed routinely. If your content is out of date, then it won't be useful for your customers.
Now that we've built a functional knowledge base, let's review some tips for using it with your call center.
How to Use a Knowledge Base in a Call Center
Have Service Personnel Write Your Knowledge Base Content.
If you're not sure who should write your knowledge base content, the answer might be sitting — or standing depending on what desk they use — right in front of you.
Service personnel are often great knowledge base writers because they work with your products every day and it's their job to explain how to fix them when things break.
Take HubSpot's knowledge base, for example. HubSpot asked its support reps to write its self-service content, and now it's knowledge base is an integral part of its support system.
Direct Customers to Your Knowledge Base.
When you're on the phone with a customer and you know there's a knowledge base article that can solve their problem, try to direct them to your website before you end the call. If you show them that a recorded solution exists and where they can find it, they'll be more likely to use this resource the next time they have a question for your team. In fact, 67% of customers prefer to use a self-service resource instead of speaking with a human representative.
Walk Customers Through Troubleshooting Steps.
During the times when you do get the customer to look at the knowledge base article, don't just leave them there and hang up. Walk them through the troubleshooting steps and answer any questions they may have along the way. This ensures they get their desired outcome and it teaches them how to solve the problem in case it happens again.
Encourage Service Agents to Use the Knowledge Base.
For some companies, customer support is a challenging job. You have to know all of your organization's products inside and out and some businesses have an extensive product line with different models and features. With updates launching daily and new products being released, it's sometimes too much to expect one person to memorize all of that information.
This is where your knowledge base can support employees as well as your customers. If an employee isn't sure where to start or needs a quick refresher on a troubleshooting process, they should turn to the knowledge base for help. It can be a handy resource to leverage when you're expected to provide quick responses over the phone.
Forward Knowledge Base Links in Follow-Up Emails.
Sometimes a customer won't have the time to walk through a knowledge base with your reps. They might be in a hurry and need a speedy solution rather than a long-winded explanation.
In this case, you should solve the customer's immediate need. Give them the response they're looking for and answer any additional questions they might have at that moment. But, after they hang up, send them a follow-up email containing a link to the knowledge base article you were planning to share. Let them know that you understood they were in a hurry, but you wanted to make sure they had this resource for future reference. This is a great way to show a customer you're invested in their long-term success.
With your team now ready to go, let's finish up by looking at some knowledge base software that can make your content stand out from the competition.
Call Center Knowledge Base Software
HubSpot's knowledge base software lets you build a library of support pages that looks and feels like the rest of your website. You can personalize designs to match your company's branding, customize layouts for easier navigation, and preview how each page will look on different devices and browsers. You can also track your knowledge base's performance using the reporting tools installed on the platform. These metrics will give you a good idea of whether your knowledge base is successfully supporting your customers.
Price: $40/month for Starter Plan, $320/month for Professional Plan, $1,200/month for Enterprise Plan
ProProfs.com offers a cloud-based knowledge base that can be managed collaboratively by your support team. With this tool, all of your reps can contribute to the knowledge base, which makes it easier to create and add content over time.
If you do want to manage who can edit knowledge base articles, ProProfs.com also offers an administrative feature that can permit and restrict access to editing resources, like in the example above. So, if you only want your most-experienced reps writing this content, you can limit the team's editorial access to just that group.
Price: Starts Free; $0.30/page/month for Essential Plan, $0.50/page/month for Premium Plan
Unymira has built a support platform that revolves around your knowledge base. For example, with this tool, you can create e-learning content using your knowledge base articles. E-learning can help you onboard new customers and train your support personnel. There are also decision-trees that can guide reps through troubleshooting processes, and chatbots that can locate content for customers.
Price: Pricing available upon request
HelpSite is an easy-to-use tool that helps you create a straightforward knowledge base for your website. One of its most notable features is its "smart contact forms" that automatically suggest topics or articles relevant to the visitor's search inquiry. These suggestions are displayed to the right of the search bar as the visitor types their input, similar to the example below.
Price: Starts Free; $15/month for Standard Plan, $50/month for Gold Plan, $100/month for Plus Plan
The editor interface that Document360 designed is a unique tool that's really helpful for new content creators. It has a variety of built-in "smart tools" that make helpful suggestions to users as they type. Below is an example of this interface from Document 360's website.
Price: $49/month for Startup Plan, $149/month for Business Plan, $299/month for Enterprise Plam, $499/month for Enterprise Plus Plan
Every knowledge base should include an FAQ page. Learn how to create one in this next post.