Have you ever received an angry customer complaint and not known how to respond? Whether it's not your fault or you can't understand their frustration, sometimes customers can leave your customer service teams speechless when they report a negative customer experience. It's these cases where your support team becomes reluctant to respond to the complaint.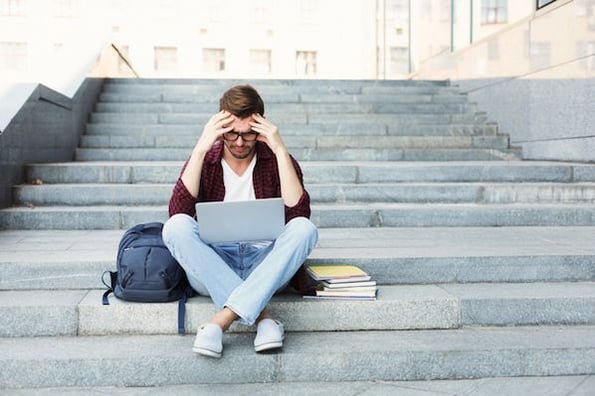 However, ignoring the customer won't make the problem go away. In fact, it can actually snowball into more severe issues for your company. According to research by Gartner, evading a customer complaint on social media can result in a 15% increase in churn rate.
In this post, let's review how customer complaints can impact your business and how to handle them.
How Customer Complaints Impact Business
Customer complaints can take place on public or private channels and they highlight an apparent flaw in the company's offer. Addressing these complaints on a consistent basis is imperative when creating a customer-centric company.
Think about it like this: When you ignore a customer complaint or respond by placing blame, you're letting the entire world view your brand through a negative lens. Take the opportunity to show off how polite and patient your brand is by responding with careful thought and kindness.
To handle social media complaints, you'll probably use a management tool, like Hootsuite, to help your reps address complaints on several platforms at once and publicly show off your excellent customer service.
By taking the time to understand their complaint and search for a solution, you can avoid customer churn. In fact, almost 91% of unhappy customers will not willingly do business with your organization again.
If your customer support reps are having trouble responding to tricky customer complaints, here are a few tips we compiled to help guide your team.
How to Handle Customer Complaints
Fix the problem as fast as you can.
Be specific with your response.
Keep customer conversations on the same platform.
Respond to all social media complaints.
Don't pass customer conversations between reps.
Be immediately accessible.
Avoid making repetitive apologies.
Provide constant updates.
Don't make it personal.
Solve for the customer, not for your support team.
Ensure the customer understands you're an advocate, not a blocker.
Always follow up after an issue is resolved.
1. Fix the problem as fast as you can.
When an angry customer complains to your support team it's because they want their problem fixed before you even picked up the phone. They don't care that your rep asks, "How's your day going?" or that your standby music is catchy. These things are now expected as the standard in customer service. What really sets your support team apart though is whether or not you can actually fix the customer's problem.
Your customers want your reps to be friendly, not to be best friends with them. The less time they spend working with your rep the better chance you have of creating a positive experience. Customers have busy schedules and it can be detrimental to your business if you interfere with their workflow.
2. Be specific with your response.
It's easy to tell a customer, "I'm sorry." However, this lackluster apology won't win back any of their favor. Sometimes your team will have to admit your mistakes, and it's important that you're specific when acknowledging them. Use details from the case to show the customer that you're invested in their goals too. A good rule of thumb is to highlight the mistake made by your business, then apologize for how that prevented the customer from reaching a specific goal.
Lisa Mulhaire, a customer support specialist at HubSpot, says, "A lot of reps are unsure about how much they should say 'Yes, we're wrong here,' particularly if it's a complaint about the lack of a feature. Our general rule of thumb is if it's a lack of service or a lack of functionality to steer away from an apology. Lead with empathy and let the customer know we understand it's a roadblock though."
She adds, "After having a quick chat with my team to get a sense of what different terms people like to go with, a big one is always 'I'm afraid we're unable to...' but then follow up with a clear reason why we can't or a suitable alternative."
Additionally, in these cases, it helps to reuse the customer's words. This not only ensures clear communication but also can prevent a customer from becoming further agitated. For example, let's say a customer tells you they're "a little stressed" about an issue and your rep responds by saying, "I'm sorry this frustrated you." The rep has now let the customer know that they're allowed to act fully frustrated, instead of being a "little stressed." By reusing the customer's words in your responses, you can deter them from escalating their emotions.
3. Keep customer conversations on the same platform.
If a customer tweets at your company's account, it would be a little concerning if you went ahead and called them. When handling social media customer complaints, it's important to meet the customer on the communication channel where they reported the issue. Whether it's live chat, phone, or social media, the customer reached out via this channel because they felt it was the most appropriate for them. By switching channels without their consent, you may put off the customer who's already frustrated with your business.
4. Respond to all social media complaints.
Whether you believe it or not, consumers view social media as a legitimate platform for customer service. In fact, 80% of consumers use social media to engage with brands. The convenience aspect is enticing to customers and they'll use social media to report their complaints, whether you're ready for them or not.
A great example of this comes from the Adidas Twitter account. After many customers complained on social media about an insensitive email, the company responded publicly, on the same channel.
People prefer social media because of its accessibility, so your team needs to be prepared to handle customers who reach out via these channels. Dedicate some customer support reps to monitor your company's social media accounts and have them respond quickly when customers voice their displeasure.
5. Don't pass customer conversations between reps.
At HubSpot, we have a stern rule that we don't transfer calls except in extreme situations. This improves the customer experience because customers feel that their problem is being addressed immediately and that they have a dedicated resource to rely on moving forward. Customers understand that your reps will sometimes need help but getting assistance shouldn't come at the expense of the customer's time. Nothing is more frustrating than waiting on hold only to repeat the same problem to a brand new rep.
6. Be immediately accessible.
Sometimes customer complaints can't be resolved in one interaction and they require your rep to follow up. It's okay if your rep needs to work with teammates to fix a problem for the customer but be sure they're available to talk should the customer need them again. Your customer may have additional questions, want an update, or even have discovered something important that can help. After the first interaction, your support rep should ask the customer about their preferred communication channel. Then, the rep should provide additional details that explain how he or she can be reached if they're not immediately available on that platform.
7. Avoid making repetitive apologies.
It's important that you let your customers know that you care, but don't overdo it. On phones and live chat, it can be easy to make repetitive apologies when you're not quite sure what to say. If you keep saying "I'm sorry" eventually your empathy loses its sincerity. Instead, try replacing the phrase "I'm sorry" with "thank you for." That may seem counter-intuitive at first, but when you shape your apology into the form of gratitude it can often diffuse emotional customers.
Nick Cull, a customer success channel consultant at HubSpot, says, "There are specific words or phrases that should be avoided in an 'escalated' scenario. One of which is the word 'unfortunately' using that word reinforces the feeling that what the customer is experiencing is unfortunate. You may acknowledge their issue and empathize with them but words/phrases like 'unfortunately' 'I can't' 'I think/you probably' tend to perpetuate the frustrations the customer feels."
For example, let's say a customer is angry that a support case hasn't been resolved in a timely manner. Instead of saying, "I'm sorry that this problem took so long to resolve." Try reshaping it to, "thank you for your continued patience while we resolve this problem." Both phrases address the same pain point, but it becomes harder for the customer to get angrier with a rep who is singing their praises for providing useful customer feedback.
One note here is when using this "thank you" approach, be sure to continue to express empathy towards the customer's needs. You don't want your response to come off as sarcastic or insincere.
8. Provide constant updates.
For some complaints, you'll need to follow up with the customer to provide additional information. That happens, but it's important that you don't keep your customers in the dark when it does. Support reps should be constantly providing updates to customers with information regarding the status of the case. Even if you don't have new details, customers will notice your continued focus on their case. They just want to know when they can expect a resolution, so be honest with them and ask them if there's anything else you can do for them in the meantime.
9. Don't make it personal.
Having worked in customer support, I know how tricky this one can be. Customers are quick to point out your flaws and can sometimes forget that you're a person too. Let it go, and remember that we've all been a difficult customer at some point, too. Your customers aren't mean people and they don't think you are either. They just want their problem solved and sometimes external stresses can cause them to report harsh reviews. In these cases, it's important to focus on achieving the customer's goals because it's the most effective way of diffusing extremely harsh complaints.
10. Solve for the customer, not your support team.
Customer support can be a demanding job, and it can be tempting to cut corners to save time in your cases. At HubSpot Support, one of our core mottos is "solve for the customer, not for yourself." This means that our reps place the customer's needs as their number one priority in a support case. While that sounds a bit cliché, it's an important reminder for our service team that our customer's success is the reason for HubSpot's growth.
11. Ensure the customer understands you're an advocate, not a blocker.
When customers need to make a complaint, it's important that they don't see you as an adversary, but rather someone who's there to help them.
Cull says, "I always make it a point to ensure that the customer understands that I am there as an advocate, not a blocker. Our role as success reps or support reps is to alleviate problems and create a clear path for our customers to proceed with. As soon as the customer begins to show signs of frustration, it's vital that you remind them that you're on their side and will do everything you can to resolve their issue."
12. Always follow up after an issue is resolved.
After an issue has been addressed, it's important to follow up. "Once the issue has been resolved, ensure that it's truly put to bed," says Cull. "This helps the customer understand that you understand the impact of the issue they originally faced and that you care about the longevity of the proposed solution. Check-in with the customer, touch base, collect ongoing feedback. These are the things that product managers, service providers, and leadership rely on to help the company grow."
Customer complaints affect every business no matter how successful, making it crucial for your customer service team to be capable of handling even the most frustrated customers.
Editor's note: This post was originally published in June 2018 and has been updated for comprehensiveness.