In 1952, a restaurant in California purchased eight Prince Castle milkshake machines, each capable of producing five milkshakes at a time. This was pretty unusual activity for a small burger stand in the 1950s, so the salesman from Prince Castle went to the restaurant to check it out.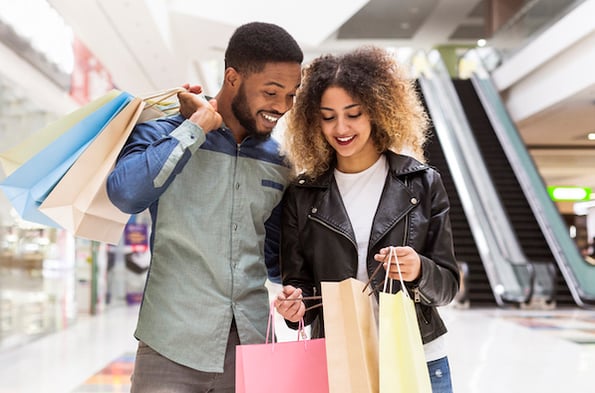 What he found was a company that had revolutionized the customer experience to revolve around efficiency and product quality. The building was customized to fit the natural workflow of the employees and the milkshake machines were churning out 40 milkshakes at a time, constantly.
That little burger stand grew into what we know today as McDonald's, and it's still the largest fast-food chain in the world.
Moral of the story? Every business should want to innovate its customer experience. It makes you unique and it lets you offer something that your competitors can't.
But, innovation doesn't happen overnight. The founders of McDonald's spent years analyzing, planning, and testing until they found the restaurant design that was right for them. That doesn't mean it's impossible to match their success, but it will take some time, dedication, and hard work.
If you're looking to get started, read on for a list of ways you can innovate the customer experience at your business.
Customer Experience Innovation
Innovating the customer experience means adding more value to the customer's relationship with your business. While there are many ways to do this, these efforts should generally foster a stronger connection with your customer base by offering products, rewards, and services that your competitors can't.
How Innovating the Customer Experience Is Different Than Improving It
Innovating the customer experience is different from improving the customer experience because it is forward-thinking and exploring new experiences to add rather than updating and changing your existing ones.
Airbnb is a great example of experience innovation in hospitality. It didn't seek to change the existing hotel industry and implement new practices, but instead added a new way for people to find accommodations when traveling. It built upon an existing customer experience and added new opportunities.
However, innovating the customer experience can improve the customer experience as offering new and unique ways for customers to interact with you can increase customer delight, and customers who are delighted have a positive customer experience.
For more specific ways to innovate the customer experience, read on for a list of tips and examples that we gathered below.
14 Ways to Innovate Your Customer Experience
1. Establish an online presence.
The most significant innovation you can make for your business today is to bring your brand online. That doesn't necessarily mean ecommerce, as just simply having a presence online makes your company more accessible and helps new customers discover your business.
Business Example: Wootten
Wootten, an Australian leather retailer, has an excellent website showcasing its brand. Its homepage features products front and center, and each item comes with detailed descriptions for specifications and pricing. Its service section also helps customers succeed with its products, like maintenance guides and proper care instructions.
2. Offer a customer loyalty program.
An effective way to boost customer satisfaction and retention rates is to offer a customer loyalty program. Loyalty programs add value after a purchase is made, keeping your brand relevant even when the customer doesn't need to buy one of your products.
Business Example: Boloco
Boloco's loyalty program is great because it's simple and to the point. After every $50 spent, customers receive a free item. It doesn't matter if the item is an extra-large burrito or just a side of guac — the customer can choose their reward from the full menu.
3. Provide a customer success manager.
A customer success manager can influence the customer experience by removing post-purchase roadblocks that affect customer success as CSMs are assigned to customer accounts to look for opportunities to improve customer experience. Part of this involves troubleshooting and answering questions, but most of it is strategizing how the customer will succeed after purchasing something from the brand.
Business Example: HubSpot
From prospect to evangelist, HubSpot's customer success managers have a direct impact on the customer experience. They guide new customers through the onboarding process and support them via phone and email throughout the rest of the customer journey. They act as a reliable resource always available for help, whether customers want to learn how to use a product or express interest in buying something new from the company.
4. Redesign your onboarding.
First impressions can greatly influence the customer experience, particularly right after a purchase is made. An onboarding program where you teach new customers how to use your products can ensure they don't get frustrated learning about your product on their own and won't abandon it because they feel it's too complicated or doesn't fit their needs.
Business Example: Duolingo
Learning a new language is a challenging process, and Duolingo understands this. It has designed an onboarding program to optimize customer retention with an easy and interactive setup process to help users begin their lessons, and reminder notifications, like the one pictured below, are a nice reminder to return to the app and continue making progress.
5. Provide omnichannel support.
Some of your customers might want to use Facebook Messenger to ask for help instead of picking up the phone. Additional support channels innovate the customer experience because you meet customers where they already are, making your support teams more accessible to your customer base.
Speed is also crucial, so having plenty of channels for communication makes it easier for your customers to obtain information quickly.
Business Example: Spotify
Spotify uses Twitter to respond to questions that people ask on the app. It also encourages users to request new songs via Twitter, so its team knows what type of music to add to the platform. It serves as a great way for Spotify to improve its product and retain and attract customers as well.
6. Add a chatbot to your website.
A great way to innovate the customer experience is by adding chatbots to your website. It automates support functions, saving time for both customers and support reps. Chatbots also field basic service inquiries and connect customers to the right reps when needed. This creates a balanced support system for customers in a hurry and those looking for a more detailed response from your agents.
Business Example: Cleo
Cleo is an AI-powered budget management app that helps people spend their money more efficiently, and its chatbot gives users advice to better adhere to their budget. Cleo can even personalize its messaging to support and encourage users based on whether they meet their daily goals.
7. Gamify the pre and post-purchase experience.
Gamification takes regular — often dull — activities and turns them into fun, interactive experiences. You can really change up your customer experience by adding gamified elements to the customer journey by keeping them engaged with your brand even when asking them to complete menial tasks like filling out a survey or paying a bill.
Tim Horton's loyalty program to includes gamified elements within its mobile app. Users can play games and "level up" while they work towards earning rewards to can redeem at Tim Horton's restaurants. It's a great way to keep the brand top of mind and encourage customers to return to the business, even though the games don't directly relate to Tim Horton's products.
8. Automate your practices.
You can make a big impact on your customer experience by automating routine functions for your support team. For example, a ticketing system can automate actions like creating new tickets, assigning them to reps, and sending follow-up emails if a ticket isn't responded to, and service workflows help you ensure that you can deliver on SLAs, so customer needs don't fall through the cracks.
These little actions can add up throughout a support shift, so the more you can automate, the more efficient your service experience will be.
If you've ever set up a cable subscription, you know it can involve a lot of back and forth with your provider's support team. First, you need to buy the subscription, then you need to set up the router, and finally, you need to activate your devices, so it's linked to your provider.
Comcast Xfinity makes most of this easy by adding an automated phone tree to its support experience. The AI first determines if there's an account associated with the caller's phone number, then tries to determine where they are in the setup process based on their previous interactions with the company. Once it pinpoints where the customer is having trouble, the system forwards them to a rep who's best suited to help.
9. Be proactive with your customer service.
Proactive customer service means your support team is actively looking for new problems that may affect the customer experience. When a new problem arises, your team gets ahead of the issue and either solves it before it affects your users or alerts your customers so they can prepare for it ahead of time. It shows customers that you're constantly thinking about their success and are doing everything to clear any roadblocks preventing them from achieving their goals.
Anglian Water is a public water provider in east England. If its system shuts down, its customers will want to know immediately about a disruption to their water supply. So, the company offers an interactive map that notifies customers whenever there's an outage or construction taking place on a water line. Customers can also subscribe to emails or SMS messages that will update them in real-time regarding any changes to their service.
10. Re-evaluate your mobile experience.
With so much focus on your stores, website, and social media accounts, it can be easy to overlook your mobile experience, but it is just as important as your desktop or in-store experiences.
Business Example: Nike
Nike created a self-service option within its mobile app to supplement the in-store shopping experience. Customers inside any Nike store can browse within the app, scan bar codes to get product availability within that same store, and also receive access to exclusive perks like location-specific rewards or discounts.
11. Build a customer-first culture.
A customer-first strategy is built from the top down. Management prioritizes customer needs and communicates those values to the rest of the organization. If everyone at the company is putting the customer first, then you'll have a culture that revolves around customer success and delight — not just the occasional interaction where a rep goes above and beyond.
Business Example: Amazon
Did you know in every company meeting at Amazon, there's at least one empty chair? It doesn't matter if the meeting is between two people or two hundred people; Amazon always keeps an extra chair empty to symbolize the voice of the customer. What this does is subconsciously embed the customer experience throughout all of Amazon's decision-making. Whenever an executive wants to make a change, that chair reminds them that they have to consider how this change will affect the customer as well as their experience with the company.
12. Listen and respond to customer reviews.
The best innovation is customer-driven, which means that customer input can be the primary inspiration for the change your business is making. Listening to and responding to customer reviews is the first step you can take toward customer-driven innovation.
Business Example: HubSpot
When it comes to customer reviews, HubSpot is in tune with what customers are saying about its products and services. The company not only monitors third-party sites for mentions and new listings but also participates actively by responding to customers shortly after they publish a review. Here's an example of one from Glassdoor that a HubSpot rep responded to.
13. Prioritize high-quality customer support.
Customer service is a customer acquisition tool — and a dang good one, too. If you provide high-quality customer support, people will want to work with your business, even if your products cost a little more. In fact, one in four customers is willing to pay up to 10% more in almost every industry if they know they'll receive excellent customer service. This means if your customer support is better than your competition, you'll have another marketing tool that you can leverage when attracting new leads.
Business Example: Zappos
Zappos is an online retailer that has built its reputation around customer service. It has a unique corporate culture that encourages support reps to do whatever it takes to delight the customer, even if that means going outside of standard policy or protocol. Zappos' customer support is so good that the company even promotes its most memorable interactions as advertisements, like in the example below.
14. Adopt powerful customer service tools.
As your customer base grows, the demand for your customer service team will increase as well. While your team may be able to maintain the same quality of service for some time, they can struggle to keep up as you continue to acquire more customers. This leaves you with the choice of either hiring more reps or adopting new technology to give your team a hand.
Tools like help desks and shared inboxes make a significant difference in your support team's workflow. They can automate tasks, enable collaboration, and help reps manage their queues as your customer base continues to grow. These tools help support teams meet the timely expectations of your customers while still providing that same quality of service that makes your brand stand out.
As the industry evolves, technologies rise in popularity and significantly impact customer service innovation.
Technologies to Innovate the Customer Experience
Leveraging emerging platforms and technologies allow you to innovate the customer experience as you're looking for the future possibilities of how your customers may come to exist within them or use them. Let's go over some of the current technologies that pose an opportunity for customer service.
TikTok
While still an emerging platform, TikTok can be a valuable tool for customer service innovation as its native features help connect customers seeking support from their favorite brands. TikTok below is from Topicals, a skincare company that created a video response to a question someone left in the comment section.
Audio Chat
Audio chat rooms are platforms where users can have verbal conversations with other members. In terms of innovation, you have the opportunity to connect with users and provide support in a new way with verbal conversations. A benefit to these chat rooms is that they can exist within the channels your customers are already using, like Twitter Spaces, so you're meeting customers where they already are with an alternative way to connect with you.
Metaverse
The metaverse is a virtual and artificial world that has skyrocketed in use over the past two years. While mostly used for gameplay, it is an emerging channel for businesses to take hold of to offer customer support. In terms of innovation, brands can use it to mimic real-life service experiences in virtual environments.
Helpshift recently launched Metashift, a tool with support solutions for virtual reality, where users will be able to access FAQs, self-serve, and leave feedback. Eric Vermillion, CEO of Helpshift, told VentureBeat "Users should have an easy way to leave feedback and get in-world support, without having to leave the metaverse experience."
Earlier in this post, we mentioned how innovation is most effective when it's customer-driven. However, achieving this isn't as simple as just asking customers for their opinions on your products. You need to develop a systematic approach that makes feedback more accessible and encourages customers to speak freely about your brand.
How to Create Customer-Driven Innovation
1. Gather customer feedback.
If you want to generate customer-driven innovation, then you'll need to get in touch with your customers and listen to their ideas. Whether this is through surveys, focus groups, or analyzing common support cases, you'll need to know how your customers feel about your products and where they think you can improve. Without collecting and analyzing this input, you'll continue making changes based on your team's perspective and not off of the recommendations of your customers.
2. Analyze your customer service data.
Direct customer feedback is great because it highlights a specific issue with your product or service. However, this data is not the only way to find out how your customers feel about your brand.
Customer data gathered by your shared inbox or help desk can be extremely helpful in understanding how customers feel about their experience with your company. That's because when you ask a customer directly for feedback, they may shy away from being honest since they're afraid to hurt your feelings. But, when you analyze support tickets from a third-party perspective, you'll notice that customers will speak more candidly about your brand.
This is exactly the information you want to analyze because it's unfiltered feedback about your company.
2. Provide an idea-submission process.
An easy approach to encouraging customer-driven innovation is to add an idea-submission feature to your website. This is a place where customers can voice their opinion on how you can improve your business and upvote ideas that other customers have submitted. Not every idea will be a game-changer, but it will show people that you value their input and are looking to improve their experience based on their suggestions.
3. Add a community forum to your website.
Community forums are great because they bring customers together and form a digital community for your brand. For example, HubSpot's community forum is a place where HubSpot customers can get together and discuss different ways to use the brand's products. They can submit ideas for new product features and offer workarounds to other customers who may be encountering similar challenges. Not only does this help customers find solutions to problems, but it also fosters a community that's loyal to the HubSpot brand.
4. Lead with a customer-first strategy.
For a support rep, the customer experience should be their number one priority. After all, it's their primary responsibility to ensure customers are satisfied with their experience and with the company. Outside of this, there isn't much more that a support rep has to concern themself with.
A company executive, however, has other things to think about than just one customer's experience. They need to think about the company as a whole and how certain changes will influence the business over time. This can make it easy for upper management to lose sight of the customer experience and put customer needs on the backburner as they try to solve other problems for the business.
If you want to maintain a customer-first strategy, then management needs to keep the customer experience at the forefront of their decision making. Regardless of what the executive is considering, they need to think about how each change will impact the customer's perspective of your brand.
For an organized approach to innovating your customer experience, learn how to develop a customer experience strategy.