If you celebrate your loved ones in February, now it's time to celebrate your other loved ones -- your customers.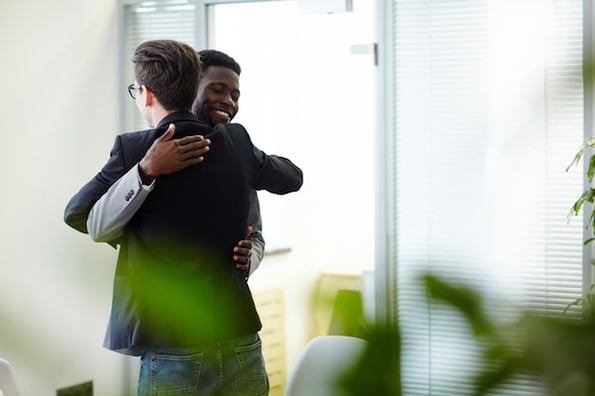 Believe it or not, an emotional connection with a brand is a greater predictor of continued loyalty than customer satisfaction. In today's age, when customers can connect with brands over social media and pay attention to the causes and issues brands get involved in, they have high expectations about how they want to be treated -- and they want to be treated like a valued partner.
In this blog post, learn about the benefits of customer love -- and 12 key strategies for giving (and getting) it.
The Benefits of Customer Love
When a business regularly shows its customers it loves them, that business also becomes a lovable brand. And making your brand lovable has a ton of great business benefits, including:
Customer referrals
Customer evangelism
Social sharing
Press-worthy testimonials
Customer retention and loyalty
Positive online reviews
User-generated content
Think about a brand you love -- or we'll use one I love as an example: Tom's of Maine natural health and beauty products. I tell my friends and family to try its products (customer referrals), I talk about how much you love them whenever the topic of toothpaste arises (customer evangelism), I'm happy to share interesting content the brand creates with my social networks (social sharing), I'd be thrilled to have that brand feature one of your "I love Tom's" rants (testimonials), and I regularly choose this brand over its multitude of competitors -- regardless of price or convenience (customer loyalty). I haven't shared a selfie brushing my teeth on my Instagram feed yet, but when I do, that will be an example of compelling (and trustworthy) user-generated content, too.
So, if you'd like your current and future customers to insert your business' name into the Tom's of Maine scenario above, below are 11 things you can do to start spreading the customer love -- and getting it in return, too.
12 Ways to Give and Get Customer Love
1. Feature case studies and testimonials.
If your product or service is one that helps make peoples' lives better in one way or another, feature your top customers in case studies or testimonials that you can publish on your website and share on social media.
Whether your products or services help them succeed in their business, or allow them to improve a certain aspect of their personal lives, highlighting your happy customers not only gives them an ego boost, but it also contributes to a positive brand image.
While the main benefit of this tactic will be on your end, considering that customer success stories are a very powerful sales tool, your customers will also get a valuable inbound link to their website -- and quite a bit of pride out of it, too. And if a case study customer is one who shares similar buyer personas with you, the promotion of their case study to your audience could open them up to potential new business.
2. Offer exclusive access.
Giving your customers early or exclusive access to new products or services, or special events or offers, can be a great way to show them you value their customer status.
Give them sneak peeks into product development, invite them to beta test new product features, allow them to be the first to try out a new service, or offer discounted rates only available to paying customers. They'll feel special, and you might even benefit from some valuable user feedback on your new product features.
3. Offer grandfathering.
If you charge your customers on a recurring basis for your product or service, and your business makes pricing changes, grandfather your loyal existing customers in so the price they pay gets locked in at the rate they started paying when they first became customers.
For example, when AT&T changed its rates and no longer offered an option to purchase unlimited data plans for smartphones, I was grandfathered into the former unlimited data rate since I'd already been using it, whereas new customers are not. It makes me happy that I use AT&T, and it keeps me loyal to the brand.
4. Offer rewards for customer loyalty and referrals.
If it makes sense for your business, offer a customer loyalty program with rewards for your customers. If your business follows a recurring revenue structure, reward customers when they hit certain benchmarks such as offering a discount once they've been a customer for a certain amount of time.
Or give customers a frequent buyer's card that rewards them with points when purchases are made. Once they hit a certain number of points, give them a gift card, a coupon code, or another reward.
You could also implement a referral program that rewards customers who refer potential customers or new business to you. Many online retailers do this well by offering a discount to customers who get a certain number of their friends to register for their website.
5. Showcase your brand's personality.
It's hard to love a business -- but it's easier to love the people behind the business. That's why the most lovable brands are the ones that have a recognizable and lovable personality.
Let your business' personality shine through in your marketing and your customer support communications. Be personal, relatable, and interesting. Be fun. Give them a behind-the-scenes look at your employees, or how your products are made.
Show your customers that you care about the values, lifestyle, and interests they care about. For example, if your customer base is one that cares about certain causes, make a donation on behalf of your customers to a non-profit that supports those causes -- like Lyft does with Round Up & Donate.
6. Provide recognition on social media.
Social media is the perfect channel to spread the customer love. Respond to positive mentions of your brand and your products in social media, retweet customers' tweets of things they care about or successes they've had, and show appreciation for the love your customers are spreading about you.
Using social media to recognize customer success, happiness, and interests is a great and easy way to show your customers you care about them.
7. Ask for customer feedback.
Ask your customers for feedback -- on your products or services, your marketing content, their user experience, your customer service, etc.
You can do this in a number of ways: with an email, through social media updates that link to a survey, by pulling together a customer focus group, or in a blog post with an embedded survey. Asking for your customers' feedback shows them you value their input and are committed to making their experiences with your brand as positive and valuable as possible. A commitment to improvement makes you lovable.
8. Offer guest blogging opportunities.
If it makes sense for your business, offer guest blogging opportunities to your customers and other partners.
You'll benefit from some free content for your blog, and they'll benefit from the link love and exposure.
9. Cross-sell and upsell.
Take opportunities to refer to your customers to other products or services that would benefit them -- and help them achieve their goals faster -- without being pushy. They'll appreciate you suggesting data-driven options for hitting their goals more effectively and won't see it as strictly selling.
10. Remember to say thank you.
This one is so simple yet so easily overlooked. Take every opportunity to thank customers for their business. They chose to give it to you over your competitors, and you should be grateful.
Use marketing automation tools like those in HubSpot software to send customers a thank you note after they've made a purchase. Or, create a dedicated campaign that uses a video to thank your customers for their loyalty.
11. Surprise and delight.
Reciprocity is a social norm that people experience in almost every relationship in their lives -- the idea of getting something in return for what they give.
Surprise reciprocity in particular can be a very effective way to cultivate customer love and loyalty. By adding a bonus gift or acknowledgement to surprise a customer with a moment of customer delight -- such as providing free shipping, writing a thank-you note, or offering an unexpected discount -- customers can feel really positive about doing business with you.
After all, everyone likes to feel special -- especially your valued customers giving you their hard-earned money.
12. Provide exceptional customer support.
The most time-tested and gimmick-free way to earn your customers' loyalty and love? Providing exceptional service and support so they can achieve their goals and see success using your product or service.
Before you can start delighting your customers, you first need to meet their basic needs by giving them what they ask for -- your help, knowledge, expertise, and support in quickly and effectively resolving their issues. Once you focus on engaging with customers to solve their problems, you can guide them with new suggestions and education to help them use your products and services as effectively as possible -- eventually reaching the point where you can help them grow and see better results -- when they'll become your biggest evangelists.
Want more? Learn more about how to build customer loyalty next.