If you want to build a legion of loyal customers, you only have to do a few relatively straightforward things.
The secret is, you have to do them extremely well to be successful.
You need to meet their expectations

You need to listen (and respond) to how they feel

You need to add value to the relationship
Loyal customers will keep coming back and spending money with you, so obviously you'd like to have more of them. One very good way to make sure you know what customers want, and to make sure you deliver on it, is by using Net Promoter Score® (NPS) data.
How to Build Customer Loyalty Using NPS Insights
NPS surveys make it easy to collect a lot of data on customer happiness -- not just the scores, but also the reasons behind them. Looking at themes in customer feedback helps you quickly identify the things people love (or hate) about their experiences. You might discover that promoters rave about your product range and that detractors really have problems with your pricing, for example.
To get real value from NPS feedback, you need to consider it in terms of your broader customer experience. How does NPS relate to pricing, to service, to salesperson performance and marketing programs? NPS data can help you can see exactly where you're underperforming -- and where you're excelling.
It might seem obvious to immediately start fixing whatever receives the most hate, but you need to dig a little deeper and uncover which aspects of customer experience affect your NPS the most (analytics methods like Key Driver Analysis are typically used for this). You can then concentrate on those things that will maximise loyalty: you might find that optimizing your product range gets you far more referrals than tweaking your pricing.
How to Use NPS to Build a Customer Loyalty Program
The marketing department's loyalty programs can also benefit from the magic of NPS data. Just like personalizing rewards and offers to customers using purchase history or location and time of day, you can customize your marketing based on whether someone is a promoter, passive, or detractor.
Loyal customers require less discounting than others, as they tend not to be price sensitive and will usually act without incentive. So for promoters, you might want to focus on surprise and delight rewards that don't necessarily have a monetary value. Ideas like invitations to special events, presales, exclusive rewards, and personalized swag can be effective and won't eat into your margin. Just make sure whatever you offer is relevant -- and valuable -- to your customers.
Less loyal customers are often the ones who buy from you or engage with you least often. Simply increasing their exposure to your product or service can deliver a huge lift, so as they spend more time with you, try out more features, or buy across more of your range. Consider loyalty incentives that encourage these customers to extend their product use or spending habits too, such as cross-sell and upsell offers, discounted bundles, or complimentary upgrades.
You can also give unhappy customers a little extra hand-holding so tiny frustrations don't blow out of proportion. If you're a software provider, assign a support person to call them up and walk them through new features regularly. If you're in the retail industry, notify associates when an at-risk customer enters the store or heads to your website so they can make the experience memorable.
A Word of Caution
Take care not to focus too much on offering discounts and freebies to disengaged customers at the expense of your loyal fans. If you release new pricing plans, packages, or products, make sure promoters are also given the opportunity to grab them. Nobody likes to find out they're paying 2X more than a new customer when they've been with the company for 10 years -- that's no reward for loyalty, and negative word-of-mouth as a result could be a real possibility.
How to Tailor Customer Loyalty Programs
1) SaaS
Software as a Service is a rapidly-growing industry -- there's an app for everything, and many of us use multiple services daily. But are there obvious avenues for building loyalty? There's no coffee card to stamp, and two-for-one yearly subscription specials just don't make much financial sense.
However, the fundamentals of loyalty don't differ much. SaaS users continue to pay for the service because it's giving them some value -- just like coffee drinkers continue to buy coffee because they need the caffeine. So consider rewarding subscribers with more of what they value -- unlock advanced features or offer a free bump to the product or service they're paying for in return for a referral.
Dropbox does this by incentivizing referrals with additional storage space, which has obvious value to the subscriber without costing Dropbox a whole lot more. And when those referrals become long-term paying customers, the customer acquisition cost is easily recouped.

Unhappy customers could instead be incentivized to log in more often, or to try more of the product -- for example, by offering badges in return for trying out features, with a subscription discount or free upgrade if they unlock them all.
2) eCommerce & Retail
Retail is one area where people expect personalized service, and that extends to loyalty rewards, too.
Loyal customers are worth a lot to you: They shop more often, spend more, and send more people your way, so your loyalty programs should encourage them to explore new ways to keep doing just that. Create loyalty programs that don't just reward them with more of the same. If they're going to buy coffee anyway, a free pastry to go with their coffee might be more exciting. Give happy customers VIP shopping experiences, such as concierge and personal shopper services, product previews and pre-release ordering, free shipping, or exclusive customer content.
Amazon Prime is a loyalty program that gives members a whole host of value-added services, including free upgrades, exclusive content, and extra-fast shipping, with more perks available to more valuable customers.
Unhappy customers might benefit from reward programs that encourage spending in different product categories or at less obvious times of day (since they're not happy with what they're already doing). Or, you could offer rewards that encourage them to try your premium features (like free express shipping when they spend more than their average). Complimentary access to high-value experiences usually makes people happy, and could be what turns their attitude around.
3) Hospitality
Give happy customers complimentary room or meal upgrades, free Wi-Fi, valet parking, priority checkout, and other value-added services. You could also incentivize them to book longer stays or package deals, offering a refer-a-friend bonus for doing so. They're likely to be frequent visitors, so you don't need to discount their regular bookings -- which isn't to say you can't occasionally knock a few dollars off as an unexpected extra. Instead, encourage loyal customers to become more frequent customers, and give them the tools to promote your brand to others.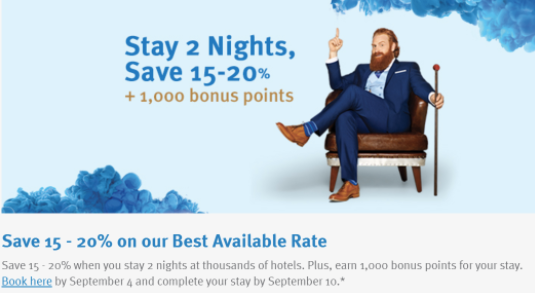 Encourage unhappy customers to come back and try again. Initially, this might involve a high value discount offer with a tracked booking link so you can ensure they get extra attention when they arrive. The strategy here is not to continue to push more and more upgrades onto customers, but to show them you value their relationship and you're willing to put effort into keeping them around. This could be as simple as offering them free drinks at the bar if check-in is delayed -- a minor expense with a potentially major impact on goodwill.
The Importance of Customer Loyalty
NPS gives you a solid foundation of context for building loyalty programs that actually deliver what customers want. Being able to identify your promoters, passives and detractors means you can tailor your marketing approach to each segment -- and the more data you have, the more precise you can be.
We recommend integrating your NPS tool with the rest of your customer experience software -- looking at scores in terms of your CRM data helps you understand not only customer sentiment, but also why they feel the way they do.
Loyal customers will not only continue to spend money with you, they'll tell others to do the same. Knowing who they are and what matters to them means you build loyalty programs that are directly relevant to them. Give promoters the rewards they value, and in return, they'll generate more repeat business for you while reducing the amount you need to spend on new customer acquisition.
When it comes to unhappy customers, loyalty rewards are a secondary concern. First, you need to make sure you're specifically correcting issues that people bring up in their NPS feedback -- whether it's on the phone to your support staff or venting on social media. It's very unlikely you'll get another shot at winning someone over if you don't first acknowledge and try to resolve whatever's made them mad in the first place. The way you deal with unhappy customers and detractors can be enough to turn the relationship around, in which case loyalty rewards are just the icing on the cake.
Want more? Learn about the difference between customer satisfaction and customer loyalty next.
Net Promoter, Net Promoter System, Net Promoter Score, NPS and the NPS-related emoticons are registered trademarks of Bain & Company, Inc., Fred Reichheld and Satmetrix Systems, Inc.
Originally published September 19 2017, updated April 18 2018