Holidays are a busy time for businesses. Sales peak, web traffic surges, and plenty of engagement opportunities sprout up within the customer experience.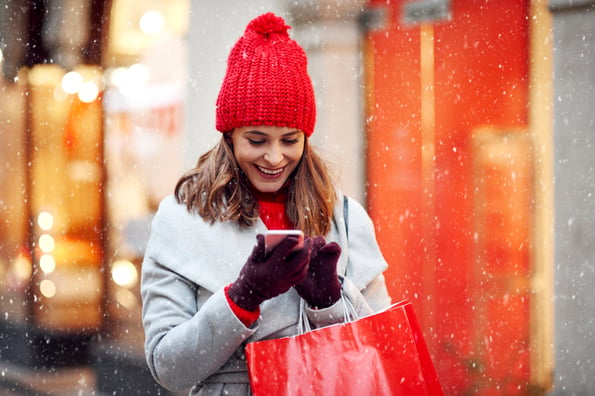 According to eMarketer's 2021 holiday shopping predictions, US retail sales will total $1.147 trillion in 2021, despite the coronavirus pandemic and recent delta variant resurgences.
Despite these large numbers during the holiday season, most businesses see marketing and sales numbers return to normal. Customer demand slows and the outstanding performance drops off by mid-January.
We can see this trend represented in the chart below, which outlines retail sales by month since 2017. If we look at the red circles, we can see how sales peak in the November pre-holiday season, fall slightly in December and steadily decline in January until the next holiday season arises.
The good news is that it doesn't have to be like this — there's plenty you can do to replicate holiday sales throughout the entire year. In this post, we'll explain how you can foster relationships with your customer base and retain customer loyalty and sales beyond the holiday season.
6 Tips for Boosting Retention Beyond the Holidays
1. Launch a new campaign in January.
It can be challenging to engage customers during November and December when every business is vying for their attention. This makes January a great time to launch new marketing campaigns as it's easier to stand out from competitors that might take breaks after the holiday season.
Below are a few ideas for marketing campaigns that would be effective after the holiday season.
New Year Resolutions: Many people come up with "New Year's Resolutions" at the beginning of January. If your business can help customers accomplish these goals, it's a great way to build strong and valuable relationships between them and your company.
Q1 Sale: January is a great time to create new deals and promotional offers. Bundle up what you've got left in store and keep the sales momentum going. This is a valuable strategy for businesses that sell seasonal products, like clothing stores.
Content Marketing: You can create fresh content that helps customers make buying decisions and discover better ways to use your products.
Retargeting Campaigns: Retargeting campaigns engage customers after they leave your website. Once a customer views a product or webpage, an ad related to that content is displayed after leaving your website. That way, they're reminded of your brand even when they're not looking at your content. This is especially valuable if you see that customers browsed during the holiday season but didn't follow through with a purchase. Add them to a remarketing list, and serve them an ad to remind them you're still around.
2. Implement a customer loyalty program.
Customer loyalty programs are effective because they reward people for shopping at your business, making them more likely to come back to your brand when they need your product or service again in the future. This is particularly important for brands competing in a crowded marketplace, where it's hard to stand out using your product or service alone.
While there are plenty of ways to build a successful loyalty program, here are a few fundamentals that you should consider when doing so.
Send gifts to your most valuable customers: These gifts don't have to be expensive, but they're much more effective when they're thoughtful and personalized.
Adopt a point-based system: Your reward system needs to be comprehensive and fair. It should be easy to learn how it works and customers should have a realistic chance of benefiting from it. In addition, if you have customers that have racked up a significant amount of points during the holiday shopping season, they may be eager to come back and cash in on their points.
Upsell and cross-sell: You can offer additional products that supplement an initial purchase or provide personalized recommendations that might convince customers to try a different product. This is also valuable for re-targeting consumers that have purchased during the holiday season.
Reward loyalty with recognition: If you don't send gifts, you should at least send "congratulations" or "thank you" cards that recognize customer loyalty. Even a quick shoutout on social media can go a long way with a customer who's constantly praising your brand.
3. Prioritize the customer experience.
Shopping is an experience, and if you make that experience unique and delightful, customers will always remember your brand.
Improving the customer experience requires more than just providing special prices, gifts, and offers. Emotional factors play a crucial role in the buying process, like how pleasant the store is, how much you support your visitors, and how well you display your products in the store and in your catalogs.
If you want to improve the customer experience at your business, here are a few factors that you should prioritize.
Delight new customers visually: Whether it's in your store or on your website, you should make your brand visually appealing.
Make it easy to discover your products: Improving product discovery will increase your average order value and make your customers feel like you understand what they want.
Personalize the shopping experience: Customers crave experiences that are unique and designed specifically for them. You can personalize your customer experience by gathering customer feedback and creating content and campaigns based on their input.
Make returns easy: Many refunds are made in January, so it's smart to remind customers that they can trust you if they're not satisfied with your product. This will reduce the chance of buyer's remorse making customers more likely to buy from your business even if they're unsure about a product.
4. Implement omni-channel customer service options.
Implementing omni-channel customer service is a valuable strategy for retaining customers post-holiday season because consumers don't like to wait to hear from your business — in fact, recent research found that customers get frustrated after only two minutes of waiting for a response from a service team.
An omni-channel support strategy ensures that you have service agents spread across multiple channels, ready to meet customers where they are. For example, rather than waiting in a phone queue, a customer can message your business on Facebook or tweet at a service rep. When your business is responsive and timely, customers are more likely to stick around.
5. Follow up after the holiday season with email marketing.
Email addresses are like gold for marketers because you can leverage email lists to follow up with customers after purchase. You can send them information about their orders, unique offers, segmentation emails, and valuable content related to your brand.
The most powerful ways to leverage emails include:
Promoting new offers, bundles, and special gifts to a specific segment of your target audience to increase engagement.
Sharing relevant content from your company's blog and establishing your brand as a thought-leader in your industry.
Interacting with your audience by surveying them and asking questions about their experience with your brand.
Sending email newsletters containing updates about new products and information that your audience will find valuable.
Email is a beneficial communication channel, especially during the holidays when 59% of people prefer to buy online.
But, to dominate email, you need a strong online presence to convert leads once they engage with your content. Fortunately, there are plenty of handy tools and resources available to help you build and grow a digital brand.
6. Personalize the customer journey.
One of the best ways to engage customers is by personalizing their experience with your business. Doing so creates a customer journey that feels tailored to their needs and is designed specifically with them in mind. This makes it hard for competitors with a one-size-fits-all approach to win over your most loyal customers because you've created an experience that's customized based on their preferences.
Remember, the devil is in the details, so below are a few elements you should pay attention to when outlining a customer journey map.
Entertaining Experience:Whether it's your content, store, or website, a delightful experience makes your brand much easier to remember.
Handwritten Notes: A handwritten letter is much more genuine than sending an email or linking a customer to a "thank you" page. So, try to have upper management or C-level employees write personalized thank you letters to your customers when appropriate.
Personalized Gifts: These might be a bit more expensive, but it may make sense depending on your customer's lifetime value. The higher their customer lifetime value is, the more money they'll generate for your business over time. Buying them a nice gift now will end up paying for itself if you continue to retain them as a customer.
Unique Unboxing Experience: People record unboxing videos because it's one of the most exciting parts of the buying experience. If you can make your packaging a delightful part of the customer journey, it will make your brand much more memorable and may even give you some free promotional content, too — like in the video below.
These tips should not only help you maintain your sales momentum through January, but retain customers long after the holiday season is over.