We've all seen stories of customer service gone wrong. In the past, this was "business as usual," and only luxury or high-end brands promised an exceptional experience. Today, customers care more than ever about the experience they receive post-purchase. As service professionals, 88% agree that customers have higher expectations now than they did in the past.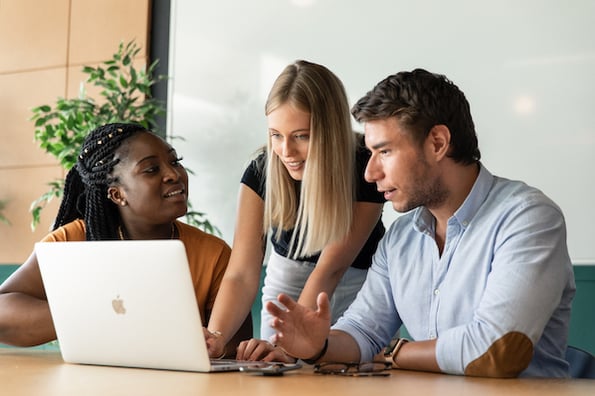 Meeting those expectations takes a whole new strategy.
Your company manages loads of tools, teams, and people. Aligning all those moving parts to measure up to customer's expectations can be tough. Not only do you need to provide a great experience, but you also need to do it again, and again, and again, consistently. That's the only way to grow your business in the experience economy.
Building this customer experience flywheel takes a lot of effort and coordination.
Strong customer support software available to support customers is great, but these days that sometimes isn't enough -- companies need more than software, they need an ecosystem to really win in customer experience. Today, connecting your tools and consulting with service providers who align with your goals is how you level up your customer experience.
That's why it's important to have a strong ecosystem available to support your customers and power your growth. You don't have to grow it alone.
You don't have eyes on the back of your head
At your company, you have multiple teams, dozens of tools, thousands of customer touchpoints, and new challenges every day. There are so many moving pieces involved when trying to deliver a consistently excellent customer experience.
But fortunately, there are also many tools you can add to your toolbelt to help you juggle everything. You don't have to handle all of it yourself, inside of one piece of software.
Instead of trying to manage the entire customer experience from one siloed piece of software, it's much better to use a network of apps, integrations and service providers (typically an external business who is an expert in the help you need) to manage the experience holistically.
Using a Software Ecosystem as a Growth Engine
The tools that work for a solopreneur aren't enough when you're scaling your business. In particular, there are three toolsets that can help you execute your customer-centric strategy:
Harnessing the experience of service providers, partners and consultants
Having access to an extensive app marketplace
Creating a single system of record
Service Providers, Partners, and Consultants
When you're deploying a new service strategy or updating an existing one, it can feel overwhelming. But there is a whole community of people available to help you execute your vision. From launching a new help desk, offering a new support channel or just trying to turn around some of those all-important service metrics, service providers and consultants have a wealth of experience to offer.
Consultants are an extension of your business that have specialized knowledge for specific projects. Because they've seen many different implementations of the same system they can provide a unique perspective and make sure nothing falls through the cracks. They can make recommendations based on their prior experience. Plus, hiring an external service provider or consultant means you can get more work done with fewer full-time staff.
Alison Elworthy, Senior VP of Customer Success says that leaning on an ecosystem of support helps HubSpot deliver delight:
"In the world of services, your number one goal is to delight the customer. Your company strives for that delight every day -- but there are times when your team might not have the service to a specific challenge that your customer is facing. That's when the power of a strong ecosystem of apps and partners comes in. Where your resources fall short, you can easily suggest an app that fills the gap or a partner that the customer can consult with to get more specialized support. When you lean on an ecosystem that is curated with love by a company you trust, you can rest easy that your customers will be in good hands."
It's especially important to hire folks who are familiar with the software than runs your business. These experts can set your service workflow up for success.
App Marketplace
When a customer contacts your customer service team, the agents need access to all of the customer's history. Without it, they're unable to provide accurate, timely and valuable help.
Access to an app marketplace allows your team to build a network across all the tools you already use. Connecting all of your tools together helps customer service agents avoid the "swivel-chair" issue where they need to pivot from system to system to get all the information they need. With a complete picture of every interaction a customer has with your brand, your agents can provide more relevant help. After all, now they know the full context of the customer's question.
Cybereason is a cyber security company with a long buying cycle. They support their customers through webinars, in-person events and their website. All those touchpoints demand a large number of tools -- all of which have their own sets of data and workflows to manage. To make their vast technology stack more manageable, they've now built their entire business infrastructure around HubSpot. Through the hundreds of integrations available, they are able to effortlessly organize polls, understand who their customers are, and provide internal feedback for future iterations of the website. Consolidating the customer experience around one central platform has changed the way they do business.
Finally, integrating systems means that you can provide proactive help to customers before they even contact your team. When your tools work seamlessly together, it's possible to automate your onboarding flows, upsell your power users and reach out to customers who show signs of churning.
Single System of Record
Using a single system of record to keep all of your customer details in one place helps you consistently deliver what your customers expect. Most companies use a CRM as their single source of truth.
MMJ Dusting, a small manufacturing company, was feeling the pain of juggling multiple systems before they moved to HubSpot. They had a CRM for sales, another platform to send emails, yet another to host the website, as well as several other platforms, all storing different customer data. Bringing all that valuable information into a single system of record meant that sales, marketing, and service could all work together seamlessly.
An integrated CRM ensures all of your teams are on the same page. Sales can be sure that they are up to date with any service issues. Marketing can personalize outgoing campaigns based on the customer's behavior. And Services can see a full history of the customer's journey, making it easy to give advice and solve problems.
Yoga International had been using HubSpot CRM and Marketing Hub to grow since 2015. Last year they launched Service Hub, which brought together their previously disjointed toolset of customer service tools. "It was vital for us to centralize our data from a customer service standpoint," says James Bake, VP Marketing at Yoga International. "Because we have the HubSpot Marketing and Sales tools, it made a ton of sense to have one spot where our reps could find all the information they need about a contact. It makes it easy to help customers as quickly and efficiently as possible."
A unified CRM creates a flywheel effect, constantly creating more momentum, an important element for any business that wants to provide an outstanding customer experience.
Delivering on Experience is a Partnership
Using all these things together empowers you to provide an excellent customer experience.
Growing better isn't simply about software. A trusted service provider can serve as the backbone of your business strategy and bring in the right combination of services and technologies to build out a complete and delightful end-to-end customer experience.
More than just software, HubSpot is an ecosystem of professionals ready to create custom strategies, solutions, and software for your business. You already know how to grow better -- and with the HubSpot ecosystem, you don't have to grow it alone. Check out our App Marketplace, and Solutions Directory, to learn more about the HubSpot Ecosystem.