Your help desk is the center of your customer service team. It helps your business provide customer-centric service through automating and organizing their daily workflow. By supplying employees with the tools they need to quickly answer questions, your company creates a more powerful service cycle.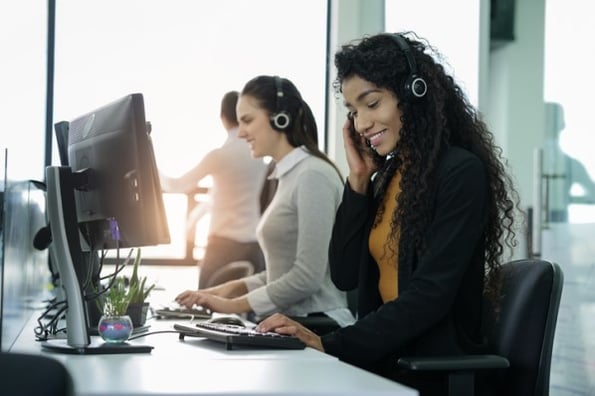 However, your help desk can only do so much. With information coming in through multiple channels, you need to have a system in place to keep your help desk running smoothly. After all, optimizing your help desk software is the key to maximizing its benefit to your company.
With this in mind, take a look at the section below for some best practices you can use when managing a help desk.
How to Run a Successful Help Desk
Define the goals and metrics for your team.
Use software that's easy and accessible.
Don't create an entirely new process.
Centralize necessary information.
Direct reps to write detailed ticket notes.
Design any client-facing help desk features based on user experience.
Implement what you learn from your customers.
Grow and expand slowly.
Automate what you can.
Use routing to improve efficiency.
Treat every customer interaction as a ticket.
Personalize where possible.
Prioritize transparency with customers.
1. Define the goals and metrics for your team.
One of the first things to consider when running a successful help desk is what "successful" means to your organization. Support teams can easily get bloated, tax resources, and frustrate customers if left without a strategy and direction.
First, understand exactly what level of customer service you're currently providing customers and where your gaps are. This can give you a vision for how your help desk can enhance the customer experience for your organization.
Then, decide exactly how you'll implement for those goals and measure the success of your implementation. Response rate, first time resolution, and net promoter score are all examples of customer success metrics that can give you insight into how well your operations are functioning.
2. Use software that's easy and accessible.
Help desk management software can streamline how your customer support team receives and responds to requests. Help desk software may include options for ticketing, knowledge bases, and CRM integration.
Keep in mind that you hired your support team for their empathy, communication, and problem-solving skills. Your help desk software should be simple enough that each of your team members should be able to learn and use it with ease, regardless of existing technical aptitude.
3. Don't create an entirely new process.
When investing in help desk software, some companies consider throwing out their original processes and starting from scratch. While this can be enticing, doing so will waste time as you'll have to completely re-train your service reps. Additionally, this can become confusing for customers who are used to your existing system.
Instead of changing your entire process, use the help desk to simplify and improve your current system. This will let your agents refocus their time on quality conversations with customers, rather than learning a new workflow.
4. Centralize necessary information.
Some support tickets can require multiple touch points, and there's not always a guarantee that the customer will work with the same rep throughout the process. That's why it's extremely important to be able to see all past conversations in a centralized location to enable your reps to pick up where the previous rep left off.
In addition, you want to centralize your resources as well so that reps can find documentation related to the ticket quickly and easily. Categories of assets should be gathered in a single location (such as a knowledge base) with a specific organization system and/or search feature.
5. Direct reps to write detailed ticket notes.
Active listening is a core part of providing excellent customer service. As they practice this skill, they should also be thinking about how the information they gather is documented for the other reps on the team and the organization at large. Otherwise, that active listening goes out the window once the ticket changes hands, causing frustration for both the customer and the next rep down the line.
After all, having a centralized repository is only useful if the information is good. Support ticket notes should:
Restate the question or issue
Outline the customer's goals
Provide additional context on blockers
Indicate the priority level
Confirm what action items are associated with the ticket
6. Design any client-facing help desk features based on user experience.
User experience is the overall emotions, attitudes, and experiences a person has while using a product or service. Designing for user experience means creating products and services that provide meaningful experiences for your users -- typically with a simple, engaging interface and an efficient process for achieving goals.
7. Implement what you learn from your customers.
Similarly, your help desk should be based on the needs and desires of customers. Your agents should regularly collect customer feedback, asking them what they like and dislike about the help desk. Making changes based on customer feedback ensures a stronger user experience and improves customer satisfaction.
Also, be sure to pay attention to what kinds of questions people ask, what grievances they have most about your product/service, and other insights from your customer service efforts. These insights can lead to product/service improvements as well as efficiency improvements to your support operation.
8. Grow and expand slowly.
Every company wants to grow. However, if you grow too fast, you're more likely to crash and burn. This is because your organization might not be able to support a massive increase in workload without having resources to manage them.
Instead, focus on growing through smaller projects. Each team member can plan these projects based on developments they'd like to see in the organization. Not only do these projects give agents something to work on outside of their day-to-day responsibilities, but they also help build a stronger, more well-rounded organization.
9. Automate what you can.
Automation can improve the efficiency of your support department by eliminating or reducing effort on manual or tedious tasks.
For example, you can easily automate updates on service requests through emails or a ticketing system. This keeps customers in the loop so they know your team is hard at work and will update them as soon as their problem is solved. Not only does this save time for the rep, but it also reduces the number of emails made by the customer. They'll trust your rep will get back to them so don't have to continuously reach out for more information.
Features such as canned responses and templates can also reduce time spent in repetitive conversations but still give the customer the attention they need as they're walked through their concern.
10. Use routing to improve efficiency.
With the right help desk software, you have the capability to automatically route tickets to the correct contact within a department. This can reduce confusion about who's working on what, and eliminate "collisions" where multiple reps unknowingly respond to the same issue.
11. Treat every customer interaction as a ticket.
Every customer interaction is important. Therefore every interaction should result with a new service ticket. This not only helps your team keep track of open cases, but it also provides your business with up-to-date information about your customers. You'll know every problem they've had with your company, making it easier to provide personalized and proactive customer service.
Additionally, this best practice should extend to the communication medium as well. Whether it's an email, phone call, in-person conversation, social media message, alert, or online request, each incoming message should be processed as a new ticket. This is one of the core fundamentals for creating an omni-channel experience.
12. Personalize where possible.
Knowledge base articles, automation tools, and canned responses or templates are helpful for efficiency. At the same time, customers crave the personal touch. It's possible that the individual you're helping already reviewed your knowledge base or needs clarification on the process.
Always address the customer by name during interactions, understand exactly what they need, and identify whether the resources you provide are able to meet that need.
13. Prioritize transparency with customers.
Your team should prioritize transparency with customers. Being honest and straightforward builds customer rapport and enhances your relationship with your customer base. Help desk software helps you double-down on transparency by improving the communication process between your reps and customers.
Help Desk Management Software
Finding the perfect software will help you embrace these management best practices. Below, we've curated a list of the top three help desk options for your customer service team. For a more complete list, check out this post containing the best help desk software.
1. HubSpot
HubSpot's help desk software includes a one-stop dashboard where you can enter, adjust, and track customer tickets. Features like ticket automation, routing, and prioritization create a more efficient, organized process that leaves no room for forgotten or misplaced tickets. The help desk can process tickets from a variety of sources, such as online forms, live chat, and email.
Source: HubSpot
The software also includes a knowledge base feature where agents can produce articles, documents, and FAQ pages that are indexed in search engines. Having this information publicly available helps customers find solution without having to reach out to your customer service team. You can also integrate HubSpot products with hundreds of apps, such as Zapier, Eventbrite, SurveyMonkey, and WordPress.
Price: Free
2. Freshdesk
Freshdesk has a shared inbox so reps can easily view, assign, prioritize, and merge tickets. Its omnichannel system supports phone, email, live chat, website, and social media.
Source: Freshdesk
The self-service portal is great for both employees and customers. Customers can communicate with other users via community forums and browse articles on the knowledge base. Freshdesk integrates with several types of apps, such as productivity, CRM, e-commerce, file sharing, issue tracking, surveys, and more.
Price: Free
3. Kayako
Beyond ticket creation and automation, Kayako offers a full view of the customer's journey including prior purchases, inquiries, and issues. Kayako can receive tickets from email, live chat, phone, Twitter, Facebook, and self-service.
Source: Kayako
The self-service portal includes articles that can be rated and reviewed by customers, so agents can improve existing content and add new articles when needed. The software can also be integrated with apps such as Facebook, LinkedIn, and Slack.
Price: $15/month
The key to running a help desk and choosing help desk software is to keep your customers in mind. Understanding how you can provide them with an amazing experience will drive your support strategy. From there, following the above best practices and using help desk software can help you stay on track with your metrics and goals.
Editor's note: This post was originally published in July 2019 and has been updated for comprehensiveness.