Every day, more than 2.4 million brand-related conversations take place in the United States.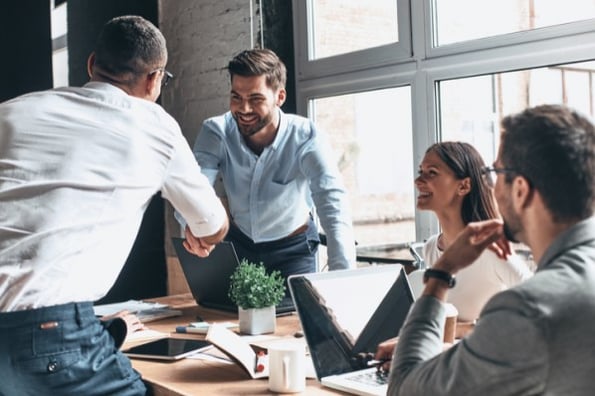 This illustrates that people aren't shy when it comes to talking about their experiences with companies, which might leave you wondering what you can do to sway these conversations in your company's favor.
After all, with 39% of consumers building trust in a brand from peer-to-peer conversations and view other consumers as 14% more credible than brand employees, banking on attracting potential customers through your sales marketing efforts alone just isn't a sound strategy. You should also be tapping into your existing customer base as a source for business referrals.
What Are Business Referrals?
A business referral is when someone in your network recommends your business to a new prospect. This may happen spontaneously during organic conversation or as a result of conscious referral marketing efforts.
How Referral Marketing Works
If you provide a great customer experience, word-of-mouth referrals are bound to happen naturally. However, a conscious effort to cultivate them will result in higher ROI from your network.
Here's why it's so effective:
You're broadening your sphere of influence by tapping into your potential referrers' social circles.
Referral prospects are coming in warmer since they know and trust the referrer.
The referrer is providing a vote of confidence by making the recommendation, which is a powerful piece of social proof.
At its core, this is how referral marketing works:
You identify key individuals in your sphere of influence (existing customers, business contacts, friends, etc.).
You cultivate and invest in those relationships, delighting them whenever you can.
You make the ask.
This is perhaps easier said than done, so it's beneficial to implement referral marketing strategy and tactics as you move forward. You can find some tips on that below:
How To Get Referrals from Customers
Exceed expectations.
Add a customer loyalty program.
Keep existing customers engaged.
Provide a template.
Make the experience shareable.
Leverage LinkedIn.
Adopt a customer referral program.
Offer incentives.
Look for opportunities for a positive response.
Create different avenues for advocacy.
Align with your customers' values.
Act on positive feedback.
Distribute your content and resources across different channels.
Refer other companies.
How To Get Referrals Without Asking for Them
1. Exceed expectations.
Word of mouth is one of the most powerful ways to propel referrals for your company. However, it's largely dependent on loyalty, which means that this is something you really have to earn.
If you want to get your customers (or potential customers) raving about your service, you have to delight them.
Go above and beyond for your customers not just by achieving goals with them, but by sharing their content on social media, citing them in your blog content, and proving to be an indispensable resource for them. Then, the case will be made for you why they should tell their network about the great work you do.
2. Add a customer loyalty program.
Your most loyal customers are probably going to be the ones who refer your company the most. Acknowledge these groups by creating a customer loyalty program that rewards them for advocating on your business' behalf.
This system could be point-based, or it could even be a premium membership. It could also extend beyond just customer referrals as well. No matter how you do it, make sure your customers feel valued and inspired to become loyal. In turn, loyal customers will talk, especially when delighted, and give you free referrals through word-of-mouth marketing to their family, friends, and even strangers online.
How To Get Referrals Quickly
3. Keep existing customers engaged.
The previous tips touch on delighting the customer. Therefore, it stands to reason that you should be continually providing high points throughout the customer experience (and even well after if you provide one-time services or purchasing experiences).
That means that you should continue investing in each relationship you make in your business, providing ways to keep them engaged with your brand so that you continue to remain top of mind. This can be done by:
Staying in touch post-sale and nurturing the relationship into a long-term connection.
Continuing to provide value, whether it's through additional offerings, helpful and informative content, or semi-frequent check-ins.
Providing an ongoing community or sharing a set of values (such as an altruistic cause).
This tip sums up as follows: staying top of mind ensures that customers are always thinking about you. Instead of being three months out from a purchase and not having heard from your business since then, they're already thinking about how satisfied they are and it won't be as difficult for them to identify a connection they have that will benefit from what you have to offer as well.
4. Provide a template.
When asking for referrals, it's important that you're mindful of how busy your clients are (that's why they hired you in the first place, right?).
Rather than ask and hope that they find the time to follow through, be more proactive in your approach by eliminating some of the heavy lifting for them by providing a fillable template.
Here's a sample email template you might use to get the ball rolling:
Frictionless Referral Template
[Referral]
I don't know if I've mentioned it before, but I've been working with [Your Name] for a few months. The other day, I was talking with him about some of the things that he and I have done, and I realized that I should put you two together. So ...
[Referral], meet [Your Name, with a LinkedIn profile URL].[Your Name], meet [Referral, with a LinkedIn profile URL].
Can I leave the rest to you guys?
Talk to you both later.
If you get any pushback from your customer on sending it out, don't push them on it again.
How To Get Referrals for Free
5. Make the experience shareable.
If you do want your customers to make referrals, give them a reason to talk about your company. As you approach your day-to-day, you must constantly be innovating in the area of customer experience. Not only do you want to delight them, but you want to delight them in a way that will put you top of mind. You want them to say to individuals in their network, "You will not believe what happened to me today."
Stories are powerful, and if your prospect is compelled to share their experience, prospects will listen.
Here's how you create customer experiences that are noteworthy:
Understand where the customer is at and what their pains are.
Identify what success looks like to them.
Find key areas that will bridge that gap from A to B.
Cross-reference those areas with the solutions that you provide, the solutions that they're investing in.
Understand that these are the things that they expect.
Identify where to go above and beyond, the things that will fill the gap but are out of scope or expectation.
Deliver.
It's possible that the answer lies in a new method of delivery, going above and beyond on a particular task, providing more value than you promised, or ideating ways that the process can be more enjoyable, fun, or experiential.
6. Leverage LinkedIn.
Rather than asking for referrals aimlessly, you can improve your odds of success by doing your homework first. In addition, this is a free method of obtaining referrals as you're using a public social media platform and sales prospecting techniques to discover network connections that may be interested in your offer.
When you approach a customer with a name or company that you'd like to connect with, you're eliminating the need for them to sit down and think about it for you. Lucky for you, LinkedIn's Advanced People Search feature makes it easy to turn up qualified second-degree connections that your customers can introduce you to.
To get started, click the search bar at the top of the page, and then select 'People' from the drop-down menu. From there, you can filter your search by second-degree connections as well as additional specifics like industry, title, keywords, and location to turn up a list of potential referral opportunities. This will help you find an ideal referral candidate to bring up to your customer.
How To Generate a Lot of Referral Business
7. Adopt a customer referral program.
Adopting a customer referral program is a great way for your team to be proactive when acquiring new referrals. Our post on how to build a customer referral program asserts, "that you're confident enough in your services and team to know that a referral program would be a positive investment."
Your customers will notice this confidence and feel more comfortable with sharing information because you have an organized system in place. Customer referral programs improve the credibility of your business making it easier for customers to trust you. In addition, when customers are offered an incentive as part of your referral program, they're more likely to follow through with the recommendation.
8. Offer incentives.
Nobody likes to work for free, right?
If you want to sweeten the deal and make sure your customers actually scour their networks for a good referral, offer them something valuable in return. Whether it's a Starbucks or Amazon gift card, a free month's subscription, or cold hard cash, give something back to your customers for connecting you with warm leads — they deserve it.
One way to organize these incentive offers is to set up a program that oversees customer referral agreements (more on that later). Referral agreements can help your business continuously generate substantial amounts of new leads by creating a system that rewards influential customers.
9. Look for opportunities for a positive response.
You wouldn't ask your boss for a raise right after you missed the mark on your monthly metrics, which is precisely why it wouldn't be appropriate (or effective) to request a referral when you're under-delivering on what you promised a customer. The best referrals come about after the customer has had an opportunity to experience the value that you're capable of delivering.
To set yourself up for success, keeping your customers up-to-date on the outcomes they achieve using your product or service will make them happy — and they'll want to spread the word about you. This starts with a successful onboarding process so customers have a clear sense of expectations, timeline, and work required to get to that point.
Then, consider pairing referral requests with positive customer experiences. If you just delivered the news that your product or service helped them increase monthly revenue, ask away.
10. Create different avenues for advocacy.
If you get pushback when you ask for customer referrals, the first step is to back off and give them space. It's not important that you know the exact reason why they're saying no, and you want to be respectful of your relationship.
But once more time has gone by, consider reaching out to them with a different offer to advocate for your company without having to actually refer someone: by writing a review, serving as a case study, or submitting a testimonial.
These lower-effort actions by your customer will still drive potential new leads to your company -- and won't risk your relationship with your customer. Ask them what they would be comfortable sharing, and see if you can find a place for their positive feedback on your website or social channels. The more varied opportunities you have, the more likely you are to obtain lots of referral business.
11. Align with your customers' values.
Do your research to learn about what your customers truly value before asking them for a referral. Then, you can align your incentive or acknowledgment with those values, and you'll be able to give them an idea of the impact they'll have with a referral.
For example, if your customers use your product for nonprofit fundraising, or if you know they're personally or professionally invested in advocacy for a cause, you could reward them for referrals with a donation in their name. Simple gestures like this can go a long way toward proving to customers that your relationship is a partnership, not just a business transaction. When your customers know that you share the same values and interests as them, they're more likely to want to submit a referral.
It is important to note that you should be genuine about having these values and not simply using them as an avenue to benefit your business. Customers can tell when your attempts are inauthentic, and they won't hesitate to call you out and talk about it with others.
How To Get Referrals From Existing Clients
12. Act on positive feedback.
In order to accumulate more referrals, you have to prove yourself as referral-worthy.
To ensure that you're meeting (and exceeding) the needs and expectations of your existing customers, it's important that you're regularly collecting and acting on their feedback.
SurveyMonkey is an online survey software that makes it easy to whip up and distribute client satisfaction surveys to keep tabs on what you're doing right (and where you need to improve).
(Additionally, HubSpot has released customer feedback tools as part of our newest product line — sign up to try it now.)
Before you send off a survey, you want to be sure that you're positioning it in a way that is going to surface the most honest and accurate results. Make sure you're writing effective survey questions and choosing the survey types that will best suit your needs.
13. Distribute your content and resources across different channels.
47% of buyers view three to five pieces of content before engaging with a sales rep. This means that before your existing leads closed into customers, they weren't being shy about eating up all of those resources you've worked hard to put out.
This places a profound emphasis on the importance of strategically distributing that content to ensure that it lands in the hands of qualified prospects. And considering your potential customers are already consuming your goods, adding an easy referral 'Share This With a Friend' link to your automated offer emails or on your thank you pages could help you achieve just that.
Making it easy for your customers to pass along your resources to their qualified connections before they even close will help you stay one step ahead of the game at all times.
14. Refer other companies.
If you're asking a customer to refer people to your business, they may expect the same from you. By offering to refer your customers to other companies, you'll bring valuable bargaining chips to the negotiation table. Your customers will feel like they're getting equal compensation for the information they give up.
But, be careful. Your relationship with your current customers is at stake whenever you refer them elsewhere. Make sure you're sending them to a company as great as yours or they may end up blaming you for their misfortune.
Now that we know the various ways to obtain referrals, let's go over how to actually ask for those referrals when the time comes.
Steps To Asking For a Client Referral
Identify your advocates, promoters, and most loyal supporters.
Get specific with your ask.
Reach out in the correct channels.
Personalize the request.
Say thank you.
Identify your advocates, promoters, and most loyal supporters.
The first step to asking for a client referral is to identify those most likely to have something to say — your advocates, promoters, and most loyal supporters. Delighted clients know exactly why they're satisfied, so they'll likely know other people with the same needs who will benefit from what you have to offer. And, as mentioned before, happy clients are more likely to talk about you.
Identify who these people are and begin generating a list of people to reach out to. If your business uses Net Promoter Score (NPS®) surveys, the results are a great way to identify your most satisfied clients.
Personalize the request.
When you ask for a referral, personalize the request to the client by explaining why you're seeking it specifically from them. This tip closely aligns with the advice to get specific with your ask, as it lets the customer know that you're reaching out to them specifically.
Use their name in the request you send out as a means of generating a connection, and reference parts of your relationship history that show that you're aware of their experience with your business. However, it is important not to take advantage of your customers; you don't want them to feel as though they're being used, which is why it can be important to use incentives.
Get specific with your ask.
When you ask for a referral, you want to be specific about it. You want to make sure that the customer knows exactly what you're asking of them so they can give you what you're looking for: a potential qualified lead.
Without being specific, customers may not know who to ask or what type of person you're looking for, which makes your job harder if you're having to spend more time verifying a prospect after a referral has been submitted. Here's a basic example of what that could look like for a business selling marketing SaaS.
"It's been great working with you these past few months and watching you achieve success with our social media scheduling tool. We hope to bring those same successes to everyone that uses our tool, which is why I'm reaching out to you today.
Do you know of anyone in your industry or network looking to upgrade their marketing software and may be interested in using our tool? I'd love to get a referral from you if you know of anyone that may be interested!"
Reach out in the correct channels.
Another reason why it is essential to identify the clients you want to get a referral from is that it allows you to research them and identify the channels that they spend time in. By doing this, you can increase the likelihood of getting a response if you approach them where they already are.
For example, you wouldn't want to send a LinkedIn message to a satisfied customer if they rarely use the platform. If you partner with marketing and learn that they have a high email open rate, you'd want to reach out there instead.
Say thank you.
Lastly, say thank you. The customer is doing you a big favor, and you should be grateful for it and let them know that you're grateful. Of course, you can simply say thank you. Still, it's worth considering offering incentives, as mentioned above, and then continuing to provide the exceptional service that satisfied them and excited them about the idea of referring someone to you in the first place.
Referral Agreements
What is a referral agreement?
A referral agreement is a contract between a company and an external party. The business agrees to reward the other party in exchange for the successful referral of new leads. Both parties agree on mutual terms for compensation then sign a referral agreement to solidify the deal. This creates an ongoing relationship that benefits both the company and their new partner.
What should a referral agreement include?
When drafting a referral agreement, you'll want to include the following items in your template:
A header that includes the name of the business and the party involved as well as the date of the agreement. Standard legal stuff.
The relationship between the business and the party. This details that the business is the principal holder of equity, while the party is the external agent.
The qualifications for a new lead. Do they have to convert to customers? Or, can they be potential leads? Customers are not always guaranteed from referral so it's important to establish what makes areferable lead.
How the external party will be compensated for their efforts. This can be a fixed payment per lead or it could be based on the lead's quality. In some cases, the external party may not be rewarded until the lead converts.
If there is a payout period or not. If thereferral has to convert before payment is issued, be sure to specify how much time will be allotted for the lead to become a customer. If the lead converts during that time, then the external party is compensated for the conversion.
Will the external party be paid for recurring conversions? If a referred customer makes another purchase, you'll need to determine whether the external party will be rewarded. This way you could incentivize your partner to deliver higher quality leads that make multiple purchases.
Whether the agreement is exclusive or not. If you don't want your customers making the same deals with competitors, make sure you clarify that in the agreement.
A confidentiality or privacy statement. This restricts either party from oversharing any sensitive information during the agreement. It also can protect against any intellectual property theft that could potentially occur during exchanges.
When should you use a referral agreement?
While a Starbucks gift card reward probably doesn't warrant a referral agreement, you'll want to keep this template handy when you're dealing with larger customer accounts. Customer referral agreements typically are only used in dealings where significant amounts of money are being exchanged between parties. Having a referral agreement provides security for both sides and ensures the relationship is mutually profitable.
Is There a 'Best' Way To Get Referrals?
There is no 'best' way to get referrals. All businesses need different things, and the things you need may vary depending on your goals and change over time.
For example, during one quarter, you may be interested in generating as much referral business as possible, so you set up referral programs. Another quarter you may be looking to fill your pipeline with more qualified leads, so you reach out on LinkedIn and seek connections in your customers' network.
The best course of action is to determine your business needs and your current goals, how you want to achieve those goals, identify the customers most qualified to give referrals, and reach out!
Editor's note: This post was originally published in April 2018 and has been updated for comprehensiveness.