With the rise of smartphones, TVs, and tablets, mobile apps have become the center of consumer attention. It's not enough for your company to have a brand, it needs to have a handy app to go along with it.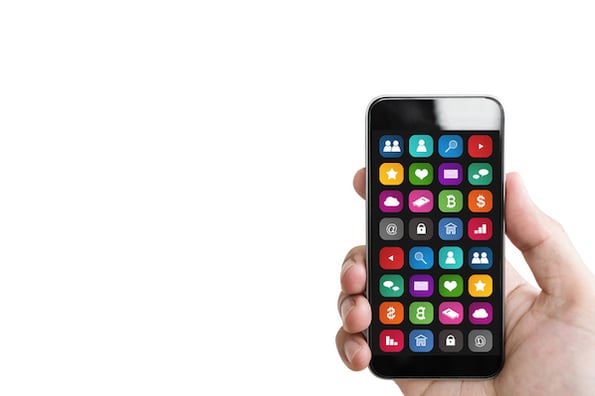 But, with companies racing to a mobile interface, it's surprising that few are resonating with their target audience. In fact, research shows that 23% of apps are used only once, and 62% of consumers will abandon an app within 11 uses.
With the mobile marketplace crowded with competitors, it's clear that users aren't willing to wait around for updates. They need to be delighted from the start if you're hoping to create an effective omni-channel experience.
Therefore, if you're about to launch an app, you should adopt an onboarding process that ensures long-term customer success. In this post, we'll cover a few different types of mobile app onboarding, then review some best practices to keep in mind when adding this service to your app.
Mobile App Onboarding Types
Before diving into best practices, let's look at some different ways you can approach onboarding.
Progressive Onboarding
This is one of the most fundamental ways to onboard new users. It provides people with new information as they navigate through a step-by-step tutorial of your app.
The best part about this practice is that it's direct and encourages users to take action. And, the user is given timely information that helps them understand the basic functions of your app.
Function-Oriented Onboarding
This practice teaches users how to execute common functions using your app. Rather than providing an overview of each tool, this method takes a deeper dive into how each feature is used to accomplish a goal. These processes typically include a demo that allows users to test actions before moving on to the next step.
Benefits-Oriented Onboarding
This approach focuses on the benefits of the app and the value it can provide to users. The purpose of this method is to increase your conversion rate and motivate people to use your app. With this onboarding type, you can describe what the app does without having to explain how to use it.
Now that we've covered the different types of app onboarding, let's discuss how you can put them to action for your business.
Best Practices for Mobile App Onboarding
1. Focus on value proposition.
It's easy to think that showing off your app's best features will help with conversions. While this is one way to advertise your app, it's more important to promote its value proposition.
Instead of focusing on features, explain what people will get from using your app. Remember, customers have needs, and your app should be the tool that helps them achieve their goals. They're more interested in the outcome of usage than they are with how your app works.
And, once you explain the value proposition of your app, you can flaunt its best features as much as you want.
2. Only ask for essential information.
When you're creating the signup process, you should only ask for information that's relevant to the app. For instance, if your app is for learning languages, asking users for their annual salary may feel like unnecessary information. This can act as a point of friction that eventually leads to users abandoning your app.
3. Make the onboarding screens compact.
You'll lose a lot of potential users if your onboarding process is extensive and tedious. People will get overwhelmed if there are pages and pages of instructions and will substitute your app with a competitor.
If your app's functionality requires a more detailed explanation, the best thing to do is use the progressive onboarding approach. This will break it up into a set-by-step guide, making the process feel quicker and less-demanding.
For example, you can use illustrations and app screenshots to convey important messages. This helps you avoid text-heavy explanations that can seem daunting to new users.
4. Keep signups concise and simple.
Another major cause of churn is a complicated signup process. Remember, people are using your app on-the-go, and no one wants to fill out a five-page form while they're riding a crowded subway. So, if you don't want to lose potential customers, you should keep your signup process simple and concise.
One thing that you can do is provide options to log in using a third-party account. Rather than creating a brand new account for your app, users can log in using their Facebook or Gmail credentials. This saves them time and energy and removes a significant amount of friction from the signup process.
5. Include a request for permission.
Asking for permission is one of the most significant parts of app ethics. You should keep this in mind, especially when you're using a customer's data. After all, 30% of apps are uninstalled because users feel that they're at risk of a security/privacy issue.
For example, if your app requires the functionality of the camera or microphone, you should ask for permission to use it. This will create a popup that looks like the image below.
Typically, most people respond positively to this approach. These notifications help users trust your app and make them feel comfortable with its features. Most will agree to your terms and conditions without any issues.
6. Promote the app's content preview.
There's also a possibility that the signup process itself is the barrier between the user and your app. Therefore, try to give users access to some of the app's features before asking them to sign up.
For example, if you own an app related to e-commerce, you can allow users to surf through the products catalog before creating an account. Then, when they try to start a transaction, ask them to log in or make a new account.
These best practices should create a delightful experience for your app's new users. So, be sure to keep them in mind before hiring an Android or iOS app development company to build your app.
For more tips on retaining new users, read this guide to customer onboarding.