A few years ago, I remember reading a story on Facebook about customer service at Starbucks.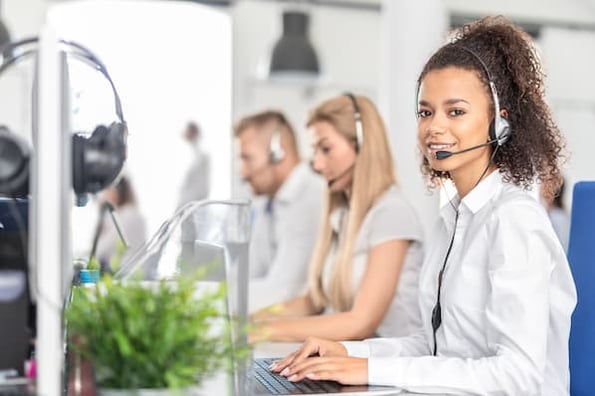 A deaf woman, who frequented a certain Starbucks three times a week, walked in one day and the cashier asked what she wanted to drink in American Sign Language (ASL).
The cashier said she wanted to learn ASL so this woman could have the same experience as everyone else.
When I think about personal customer service, this is the first story that comes to mind.
Providing personal customer service is important for any business because 73% of people surveyed said customer experience is an important factor in their purchasing decisions.
In fact, among U.S. customers, 65% find a positive experience with a brand to be more influential than great advertising.
Even if people love your company or product, in the U.S. 59% of people will walk away after several bad experiences, 17% after just one bad experience.
As a customer support manager or representative, that's why it's always important to provide the best experience you can.
To ensure personal customer service in your company, you need to hire the right people who can provide positive, personalized experiences on every call.
Below, let's review personal customer service and the skills your reps need to make customer service more personal.
Personal Customer Service
Personal customer service is when your customer support staff tailors their responses to the individual customer in an approachable, helpful manner.
When your reps provide personal customer service, customers are more likely to become brand advocates who will go out of their way to promote your company.
That's why it's an important strategy for your customer service team. However, you might be wondering, "How do I create personal customer service on my team?"
Below, let's review the top skills your customer support staff will need to provide personalized customer service.
Personal Customer Service Skills
Customer and Product Knowledge
Relationship Building
Interviewing
Approachability
Advocacy
Data Analysis
Clear Communication
Conflict Resolution
Understanding How to Close the Conversation
Troubleshooting
1. Customer and Product Knowledge
Before your customer support team gets started, they need to have intimate knowledge of your product. This is a skill that'll be developed during customer service training.
This is important because 46% of all consumers will abandon a brand if the employees are not knowledgeable.
Support reps should also be aware of your company's buyer persona. The ability to understand who your customers are and how they use your product will be essential in providing personal customer service.
Additionally, it's helpful if your customer support software gives your reps as much information about the individual caller as possible. For instance, support reps should be able to look at a contact record and see their history with your company.
Think about this: How can your reps provide personal customer service if they don't know anything about your customer or product?
2. Relationship Building
Another vital skill in personal customer service is relationship building. Your reps need to have the ability to make a connection and empathize with your customers.
It's much easier to provide personal customer service when you've built rapport with the customer. A few simple ways to build a relationship on a service call is to use the customer's name, introduce yourself, and empathize with their unique situation.
Customer support reps should be able to adapt and approach each call differently because every customer deserves an individualized solution.
3. Interviewing
It's not always easy to ask questions and actively listen to the answers, but interviewing skills are the only way to achieve personal customer service.
Your support reps learn the most about your customers during the question and answer portion of a support call.
By asking the right questions and actively listening, your support reps will figure out what's wrong and be able to look for opportunities for personal customer service.
4. Approachability
Demeanor and attitude are an important element in a customer service call because that's how customers build a connection with a support rep.
If your team isn't approachable, customers won't feel like your support team wants to help them. This puts customers on the defense, creating a hostile conversation.
That's why positivity goes a long way in personal customer service. In fact, 60% of all consumers said they'd stop doing business with a brand if the service they received was not friendly.
5. Advocacy
Not to reiterate my point above, but if customers don't feel like your support reps are on their side, then they won't be happy with their customer service.
The only way to provide personal customer service is to advocate for your customer. Your support team should want to help customers in whatever way they can.
Your team needs to have a desire to learn from the customer and go the extra mile to make their day.
6. Data Analysis
While you might not think data plays a large role in customer service, the ability to analyze qualitative and quantitative data is important for customer support reps.
Your support reps can only provide personal customer service if they can analyze the information they're getting from your software and customers at the same time.
7. Clear Communication
Communication skills are probably one of the most important skills in general, and customer service is no different.
To provide a personal customer experience, your support reps should be able to communicate clearly, openly, and honestly with your customers.
Additionally, they'll need to know how to communicate on a variety of channels. For instance, your support reps might take calls, answer emails, chat, or go on a video call with a customer.
Meeting your customer where they're at is a great way to provide a personal customer experience.
8. Conflict Resolution
When someone calls customer support, they probably aren't in a great mood. In fact, they're probably actively upset about something.
That's why customer support reps need to be able to handle tough conversations and resolve conflicts in a tactful way.
By managing stress levels, your support reps can provide a personal customer service experience.
9. Understanding How to Close the Conversation
Have you ever been on a call where a customer just seemed to want to vent and was never happy with the solutions? This can happen.
With those calls, it's hard to know how to close a conversation. The best way to do it and provide a personal experience is to ask them what else they need help with so you can solve any issues they have in one phone call. This should let the customer know that they're valued by your company, so they become an advocate.
10. Troubleshooting
Another important life skill, your customer support team should be well-versed in troubleshooting.
This means that your reps know how to analyze a situation, figure out what's wrong, and figure out a solution quickly.
To provide personal customer service experiences, your support team needs to be equipped with a certain set of skills.