Service reports play a crucial role in the success of a customer support team. They track the performance of individual reps, highlight recurring issues in the customer experience, and route feedback to enable a more enriching partnership between businesses and customers.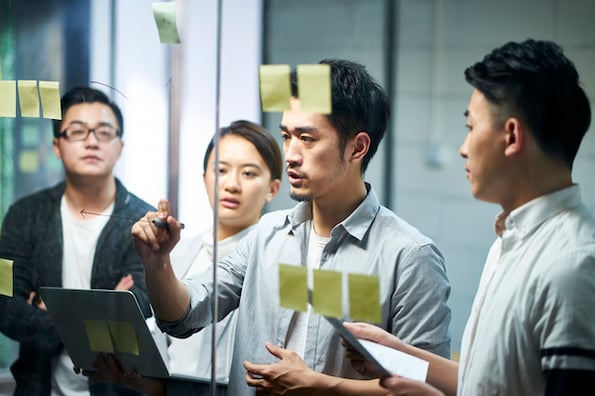 In an earlier post, we discussed these benefits as well as the different ways to report on customer support teams. However, service reporting goes beyond measuring individual performance and evaluating which reps get a promotion.
Service departments use their reports to unify their teams and align themselves with other departments in the organization. The information that service obtains from customers is highly valuable to teams like sales, marketing, and product development.
Removing data silos, and sharing information between departments not only fosters collaboration but leads to a more consistent customer experience. When all employees have the same understanding of your customer base, you'll create an attractive offer that's uniform throughout your flywheel.
In this post, let's explore how you can leverage your service reporting and align your support team with other departments at your company.
Customer Service Team Alignment
Below are some teams that would benefit from service reporting.
Sales
Alignment with sales seems natural to service teams because they work with the customers that sales closes. Sales wants customers to remain happy, as that could mean further deals and value for them. Subsequently, service aims to retain customers and help people use products/services to the fullest extent. Both teams rely on each other and aligning their goals and operations can lead to valuable returns.
Marketing
When we think of marketing, we often think of attracting new customers to your business. But, a big part of marketing is adding value to existing customers' experiences, particularly for the ones who are most loyal to your organization.
Customer service can help by forming partnerships with advocates and evangelists. Service reports can highlight loyal customers who are continuously interacting with your support channels and customer marketing teams can manage these relations to strengthen the bond between the customer and the business.
Product Development
The easiest way to align these teams is to take customer feedback from service and route it to your product team. Product can then use that information to edit their product/service roadmaps, improve their releases, and develop a go-to-market strategy.
Leadership
Leadership will want to know how their service team is performing because that dictates the quality of service that customers are receiving. Are tickets being actioned in a timely fashion? Are employees communicating with customers routinely? How much is the service team contributing to cross-sell and upsell targets?
Such reporting can tell leadership what is working and what is not within this department.
Customer Service
As someone who's part of a Professional Services team, I can tell you that team members end up learning from each other. If employees notice someone performing beyond expectations, others want to know why/how they're doing that, and what they can do to get to that level.
Service teams may also use reporting to identify gaps in handoffs and determine where the customer experience isn't meeting the standard that your organization is striving for.
One metric you can use is the number of days since outreach from a service rep after a transition is made.
Aligning customer service with other teams in your organization is much easier said than done. Other departments understand that customer service is important, but might be hesitant to adopt changes that could jeopardize their goals. That's why customer service teams need to provide relevant data that shows other teams how and why they should align their operations.
4 Service Reports That Will Align Your Business Teams
The following reports promote alignment between services and other teams within an organization.
1. Productivity vs. Customer Value
This report showcases how often your service team is used to answer customer questions, corresponding to the customer's value. It also can show the types of interactions by medium — phone, email, in-person meeting, etc. — or by service personnel — your support team, service owner, or management.
2. Recurring Revenue
This is a good way to showcase the gain or loss of customer value over time, which is particularly useful for sales teams. If upgrades go up with certain customers, sales and services can replicate that approach with other personas. Contrastingly, if value goes down due to downgrades and cancellations, then sales and services can collaborate to prevent future churn.
3. NPS Total Revenue
This report uses an NPS survey that rates your organization and its product/service(s). Customer experience teams rely heavily on this feedback, as it gives them insight into who your evangelists are and how they can provide more value.
4. Product Change Requests
Even though they're not customer-facing, product teams rely on customer feedback to improve the product they create. To help them, you can create a report that shows the number and category of feedback requests submitted, as well as how often those requests are actually worked on.
This gives your product team a reason to interact with your customers in a systematic and organized fashion. This report can link services and product together, and subsequently provide customers with a better understanding of your product roadmap.
These four reports can bridge the gap between service and your marketing, sales, and product teams. Alignment across these departments will unify your company's operations and provide a data-driven approach to internal initiatives. More importantly, however, it will make your customer experience much more fulfilling and holistic.
For more ways to align your business, read about marketing and customer service.
Net Promoter, Net Promoter System, Net Promoter Score, NPS and the NPS-related emoticons are registered trademarks of Bain & Company, Inc., Fred Reichheld and Satmetrix Systems, Inc.