Have you ever watched a TV commercial and noticed one of these disclaimers?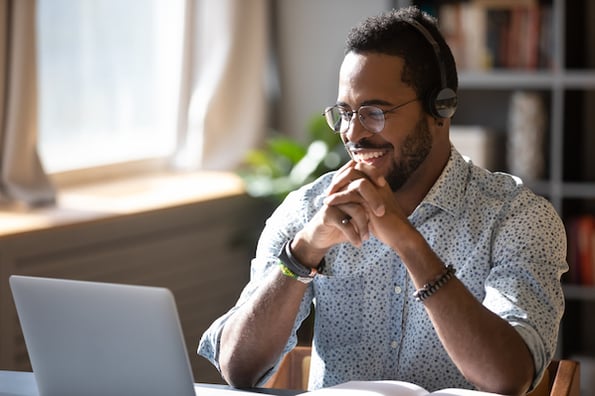 When you do, it's hard to trust the spokespeople in the ad because we know they're being paid to advocate for the company. The people above aren't customers voicing their praise for Nestle products, but rather actors being paid to look like happy brand evangelists.
Ad campaigns like these have made consumers more skeptical of testimonials because some believe brands hire actors to promote their products and services. As a marketer, it can be incredibly frustrating when you share a testimonial video then receive a slew of comments accusing your brand of deceit. Now, what you thought was going to be a successful acquisition campaign has quickly turned into a salvage operation across your social media accounts.
An important component in creating successful customer testimonial videos is finding the right channels and messaging to share them with. Even if you have amazing content, it doesn't mean much if you don't know how to properly distribute it. You need to know when and how to reach your target audience if you want your testimonials to be effective.
Below are some great places to share customer testimonial videos, along with some handy tips for maximizing your content's reach.
Where to Share Your Customer Testimonial Videos
Your Website
If you're going to share your testimonials anywhere, you should start with your company's website. New customers often discover brands by visiting their websites, making this an ideal place to publish testimonials.
You can either embed videos directly into your home page or create a landing page dedicated to hosting this content. The example below from Codecademy shows how you could organize this on your website.
Social Media
Social media is an excellent channel for sharing testimonials because most platforms make it really easy to upload and distribute visual content to a mass audience. Social media lets you narrow your focus to people who are interested in your brand, allowing you to promote content that's tailored to their interests and needs.
Unlike TV, where you're broadcasting to a random group of people, social media lets you not only pick who you want to communicate with but also when you want them to view your content. This helps you maximize your video's effectiveness because you're engaging the right people at the right time.
Here's an example of a Zoom customer testimonial video being shared on Twitter.
Case Study
Case studies are videos that are typically accompanied by a document or resource that provides detailed context backing up the information included in the testimonial. The purpose of this approach is to provide specific information that the viewer may be wondering when watching the video. By proactively featuring this resource, you show the prospect that you're not only able to back up the claims made in the video, but you're also prepared to answer their questions.
HubSpot creates case studies that are interactive and informative. Here's one example from the Rock & Roll Hall of Fame.
Video Streaming Sites
While most of us default to YouTube, there are plenty of video streaming sites where you can publish testimonial videos. Here's a list of sites to choose from curated by Trustmary.
While YouTube is definitely the most popular option, the other streaming sites offer some features that YouTube doesn't include. For example, Vimeo has privacy settings that give you more control over who can see and share your videos. Dailymotion has fewer copyright restrictions than YouTube giving you more flexibility around what you can publish to your account. Taking advantage of smaller streaming sites like these can help you tap into new audiences that may prefer these channels over bigger, ad-filled social media sites like YouTube.
Below is one example of a customer testimonial video published on Vimeo.
Third-Party Review Sites
Third-party review sites are highly-effective platforms for publishing customer testimonials. However, the challenge here is that unless you ask a customer to post on your behalf, there's no way to write a review for your business. And if you can, customers aren't going to want to hear how great you think your company is — even if you're posting someone else's testimonial.
The best way to approach this is to ask the customer who participated in the testimonial to write the review. Have them provide a link to the video and write a short summary explaining why they submitted this testimonial.
Some sites, like the example below, will let you post a video to your account's page. Since it's a review site, this would be a good opportunity to showcase a testimonial of a happy customer.
Prospecting Meetings
It's always good to have a few testimonials on hand when you're meeting with a potential customer. Testimonials can be an extra level of social proof that convinces a lead to close a deal with your company. Even if you don't watch the videos during the meeting, you can always share them as follow-up resources to persuade prospects that might be on the fence.
Here's an example from Slack that's intended for B2B businesses.
Email
If you have an active email newsletter, it can be the perfect place to share testimonials. These people have already shown interest in your brand and will want to hear success stories from other customers.
Even if your newsletter is only sent to customers and not leads, it can still be a useful customer retention tool. For example, if a customer has a bad experience with your product, they might give it a second chance if they're constantly reading about people who had a different experience. After all, 92% of consumers will trust peer recommendations over a brand's advertisements.
For an idea of what this might look like, check out this example from Wistia.
Events
Another great place to share testimonial videos is at one of your company's events, webinars, or presentations. That's because videos tend to make great talking points when speaking to a large group. You can play the testimonial, point out important segments of information, and hold a discussion around specific topics as if it were a case study. So long as you position the video as an informative resource rather than a promotional ad, attendees will be attentive when viewing your content.
HubSpot's CEO, Brian Halligan, does exactly this in the video below when he includes the Rock & Roll Hall of Fame testimonial in his 2018 Inbound speech.
Now that you know where to share your videos, let's go over some best practices to consider when doing so.
5 Tips for Sharing Customer Testimonial Videos
1. Make It Clear That You're Using Customers Not Actors.
As we highlighted at the beginning of this post, there might be some customers who think you're using paid actors to create your testimonials. Especially if your videos are well-produced — which they should be — some people might think they're almost too good to be true.
In these cases, it's important to position your video as a testimonial and not an ad. Instead of boasting and praising your product, focus on the customer's success. Think about what goal you helped them achieve then hammer home that message when you share your video.
2. Distribute Content Through Multiple Platforms.
When you're sharing content, it's important to distribute it across multiple communication platforms. If you're only tweeting out videos and leaving them off your company website, you're making it more difficult for visitors to find your testimonials. By taking advantage of a combined media strategy, you'll broaden your reach tremendously and make your content more accessible to your audience.
3. Include a Link to Your Website.
One detail that's easy to overlook is adding a link to your website. If a viewer likes your video, you want to make it easy for them to find out more about your company. This link can be included in the video itself, in the bio section, or in the copy shared with the testimonial.
4. Leverage Your Website and Social Media Data.
Most CMS tools and social media platforms offer reporting features that track video metrics like total plays, average play length, and total subscribers. This data is important when sharing your testimonials because it tells you how many people are watching your content. You can also use metrics like average play length to see if viewers are abandoning your video before it ends.
Here's an example of what a reporting dashboard looks likes for a YouTube account.
5. Consider The Buyer Persona For Your Testimonial.
Some brands think that if they want to optimize their reach, they should promote their video on every platform and channel they can think of. But, while you should be taking a multi-channel approach, you might be spreading yourself too thin if you try to use every communication option available.
Instead, try to focus on the channels that would appeal to the testimonial's buyer persona. For example, if it's designed for a B2B audience, then you might want to prioritize your website. That's because this audience is likely looking for a well-designed landing page with a list of testimonial videos as well as their descriptions.
The more you can anticipate your customer's viewing habits, the easier it will be to put content in front of them.
For more ways to use testimonials, learn how to use them for lead generation.