Support ticket systems pretty much did for customer service what the assembly line did for car manufacturing in the early 1900s — they added a new degree of efficiency to the process.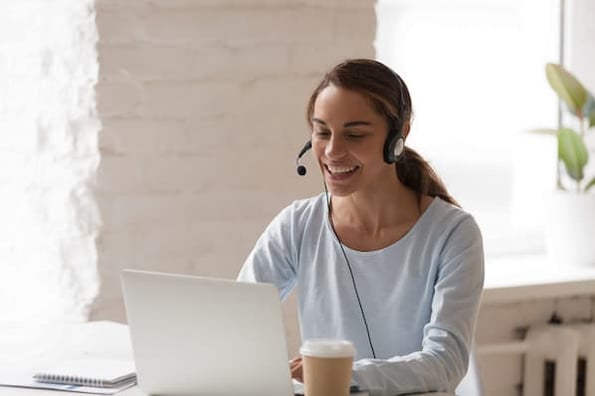 At this point, a support ticket system is central to an efficient customer service operation. Without one, a company's support team will inevitably waste time, effort, and resources haphazardly managing customer support queries by hand and memory.
The volume of problems your customers will run into is bound to grow as your business expands. Your support reps need to be able to sort, prioritize, and allocate their requests for assistance as they come through. Support ticket systems streamline that process and make it infinitely easier to run a well-oiled, effective customer support operation.
If you're in the market for one of these systems, here are some of your best choices this year.
Best Support Ticket Systems
HubSpot Help Desk
HappyFox Help Desk
ClickDesk Help Desk
Freshdesk
Awesome Support
InkTicketing
WSDesk
JS Help Desk
Price: Free plans available
One of the standout features of HubSpot's Help Desk is its centralized dashboard for ticket tracking. Customer issues are recorded, organized, and readily accessible for any member of your customer support team — effectively eliminating the stress that comes with keeping tabs on emails and maintaining spreadsheets of customer information.
The software also allows you to create support team-wide email aliases that immediately convert service queries submitted via email into tickets. And its reporting tools allow you to track ticket volume, ticket response time, customer feedback, and other factors that might help you understand your operations moving forward.
The HubSpot Help Desk's ticketing features are both available for free and included in HubSpot's Service Hub — a platform that encompasses an even wider suite of tools.
Beyond the system's free plans, HubSpot offers other reasonably priced service options to suit your business as it grows. All told, HubSpot's Help Desk is an excellent option for businesses of any size looking for a support ticket system that reconciles sophistication with accessibility.
Price: Plans starting at $29 per agent per month
HappyFox Help Desk is one of the more prominent customer support solutions available. It boasts an impressive list of big-name clientele and is consistently recognized as one of the best Help Desk software on the market. And the quality of its ticketing system is in line with that esteemed reputation.
The software can handle all inbound requests in one ticketing system — converting email, phone, chat, and web requests into tickets and keeping them organized. It also allows you to customize your support ticket system to best suit your preferences. You can create your own custom fields and workflows to personalize your support experience.
HappyFox's plans are all reasonably priced and contain a wide range of ticketing capabilities. It has options that suit businesses of every size. If you're looking for a solid ticketing system from a reputable company at a fair price, HappyFox Help Desk is worth exploring.
Price: Free plans available
ClickDesk Help Desk software is a comprehensive, intelligent ticketing solution that can help streamline and improve your customer experience. Its automation tools simplify ticket prioritization and assignment. The platform also contains resources supporting a powerful ticket search function, the ability to mark favorite tickets, and unlimited storage for all your ticket data.
The software is automatically integrated with ClickDesk's live chat tool — another solid resource for bolstering your customer support infrastructure. Its solid mobile application also allows you to keep tabs on tickets with alerts and updates whenever you need. And with a host of tools to support rep collaboration, it's an excellent option for businesses looking to prioritize cohesion in their support departments.
As previously mentioned, ClickDesk Help Desk is bundled with the company's live chat tool. That full program is free for up to 10 users with a capacity to handle 25 tickets. The prices for its premium plans are relatively low and encompass a sizable suite of features beyond its ticketing resources. If your business is in the market for an inexpensive, web-based ticketing solution, check out ClickDesk Help Desk.
Freshdesk can convert any customer inquiries or requests into tickets no matter the channel they go through — whether that be phone, email, feedback, or chat. The software also features impressive collaboration solutions.
These tools include resources that allow reps to see who has viewed or replied to a ticket. They can save replies to common tickets for reuse and merge tickets about the same issue into one.
In terms of accessibility and aesthetics, the Freshdesk platform is as good as any solution you'll find. The ticketing system is presented on a sleek, straightforward dashboard that any rep can easily navigate — all without sacrificing any functionality.
Freshdesk's free "Sprout Plan" contains most of its ticketing features and doesn't put a cap on how many of your reps can use the platform at once. Beyond that, it has plans that suit small, growing, and large teams — in addition to a plan for legitimate enterprises.
WordPress Support Ticket Systems
There are also several support ticket systems specifically designed to integrate with WordPress. If your business leverages that CMS, you can find a number of straightforward, affordable ticketing options that you can easily add to your site. Here are some of those systems.
Price: Free Plans Available
Awesome Support is one of the foremost support plugins for WordPress. The software is priced on a freemium basis, meaning it offers a free suite of core features with more available in its premium subscription options. But the range of capabilities encompassed by Awesome Support's free plan is nothing to scoff at — particularly when it comes to ticketing.
Core plan subscribers can create master ticket lists for agents, and each ticket created can store hundreds of replies if necessary. Awesome Support also allows users to easily categorize and organize tickets, They can set preferences to deem tickets as being "old" and color coordinate tickets based on nature and priority.
The software's paid options are priced by tier, with its least expensive, "standard" option coming in at $149 per year. That low price doesn't necessarily reflect the range and quality of its features. If you're looking for a solid, inexpensive option for your ticketing needs, consider Awesome Support.
InkTicketing is a simple, no-nonsense support ticket system. It can handle a high volume of queries submitted on your website. It has an automated notification delivery system that syncs with your email — allowing you to respond as quickly as you need to.
It also has a solid query filtration feature. With InkTicketing, you can sort tickets by name, query type, date, status, and preferred department — in case your support staff is siloed by specialty. The plugin also features a "troubleshooter" section where users can solve their problems on their own, sparing your reps the hassle of constantly working through minor issues.
InkTicketing is pretty stripped back but does a good job addressing what you really need out of a support ticketing system. The plugin is available for a one-time payment of $97 — no subscription required. If you're interested in an affordable, no-frills option that will get the job done, you should consider InkTicketing.
Price: Plans starting at $89
WSDesk is a WordPress help desk and support ticketing software with a wide range of features paired with an accessible interface. The plugin can suit a team of any size.
It includes access to unlimited tickets for however many reps are on your team. The program itself is easy to navigate and allows for bulk changing of ticket status, merging tickets, ticket search, ticket filters, custom ticket views, and quick settings for tickets.
The system is email-based, letting you convert customer emails sent to a dedicated address into tickets automatically. Customers also receive emails whenever they raise a ticket. They can correspond with your support team directly through that email — sparing them the trouble of constantly logging onto your site and replying through the support form.
WSDesk is a standout choice for any business looking for a WordPress support ticket system. It costs $89 for a single site subscription with higher-priced options for additional sites. It's a versatile program that virtually anyone can easily operate. If that fits your bill, check WSDesk out.
Price: Plans starting at $49
JS Help Desk offers access to unlimited tickets for an unlimited number of agents. The system also streamlines the support ticket notification process through its email piping feature — notifying you of new tickets via email and allowing you to reply without logging into the system itself.
One other aspect of JS Help Desk that sets it apart from some similar systems in its space is its time-tracking feature. With it, you can keep tabs on how long reps are spending on specific tickets and provide reports to your admin based on that information. The system also has solid resources for creating knowledge bases — reducing the number of tickets your team would receive about common issues.
JS Help Desk has a unique pricing structure. It has bundled plans starting at $49 with options to add individual features for fixed, one-time payments. This framework will suit certain businesses better than others. If you want a simple, effective WordPress support ticket system that allows you to add features as you see fit, consider investing in JS Help Desk.
No matter the size or nature of your business, you stand to gain a lot from leveraging a support ticket system if you're not already. With several options to suit virtually any budget, it's in your best interest to explore these kinds of software and incorporate one into your support operations.