Finding a job can be difficult when your lifestyle doesn't permit you to go into an office. Perhaps you need to be a stay-at-home parent, or you dream of being a digital nomad, or your ideal job happens to be halfway across the country — or the world — from you. Whatever the case may be, your current situation may call for you to look into remote jobs.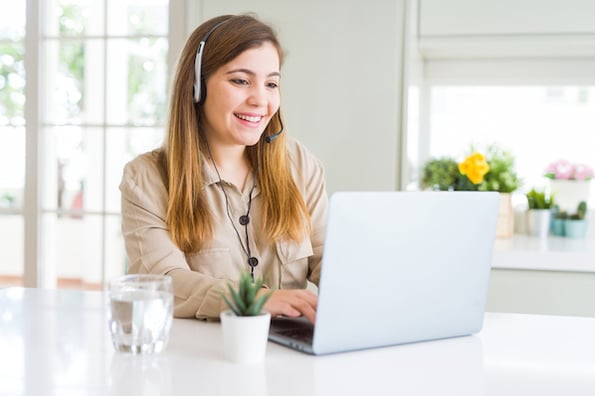 You may be surprised by the sheer number of positions available for remote employees, especially in customer service. However, you may be wondering if you have what it takes to handle a remote customer service position.
In this post, discover if remote service is right for you, the different types of positions available, and companies that often offer them.
You may be surprised by the sheer number of positions there are for remote employees. However, before diving in headfirst, you may wonder if you have what it takes to handle a remote customer service position.
What is a remote customer service rep?
A remote customer service rep proactively reaches out to current and prospective customers with new offers, preemptive solutions, product news, and more. However, rather than working in-office, they work from home or another remote location. They perform the same responsibilities as a customer service rep, except that their team is either partially or fully remote.
Working from home calls for proper remote work practices, as it can be challenging to stay self-motivated to work alone. However, if you are interested or need to do so, it can be the perfect decision to match your lifestyle. And, if you've got a knack for communication and problem-solving, that remote job might just fall under customer service.
Let's discuss the different factors that can help you understand if at-home customer service positions are right for you.
Is work from home customer service right for you?
1. You have access to a home office or a coworking space.
If you want to work remotely, it's probably for the best that you don't commit to doing so from your bed — even if I might be at this very moment. This can decrease your productivity or cause you to form an unhealthy association between your bedroom — which is supposed to be a relaxing space — and work stress.
You want to create an environment that is as similar to an office as possible to ensure you remain productive and in a professional zone. This will keep you focused and feeling professional, even if you're in sweats.
2. You're a self-starter.
One of the aspects of remote work is working primarily alone. While you'll probably still have a team and a manager, it's a little different when there's physical distance separating you. It can get hard to stay motivated when you're working independently. However, if you enjoy the challenge and can easily find ways to stay on track without constant monitoring, this is the job for you.
3. You have a strong internet connection.
This may seem obvious, but working from home means you don't have access to your company's top-notch WiFi. You'll need to invest in a strong network to ensure that you don't get cut out of customer interactions. In customer service, speed and efficiency is everything, and the last thing you want is for a slow Internet connection to leave a customer hanging.
4. You have effective communication skills.
Just because you're not face-to-face with customers doesn't mean you can slack off on your tone and presence. This may be easier for a call center agent or support rep who gets to speak with customers on the phone. However, when your only means of communication is email or live chat, all you have to represent yourself and your reputation are your written words. So, make sure you're always getting your point across clearly and leaving no room for misinterpretation.
5. You can handle networking outside of your comfort zone.
One of the best parts about working in an office is that you have free access to several employees with whom you can network daily. However, just because you're remote doesn't mean you can't network. You should feel comfortable reaching out to other employees to chat via video calls and approaching people in coworking spaces. Those are the kinds of interactions that are going to help you progress your career in the future.
If you still feel like a remote customer service job is for you, read on to discover the different types of jobs there are.
Types of Remote Customer Service Jobs
1. Remote Call Center Agent
Long gone are the days that require call center agents to work in just that — a call center. While call centers are still widely in use, it's relatively easy to handle the same tasks from the comfort of your home. As long as you have a call center headset, you can perform all of your household responsibilities (or travel the world) while still guiding customers through their problems over the phone.
2. Remote Customer Service Rep
Remote customer service reps have the same responsibilities as in-house customer service reps. They reach out to customers and offer new products and services, discounts, proactive solutions, and company news. Since this position is restricted to different forms of virtual communication — from phones to email to live chat to social media — you can handle it from any remote location. It may even be easier to hit your quotas when working from home.
3. Remote Customer Support Rep
Rather than proactively contacting customers, remote customer support reps respond to customer questions and concerns and offer product and service solutions in return. They provide support over various channels, just like remote customer service reps. In addition, they have the ease to work from any location, as long as they have access to a phone and WiFi.
4. Remote Live Chat Agent
A live chat agent provides constant support to customers or prospects over live chat. For example, you'll often be helping customers with questions they have while online shopping on your company's website. This position is perfect for you if your remote environment can be loud or distracting or if you feel uncomfortable speaking on the spot over the phone.
5. Remote Customer Support Engineer
Customer support engineers offer high-quality solutions and specialize in reactively solving technical problems customers might have with products or services. As long as you have a background in computer systems and have been properly trained in your company's software, you can handle the tasks of a technical support rep without having to work a day in the office.
6. Remote Customer Success Manager
Customer success managers work to assist customers with product onboarding, account management, and campaign execution. They form a close partnership with their customers, following up regularly to ensure they constantly gain value. These tasks are typically performed via email, phone, or video chat, so it's possible to succeed in the position remotely.
7. Remote Implementation Specialist
Once a customer has made a purchase, an implementation specialist's job is to help those customers with product onboarding so they learn the inner workings of their product and avoid any immediate technical difficulties. While this position is usually in-office, it can easily be made remote as conversations can occur over the phone, via email, or even video conferencing.
8. Remote Virtual Assistant
Remote virtual assistants work on a variety of specific tasks for customers. They can be treated as online personal assistants to schedule meetings, manage client emails, or even conduct research for their business. This is a perfect position for someone who likes to have unique tasks every day and work closely with customers while still getting to work from home.
9. Remote Telephone Research Interviewer
Many companies hire individuals to specialize in this type of outbound calling. As a telephone research interviewer, you call customers on behalf of companies and conduct a research survey about their experiences over the phone. You'll aggregate responses that will then provide valuable insights about your customers. As it occurs entirely over the phone, it's easy for a telephone research interviewer to work from home.
10. Remote Travel Agent
Travel agents may seem outdated as people can easily make travel arrangements online, but they still exist. What may have once required in-person meetings can now occur via email, phone, or live chat. With general knowledge of your company's software, a savvy eye for discounts, and an interest in travel, you can be successful at coordinating customer travels from the comfort of your couch or, perhaps, your own vacations.
11. Enablement Content Specialist
An enablement content specialist works behind the scenes to provide customer service employees with the resources needed to create delightful customer experiences. They generate value during every interaction by ensuring team members are equipped with the skills and tools required to do so. These employees are excellent team players and understand how to support their teammates to produce positive customer engagement.
12. Remote Customer Success Director
The director of customer success builds and leads the customer success team. They create the organization's customer success strategy and lead the team to execute the plan. Typically, this involves overseeing hiring, collaborating across internal departments, and reporting on the success of initiatives.
Now that you know about all the work-from-home customer support positions, let's look at some job openings from real companies that you can consider applying for.
12 Work From Home Customer Service Jobs to Consider
1. Walgreens Remote Call Center Agent
Walgreens has a call center where employees can work remotely and field inbound and outbound service calls. As one of its call center specialists, you'll be responsible for inbound and outbound calls with customers, physician offices, and patients who need help finding products or filling their prescriptions. The base rate for this position is $13 per hour.
Check out Walgreens job openings here.
2. PinkCallers Remote Customer Service Rep
PinkCallers supplies small businesses with remote customer service reps who perform fundamental services for that company. PinkCallers' reps book meetings, answer service calls and help organizations manage their employee scheduling. This position requires about 40 hours of work each week, and you can adjust your schedule based on your time zone.
Check out PinkCallers job openings here.
3. Zappos Customer Loyalty Team
Zappos, an online retailer, is well known for its excellent customer support. As a member of their remote customer loyalty team, you're expected to develop rapport with customers to deliver WOW experiences that inspire loyalty and repeat purchases.
Explore more Zappos openings here.
4. CommentSold Remote Live Chat Agent
CommentSold is a commerce platform that connects retailers with buyers. In this role, you'll resolve customer complaints and troubleshoot problems that occur on the software. As a chat-specific position, you'll need strong writing skills and experience working in a fast-paced environment to be successful.
Check out CommentSold job openings here.
5. HubSpot Customer Support Specialist
HubSpot is hiring remote customer support specialists to grow and support its West Coast users. HubSpot service reps field customer requests and troubleshoot problems with HubSpot products and are responsible for helping customers get the most out of the company's products and services. In this role, you'll work roughly 40 hours a week and have unlimited vacation days.
Check for more HubSpot job openings here.
6. Aha! Customer Success Manager
Aha! hires remote customer success managers who have experience in product management. Rather than selling products to customers, customer success managers will highlight what a customer can do using Aha!. This includes integrating Aha! into the customer's existing tools as well as creating best practices that will lead them to success.
Find job openings here.
7. McKesson Remote Implementation Specialist
McKesson is a medical supply company that provides healthcare institutions with supplies, software, and pharmaceuticals. McKesson is hiring an implementation specialist to onboard its customers with leading healthcare applications. In this role, you'll be responsible for teaching customers how they can best use McKesson's software and answer any questions they may have about products and services. One detail to note with this position: while it is remote, you may have to travel on weekends to meet with clients located in your area.
Check out McKesson job openings here.
8. Fancy Hands Remote Virtual Assistant
Fancy Hands provides customers with virtual assistants who help them complete everyday tasks. This service is designed for people who are extremely busy and need someone to organize their day-to-day schedule. As a Fancy Hands rep, you'll make phone calls, book hotel, and restaurant reservations, and help customers achieve their daily goals. One of the best features of this job is that you get to decide the hours that you'll work.
Check out more job openings here.
9. Interactive Research Communications Telephone Research Interviewer
Interactive Research Communications helps tech companies improve lead generation by providing marketing, sales, and customer service advice. It's hiring a B2B Telephone Interviewer to survey customers who have used the company's products and services. In this role, you'll be responsible for cold-calling users and asking them about their customer experience. This job demands 20 hours of work each week and requires you to own a personal computer and headset.
Check out this job opening here.
10. Teleperformance Remote Travel Agent
Teleperformance provides software solutions that connect customers with businesses. It's hiring "work at home" travel agents who help card members redeem loyalty points and book trips. Currently, the company is hiring for the 5:30 pm CST shift, and each rep's weekly schedule will include one weekend day.
Check out more openings here.
11. HubSpot Implementation Consultant
HubSpot's Implementation Consultants work on the customer onboarding team to lead customers to success using HubSpot's Marketing, Sales, and Service software. You'll use a customer-first mindset to make expert recommendations, all from the comfort of your remote location.
Check out more openings here.
12. CallMiner Customer Success Director
CallMiner is seeking a remote customer success director to join its account management team. For this role, you'll be working with assigned customers to drive speech analytics programs that help improve their businesses. To be successful, you'll need to develop strong relationships throughout different levels of the organization, ranging from customer-facing employees to upper management executives.
Check out more CallMiner job openings here.
Working from home is a valuable option for many people, but it can be tough to figure out if it works for your lifestyle. Leverage the tips on this list to see if it's right for you, and visit the companies that offer these positions and begin applying for your future position.