Today, podcasts reach over 100 million Americans every month, and Google has started including podcast episodes in search results. This means adding podcast episodes to your website with a WordPress podcast plugin can help improve your chances of ranking on Google and other search engines.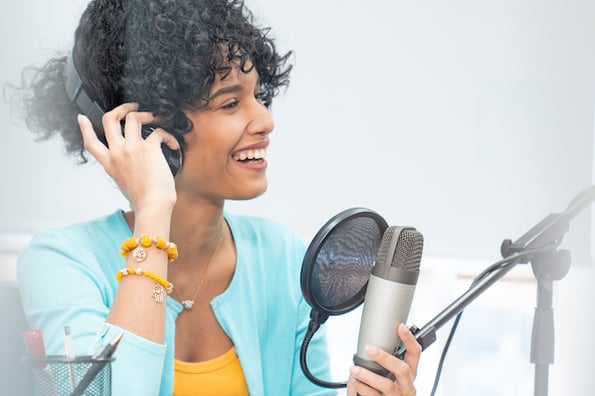 With a WordPress podcasting plugin, you can embed a podcast player on your website, create RSS feeds of your podcast content, and submit episodes to podcast distributors. Other perks might include sharing and lead capture options.
Simply put, WordPress podcasting plugins help launch your podcast by getting your content in front of more people and growing your subscriber base. So, let's check out the best free and paid WordPress plugin options below.
Best Podcasting Plugins for WordPress
Seriously Simple Podcasting
PowerPress Podcasting Plugin by Blubrry
JNews
Podlove Podcast Publisher
Buzzsprout
Simple Podcast Press
Podcast Player
Fusebox
The best plugins will help you set up your podcast quickly, display it on your website, and convert visitors into podcast subscribers. You might also want to look at some podcasting themes to go along with it.
Let's check out a selection of free and premium plugins that will help you achieve these goals.
As the name implies, the Seriously Simple Podcasting plugin makes it easy to publish and manage podcasts on your WordPress site.
Seriously Simple Podcasting allows you to run one or more podcasts (audio or video) from a single site and have a unique RSS feed for each. Each RSS feed provides important metadata to Apple Podcasts, Stitcher, Spotify, and other directories.
While Seriously Simple Podcasting was designed to sync with the podcasting provider Castos, this plugin also supports a highly configurable RSS feed that adapts to all major podcast subscription software, so you can use the provider you want.
Seriously Simple Podcasting also makes it easy for new podcasters to start syndicating their shows. It provides shortcodes and widgets so you can display your episodes or a playlist of episodes anywhere on your site. Once you've placed the embedded media player, you can customize it by adding cover images, changing the color of the background and player progress bar, and displaying subscribe links to Apple Podcasts, Spotify, Google Play, Stitcher, Overcast, and Pocketcasts.
While the main plugin doesn't have analytics, you can install the free add-on Seriously Simple Stats — this gives access to useful metrics around your episodes, which you can view inside your dashboard.
What We Like
Beginner-friendly tool that makes it easy to embed a podcast player on your website
Allows for multiple RSS feeds for different podcasts
Free analytics add-on
RSS feeds can be configured to work with any provider
Price
The Seriously Simple Podcasting plugin is free. The Castos WordPress podcast hosting service is available on three plans: Starter ($19 per month, Growth ($49 per month, and Pro ($99 per month). With it, you'll get unlimited podcast uploads and episode transcriptions, and in-depth analytics.
The PowerPress Podcasting Plugin is a leading WordPress podcasting tool for managing your podcasts and distribution right inside of WordPress. It lets podcasters submit their shows to podcast distributors, and embed podcast and video players on their websites.
PowerPress offers two modes: simple and advanced. The simple mode is free and designed for beginners to start publishing as quickly as possible. You can set up your podcast by configuring only the essential settings, create your first episode, and submit it to Apple Podcasts in record time.
Even the plugin's "simple" mode isn't short on powerful features. It has full iTunes and Google Play support and is integrated with HTML5 media players that you can put anywhere that allows shortcode. It supports multiple podcasts so you can create episodes by category or media format.
PowerPress is an SEO-friendly plugin, so you can make your podcast visible on search engines and in the iTunes podcast directory. It even allows you to import your podcast from other podcast RSS feeds like SoundCloud, LibSyn, PodBean, and Squarespace. There's also a subscription tool, which can help you convert website visitors into podcast subscribers.
What We Like
Simple mode allow beginners to get started with a more gradual learning curve
Meanwhile, experts can leverage the plugin's full range of features with advanced mode
Access to most podcast publishing and management tools you'll need, inside your WordPress dashboard
Compatibility with any podcast hosting provider
Ability to import podcasts from other RSS feeds
Price
The PowerPress Podcasting Plugin is free to download and can be used with any podcast host. However, some plugin features are only available to those using Blubrry's WordPress podcast hosting or analytics tools. Blubrry hosting is available on four tiers: Small ($12 per month), Medium ($20 per month), Large ($40 per month), and Extra Large ($80 per month). Blubrry podcast statistics offers a basic free plan and a paid plan for $5 per month.
With the help of JNews, creating an engaging website where you can seamlessly manage your podcast is seamless. JNews stands out on this list for a variety of reasons. For one, this isn't just a plugin — it's an entire theme. Therefore, there's no need to worry about weighing your site down with slow-loading plugins, as this lightweight theme tackles everything you'd download a plugin for.
Because JNews integrates effortlessly with WooCommerce, it's easy to add a paywall and manage your paid subscriptions. Additionally, the theme features a built-in auto player which enhances the listening experience for visitors. You have the option to display it just for one podcast episode or enable a site-wide player — whichever works better for you.
With the help of JNews, you can also easily import your podcast from popular streaming platforms including Spotify, Soundcloud, Anchor, Google Podcasts, PodBean, Apple Podcasts, and more. And did we mention the ever-popular TikTok feed widget to boost your engagement with your audience and gain more followers?
What We Like
Compatible with WooCommerce

It's lightweight and won't have a negative impact on your site's load time

Updated regularly

Well-documented theme

Mobile-friendly

High-resolution & widget-ready
Price
A regular license to use this theme costs $59. This price includes 6 months of support from the theme creator. If you want to increase support to 12 months, you'll pay an extra $6.38.
Developed by podcasters for podcasters, the Podlove Podcast Publisher plugin was created as a free and powerful option without the limitations of other free and even paid alternatives. It helps users create podcast feeds to send to listening services and also includes a player for your website. Plus, Podlove works with any podcast host.
With this plugin, you can create multiple RSS feeds customized to different audiences and formats. You can divide your episodes into chapters, and provide descriptions and links to those chapters for listeners with less time or shorter attention spans.
This plugin also comes bundled with the Podlove Web Player, which supports multiple audio and video podcast formats. You can view which of these formats is most popular, among other metrics, in the analytics dashboard.
It should be noted that Podlove is a more DIY solution than other options in this list. It's free, but much of the customization you can apply to the player requires at least some coding knowledge. If you need help, you can refer to the rich Podlove podcaster community for support, or pay for premium support from the Podlove team.
What We Like
Developed for podcasters, by podcasters
Tailored RSS feeds for different listener audiences
Bundled web player that allows multiple formats
Compatible with all podcast hosts
Highly customizable (but less suitable for beginners)
Price
Podlove Podcast Publisher is free.
Since its founding in 2009, the Buzzsprout podcasting service has helped over 100,000 people host, manage, and distribute their podcasts. With this premium plugin, all you need to do is upload your audio file, and Buzzsprout will take care of the rest. It's a hands-off solution for those who want to focus more on creating their podcasts.
You can choose to publish your episodes immediately or schedule them for a date and time that's best for your listeners, and place your episodes on your site's front-end with shortcode. You can also better understand your listeners with Buzzsprout's statistics, which include total downloads over time, what apps people are using to listen to your podcast, and where people are listening to your podcast.
Buzzsprout can also help you reach more listeners — since its feeds are compatible with all the top directories, you can list your podcast in Apple Podcasts, Spotify, Stitcher, Google Podcasts, and other popular platforms.
What We Like
All-in-one premium podcasting solution for creators who want to put more time into creating content
Easy to connect to podcast directories, view metrics and analytics, and promote your show
Large library of learning materials from real podcasters to help get your podcast off the ground
Strong customer support when you need it
Price
Buzzsprout offers four plans, including a free plan. The free plan hosts up to two hours of content a month, keeps episodes for only 90 days, and places ads on your podcast website. Paid plans (priced at $12 per month, $18 per month, and $24 per month) let you upload more audio content to the service and will host your episodes indefinitely.
Simple Podcast Press is a premium plugin to automate the process of publishing podcasts on your WordPress site.
With this plugin, all you need to do is install it and enter your iTunes URL. Within seconds, Simple Podcast Press creates a unique page for each of your podcast episodes. These pages include a mobile-friendly player as well as a full description and image for each episode (taken from your RSS feed). The plugin also displays customizable call-to-action buttons and an email opt-in box to grow your audience.
Once the plugin is installed and linked to your iTunes account, a new page will be automatically created every time you publish a new podcast. Simple Podcast Press won't help with hosting or management, so it's best for those who already have published episodes that they want to embed on their WordPress site.
What We Like
Straightforward way to auto-generate new pages on your WordPress site
Bring more organic traffic to your website by creating indexable pages based on each podcast episode
Completely automated, saving you time and effort
Bonus marketing tools like email opt-in and customizable CTAs
Price
Simple Podcast Press is priced on three levels: $67 for use on one site, $97 for use on up to three sites, or $147 for use on up to 10 sites.
Podcast Player is a free plugin that makes it easy to integrate your podcast library and WordPress site. Since you only need a WordPress website and an RSS feed URL to use this plugin, you can host your podcast with any provider.
Display your podcast anywhere on your site using the Podcast Player shortcode, widget, or Gutenberg block. Once you choose one of the plugin's pre-designed templates — a unified player, bottom sticky player, episode list, or episode grid layout — you can customize this display by hiding specific player elements, customizing the accent color, or adding a Google Font.
Podcast Player is meant for displaying a player of your podcast catalog on your site. If you're looking for WordPress podcast hosting or a player for individual episodes, we recommend trying a different plugin. However, the player itself is elegant and customizable There's also a pro version of the plugin that gives access to support and updates.
What We Like
Provides a solid podcast player module for free
A great solution for displaying your catalog in one player
Minimal, elegant design and easily configurable from the WordPress dashboard
Player is fully responsive and ready for mobile users
Price
Podcast Player is available as a free version, an annual subscription ($39.99 for use on up to three websites), and a one-time lifetime purchase ($59.95 for use on up to 25 websites).
Fusebox is a premium front-end podcast player plugin that gives you all you need to publish podcasts on your WordPress site. The Fusebox player is beautifully designed and highly customizable — take your pick of color display options and buttons for downloads, sharing, and email capture. Players are also fully responsive for mobile listeners.
Fusebox is actually two plugins in one. There's the full Podcast Player, which allows you to create mobile-friendly, customizable, and shareable podcasts. You can offer multiple speeds for listeners to choose from, display your newest or oldest episodes first, and add newsletter subscription and share buttons.
Then, there's also the Transcript plugin for generating and displaying transcripts of your episodes on your website. Transcripts help make your content more accessible and SEO-friendly, since search engines can now index all your audio content.
If you already have a WordPress podcast hosting service and want to level up your website with a high-end player, consider trying our Fusebox. Still, know that Fusebox isn't for managing or hosting your podcast content.
What We Like
Built-in transcription to make your content indexable by search engines and accessible to users with limited hearing
Incredibly well designed, mobile-friendly front-end podcast player that's easily customizable
Lead-generation tools built in, including a newsletter subscription option
Integrates seamlessly with several of podcasting, email marketing, and website building tools
Price
Fusebox offers a limited free version and a paid version for $19 per month (or $15.83 per month if billed annually).
If you're looking for more advice, check out this great video from Elegant Themes (the creators of Divi, Bloom, and Monarch) with its recommendations:
Podcasting on WordPress
Podcasting is an increasingly popular way to inform, engage, and delight an audience. In the US alone, 39% of men and 36% of women over the age of 12 are monthly podcast listeners.
For brands, this means podcasts present a valuable opportunity to grow your business. But, marketing a podcast can be a challenge all its own.
Jason Brandt, Director of Customer Success at Podopolo, says,
"By taking advantage of SEO, your website can generate more leads to your podcast, whereas it's a little more difficult to be found just through podcast directories alone. It also acts as a great archive for newer listeners to find your old episodes. Most podcast directories don't have the best search functions, so it can be difficult for new listeners to find episodes on specific topics."
Since more and more people are consuming podcasts every month, it's become a valuable content type for humans and bots. That means that using any of the plugins mentioned above to add podcast episodes to your site can not only improve the visitor experience — it can also boost your rankings.
This post was originally published in September 2020 and has been updated for comprehensiveness.