WooCommerce or Shopify? We've got you covered.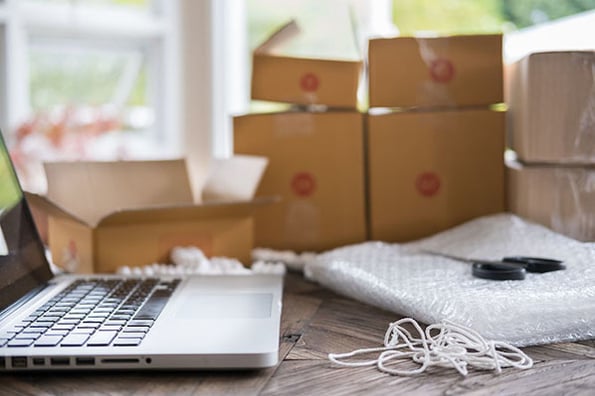 In 2022, building and running an ecommerce store has never been more important for brands to find success. Thankfully, making the shift to online sales has never been more accessible. The challenge? With so many ecommerce tools and platforms to choose from, picking the right solution can quickly get complicated.
In this post, we tackle the market's two biggest contenders: Shopify and WooCommerce. Both are excellent options for creating an online store, but offer different approaches to running an ecommerce business. By understanding the different experiences you'll get with each solution, you can determine which one is a better fit.
WooCommerce vs. Shopify
WooCommerce is the most popular ecommerce WordPress plugin on the market, and it's (mostly) free. WooCommerce is a good option if you already run your website on WordPress. Shopify is a cloud-based, multichannel ecommerce platform that starts at $29/month. You can design and run your entire store through Shopify, with back-office analytics and additional apps.
Both Shopify and WooCommerce are excellent choices to run your ecommerce business, but the one you'll prefer depends on what kind of experience you want.
The Key Differences Between Shopify & WooCommerce
Let's first summarize the key differences and similarities of these two ecommerce solutions:
| | | |
| --- | --- | --- |
| Feature | WooCommerce | Shopify |
| Price | free to download, but with additional costs for hosting, domain, security, and additional plugins and themes | starts at $29/month, but with additional costs for design if applicable |
| Number of Products | unlimited | unlimited |
| Hosting & Domains | not included — you'll need to purchase on your own | included, and you can purchase domains through Shopify or use free Shopify subdomain |
| Security | not included — you'll need to download plugins to configure security on your own | included — PCI compliance, fraud analysis, |
| SSL Certificate | not included | included free with all plans |
| Design & Customization | unrestricted customization — you can use any template and edit anything you want | fewer advanced customization options — 70+ templates to choose from with the ability to edit the HTML/CSS of your site |
| File Storage | you host your own files, so it depends on your web host | unlimited file storage |
| Customer Support | email ticket support and an extensive support library | phone, live chat, email, and Twitter support, and an extensive support library |
| Available Extensions/Apps | as an open-source tool, there are countless third-party extensions to customize every aspect of your store | not an open-source tool but apps are available to download for additional features |
| Mobile Support | fully mobile-friendly | fully mobile-friendly |
| Data | you host, manage, and control all your data | Shopify hosts all your data and you can access it through the platform |
| Abandoned Cart Recovery | available through extensions | available as a standard feature |
| Multiple Language Support | available through extensions | available as a standard feature |
| WordPress Compatibility | built to work with WordPress, so you can manage your ecommerce site completely through WordPress | Shopify offers a WordPress plugin for $9/month |
| HubSpot Compatibility | WooCommerce is a HubSpot-certified app partner. Available here. | Shopify is a HubSpot-certified app partner. Available here. |
Depending on these key differences, you might already be leaning towards one solution. It's important to note that it is possible to move from one platform to another. For example, if you started using Shopify but want to switch, it is possible to migrate from Shopify to WooCommerce. Now, let's take a closer look at some key categories to help you make the choice between Shopify and WooCommerce.
Pricing
For price, we can start by comparing the true costs of these two ecommerce solutions. Both tools might include some additional costs depending on what features you need to manage your store effectively.
WooCommerce
The WooCommerce WordPress plugin is free to download. If you find the core features lacking, you might need to invest in additional plugins, and not all of those plugins are free.
Another possible hidden cost is the price of customization. WooCommerce is "built for developers" and offers plenty of room for customization. This is useful, unless you don't have a developer on your team and require customized features or a customized WordPress theme (in which case, you'd need to spend money hiring one).
WooCommerce also doesn't provide web hosting. You'll need to factor in the cost of purchasing web hosting and a domain name as well. However, there are many affordable WooCommerce hosting plans available, including Nexcess's StoreBuilder which provides an all-in-one WooCommerce hosting and online store builder solution.
Shopify
Shopify does not have a free option and starts at $29 per month. This includes web hosting, an SSL certificate, and the option to use a free Shopify subdomain (yourname.shopify.com). If you want to purchase a custom domain, you can do so through Shopify.
Shopify offers two additional pricing tiers: a $79/month package called "Shopify" that gives you additional seats and other advanced features like gift cards and more reports, and a $299/month package called "Advanced Shopify" that gives you even more seats, more analytics, and some discounts on payment processing fees.
Winner: WooCommerce
WooCommerce comes out ahead here because it's free to get started. While you may need to upgrade and purchase a paid plan eventually, WooCommerce lets you get a feel for the product without the need to pay, meaning you're only spending time — not money — if things don't work out.
Features
For this comparison, we'll be looking at the features that come standard in both products. Both products also offer additional features as extensions and integrations.
WooCommerce
Out-of-the-box, WooCommerce offers a robust list of features to build and manage your store with your existing WordPress website, including built-in blogging, the ability to embed products and check-out features on any page of your website, the ability to collect, verify, and display customer reviews, and built-in sorting options so your customers can filter products by price, newness, popularity, and ratings.
WooCommerce also supports unlimited products and images, and allows you to tag your products with different categories, tags, and attributes to help your customers find what they're looking for.
The fact that all these features can be integrated with and managed within your existing WordPress website is a huge plus if you're comfortable with your current setup and aren't looking to make any big changes.
Image Source
If you're looking to set up and manage a basic store, WooCommerce likely has everything you're looking for in its core features. But if you want more advanced features as you grow, you'll need to invest time (and likely money) in additional plugins to help you scale and refine your ecommerce store. For example, WooCommerce does not have an abandoned cart option as a core feature of the plugin, while Shopify has this ecommerce best practice baked into its core product.
WooCommerce's main selling point is advanced customization. Using additional plugins, you truly shape your ecommerce business however you please — even connecting it to the other platforms and tools you already use (like HubSpot via an integration built by MakeWebBetter). The HubSpot for WooCommerce plugin adds abandoned cart, marketing automation, reporting, and other marketing tools that aren't directly built into WooCommerce.
If you have the time and resources to invest in customization or the ability to work with an expert WooCommerce partner, you can get a lot out of this plugin, selecting features and add-ons to suit your specific business needs and goals.
But, if you don't have a lot of technical knowledge, time to devote to setup, or access to a WordPress developer, WooCommerce's core features without plugins might fall short next to a more out-of-the-box solution like Shopify.
Notable WooCommerce features include:
Easy to set up on WordPress (and you can use any WordPress template)
Unrestricted customization
Open development means third-party developers can build and release new extensions
Built-in blogging
The ability to embed products and checkouts on any page
Categories and tags to organize your inventory
Product ratings and reviews
Product filtering options
Unlimited product images and galleries
Unlimited products
Built-in payment processing from leading providers
Customer accounts and guest checkout
Email templates
Shopify
Compared to WooCommerce, Shopify has more core features you can use out-of-the-box without downloading extensions. Similar to WooCommerce's extensions library, Shopify also has an app marketplace you can use to fill in any gaps. Many of the apps can enable integrations between Shopify and your other favorite platforms (like HubSpot).
Without additional extensions or fees, Shopify gives you a lot to work with. Upon signing up, you'll have access to their intuitive drag-and-drop website builder with over 70 ecommerce-ready themes to choose from, room to list unlimited products and upload unlimited files, built-in blogging, customer reviews, ready-to-go payment options for your customers, abandoned cart recovery, and analytics on your web traffic and products.
By comparison in WooCommerce, some of these features (like abandoned cart recovery, analytics, and some payment options) require additional paid plugins and setup to use.
Purchasing a plan with Shopify also means your web hosting is taken care of (note that WooCommerce does not come with web hosting). As for domains, you have the option to use a free Shopify subdomain (yourname.shopify.com), or you can purchase your own custom domain directly through Shopify.
While you get more out-of-the-box functionality with Shopify, you miss out on the kind of advanced customization you'd get with WooCommerce. Shopify allows you to edit the HTML/CSS of some parts of your ecommerce site, but it doesn't compare to the control you'd get with the WooCommerce plugin.
For some people, this lack of customization won't be a problem, and might actually be a plus. Shopify takes care of a lot of the advanced details of running an ecommerce business, so you can set up and manage your store with more ease.
However, if you're someone who likes to have complete control over every aspect of your website and tinker with customizations, you might find Shopify to be limiting.
Notable Shopify features include:
Drag-and-drop website builder (with 70+ themes to choose from)
Your own domain name (which you can purchase through Shopify)
The ability to accept payments directly through Shopify
SSL certificate
Automatic taxes and shipping rates
Abandoned checkout recovery
Product reviews
Native support for multiple languages
Customer accounts & profiles
Email templates
The ability to sell directly on Facebook
Unlimited products
Product tags with SEO built-in
Inventory management
Web hosting
Analytics dashboard
Mobile management
Winner: Shopify
With a host of features included out of the box, Shopify is the clear winner here. While WooCommerce lets you access some features for free, chances are you'll be spending money on additional plugins to access key features as your ecommerce site grows. Since Shopify is a for-pay service up-front, meanwhile, you get a streamlined set of features right from the start.
Usability
This is probably where Shopify and WooCommerce differ the most. The user experience you prefer will largely depend on the level of advanced control you want over your website, and how much time you're willing (or able) to invest in setting it up.
WooCommerce
If you're already using WordPress and are deeply invested in the platform, WooCommerce can be added pretty seamlessly to your existing website. It's an open-source plugin that — unlike Shopify — is not hosted, which means you'll need to manage updates, security issues, and manually back up your store.
There are plugins that can manage these processes for you available for WooCommerce, but from a usability standpoint, managing additional plugins could be a hassle for the average user.
While lack of hosting might sound like an inherent drawback, it really depends on your business needs. As WooCommerce points out on their website, "One of the biggest risks of using a hosted eCommerce platform is what happens to your data if they close up shop. This complete lack of control over the most critical aspect of your online store is fundamental."
The main draw of WooCommerce's user experience is that it works with existing WordPress websites. Installing the plugin and getting started is easy if you're already on WordPress.
You'll be able to add ecommerce features like product listings and check-out pages to any area of your website without needing to build brand new pages or start completely from scratch. You'll also be able to write and manage all your product descriptions within an editor and interface that you already know:
However, more customization means more extensions and plugins, and that means more moving parts to manage, keep up to date, and potentially troubleshoot if things go wrong.
If you're accustomed to managing a WordPress website with a lot of plugins, WooCommerce will likely be a welcome addition. As one reviewer writes, "Since I started testing WooCommerce on my ecommerce sites, I fell in love with its simplicity and the fact that I could add more plugins, or modify it to suit my needs."
However, if you're not looking to spend time (and potentially money) customizing many aspects of your ecommerce store, this might not be the most user-friendly option. WooCommerce is a powerful tool capable of meeting many needs, but it is not an out-of-the-box solution. Its ease of use largely depends on your personal comfort level with WordPress and finding the right extensions to suit your needs.
Shopify
If it seems like there are a lot of moving parts with WooCommerce, you're not wrong. Complexity is often the price you pay for advanced customization on open-source software.
If customization is less important to you than having all your features streamlined into a single platform, then Shopify might be a better fit. While it has fewer customization options than WooCommerce, the learning curve is less steep for the average user, and more features come with the core product.
Shopify is a hosted ecommerce platform, meaning you don't need to worry about finding a hosting provider, managing security issues by yourself, or manually backing up your website. This kind of all-in-one setup will be appealing for first-time shop owners and businesses who would rather not customize or build every single aspect of their stores.
When you sign up for Shopify, you'll be guided through the process of creating a website and adding your first products using Shopify's drag-and-drop interface. You can select a theme from Shopify's extensive layout library (though it's worth noting that not all of Shopify's themes are free) and set up your web hosting and custom domain name through the platform. Here's what your dashboard will look like when logged in:
If you're tasked with creating an ecommerce site from scratch, Shopify's guided setup and simple interface really can't be beat. As one reviewer writes, "Shopify lets you get up and running fast. You can literally have a marketable web solution in less than 15 minutes, and a backend to go with it in less than an hour." For someone trying to get a functional, polished-looking store up and running fast, Shopify will be a great fit.
Winner: Tie
Here, it comes down to what you prefer for usability. If you want complete control over everything on your site along with the ability to modify or add features on-demand, go with WooCommerce. If you prefer a more guided experience that streamlines the process of launching an ecommerce site, spend on Shopify.
Security
Hacking and malware can cause serious damage to your site and brand reputation, not to mention the cost of repair if you don't make regular backups of your site. For this reason, security should be a major factor in which platform you choose and actions that you'll need to take once your site is live.
WooCommerce
WooCommerce isn't its own platform — it runs on WordPress — so you'll be responsible for downloading the right plugins and taking other measures to ensure your ecommerce store is secure. This typically includes purchasing an SSL certificate, ensuring your web hosting company is secure, and setting up protective measures like fraud analysis and two-factor authentication.
You'll also need to take action on your end to make sure your site is PCI compliant. The Payment Card Industry Data Security Standard (PCI DSS) is a security standard for how companies handle online payments to avoid fraud and other security concerns.
Don't take this to mean that WooCommerce is inherently less secure than Shopify — that's not the case. It just means you'll need to do your research and put in some work up-front to ensure your site is secure.
Shopify
Because Shopify hosts your ecommerce store directly, the company takes care of ensuring your site is secure. SSL certificates come free with your plan, and your site will be PCI compliant the minute you set it up. If you've never set up security measures for a website before, having it all taken care of will give you peace of mind.
Winner: Shopify
Simply put, Shopify has built-in security and WooCommerce doesn't. Because WooCommerce runs directly on WordPress, you're responsible for ensuring the safety and security of users' data, cart information, and transaction details. Shopify, meanwhile, comes with security built-in so you don't have to worry about compliance or compromise.
Support
If you're not a web developer with a strong background in code, support is another factor you should keep in mind when deciding on an ecommerce tool. The last thing you want is to get stuck on a particular issue and find out that there's no one to ask for advice.
WooCommerce
For a free tool, WooCommerce has some solid support options. They offer two types of support: an online ticketing system where you can submit a written support ticket, and a help documentation library. There is also a good amount of third-party help documentation available for more specific issues not covered in the help library.
If you're someone who likes to learn things on their own, you'll find WooCommerce's support options adequate. But if you think you might need more help or prefer to talk to someone on the phone, these options might not be ideal. If that's your situation, you could consider hiring a WooExpert — an agency that specializes in building ecommerce sites using WordPress and WooCommerce.
Shopify
Shopify offers support through four different channels: live chat, email, phone, and Twitter. They also have an extensive library of help documentation (including help videos on most topics). If you expect you'll need a bit more hands-on help, you'll feel supported with Shopify.
Winner: Tie
If you want full-time, full-access support for your ecommerce site, go with Shopify. From chat to email to phone to Twitter, it's easy to get help when you need it. If you prefer to learn as you go and are happy with a robust online database and ticketing system, WooCommerce has you covered.
And the big winner is ...
You!
Given the price points, feature set, support, and design options offered by both Shopify and WooCommerce, you can't go wrong with either of these popular ecommerce platforms.
Instead, it comes down to picking a platform that works with your current operations, gives you room to grow over time, and offers a solid path to increased sales success. Whether that's Shopify or WooCommerce doesn't matter — use our in-depth comparison to see what each one offers, discover where they align with your business model, and find your best fit.
Editor's note: This post was originally published in December 2019 and has been updated for comprehensiveness.