Reports claiming the death of email marketing are greatly exaggerated. In fact, research shows that for every one dollar you spend on email marketing, you receive an average return of $42.
With the help of tools like MailChimp, email marketing is thriving. And, if WordPress is your CMS, there are plenty of great plugins that integrate with MailChimp to help drive more traffic to your site.
We know you've got no time for monkeying around — so here are 11 of the best MailChimp WordPress Plugins.
Best MailChimp Plugins for WordPress
MailChimp WD
MailChimp Forms by MailMunch
Easy Forms for MailChimp
MailChimp Forms by Optin Cat
WooCommerce MailChimp
Another MailChimp Widget
MailChimp for WordPress
Brave
MailChimp Top Bar
Contact Form 7 MailChimp Extension
N-Media MailChimp Subscription
MailOptin
Price: Basic Plan, $85; Advanced Plan, $150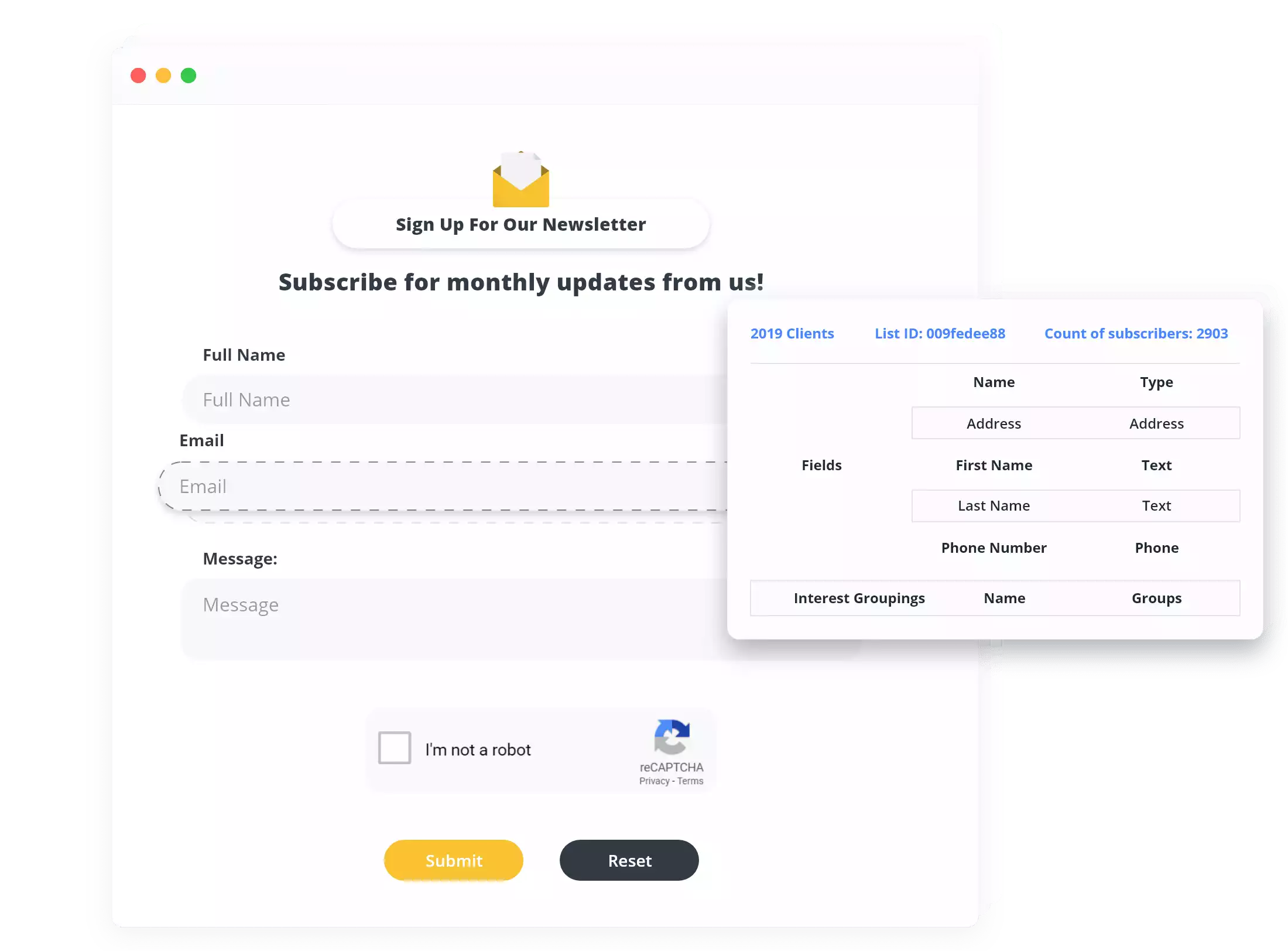 MailChimp WD provides seamless integration with WordPress, and it allows you to create unlimited subscription forms, build email lists, and easily manage your subscriptions. It comes with an advanced form editor, which allows you to customize form headers, choose the action of forms, and add custom fields within them.
Among the custom fields, you'll find a PayPal integration, file uploads, custom select, survey tools, and many more. The plugin features an outstanding conditional field function that you can use to hide or display specific form fields based on the selections your users make.
There are top bar, scroll box, and pop-up form display options. Embedding is possible and easy thanks to shortcodes. MailChimp WD comes with advanced emailing options that let you maximize the effectiveness of the emails you send.
The biggest benefit of MailChimp WD is the massive feature set — from conditional logic to spam protection and customizable notifications, there's almost nothing you can't do with this plugin. The caveat? This all comes with a cost: Basic plans start at $85 and only provide six months worth of access to updates, while Advanced plans cost $150.
Price: Free, with premium plans available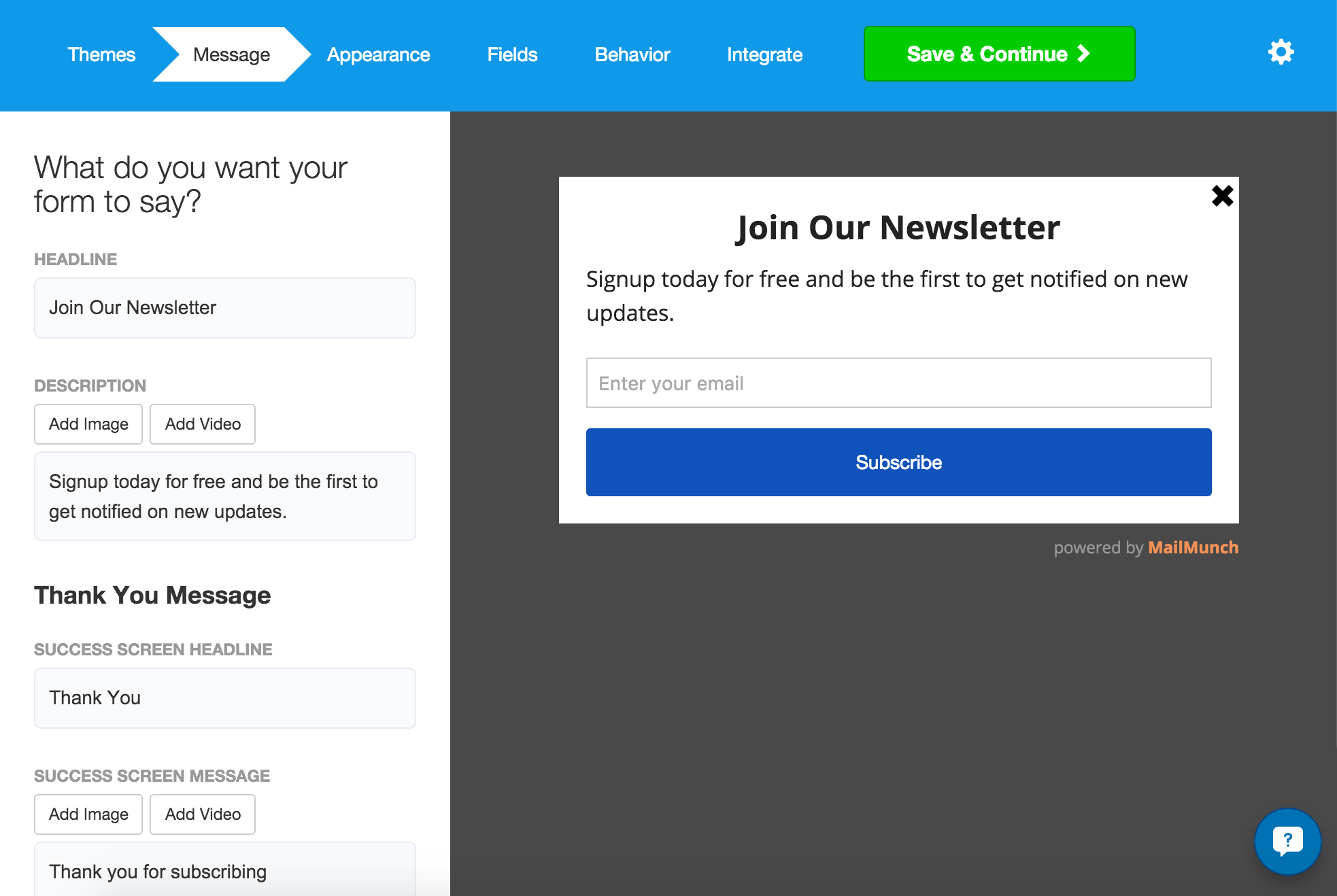 This plugin allows you to easily add MailChimp sign-up forms to your website. You can add the forms to any of your posts or pages, the sidebar, or the top bar. You also have an option to display them as pop-ups.
Forms are responsive and fully customizable. They feature page targeting and A/B testing functionalities to improve conversion. The plugin is also integrated with analytics, so you track and analyze how your forms perform.
With an unlimited number of forms available and a host of 5-star reviews, MailChimp Forms by MailMunch is worth considering if you're looking to improve conversion rates and send detailed visitor data — such as names, emails, phone numbers, addresses and dates of birth — to your MailChimp lists.
It's worth noting, however, that MailMunch is a standalone service rather than a true plugin. While it integrates seamlessly with WordPress websites, the official plugin page notes that a MailMunch account is required to unlock advanced features.
Price: Free, with premium plans available
Easy Forms for MailChimp lets you create unlimited forms for any of your MailChimp lists. You can add them anywhere on your site (including in widget areas) and you can use built-in CSS classes to give forms additional stylized features.
With this plugin, you can fully customize messages sent to your users, disable default MailChimp welcome emails, redirect users to other posts after subscription, remove subscribers from your admin area, and more. The plugin also allows you to schedule forms and use localized dates and times for users. It's analytics-integrated and developer-friendly.
Easy Forms is just that: easy. You can quickly and confidently add eye-catching forms to posts, pages, and sidebars, and build unlimited forms for any of your lists. It's worth noting, however, that extended functionality isn't available via the plugin directly — marketers will need to download additional free or paid plugins from the Easy Forms developer to maximize its impact.
Price: Free
MailChimp Forms is an advanced tool that helps you increase the number of email subscribers with attractive, custom MailChimp forms. It comes with a range of form display types, including post boxes, sidebar widgets, and lightbox pop-ups.
You can add the forms either with shortcodes or automatically to the bottom of posts or pages. These forms are responsive and integrated with analytics to let you know which ones have the highest conversion rates.
And, this is no lazy cat — Optin Cat is all about speed, describing itself as a "super-fast tool" that makes it possible to build customized MailChimp forms in less than two minutes. With marketing now moving at breakneck speed, this fast-first feature is great for WordPress site owners. And, when paired with unlimited forms creation, Optin Cat becomes a solid choice.
Compared to some of our other options, however, Optin Cat isn't as feature-complete and has fewer user reviews.
Price: Free, with paid plans available
As the name suggests, this plugin provides a MailChimp integration for WooCommerce. It allows you to automatically assign a customer to preferred email lists or MailChimp interest groups upon starting or completing an order.
You can set one or more interest groups and add users to them based on the specific list to which they belong. The plugin supports a double opt-in option and allows you to make adjustments to the opt-in checkbox settings.
This plugin is great for WordPress ecommerce sites that rely on WooCommerce — a number that's growing rapidly as ecommerce offerings diversify. With the ability to subscribe users at any point in the conversion funnel from order creation to processing to completion, this plugin can help site owners increase the value of their WooCommerce deployments and improve customer connections.
If you want the ability to set product-specific lists, groups, or tags, however, you'll need to spend on upgrading to WP WooCommerce MailChimp Pro.
Price: Free
This plugin adds a form widget to your site which lets your visitors sign up for MailChimp lists and groups. The widget is simple to add; you just have to provide your MailChimp API key and drag the widget into your sidebar area from the widgets section of the WordPress dashboard. Next, you just select the mailing list and make any necessary customizations to the widget.
This plugin is all about shortcodes and widgets that site owners can apply to let users sign up for MailChimp lists. It's a small-scale, tightly-focused option that doesn't offer any extraneous functions, making it a standout at what it does best — shortcodes and widgets — but not a great choice if you need a more full-featured MailChimp integration plugin.
There's also a steeper learning curve with this plugin than many others on our list; if shortcodes aren't in your wheelhouse, you may do better with a different WordPress plugin.
Price: Free, with premium plans available
This impressive plugin helps you create powerful newsletters for your email subscribers. You can also create attractive opt-in forms or integrate the plugin with any existing form on your website.
MailChimp for WordPress works with the latest versions of WordPress and alongside many advanced plugins, like WooCommerce, Ninja Forms 3, MemberPress, and WPForms. It offers a substantive knowledge base that's regularly updated, so you can quickly find answers to any of your questions. Backed by this support, you can successfully create compelling newsletter opt-in forms that get noticed by customers and help drive sales.
The plugin has also earned more than 1,000 5-star reviews on the official WordPress plugin site and its support team has resolved more than 60 issues in the last two months alone.
The biggest potential drawback? The sheer multitude of plugin connections — too many, too fast makes it easy to lose sight of the sales forest for the marketing trees.
Price: Free, with premium plans available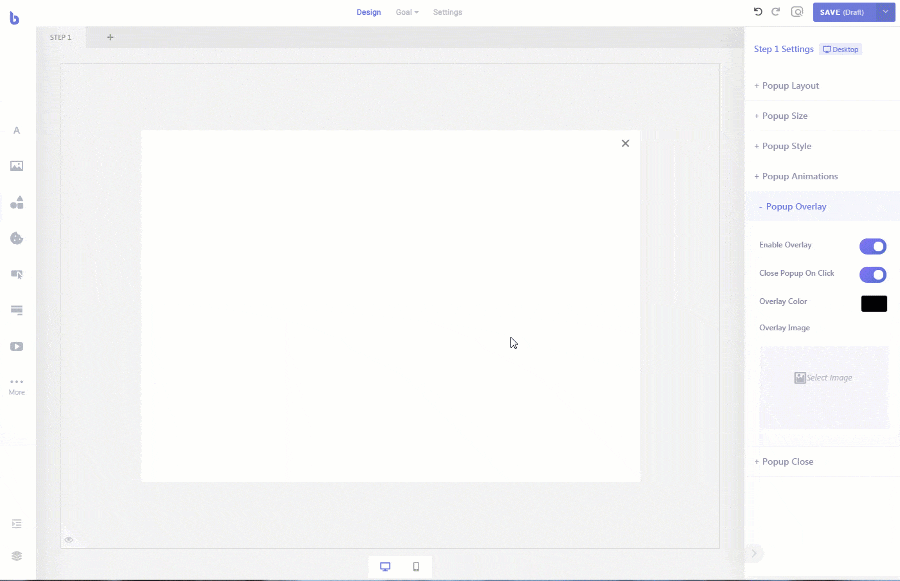 The Brave builder plugin lets you easily create popups, lead generation forms, stickbars, and sidebars. It bills itself as "the most powerful and intuitive conversion widget builder for WordPress."
It's a big claim, but one that's largely backed up by Brave's substantive list of integrations with a host of marketing automation platforms including MailJet, MailPoet, HubSpot, and, of course, MailChimp.
Using an intuitive drag-and-drop editor, Brave is designed to make your marketing life easier and comes with built-in features including custom code integration, advanced form creation, complete popup control, and robust analytics.
Brave also offers a for-pay "Pro" option that includes unlimited form fields, multi-step forms, and automatic email replies.
This plugin makes our list because it's well-designed, easy-to-use, and offers a ton of functionality right out of the box. It does come with a few drawbacks, however, such as the additional cost of Pro features and the sheer number of marketing options, which make it easy to get overwhelmed with choice if you're just starting out.
Price: Free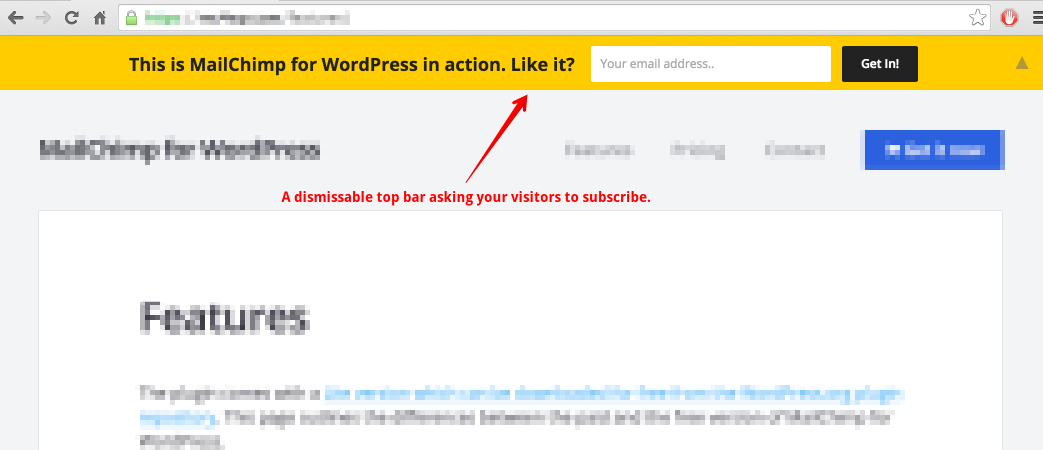 Sometimes simple is better. That's the idea behind the MC4WP MailChimp Top Bar plugin, which does exactly what it says: Adds a sign-up bar to the top of your WordPress page that lets visitors opt-in to the MailChimp list of choice.
The bar is entirely customizable and works with your existing MailChimp framework to help increase your marketing reach. Despite the name, the bar isn't limited to the top of your page — it can also be placed at the bottom if that's better for your brand. It's also designed to be unobtrusive and easy to dismiss if users don't like it, helping your site find the middle ground between subtle and more obvious marketing efforts.
Pros of the MailChimp Top Bar include ease of installation and use — the plugin itself is a 4kb JavaScript file. Potential drawbacks include operational simplicity; the plugin does a great job at creating top and bottom bars but doesn't come with any additional features.
Also worth noting? This isn't a standalone plugin — it must be used in conjunction with the MailChimp for WordPress plugin mentioned earlier in our list.
Price: Free, with premium plans available
This plugin combines MailChimp functionality with another popular marketing solution — Contact Form 7. Often used by marketers to create customized forms that can be easily added to WordPress sites, Contact Form 7 can generate a host of useful data for marketing teams.
This MailChimp extension makes it possible to capture the email addresses submitted via Contact Form 7 and have them automatically added to the MailChimp list of your choice. The result? Highly customized forms that capture user attention and help bridge the gap between disparate marketing efforts.
Pros of this WordPress plugin include custom field support across unlimited forms, in turn making it possible to create targeted Contact Form 7 templates that are routed to a different MailChimp list for automatic customer segmentation.
The plugin is also easy to use and includes a host of tips that help you get started, but it's worth noting that you'll need at least some familiarity with Contact Form 7 to make the best use of this tool and some of its best features — such as GDPR settings, form unsubscribe and archive options — require a paid subscription to access.
Price: Free, with premium plans available
This free WordPress plugin makes it easy to render subscription forms on your WordPress site by pulling all MailChimp lists from your account. Marketers gain the ability to create list variables and interest groups and can also write their own CSS to develop forms that best align with marketing efforts.
Customization is the biggest benefit of the N-Media MailChimp Subscription plugin — along with a visual forms designer it also features helpful form wizards to make your forms stand out.
Customization is also its potential pitfall, however, as it's easy for beginners to get overwhelmed by the sheer amount of choices and options available. While almost all features are included for free, the for-pay "Pro" version of N-Media lets you test campaigns before you send them and get graphical campaign reports on-demand.
Price: $79/year
MailOptin is an advanced lead generation tool that you can use to convert traffic on your website. It launches a pop-up window in the user's browser where you can showcase a call-to-action and encourage them to subscribe to your website or newsletter.
The pop-up form can be presented in multiple formats. For example, it can be a lightbox or a notification bar. Or, you can have it enter from the side of the browser via a slide-in animation. It's up to you to choose which design will grab the attention of your visitors.
You can also customize the form itself. You can add new fields and edit its design all without needing to know how to code. This is particularly useful for capturing your contacts' information and uploading it into your CRM.
Choosing a MailChimp Plugin for WordPress
Email marketing isn't dead, and it isn't going anywhere, either. It's still one of the most effective ways to engage and nurture prospects who are interested in your brand.
Ready to go bananas and take email marketing by storm? Install one of these top MailChimp WordPress plugins and start growing your customer base.
Editor's note: This post was originally published in Jan 2020 and has been updated for comprehensiveness.