If you're looking for ways to improve the visitor experience on your site, consider WordPress slider plugins. Not only do they help highlight the main content on a page — they also display it in a visually appealing and interactive format.
And, using a slider plugin isn't hard. The real challenge is finding one that works seamlessly with your theme.
While many WordPress themes come with some level of slider functionality, you may have to consider additional options to achieve the right look and feel for your website.
What is a slider in WordPress?
In the web development world, a slider is a term for a visual slideshow added to a web page. WordPress slider plugins are used to run slideshows automatically at predetermined time intervals without user input.
While slider plugins can make it easy to share a lot of information in a neat package, they can also negatively impact page load speed and mobile responsiveness if not configured properly.
What to Look for in a WordPress Slider Plugin
Here are a few things you should look for when picking a WordPress slider plugin.
Layouts and Designs
Not every slider plugin will come with the same types of sliders. Some may let you only create simple image sliders, while others may give you an array of options when it comes to layout and design.
Some popular WordPress slider types are carousel sliders, video sliders, post sliders, and product sliders. Each one has its own unique features and serves a different purpose for your website.
Customization
Similar to the point above, not every slider will give you the same options for customization. While some will be flexible and will let you edit almost every detail, others will be more rigid and provide you with premade designs.
Ease of Use
If you're an expert webmaster or WordPress whiz, you might opt for a slider that's a bit more advanced. These sliders are likely built with shortcodes and require some coding knowledge to customize.
In contrast, if you're new to web development, you might look for a slider with drag-and-drop capabilities. This will make it easier to build an image slider that fits your specific needs.
Responsiveness
Remember, people aren't just looking at your site on a desktop computer. A lot of people are looking at it on their mobile devices, too. This means you'll need a slider that's responsive and will render appropriate no matter what type of browser or device is being used.
Price
Last, but certainly not least, price is an important factor to consider when choosing a WordPress slider plugin. Some will be free, while others will charge you for premium features.
If you're on a bit of a budget — or just looking for a high-quality WordPress slider — take a look at the list we compiled below and pick a slider that will give you the biggest bang for your buck.
Best Slider Plugins for WordPress
There are dozens of WordPress slider plugins available in the official WordPress directory and third-party sites. Each offer a different selection of features that make them better suited for certain types of websites.
To help you find the right plugin for your site, we've compiled a list of 27 WordPress slider plugins. Let's take a closer look at each below.
Price: $79
If you use premium WordPress themes for your projects, you've probably already heard about the Slider Revolution plugin. It's one of the most popular and widely used slider plugins for WordPress. Offering a wide selection of high-quality features, it also claims to be the most powerful WordPress slider builder.
With this plugin, you can easily create full-width and full-screen slideshows using Slider Revolution's powerful administrative backend and easy-to-use visual slider. It also comes with transition animation styles so you can add captions to your slider and make edits as needed.
One downside of this plugin's rich versatility and power is its poor loading speed. Slider Revolution's own website demonstrates how using its slider can take a toll on load times, which is an important search ranking factor for Google.
That may be a small price to pay for more than 200 beautiful templates, cutting edge designs, and ease of customization, but it's something you should definitely consider before making a decision on a WordPress slider plugin.
Price: $25
LayerSlider is a high-quality, responsive WordPress slider plugin that offers easy-to-manage, highly customizable options.
This slider plugin offers more than 200 preset 2D and 3D slide transitions, an easy-to-use drag-and-drop slider builder, real-time previews, a timeline view, Google Fonts, and a transition builder for custom animations.
This plugin comes with built-in lazy load options that will ensure that your slider doesn't affect the loading time of your site. It offers 13 built-in skins you can use for your sliders and three navigation styles, as well as multiple slider styles to choose from.
Price: $23
RoyalSlider is a high-performing WordPress slider plugin that was created with HTML5 and CSS3 to be SEO-friendly. Both feature-rich and performance-oriented, RoyalSlider will help you create a modern slider that will take your site's design to new heights.
You can populate data from Flickr, 500px, or Instagram to fill your slider, and add a featured image from your blog posts or WooCommerce store.
RoyalSlider supports YouTube or Vimeo videos, allowing you to create video galleries. The smart lazy loading feature will ensure that your website is never slowed down by these sliders, and you can add multiple sliders on one page.
Price: $89
The Social Slider Widget PRO lets you display Instagram feeds anywhere on your WordPress site using shortcodes. You don't need authorization, therefore there's no need for an API key. All you have to do is enter a username and the results will be displayed.
It's easy to set up and customize the layout. You can set the size, number, and spacing of images and columns. Images can be displayed in thumbnails or full form. The design is also mobile-ready to ensure a great view across all devices.
While you can get access to user data without authorization, make sure you know the limitations Instagram sets for showing feeds without it.
Price: $19
Hero Slider is a high-quality, premium slider plugin for WordPress that offers a wide range of features to help you create a stunning slider for your website. This fully responsive slider plugin comes with a drag-and-drop interface so you can create sliders without touching any code.
In addition to being SEO-friendly, Hero Slider is compatible with WooCommerce so you can use it on your ecommerce site.
Additionally, Hero Slider offers different arrow and button options, unlimited layers on every slide, and multiple sliders per page. It also offers a video background option (as well as a video element for your slider) and comes with an auto-pause feature for video playing on any of the slides.
Price: Free
As its name suggests, Ultimate Responsive Image Slider is a responsive photo slider plugin beloved by bloggers on WordPress. With this plugin, you can add an infinite number of slides to one slider using the multiple image uploader.
Ultimate Responsive Image Slider has a simple drag-and-drop interface so site owners at all skills levels can use it without needing to code. It also works across all major browsers and operating systems.
Ultimate Responsive Image Slider is an SEO-friendly slider that allows you to set an alternate tag for each image. Customization options include slider distance, thumbnail width and height, and thumbnail position.
Price: $17/year
Soliloquy is a robust and popular slider plugin for WordPress. It offers a range of unique features in addition to its drag-and-drop functionality. One notable feature is its image carousel that rotates the pictures in your slider as users click through them.
This plugin comes with over 100 configurable hooks and filters that you can use to create a slider of any type. Soliloquy also gives you complete control over the images you use on your sliders to help make them SEO-friendly.
Additional features for this plugin include image thumbnails, lightboxes, and a responsive, mobile-friendly design. There's also a WooCommerce integration so you can create stunning product sliders for your online store.
Price: $17
If you'd like to improve customer trust in your brand, add testimonials to your site using the WP Testimonial Slider & Showcase Pro plugin. This nifty WordPress slider plugin does all the work for you, displaying a slider or grid layout of customer testimonials and reviews in a beautiful, modern design.
Testimonial Slider is completely responsive, working seamlessly across all screen sizes. It's very customizable and allows you to create unlimited shortcodes, set color, specify the number of testimonials displayed per row, and add pagination.
You can also display testimonials at strategic points across your website to make them more visible to potential customers. This is possible because Testimonial Slider also supports widgets.
Price: Free
Accordion and Accordion Slider is a fully responsive, touch-enabled WordPress slider plugin that helps you create a great-looking slider for your website.
With this plugin, you can easily show images from content galleries such as Flickr and other third-party sites. The plugin is retina-ready, ensuring all your sliders will look great across different devices. It's also SEO-friendly and has a lot of amazing features like deep linking, lazy loading, and breakpoints.
Some additional features for this plugin include external linking, touch-enablement for mobile devices, and two fully responsive display modes.
Price: Free
Many WordPress slider plugins have integrated element animations — similar to those you'd find on PowerPoint. Crelly Slider was among the first WordPress plugins to use this feature. This open-source plugin was designed with ease of use as a top priority and takes very little time to install.
Without any coding skills, you can use the drag-and-drop interface to set up and customize page backgrounds and add transition effects. All of the elements are fully responsive, so you don't have to worry about designing a look that works for both mobile and desktop views — Crelly Slider does this automatically for you.
Crelly Slider is also compatible with iOS and Android browsers and devices. So, no matter what device your visitors are using, your site will look like it's supposed to.
Price: Free, with paid plans available
MetaSlider is widely used because it offers an easy option to create a beautiful slider with images directly from your WordPress media library. Just drag and drop the images you want to add to the slider section, then insert your link and SEO settings for each image.
You can use the provided shortcode or template to easily embed slideshows on pages and posts. And, this WordPress slider plugin gives you the option to preview slides before you make them live on your website so you can test around as much as you want to get the exact look you're searching for.
MetaSlider offers a variety of effects and slider styles to choose from. For example, you can create video slides, layer slides, product slides, and carousel slides. Each one is easy to build and works seamlessly with the Gutenberg block editor.
Price: Free
Slider Pro is a free slider plugin for WordPress that offers many customization options for creating image sliders. With this tool, you can build fully responsive, touch swipe-enabled sliders with smooth transitions.
You can also manage how slides transition between images. You can set transitions to fade out previous images or have them switch instantly.
What's really nice about this plugin is that it will specify different image sources for different slider sizes. So, if a viewer is looking at your slider on a mobile device, the plugin will display a lower resolution image. But, if the slider is viewed in full screen, the plugin will use a higher resolution image to create a better user experience.
Price: Free, with paid plans available
Slider by 10Web is powerful, responsive, and will help you build beautiful sliders for your website. It's great for adding mobile-ready sliders to any web page and you can add a slider to multiple pages at once.
This plugin supports YouTube and Vimeo and offers a large library of custom effects that you can apply to make your slides unique. For example, one cool effect is the parallax slider where elements within the slider will move towards or away from your mouse cursor.
There's more than one way to create a slider with 10Web. For instance, you can add images to your project through WordPress or an external image URL. You can also use a shortcode to add sliders to your pages rather than WordPress galleries.
Other custom features include watermark, block download, and design customization. Slider by 10Web has a premium version that offers additional benefits, including more than 25 transition and layer effects.
Price: $25
All Around is an — you guessed it — all-in-one WordPress slider plugin that can be used to create sliders with both images and videos.
All Around is a great tool for any niche website. It's robust and flexible, and with it, you can make a great-looking carousel for your business site or portfolio.
With this slider plugin, you can give your slider a vertical or horizontal layout on your webpage. There are six premade layouts to choose from and each one with SEO-friendly and responsive.
All Around offers multiple customization options to help you create the perfect slider for your site. You can, for example, incorporate your brand's typography and color scheme using its text sliders.
Price: Free, with paid plans available
The WP Responsive Recent Post Slider is a great plugin for helping website visitors easily find and click on your most recent posts. While there is some coding involved with this plugin, it can be used by anyone from beginner WordPress users to expert webmasters.
To add a post slider, you just have to configure the shortcode. This WordPress slider plugin offers a post carousel and four unique designs to improve the look and feel of your sliders.
You can also dictate how many posts you want your slider to show and how fast the carousel will rotate. You can hide certain posts that you don't want to highlight and you can display information like author name, publish date, and more for each slide.
Built by the same folks who designed the last plugin, this slider plugin helps you create logo sliders for your web pages.
But, why logos and not images?
Well, if you'd like to showcase major customers or partners on your website, you can do so with a slider instead of static images. WP Logo Showcase Responsive Slider helps you do this by creating interactive, attention-grabbing slider modules that are designed specifically for logos.
Whether you're a freelancer, consultant, event organizer, ecommerce store owner, or non-profit organization, displaying social proof is an important aspect of influencing others to work with you.
Price: $99

GS Logo Slider is another WordPress logo slider plugin. It's lightweight and will not slow down your site, but it's also robust enough to perform the task at hand.
If you're an agency, freelance photographer, or creative professional, it's a great tool for showing potential customers and partners the clients you have worked with in the past. Ecommerce websites might also make use of GS Logo Slider to display the brands they carry in their store.
The plugin is responsive, easy to use, and compatible with any WordPress theme. It comes with over 24 different themes and works seamlessly alongside the Gutenberg block editor.
Price: $35
Master Slider is among the most popular WordPress slider plugins. It's a responsive, high-quality slider plugin, and it offers a number of amazing features as well as over 25 ready-to-use templates.
What really sets Master Slider apart from other slider plugins on this list is its ability to add HTML content in layers. That way, you can add text and images over your sliders for added customization.
You can also use this WordPress slider plugin to create a full-screen slider with a video background. This helps you create an eye-popping web page with several interactive elements on it that visitors will stay engaged with.
Price: Free, with paid plans available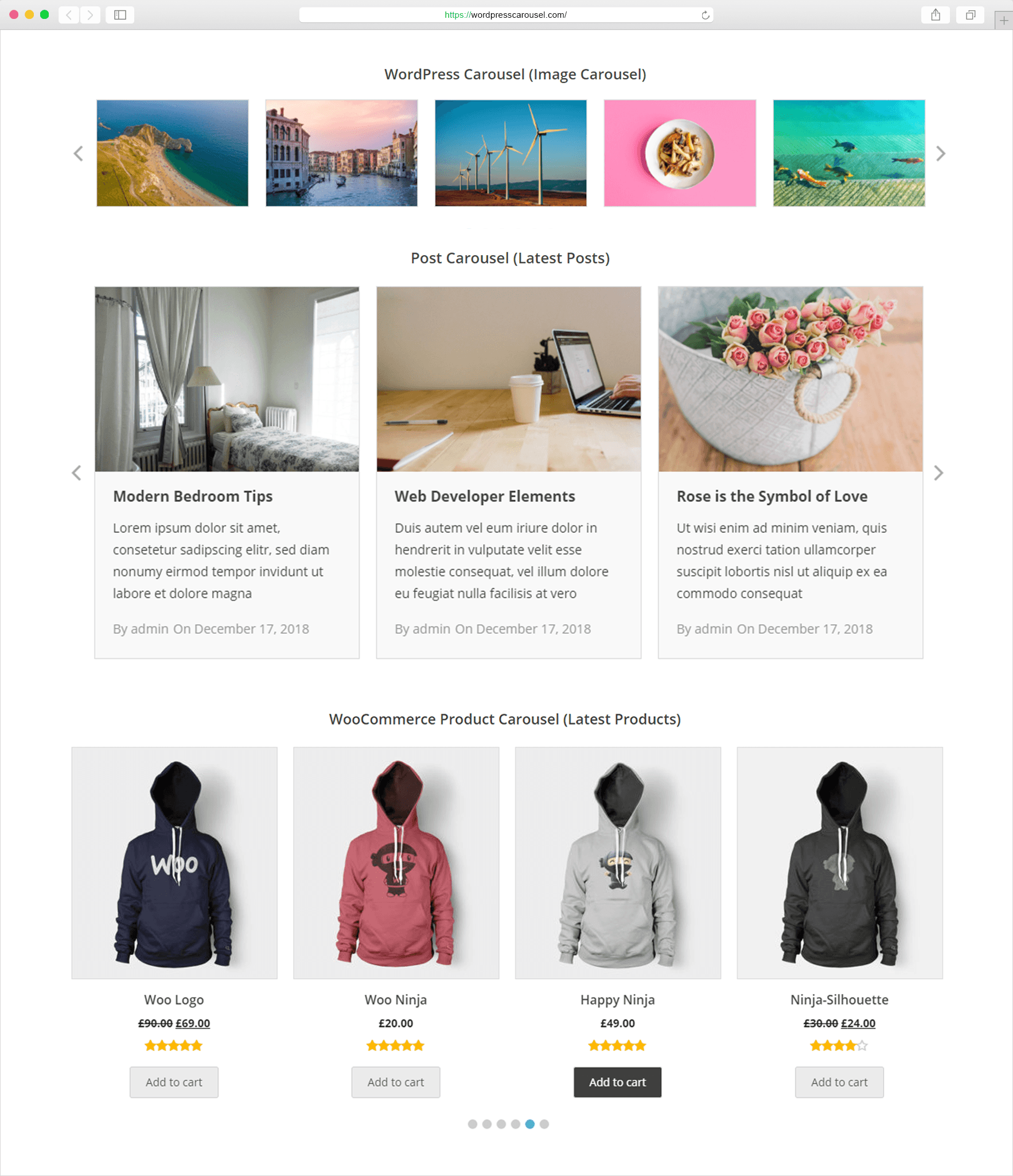 WordPress Carousel gives you more than just a simple carousel image slider. With this plugin, you can create post carousels and product carousels as well.
Post carousels show the latest posts that you published to your website or blog. These slides contain the name of the post, the author, the publish date, and a thumbnail image.
Product carousels highlight different products available in your online store. This feature uses WooCommerce and lets you add the product name, its price, and an image of the product to each slide. You can also install an "add to cart" button so viewers can instantly add the product to their shopping cart then continue browsing through your store.
Price: $49/year
The WordPress Slideshow Plugin by Supsystic is an easy-to-use, fully responsive WordPress slider plugin that helps you create and display professional-looking slides for your images and blog content.
To add sliders, simply select the images or content you want to add and enter their title and description. You can then decide if you want them to appear as a post feed slider, a video slider, or a carousel.
The main features of Supsystic's slider plugin are a drag-and-drop interface, custom themes, shortcode support, caption support, and thumbnails slider. The pro version gives you additional features including carousels, video, HTML layers, and post feeds.
Price: $29
You can add sliders to your pages, multi-page posts, and WooCommerce product descriptions using Theia Post Slider.
There are more than 200 slider themes and four transition effects to choose from. You can add headers and titles to your slides and the interface offers a live preview to check out your design before publishing.
Some additional features include unique slide URLs as well as AJAX and preloading for speed optimization. This helps with SEO because users don't have to reload pages whenever an event is triggered. Instead, the content on the page updates automatically using AJAX.
Price: Free, with paid plans available
Smart Slider 3 is an easy-to-use and intuitive WordPress slider plugin that lets you work with multiple layers on a simple drag-and-drop interface. It's not WYSIWYG, but it does let you preview your content before it's published with the click of a button.
With this plugin, you can quickly set up responsive sliders that include YouTube and Vimeo videos. You can also use custom fonts, styles, and navigation to create unique sliders and configure the details to change with each slide and layer.
Smart Slider 3 has a touch-friendly design, multiple slider controls for styles and positions, and autoplay configurations. It even allows you to import sliders created externally.
Price: $25/year
With SlideDeck5, you can create image sliders using content from WordPress media, Instagram, Flickr, Pinterest, Dribble, and Google Plus. This means you don't have to download a file from one source then reupload it to another. SlideDeck5 simply pulls the image from its original source.
This plugin offers a fully responsive design so your sliders will easily adapt to any screen size. There are vertical and horizontal designs as well as an image carousel that you can install on your page.
There's also an option to create a thumbnail slider that shows visitors a preview of your slides. This keeps users engaged because they see what comes next in the slider and will click through your other slides to get to the one they're looking for.
Price: Free, with premium plans available
WooCommerce is a powerful ecommerce plugin that plays a crucial role in many online stores. However, not all slider plugins can display WooCommerce products — which is where WooCommerce product slider plugins like PickPlugins Product Slider for WooCommerce comes to the rescue.
It helps you display products in sliders and, to make it as efficient as possible, offers a wide range of slider styles including the most common across various WooCommerce themes.
You can have an infinite number of slider displays and the design is mobile-ready to ensure functionality across different devices and browsers. You can customize the number of items per slider and column, and the navigation options include touch/mouse dragging, stop on hover, and autoplay.
Price: Free
WOW Slider is a fully responsive, free WordPress slider plugin offering a multitude of features and stunning effects. It comes with a point-and-click wizard that helps you create image sliders in a matter of seconds without coding or image editing.
With more than 30,000 downloads, WOW Slider is one of the most widely-used free slider plugins available. As far as the effects and possibilities are concerned, WOW Slider is on par with many premium slider plugins.
Some additional features include a fast and lightweight design, touch/swipe navigation, and 25 different transitions and animation effects.
Price: $15

Ultimate Image Slider Pro is a Bootstrap framework based, high-quality image gallery plugin that helps you create appealing image sliders within a couple of minutes. You can add an unlimited number of images to your galleries, which you can showcase with stunning animated effects.
This WordPress slider plugin offers the option to preview images with lightbox and comes with two gallery layouts as well as several different fonts to style your slider. You can place the image galleries on any WordPress page or post with the help of the shortcode included with the plugin.
Additional features of this plugin include nine unique slider layouts, infinite scrolling, and responsive slider heights so your slider will change sizes based on the device it's being viewed on.
Price: Free, with premium plans available

Jssor Slider is an easy-to-use WordPress slider plugin that offers a drag-and-drop interface for creating sliders. It offers many of the features you can expect from a premium WordPress slider plugin for free.
Once you activate the plugin, you can upload corresponding images using the admin dashboard. After that, just write your caption, description, or link, and your slider is ready.
You can re-order sliders with simple drag-and-drop functionality, and you have the option to preview your slider before it goes live on your site.
The Jssor Slider plugin comes with almost 400 caption effects and transitions, more than 360 slideshow effects and transitions, more than 18 arrow skins, and more than 16 bullet skins.
Choosing Your WordPress Slider Plugin
Adding sliders to your website is a great way to grab your visitors' attention and highlight the content you want to be seen. You can display images, video, or posts in succession to maximize space on your site while simultaneously presenting important content to your visitors.
These WordPress plugins are some of the best in the market. When making your selection, make sure the plugin's functionality aligns with the needs and goals of your site.
Once you've got sliders figured out, get the all-in-one marketing and lead form plugin for your WordPress website.
Editor's note: This post was originally published in March 2020 and has been updated for comprehensiveness.
Originally published May 12, 2021 7:00:00 AM, updated May 12 2021
Don't forget to share this post!