Whether you're creating a corporate website, an ecommerce store, or a blog, a content management system (CMS) enables you to control your site's content, design, and functionality without touching any underlying code.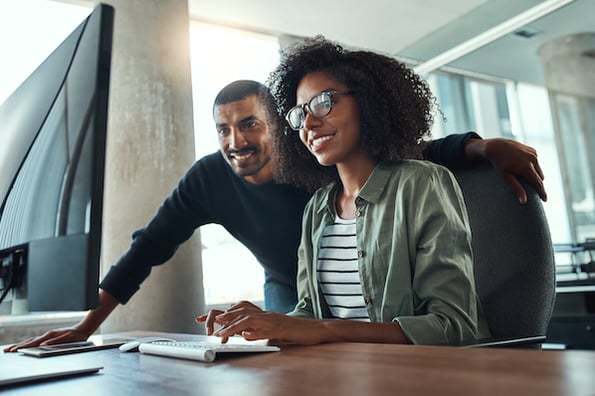 There are hundreds of content management systems on the market, each offering unique functionality to fulfill different business purposes. To select the best CMS for your business, you need to ensure its features align with your needs and goals.
For instance, say you want to optimize your content for search engines. Then, you may want to use a platform with built-in SEO tools. With CMS Hub, for example, you'll get on-page SEO advice in the same place you're creating blog posts, landing pages, and other content.
This is just one example of a feature that you might consider when selecting a platform for your business. Below, we'll look at 14 key features in a CMS that can help you create and run a site.
Key CMS Features
Intuitive Dashboard
Responsive Themes
Powerful Content Editing and Publishing Tools
Version Control and Backups
Multi-language Content Creation
Publishing Controls
Built-in SEO Tools
Robust Integrations
Detailed Analytics
Pre-made Templates
Content Staging
Security
Support
Migration
1. Intuitive Dashboard
At the core of every CMS is the admin dashboard. Every CMS should enable you to manage all tasks involved in content production and distribution right from your dashboard. These tasks include scheduling content, monitoring threats, tracking user activity, installing modules and plugins, and reviewing performance analytics, among other responsibilities.
Take CMS Hub, for example. Not only can you create multimedia blog posts and landing pages in your dashboard — you can also manage, optimize, and track their performance. And since it's integrated with HubSpot's marketing, sales, and service tools, you can analyze website traffic reports in the same place that you run A/B tests, manage ads, and edit URL redirects.
2. Responsive Themes
When evaluating different CMS platforms, it's important to look at the selection of themes each one offers. Themes are important for establishing a consistent look and feel across your site.
For example, if you run an e-commerce site, you might want a theme that includes:
drop-down navigation support
a sticky sidebar area
customizable content sections
a grid layout
Depending on your CMS, you can either download or purchase such a theme or build one. If you built your store using Shopify, then you could purchase the Kingdom theme from Shopify's official marketplace, shown here:
You'll also want to make sure your theme is responsive so that every post and page published on your site is optimized for all devices.
3. Powerful Content Editing and Publishing Tools
The less work you have to do to add content to your website, the more work you can put into making that content high-quality. As such, you need a powerful content editor to ensure you can easily create and publish different types of content — from blog posts with custom layouts to landing pages with embedded resources.
Ideally, you should be able to add images, videos, CTAs, forms, and more, and rearrange these elements within the publishing interface. You'll also need to be able to preview the page before publishing.
Many CMS platforms have a WYSIWYG ("what you see is what you get") editor that allows you to modify a page without writing HTML code and to see changes as you make them. Take a look at Webflow's WYSIWYG editor below:
You'll also want to ensure that the CMS makes it just as easy to schedule, publish, update, and otherwise manage content as you need. This interface should be intuitive to prevent accidental publishing of unfinished content.
Take the page expiration feature in CMS Hub, for example. Ideal for limited-time deals and event registration pages, you can use this feature to set a custom date and time when a page will expire and decide where the page will redirect to after its expiration. Ideally, every CMS would provide you with this level of control over your content.
4. Version Control and Backups
In addition to editing and publishing features, consider content management systems that have a way to save and track your work as you go. You may find yourself in a situation where you need to revert to an old version of your content — it's a nice touch when a CMS makes that easy.
Also, how does the CMS handle backups? Are they automatic, or do you need to create them manually? Are backups a native feature, or do you have to install an extension for them? Best to find this out now than wait for a case of data loss, a broken website, or a hack — in all of these cases, you'll want an extra copy of your site on hand.
Note that your web host may also provide backup services for your site. Review your hosting plan (if you have one) to see if these services are included.
5. Multi-language Content Creation
To expand your reach to customers in different countries, you need a CMS with multi-language content features. This will make it quick and easy for you to create different language variations of your pages.
With CMS Hub, you'll be able to not only create multi-language variants of a specific page — you'll be able to test them. These variants are automatically associated in groups so you can continue to manage your multi-language content as you scale. You can then add a language switcher module to your page template, allowing visitors to switch between translated versions of pages within the same multi-language group.
6. Publishing Controls
No matter the size of your business, it's likely that more than one person will be publishing content on your site. You might have authors responsible solely for creating drafts, editors for reviewing those drafts, and administrators for scheduling and publishing them.
That's why publishing controls are important in any CMS. Assigning different roles and levels of access within your CMS helps you establish a workflow for creating, approving, and releasing different creative assets. They also prevent users from performing actions on your site that they shouldn't be — you probably wouldn't want a first-time freelance writer publishing their own post without your approval, for example.
In WordPress, you can assign users one of five roles: Administrator, Editor, Author, Contributor, and Subscriber. Each role has a different set of capabilities. Contributors, for example, can only create posts, not publish them. While authors can publish and manage their own posts, editors can publish and manage others' posts.
7. Built-in SEO Tools
A CMS with built-in SEO tools will help you optimize your content for search and improve your chances of ranking on search engine results pages.
First, you should check that the platform itself is SEO-friendly: Does it use proper HTML markup? SEO-friendly permalinks? Responsive design elements? These are all fundamental practices all your pages should follow to be in good standing with search engines.
After that, see if the CMS offers any advanced SEO features. CMS Hub offers SEO recommendations as you create content. Below you can see recommendations to include the keyword phrase in the title, add a meta description, and use two subtopics. These suggestions are all designed to help visitors and search engines better understand what the page is about, which, in turn, improves your ability to rank.
In CMS Hub, you can also create topic clusters that automatically link supporting content back to core "pillar" pages. This content strategy ensures search engines can easily crawl your site and recognize your expertise on a given topic.
8. Robust Integrations
No single CMS will handle everything your business website needs in-house. Instead, your CMS should rely on its integration capabilities to bring third-party software into your workflow. This way, your CMS data can flow freely between applications to help you distribute and analyze your site's content.
Here are some integrations you'll want to check for when CMS-shopping:
Social media: To drive referral traffic to your site, a CMS should have integrated social capabilities. Does it let you publish posts on social media? Can you add social media sharing buttons to your posts? Are social media analytics included in your dashboard?
Marketing automation: Some content management systems might have some built-in marketing automation features, but you might prefer to integrate with a third-party automation tool to drive more conversions.
CRM: A CRM integration helps capture leads and organize them into a manageable system — for instance, you can connect WordPress with HubSpot via HubSpot's WordPress Plugin.
Typically, integrations come in the form of "plugins" or "extensions" for a given CRM, available from a marketplace. While WordPress has one of the largest selections of extensions, with over 50,000 free plugins available in its directory, WordPress alternatives also offer impressive selections. Drupal, for example, has over 44,000 highly configurable modules available in its directory.
This enables site owners with some experience in website development to maintain granular control over the functionality of their sites. Using modules, you can add responsive dropdown menus to your Drupal site or customize meta tags depending on the browser language.
CMS Hub offers these integrations via application programming interfaces (APIs) with third-party apps, giving you access to every tool you need. For example, if you're looking for ways to advance your content strategy and SEO efforts, you can integrate Google Search Console with HubSpot to bring valuable data about your website's performance right into your CMS.
9. Detailed Analytics
Insights like where your target personas are based, what device they're using, how they're interacting with content on different devices, and which pieces of content are most popular are crucial to refining your content strategy.
Ideally, your CMS will have built-in analytics for measuring these performance indicators right in your dashboard. If it doesn't, then it should offer an integration with Google Analytics or another popular analytics tool.
With WordPress, for example, you can install a Google Analytics plugin. If you're using HubSpot with our WordPress Plugin, those analytics are directly in your dashboard.
10. Pre-made Templates
When looking at a platform's selection of apps and integrations, check out what templates they offer as well. Because you can use a template rather than create a post or page from scratch every time you want to publish new content, these are key to simplifying your publishing process.
It's important to note that a template is not the same as a theme, though the terms are often conflated. A template is a single-page layout that's available within a theme or is compatible with a theme and can be downloaded separately. Some platforms offer pre-built landing page, website page, and email templates to help maximize your marketing efforts.
Now let's say you don't find a template that meets all your needs. In that case, you'd like a CMS that offers pre-designed templates and allows you to create custom templates and styles.
CMS Hub is one example. In addition to providing over 6,000 templates in its Asset Marketplace, HubSpot allows developers to create custom JavaScript, HTML, HubL, and CSS assets in the same place that pages are published.
11. Content Staging
Once your site is live, it's unlikely it will look the same for long. Whether you're launching a new product or completely overhauling your site's design, there are many situations in which you'll need to make major changes to your site.
Rather than make these changes to your live site, ideally you would test out these changes and make sure they improve the visitor experience before rolling them out. That's why you need a CMS that allows you to stage and preview content.
While some platforms require you to sign up with a specific hosting provider or download a module, others like the CMS Hub come with a built-in staging environment:
12. Security
Maximizing the security on your site doesn't just protect your data – it protects your visitors and your brand reputation. Personal data theft was the number one crime concern in the US in 2020, and it's your responsibility to keep those worries from becoming a reality for customers.
When evaluating different content management systems, consider what built-in features the platform offers and how much work it's going to be for your team to achieve your security standards.
Here are a few questions you might ask when evaluating the security of a platform:
Does it come with a content delivery network (CDN) to help prevent DDoS attacks?
Is SSL included or do you have to purchase an SSL certificate separately?
Does it have a Web Application Firewall to prevent hackers from accessing your site?
Does it have a security team? If it does, is this team made up of community members or employees?
How often are static code analysis and vulnerability scans run? Are these integrations that can do this for you?
How difficult is it to update the software when a security patch has been released?
13. Support
Most open-source platforms do not have customer service departments that you can call with a question. Instead, they provide extensive documentation and then rely on an engaged community of users to create and run wikis, forums, user groups, and events to fill in the gaps.
Joomla, for example, has 700,000 community members who regularly engage with each other in the Joomla support forum to discuss the software.
Open-source communities can be a reliable source of information that enables you to resolve issues by yourself. However, you may not always have the time to look through these resources or wait for an answer in a support forum. Say, for example, your site went down and you can't figure out why. Then you'd want help as soon as possible. In that case, a proprietary CMS that offers live support would be ideal.
When you're evaluating platforms based on support, consider the different types of support they offer for non-critical and critical situations.
14. Migration
You may be starting your website from scratch with your CMS of choice. Or, you may be importing large numbers of website files. In this case, consider content management systems with features to help with the process. Some even offer secure migration services if you're moving from another CMS.
Conversely, it's worth seeing how you might migrate your content out of the CMS. You may find the CMS isn't the best option for your company, or you may need a more scalable solution as you grow. In any case, check how you can safely get your data off the platform. Does the company help you, or do they block the exit?
Finding a CMS that Fulfills Your Business Needs
While every CMS is unique, there are some core features that you should look for when selecting a platform for your business. A platform that combines a user-friendly dashboard with built-in SEO tools and advanced security configurations, among other key features, will enable you to build and grow a site that attracts, engages, and delights your visitors. It's a good idea to examine every facet of your business, including competitors and potential dangers, and then use startup consultants to help with the strategic approach to guarantee you're on the correct course.
Editor's note: This post was originally published in April 2020 and has been updated for comprehensiveness.