As a WordPress site owner, you want to make your blog SEO friendly to rank higher on search engines. Higher rankings on Google and other major search engines will increase your blog's visibility and get you more organic traffic.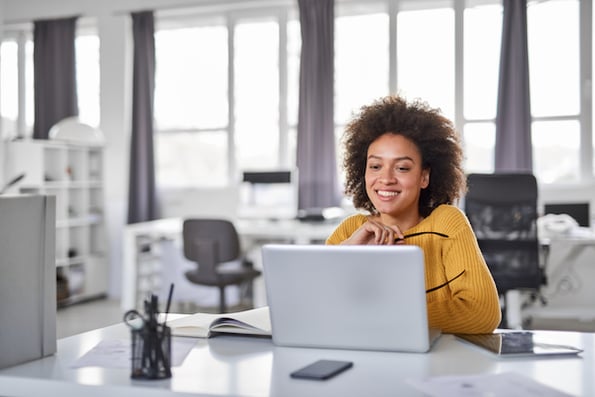 We're not talking about a little traffic either. According to Search Engine Journal, sites listed on the first Google search results page get 91.5% of the traffic share for a keyword or phrase. The first result alone gets 32.5% of that traffic.
While there's no magic trick to gaming Google's algorithm, you can take steps to optimize your code, formatting, and content to ensure search engines can easily find and index your blog. Let's look at those steps in detail below.
How to Make Your WordPress Blog SEO Friendly
Choose a managed hosting service.
Select an SEO-optimized WordPress theme.
Update your permalink settings.
Create XML sitemaps.
Optimize your page titles and meta descriptions.
Optimize your images.
Provide links to related content.
Organize your content with categories and tags.
Generally considered one of the most SEO friendly platforms, WordPress has out-of-the-box features that can help you optimize your blog for search engines. Below we'll cover how you can use these built-in features as well as other services and tools to improve your chances of ranking.
Step 1: Choose a Managed Hosting Service
Even before installing WordPress, you'll want to select a hosting service that can help protect and speed up your site. While security and speed may not directly impact your ranking, a site that's breached or slow will lead to poor user experiences and traffic loss. This ultimately impacts your site's SEO.
Of the four types of services, managed hosting is an excellent option for optimizing your site. Essentially, managed hosting means you share some responsibilities of running a blog with your hosting company. The company will regularly cache your site, run malware scans and daily backups, close security loopholes, and update your WordPress plugins and themes, among other functions. In other words, a managed hosting provider helps you run a reliable, fast, and secure site.
Since site speed, page load times, and security all affect SEO, managed hosting can help simplify the optimization process for you. Once you've decided on a hosting service, you'll want to choose a hosting provider that's reliable and high-performing. Among many others, Blue Host and HostGator are well-regarded providers in the WordPress community.
Step 2: Select an SEO-optimized WordPress Theme
Did you know that mobile devices accounted for 60 percent of organic search engine visits this year? And for this valuable majority of search queries, Google displays the mobile-friendly results first. That means you need a responsive theme to optimize your site for both desktop and mobile devices.
You'll also want to consider a theme's code and design when making your selection. A poorly coded or feature-rich theme can slow down your site, which will negatively impact your visitor's experience and search ranking.
Brando is just one example of an SEO-optimized theme. It's fully responsive, coded with HTML5 and CSS3 and based on Twitter Bootstrap to make sure that it's lightweight and SEO friendly.
For more help making your selection, check out 66 Best SEO Optimized WordPress Themes for 2019.
Step 3: Update Your Permalink Settings
A permalink is a permanent URL, or link to a specific post or page, on your WordPress site. By default, WordPress uses a plain permalink structure, which means your URLs will be randomly assigned a series of numbers and question marks to differentiate one from the other. This default setting works just fine but doesn't help search engine crawlers or readers understand the content or value of your posts.
In one click, you can change your permalink structure to include keywords that you're targeting in your post. That way, search engines can read your URLs and determine whether your site has the answers to certain search queries. Just navigate to Settings > Permalink and select the option marked "Post Name."
Step 4: Create XML Sitemaps
XML sitemaps are files that list every single page on your website so that search engines can easily find, crawl, and index your content. You can create a sitemap manually, but the process requires a bit of coding. Otherwise, there are plenty of sitemap plugins you can install to do the work for you.
After you create your sitemap, you'll put it on your web server and submit it to Google Search Console and Bing Webmaster. Unless you're using HubSpot or another platform that automatically updates your sitemap, you'll need to update and resubmit it yourself any time you make a significant change to your site. This will ensure that search engines continue to understand how your site is built so they can evaluate and rank it more easily.
Step 5: Optimize Your Page Titles and Meta Descriptions
Page titles and meta descriptions are two important factors for SEO. Along with your URLs, they tell readers what they can expect to learn by clicking on your post or page on search engine results pages (SERPs). They also help search engine crawlers determine the relevancy of your content and match them with search queries.
To optimize your titles and meta descriptions, you need to include the keywords you're trying to rank for and meet the length requirement. Ideally, keep titles under 60 characters and meta descriptions under 160. If your title is longer, make sure to frontload your keywords. That way your post will still be considered relevant to searchers even if the title gets cut off in SERPs toward the end.
In the example below, you'll see that the ranking keyword "on-page SEO" is placed at the very beginning of the lengthy title so the snippet is still optimized for search engines and readers.
Step 6: Optimize Your Images
Optimizing your images is a two-fold process. First, you want to make sure they're properly sized and compressed to maintain your site's speed and performance. You can do this manually or use an image optimization plugin like Imsanity. Next, you want to make sure they include alt text.
Alt text lets both search engines know what the images are about, which enables search engines to better rank them in image results pages. It can also help your ranking on SERPs since Google now delivers image results above text-based results for certain keywords. In the example below, the first SERP Google produces for the search term "email newsletter design" includes a substantial amount of clickable images before any organic text results.
Alt text also makes your content more accessible to readers with visual impairments or readers using devices with low-bandwidth connections.
Step 7: Provide Links to Related Content
Internal links are essential to on-page SEO. By linking to your related content, you help search engines find all of the content you own on a particular topic. This will improve your chances of ranking for the keywords associated with that topic. By linking to other helpful posts and pages, you'll also provide your visitors with better experiences and convince them to stay on your site longer.
You can link your pages manually every time you create a new post. Or you can use a plugin that automates your internal link building process. Link Whisperer is a premium WordPress plugin powered by artificial intelligence to give automatic link suggestions when you start writing in WordPress.
Step 8: Organize Your Content with Categories and Tags
Another way to help both site engines and readers understand your site structure is to use categories and tags to organize your content. With categories, you can separate your pages and posts into broad categories. You can then get more specific with tags. Using these taxonomies will also help visitors quickly find the content they're looking for and help search engines understand the structure of your site.
To create a category, go to Settings > Writing in your WordPress dashboard. To add a new tag or manage existing ones, click Posts > Tags.
Plugins to Make Your WordPress Blog SEO Friendly
Optimizing your blog for search engines is an ongoing process. Fortunately, WordPress plugins can make it easier by automating some of the steps discussed above. The plugins below offer a range of features to help you build XML sitemaps, implement tags and categories, and create relevant titles and meta descriptions to optimize your blog for search engines and readers.
All in One SEO
All in One SEO (AIOSEO) is a popular SEO plugin used by over 2,000,000 professionals. With this plugin, even complete beginners can optimize their site for SEO in less than 10 minutes.
The SEO setup wizard will help you automatically choose the best SEO settings for your industry. The SEO audit checklist will analyze your entire site for errors and provide an actionable checklist to optimize your posts and pages.
Plus, with this plugin, you can automatically generate a WordPress XML sitemap and notify all search engines of any updates.
AIOSEO also comes with powerful features like a redirection manager, rich snippets schema, social media integration, WooCommerce SEO, and more.
Yoast SEO Plugin
Yoast SEO is a powerful plugin that adds SEO features and tools to your WordPress dashboard. Its internal linking tool, for example, counts the internal links in a post so you can tell if it could use more links at a glance. It also provides a Snippet Preview feature, which allows you to easily change and preview how your content will appear on SERPs.
You can also type your target keyword in the "focus keyphrase" box and it will analyze your content to check whether you're using the keyword in the title, introductory paragraph, heading, URL, body, meta description, and image alt tags of the post or page. Finally, if you use Yoast SEO, you won't have to install a separate sitemap plugin. You can simply enable XML sitemaps in the plugin's settings and it will ping search engines each time you publish new content.
To learn more about how Yoast SEO can simplify the optimization process for you, read How to Optimize Your Blog Using the Yoast SEO Plugin.
Elementor Page Builder Plugin
Elementor is an all-in-one solution that lets you control every part of your website design. Using this platform, you can quickly and easily optimize your blog for search engines.
Use Elementor's lightweight theme Hello and drag and drop anything you want on it with the theme builder. It won't add any conflicting or redundant code that would impact your site's load time. You can also use the Responsive Mode in the Elementor editor panel to test if your post is both tablet and mobile responsive. Optimizing your blog for all types of devices in this way will not only ensure you're providing seamless experiences for all visitors, but it will also help improve your ranking on search engines.
Lastly, if you use Elementor, you won't have to install a separate internal linking plugin. You can just select the text you want to link in the text editor and Elementor will automatically suggest relevant content to link to.
Read The Beginner's Guide to Using Elementor in WordPress to learn more about this plugin and how it can help you build a stunning website.
By using WordPress's built-in features or the plugins discussed above, you can make your WordPress blog SEO friendly. This will increase your chances of ranking on search engines and getting more organic traffic.