Wix is one of the best website builders, but it's not for everyone. Thankfully, there are many alternatives to Wix. Wix is popular with site owners who don't want to deal with the technical aspects of running a site like security and backups. Wix has a free plan and range of premium plans for individuals, small businesses, and ecommerce stores.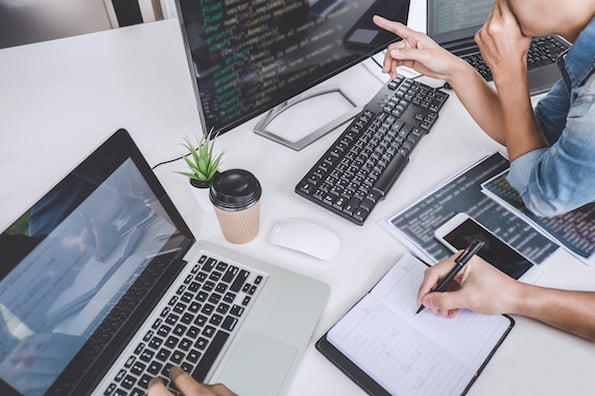 By upgrading to one of the premium plans, you can register a custom domain, remove ads from your site, and get even more advanced features. Wix's built-in ecommerce, blogging, SEO, and analytics tools can help you create and optimize your site to attract more visitors and grow your business.
Let's take a look at why you might want an alternative, then look at some of your best options.
Why You Might Want a Wix Alternative
While Wix excels in terms of ease of use, it lacks flexibility and power. For example, you can't switch templates after your website goes live. You can't add forms or featured images to blog posts. You can add some advanced elements, like music and maps, but you'll have to use HTML to do so. This process can be too difficult for beginners and time-consuming for others.
Wix is also considered a "heavy" platform because it contains more JavaScript than other platforms, which rely primarily on HTML and CSS. Since Javascript bloats the code of many Wix sites that don't need it, their load time suffers. For example, on The Blog Smith, Maddy Osman points out that if you look at the source code of a site from the Wix showcase, you can see a lot of unnecessary JavaScript and inline CSS (shown below). Since speed is a ranking factor for search, this code bloat hurts their chances of ranking.
Whether you're looking for a website building platform with more flexibility or speed, there are plenty of alternatives to Wix. Let's explore the best options below.
Wix Alternatives
CMS Hub
Squarespace
WordPress
Shopify Plus
Weebly
Pixpa
Contentful
Webiny
Drupal
GoDaddy Website Builder
Google Sites
Ideal for: Teams
Why Use CMS Hub over Wix: While Wix is a hosted website builder, CMS Hub is a fully integrated proprietary content management system. It offers features specifically designed for marketers, developers, and IT professionals so that they can work together to build more complex, secure sites than Wix.
For marketers, there's a drag-and-drop editor, built-in SEO tools, and contact attribution reporting to create and optimize content for every visitor. For developers, there's serverless functions, flexible theme options, and command line tools to quickly make changes and custom web assets. For IT professionals, there's a Web Application Firewall, SSL, and a dedicated security team to support them in keeping their site safe.
CMS also has a built-in content delivery network (CDN) to not only speed up, but also secure your site. With this CDN, your content will be delivered quickly, securely, and with less latency around the globe. You can also track the volume of potential attacks and probes into site vulnerabilities to help protect your CMS-hosted website, blogs, and landing pages.
CMS Hub Cons: Due to the advanced functionality and security of CMS Hub, you will have to pay more than you would for a Wix site. This might rule out individuals and businesses with smaller budgets. However, there is a CMS-Free that you can use at a low cost but also comes with some limitations to consider.
CMS Hub Website Example: Coke Northeast wanted to redesign their website to strengthen outreach and awareness within their community. Using HubSpot, they built a site for recruiting new employees, communicating with vendors and distributors, and affirming their commitment to their community.
Price
CMS Hub offers two tiers at different price points. CMS Hub Professional is $300 per month, and CMS Hub Enterprise at $900 per month.
Ideal for: Creative professionals
Why Use Squarespace over Wix: If you need to create an online portfolio, you'll be better off with Squarespace. While it offers fewer templates than Wix, the selection it does offer is award-winning and highly customizable. With Squarespace's LayoutEngine and Content Block system, you can create custom content types and complex multi-column layouts. You can also install more than one template on your website and work on multiple designs at once. You can even add custom CSS to any template thanks to the built-in CSS editor.
While too much custom code can slow down your site, the codebase for Squarespace is relatively light. There are also several steps you can take to speed up your site, including spreading content across pages to ensure each remains below 5MB, reducing your image file size, using excerpts on your blog homepage, and cleaning up your redirects.
Squarespace Cons: While you can create a more customized and faster site out-of-the-box with Squarespace, you will have to give up some flexibility. Besides a few extensions that are primarily dedicated to ecommerce sites, you're limited to the features Squarespace provides. There's no marketplace with hundreds of third-party apps like with Wix.
Squarespace Website Example: Actress Winona Ryder wanted to display images from the photo essay she creative directed and sell copies of the book based on that essay.
Price
Squarespace offers a range of premium plans which cost $12, $18, $26, and $40 per month, respectively. It does not offer a free plan.
Ideal for: Bloggers
Why Use WordPress over Wix: After comparing Wix vs. WordPress, it's clear that WordPress had its roots in blogging.
While Wix offers over 50 blogging templates and standard features like a built-in commenting system and taxonomies, it has many limitations. For example, its post editor lacks drag-and-drop functionality and it doesn't let you add a featured image for blog posts.
WordPress, on the other hand, provides 3,000+ free blogging themes, a drag-and-drop block editor, and advanced features like content visibility and user roles and permissions. WordPress also allows you to install a plugin or edit the source code to create a blog that looks and behaves exactly how you want. That includes optimizing your content, speeding up your site, and integrating it with a CRM with WordPress plugins like Yoast SEO, WPRocket, and the HubSpot WordPress plugin.
WordPress Cons: Due to this vast number of features and extensions — and the fact that you have to find and set up your own hosting and domain, creating and customizing a WordPress site will take much longer than a Wix site.
WordPress Website Example: Jennifer Lawson, an award-winning American journalist, author and blogger, created The Bloggess on WordPress.
Price
While WordPress is free to download, you have to pay for a domain name, hosting, and any premium plugins or themes you want to install. So the average cost of a WordPress site per year ranges from $30 to $3000.
Ideal for: Ecommerce enterprise businesses
Why Use Shopify Plus over Wix: While Wix offers ecommerce plans, its functionality is limited. Shopify Plus, on the other hand, is a dedicated ecommerce solution. That means it has features and extensions to help your ecommerce business scale beyond the standard features you expect, like customizable templates, inventory management tools, and secure payment options.
Let's just look at a few of the core features Shopify Plus offers. There's Shopify Payments, which enables you to process credit card payments on your site and avoid transaction fees. There's Multi-Currency to allow customers to pay with their local currency and Shopify Pay to let customers save their payment details for a faster checkout. There's also Shopify Channels, which lets you sell your products on additional marketplaces like Amazon and Instagram and continue to manage your inventory and orders in one place.
With Shopify Plus, you don't have to worry about site performance either. Its cloud-based infrastructure ensures Shopify Plus has a 99.99% overall uptime and that its storefronts load four times faster than its competitor BigCommerce. If you're currently using Wix and would like to convert your store from Wix to Shopify, you can opt to use a migration tool like LitExtension.
Shopify Plus Cons: The robust functionality of Shopify Plus can make it difficult to learn and adopt the platform. Some businesses may under-use the platforms and therefore overpay for features they don't use, while others may use so many features that their stores become difficult to manage. These won't be problems you'll have with Wix thanks to its ease of use.
Shopify Plus Website Example: After its site crashed twice on another platform, Bombas migrated to Shopify Plus to support its long-term growth.
Price
Shopify Plus starts at $2,000 per month. Higher volume businesses may need to pay more.
Ideal for: First-time shop owners
Why Use Weebly over Wix: Weebly is a great Wix alternative for shop owners on a budget. Like Wix, it offers a free plan as well as a range of premium plans. What sets its free plan apart is that it comes with basic ecommerce features, including a shopping cart, inventory management, coupons, and an automatic tax calculator. This makes Weebly a more affordable option for shop owners than Wix.
However, Weebly's free plan, like Wix's, is ad-supported and does require you to use a Weebly subdomain. That means you can start free and upgrade later to a premium plan to register a custom domain name, deliver an ad-free experience to your customers, and unlock more advanced ecommerce features.
Weebly Cons: While Weebly has more ecommerce feature than Wix, it's lacking in other areas. It has fewer templates, for example, and it lacks key features like an undo button. Users who want to create a website, not an online store, might be frustrated with Weebly's limitations.
Weebly Website Example: The Whiskey Ball is an awesome site powered by Weebly. This store is famous for selling the "original" ice ball mold for cocktails.
Price
Weebly offers a limited free plan in addition to premium plans that cost $6, $12, and $26 per month, respectively.
Ideal for: Photographers and Creative professionals
Why Use Pixpa over Wix: Pixpa is a great Wix alternative if you are looking for an accessible, easy-to-use, and feature-rich website builder at a much more affordable price point compared to what Wix offers. Pixpa is easy-to-use with a drag-and-drop interface and a structured style editor that makes website building accessible for beginners. Pixpa offers over 150+ professional, mobile-friendly, and responsive templates that can be effortlessly customized to match your style and requirements. You can also use custom CSS and HTML code to further personalize your website.
For photographers and creators, in particular, Pixpa is definitely a great alternative to Wix. This is due to features like e-commerce galleries which can seamlessly meld together creative portfolios and e-commerce. Client galleries and custom mobile gallery apps can work magic in simplifying client proofing and customer management for photographers. Pixpa also supports over 50+ third-party integrations which can be an excellent alternative to Wix's App market.
Pixpa Cons: Unlike Wix, Pixpa doesn't offer a free plan. It does provide additional benefits such as free SSL security and a guaranteed ad-free experience. These benefits can add value to the platform and help users feel more secure and professional with their website. It's also helpful to know that Pixpa offers pricing plans that are all-inclusive and range from $6 to $25 per month, with discounted yearly and 2-yearly plans available. This pricing model may be more affordable and predictable for users who want to avoid unexpected costs or limitations that may come with other platforms.

Pixpa Website Example: Director and screenwriter Isabella Carbonell
Price
Pixpa offers all-inclusive, flat-fees pricing plans ranging from $6 - $25 per month. Discounted yearly and 2-yearly plans are also available.
Ideal for: Omnichannel marketers
Why Use Contentful over Wix: Contentful is an ideal alternative to Wix for those looking for a platform with the tools to create, edit, and manage content and ship it to every digital channel. This makes it easier for businesses to create and manage their digital content in one place.
Contentful Cons: With its advanced features and higher monthly plans, Contentful can be too difficult to learn and too expensive for some businesses and individuals. Those looking to create web pages will be overwhelmed — and overpaying — for features designed to create omnichannel digital experiences.
Contentful Website Example: Trunk Club, for example, switched to Contentful so they could focus on creating content for different screen sizes instead of managing various technologies. It also allowed marketers and other stakeholders to make changes so they weren't relying exclusively on the Engineering team to update content. You can see the improvement of their mobile experience below.
Price
Contentful offers three pricing tiers: one for free users, one for teams that starts at $489 per month, and one for enterprise companies. For the enterprise level, you'll have to reach out to the vendor for an exact quote.
Ideal for: App developers looking for a serverless solution
Why Use Webiny over Wix: Webiny is an ideal alternative for developers who only want to use JavaScript to build websites, apps, and APIs. Using this serverless CMS, you can quickly and easily create pages using its intuitive block editor, image editor, responsive design, and other built-in features. Then, when you're ready, you can deploy your Webiny projects using a single command.
That's because Webiny is built on top of the Serverless Framework. That way, you can focus on creating content and let the framework handle the server maintenance.
The framework will take care of the speed of your site, too. In 2019, significant improvements were made to the Webiny Cloud platform, which resulted in an 80% decrease in load time of Webiny websites. Put another way, the load time decreased from 3.3 seconds to 800ms.
Webiny Cons: To use Webiny, you'll need to understand serverless infrastructure, which is certainly not a topic for beginners. This can make it more difficult for you and your team to learn and adopt the platform, particularly when compared to Wix.
Webiny Website Example: A great example of Webiny is its own site. Here's a look at its homepage.
Price
Webiny offers two tiers: one is free and the other is for enterprise companies. For the enterprise level, you'll have to reach out to the vendor for a custom quote.
Ideal for: Developers
Why Use Drupal over Wix: Drupal is a great alternative for developers who are looking for a powerful open-source CMS and are familiar with PHP, HTML, and CSS and not the syntax Markdown. This highly flexible CMS is designed for building complex sites that have large volumes of data and traffic.
Drupal offers over 44,000 modules available in its directory and thousands of free themes in its theme repository for extending the platform's core functionality. These components are also highly configurable so developers can maintain granular control over the look and feel of their sites.
Drupal is also flexible enough to allow users to decouple the front end and back end of their sites. This is one, among many ways, to create a fast loading website.
Drupal Cons: Drupal was designed by developers for developers, which means you'll need to have some understanding of PHP, HTML, and CSS to take advantage of all of Drupal's power. You'll also have to spend more time setting up and configuring your site than you would on Wix.
Drupal Website Example: Estee Lauder used Drupal as the back end of their learning management system because it could store and organize multiple types of content, including text, videos, quizzes, PDFs, and audio, in different languages. It then used APIs to deliver and render the content across front-end devices, from desktop to mobile apps to chatbots.
Price
Drupal is free to download, but you'll have to pay for a domain name, hosting, and any premium extensions or themes you want to install. If you're not a developer, you'll also likely have to hire a developer or agency to help build and design your site. For that reason, Zesty.io estimates the cost of a Drupal site can range anywhere from $15,000 to $100,000.
Ideal for: Entrepreneurs
Why Use GoDaddy over Wix: GoDaddy Website Builder is perfect for entrepreneurs who are looking to start small and build their website or online store as quickly as possible and then grow over time.
With this tool, you can speed up the development process by choosing from hundreds of pre-designed templates and customizing them with content blocks. You can also create a logo and other branded content for your website, social media platforms, and other channels quickly and easily thanks to the Over app. Over time, you can add more advanced features as you need them, like email and social media marketing, appointment scheduling, and PayPal payments.
GoDaddy Website Builder Cons: The simplicity of GoDaddy's editor is partially due to the fact that it's more limited than Wix's. There's fewer customization options and SEO features. In fact, not only does the GoDaddy Website Builder have limited SEO features — it also has some features that hurt SEO. For example, it will auto-generate new URLs whenever you tweak your page titles. You can't extend your site either, since there's no app store.
GoDaddy Website Example: Sweet Sisters Baking Co. is a family-owned business that used GoDaddy to create a premium ecommerce site that's now part of the GoDaddy Design Gallery. The site features call-to-action buttons, contact forms, photo galleries, testimonials, and more.
Price
In addition to its free plan, GoDaddy offers four premium plans that cost $9.99, $14.99, $19.99, and $24.99 per month, respectively.
Ideal for: Small businesses
Why Use Google Sites over Wix: Google Sites is an excellent alternative to Wix for small businesses on a budget. This is particularly true of businesses who already use Google apps like Gmail, Google Drive, Docs, and Forms. This is beneficial for two reasons. First, since Google Sites works similarly to these apps, especially forms, it'll be even easier to learn and use. Second, if you use other Google apps, you can integrate content from them onto your Google site in a few clicks.
To get started building on Google Sites, you can select a free template and customize its color, typography, and layout and add text, images, and videos. You can do all this using Google Site's incredibly sleek editor.
Google Sites Cons: Google Sites has extremely limited functionality compared to traditional website builders like Wix. There's very few templates and no ecommerce features. And since the only supported integrations are other Google apps, you can't extend the platform.
Why Not Use Google Sites over Wix: Google Site's template selection is much more limited than Wix's, as is its built-in functionality. It also doesn't have any add-ons or third-party extensions like Wix. Small businesses looking to create a basic website for free will prefer the simplicity of Google Sites, but those looking for more power and flexibility will be frustrated.
Google Sites Website Example: Flipping Retail is a retail brand consulting firm with two employees. Built with Google Sites, its website offers prospective clients a brief overview of the firm's team and services, and how they can get in touch for a consultation.
Price
Google Sites is free to use — all you need is a Google Account.
Deciding on a Website Building Platform
When building a website or application, you have a range of options. You can use a hosted website builder like Squarespace, a free one like Weebly, an open-source CMS like WordPress, or an all-in-one solution like CMS Hub. The right choice for your business depends on who will be using it, what technical skills they have, what tools they need, and your budget.
Editor's note: This post was originally published in May 2020 and has been updated for comprehensiveness.