Ah, Black Friday — the biggest shopping weekend of the year is around the corner.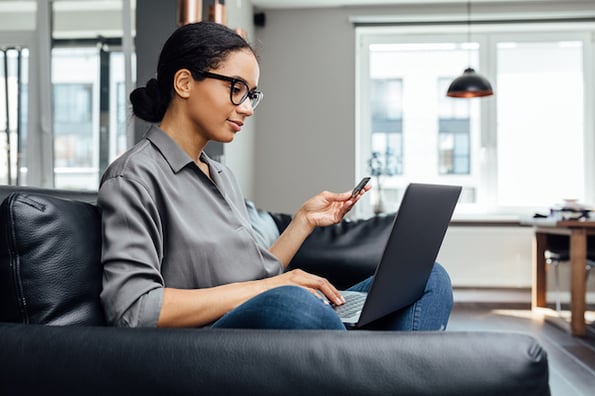 In 2020, Black Friday is going to exist primarily online. Which means, as a marketer, it's critical you prepare marketing materials ahead of time to ensure you're able to break through the noise.
Additionally, a few major retailers — including Home Depot, Walmart, and Target — have chosen to redefine Black Friday as a couple of days or even weeks to cater to shopper's changing buying habits. Consider following suite with your own re-imagined version of Black Friday.
To inspire your 2020 Black Friday advertisements, emails, and social media posts, take a look at some mind-blowing statistics and predictions around the use of mobile devices, online coupons, and email marketing this holiday season.
21 Black Friday Statistics for Marketers
1. In 2019, Black Friday beat Cyber Monday as the busiest online shopping day: 93.2 million shopped online on Black Friday vs. 83.3 million on Cyber Monday. (Source: National Retail Federation)
2. Amazon was the most-anticipated Black Friday ad in 2019 — despite the fact that it doesn't release an official Black Friday ad, just a list of deals. (Source: BlackFriday.com)
3. 50% of 2020 holiday shoppers say the sales offered over the last six months have lessened their interest in Black Friday and Cyber Monday sales this year. (Source: NerdWallet)
4. Electronics typically have the best deals on Black Friday, followed by home goods and home appliances. (Source: Nationwide.com)
5. On Black Friday 2019, more people shopped online than in stores — 142.2 million shopped online, while 124 million shopped in-store. (Source: National Retail Federation)
6. 65% of shoppers will choose to buy products online instead of in-store to avoid crowds in 2020, while 64% choose to purchase online for the comfort of shopping from home. (Source: Deloitte)
7. 66% of shoppers will increase their online purchases this year. (Source: Brightedge)
8. Online holiday spend will surpass $189B in 2020 — up 33% YoY. (Source: Adobe)
9. As consumers make the most of being at home, they plan to treat themselves to beverages (33%), food (30%), and clothes (30%). (Source: Deloitte)
10. In 2020, 42% of all online shopping is done from smartphones (up 55%), and $28B more than last year will be spent on smartphones. (Source: Adobe)
11. Millennials were the biggest Black Friday spenders in 2019, shelling out an average of $509.50 on Black Friday purchases, compared to an average of just $382.40 in 2018. (Source: PYMNTS)
12. 75% of all retailers are offering discounts before Black Friday, and many major retailers are reinventing Black Friday deals to last days ... or even weeks (including Home Depot and Walmart). (Source: Adobe)
13. 39% of consumers looked to emails from retailers for information on deals and promotions, and 38% used online search to find deals. (Source: National Retail Federation)
14. More than 50% of all Black Friday shoppers chose credit when checking out at the physical store or online in 2019. Roughly a quarter of all Black Friday online shoppers used PayPal to make a purchase, as well. (Source: PYMNTS)
15. Women make up the majority of Black Friday shoppers — but men are quickly closing the gap, with 45.1% male this year. (Source: Much Needed)
16. Small businesses can experience a +107% revenue boost over holiday season, and 38% of consumers will make a deliberate effort to shop at
smaller retailers throughout the holiday season. (Source: Adobe)
17. The five top states planning to spend money on Black Friday sales include Georgia at 52%, Wisconsin at 51%, Illinois at 50%, Virginia at 48%, and New York at 47%. (Source: Much Needed)
18. More than 201 million Americans (79%) plan to purchase gifts this holiday season, spending an estimated $167 billion — a little less than the $184 billion Americans planned to spend last holiday season. (Source: NerdWallet)
19. Mobile devices are used by 75% of shoppers to research products, compare prices, and make purchases — up from 66% last year. (Source: National Retail Federation)
20. Free or fast shipping expectations are increasing, with 64% of consumers refusing to pay extra for expedited shipping. (Source: NerdWallet)
21. 82% of consumers plan to finish purchasing holiday gifts after Black Friday, with 6% saying they will not be done until after Christmas. (Source: PYMNTS)
If you haven't finished putting together your online coupons, your mobile site optimization isn't quite complete, or your email marketing campaigns aren't quite nailed down yet, ask your marketing elves to get hopping! Even if you miss the Black Friday shopping rush, the rest of the holiday season will still be busy for retailers, especially those who can cater to the last-minute shoppers.