Consumers tend to treat businesses the way they treat other people — holding them to certain standards and building relationships with ones they have faith in. They're expressive with their dollar and want to engage with companies that won't let them down.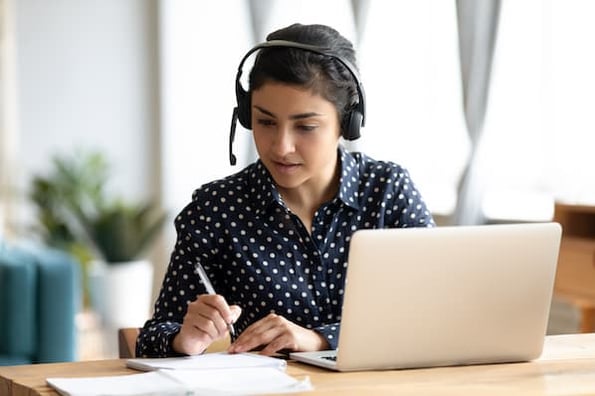 So what does that mean for you? Well, with those trends in mind, the question becomes, "How can I demonstrate that my business is one of the good ones?" How can you prove to customers that you have their best interests in mind? What does it take to gain customer trust and confidence?
Here, we'll go over the steps you can take to build that kind of faith, and address those questions and concerns.
How to Gain Customer Trust and Confidence
Provide top-notch customer service.
Share positive reviews and testimonials
Be honest and transparent.
Ask for and act on feedback.
Be reachable.
1. Provide top-notch customer service.
One of the most, if not the most, important ways businesses gain customer trust and confidence is through customer service. It's the most immediate forum for interaction between both parties and, in turn, the biggest show-and-prove moment for a business to demonstrate value and legitimacy.
Exceptional customer service demonstrates compassion, a commitment to customer interests, and a focus on accountability. It shows that your company cares enough about its customers to patiently and reliably walk them through any issues they might be having with your product or service.
It lets them know they can expect to be in good hands should they run into trouble, and that, in itself, is what trust is fundamentally built on.
2. Share positive reviews and testimonials.
Consumers tend to trust their fellow customers more than the businesses they're buying from. Real customers' experiences are often seen as more objective and hold more weight than a company's clear-cut marketing.
That's why it serves you to promote and project satisfied customers' positive experiences by asking for reviews and sharing testimonials. If you have real customers vouching for your product, service, or customer experience, you can add a certain legitimacy to your offering and messaging.
Most customers don't have an agenda. They don't have anything to gain or lose by offering their input. Their fellow consumers understand that, so if you can borrow some of your customers' credibility, you can cultivate some trust with your target base.
3. Be honest and transparent.
Hardly any consumers have ever complained that the companies they purchase from aren't shady and deceitful enough. No one has ever said, "I trust this brand because its parent company is really good at lying to me and burying all of its mistakes."
No, consumers trust honest, transparent companies — that trend extends across your organization. Your marketing can't be misleading. Don't make promises in your sales copy that you can't or won't deliver on.
And be straightforward and ethical beyond that. Your sales team has to be upfront about pricing and how your offering can legitimately help prospects. If your organization makes a significant misstep, own it, and address it as quickly as possible.
Be sincere in your commitment to working for consumers' best interests, and prove it by keeping them in the loop and remaining as open and honest as possible.
4. Ask for and act on feedback.
Consumers are willing to trust businesses they have some kind of stake in — companies that sincerely believe their customers matter. And one of the best ways to demonstrate that your organization fits that bill is to ask for and act on customer feedback.
Issue surveys, ask for feedback after any survey call, find ways to let customers contribute to and improve your operations. It's one of the more effective avenues for letting customers know you value them for more than their money.
Hear what they have to say, and if something they bring up strikes a chord with you — or enough customers are raising similar points or issues — do something about it. Improve your business based on your customers' insight.
It's an excellent way to demonstrate that your relationship goes both ways — helping develop trust by letting your customers know you're willing to hear them out.
5. Be reachable.
When a customer contacts you with an issue with your product or service, it's in your best interest to have a support rep in touch with them as quickly as possible. This point is underscored by a recurring theme on this list — letting your customers know they matter.
Be reliably reachable. Don't keep them on hold too long. And when they do connect with your support team, make sure the help they get is thorough, thoughtful, patient, and respectful. Your service reps need to be as composed and professional as possible — no matter how agitated a customer might be.
Providing them with readily accessible, exemplary customer service will show them that you value their business well beyond their initial purchase. If customers know you care, they'll be more inclined to trust you.
How can you build customer trust?
So, how does it all come together? What's the secret to building customer trust? Well, as I touched on throughout the list above, one of the keys is valuing your customers and thoughtfully conveying that appreciation back to them.
Take the time and effort to serve and delight them at every possible touchpoint. Demonstrate that you know they're savvy and sensible through honest marketing.
Be considerate through your sales process, and don't cast them by the wayside once they become customers. Provide the kind of customer service that they'll want to talk about.
And once you've generated that goodwill and company fandom, do what you can to project it to the world around you. Consumers want to hear from other consumers.
If your customer base is delighted and vocal, you need to get their message out there. Ask for reviews, put together well-crafted testimonials, and let any interested prospects know that real people trust your business — and they should too!
In an age where consumers have unprecedented access to information and a massive platform to air out opinions and grievances, generating and maintaining customer trust and confidence is essential. That's why you need to do everything in your power to serve, delight, and empower your customer base.