Today's blog is the last in a six-part series on creating a content marketing strategy in HubSpot with a pillar page and supporting content. From setting your initial goal to promoting your content and following up with leads, we here at SmartBug Media hope you've picked up a few tidbits on implementing a pillar page in HubSpot that'll make your campaign as successful as possible.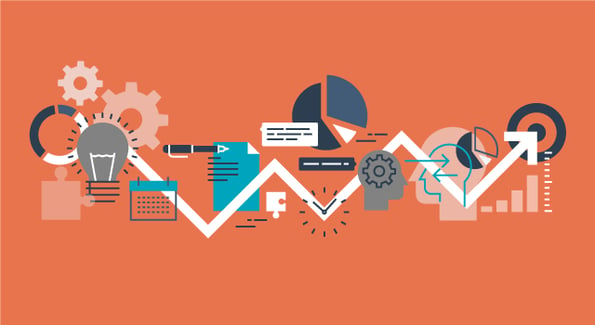 This final article will cover the skill that separates marketing amateurs from the professionals: evaluating your campaign's effectiveness.
Campaign Analytics
The campaign analytics tool in HubSpot gives you a visual overview of how your project is performing, including sessions, new contacts, and influenced contacts (learn more how to view campaign analytics in HubSpot).
In late 2017, SmartBug implemented a pillar page on The Ultimate Guide to Inbound Marketing Personas. The campaign tool in HubSpot reported the following new contacts by first touch attributed to this campaign:
Attribution Reporting
If you have Marketing Hub Enterprise, you can create an attribution report. This will tell you what page(s) contributed to a person converting on your offer, including:
first-touch attribution
last-touch attribution
last interaction.
An attribution report allows you to see what content is getting the most "assists" so that you can focus your efforts appropriately (read how to create a HubSpot attribution report).
As you can see from this example attribution report, SmartBug got quite a lot of mileage out of our pillar page:
Lists
When it's all boiled down, you really want to know how many leads, marketing qualified leads (MQLs), and sales qualified leads (SQLs) your campaign created, right?
The easiest way to report on this is by creating smart list(s) in HubSpot. A smart list will update dynamically as contacts meet the criteria you've defined. The other type of list, a static list, runs only once to see who meets your criteria at the time the list is generated. No one is ever added or removed from this type of list unless done by hand.
You could create a master list based on form submissions (which will include everyone who was already in your database, not just new contacts) and add a column to display lifecycle stage. Alternatively, you could create smaller lists for each lifecycle stage to break things down further (learn how to create lists in HubSpot).
Pro tip: If you use the criteria, "filled out 'x' form" and "Lifecycle stage = MQL," you'll get people who already were an MQL before filling out the form as well as new MQLs (and you won't get people who have moved along to become an SQL). In order to see MQLs who filled out a form within the campaign's timeframe, you could use the "Became an MQL date" and input a date range, like you'll see below:
Want to take things one step further? If you have the HubSpot reporting add-on, you can create a funnel and much more.
Evaluate each component.
To dig into the performance of each element of the campaign, you'll need to go into each tool separately:
Website page
How much traffic has your pillar page received? Is it increasing over time?

If your form is directly on your pillar page, how many submissions has it received? What is the submission rate?
If you used a landing page, check out the number of submissions and the submission rate on that page.
Where is most of your traffic coming from?
After the campaign is running for a while, make sure to examine the ranking keywords and the inbound links under Optimization in HubSpot.
What links/resources are people clicking on?
What's most interesting to visitors?
Email
What was your open rate and click-through rate?
Did your text email or HTML email perform better?
Blogs
How much traffic are your campaign blogs generating?
Where did most of the blog traffic come from?
What is the CTA rate for each blog?
Also look at keywords and inbound links on each blog.
CTAs
Which of your CTAs is performing better in terms of clicks and submissions?
Social Media
Which channel performed the best for this campaign (both clicks and interactions)?
Which message performed the best?
Is there a day and/or time that worked better than others?
Lead nurture
How many people met the goal of the lead nurture workflow?
How many people clicked on each email?
Pro tip: Evaluate your metrics monthly for the first three months to optimize and improve your efforts. Some of your promotional activities will take place over time, so even though there's often a boost at the beginning, you should continue to see results through the first 90 days.
Conclusion
There you have it — creating a complete, cohesive content marketing strategy from scratch in HubSpot.
A few final tips:
Don't underestimate the amount of time it will take to do the entire thing front to back. This is a large endeavor and, most likely, can't be done in a single weekend.
Enlist some help if you are able to, whether it's internal employees or freelance writers.

After all, many hands make light work.

Choose an more targeted offer that matches your specific buyer persona over one that may have broad, mass appeal.
Hang in there! The implementation steps in HubSpot may seem like a lot the first time you go through the entire process. It will get quicker over time — we promise!
Get software such as Basecamp, Trello, or Teamwork to help you manage the project and stay on track.
We hope you've enjoyed this six-part series. You can get the complete guide here. Good luck on your content marketing journey!
If you need assistance growing a content marketing skillset, then check out HubSpot Academy's Content Marketing Certification.
View other blogs a part of this series: