So, you've created a lead nurturing campaign. That's a cause to celebrate, right? Right. . . to some degree. But to be honest, drink that glass of champagne fast. . .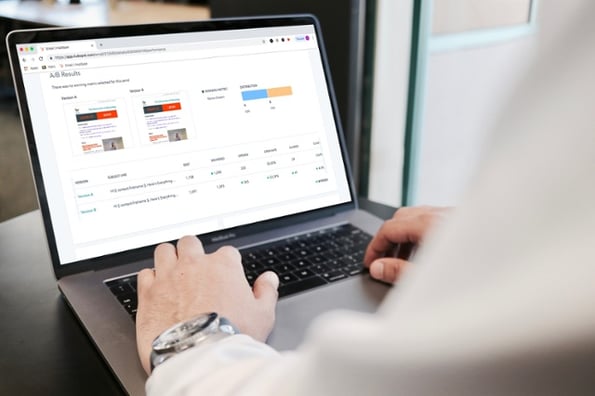 Because, you're not done yet.

The most important stage has arrived. Once you've created your campaign, you need to test and optimize. This is what separates the great from the good.
Perhaps website traffic isn't matching expectations. Maybe leads are becoming lost along the way in their buyer's journey and your sales process. Or broadly, you just aren't meeting the goal you set out for lead-to-customer conversions.
Let's solve for these, and more.
How Do I Know Which Part of My Campaign to Optimize?
So, your lead nurturing campaign has been running for some time, and you notice that it's not producing the results you hoped for. But how do you know which aspect of your campaign is the problem? Or what you should optimize first?
Step 1: Locate your campaign assets
Start by locating all the pieces of your lead nurturing campaign. This could include:
Blog posts
Social messages
Paid ads
Landing pages
Emails
Premium content pieces (ebooks, webinars, etc.)
Call-to-actions
Workflows
If you have linked all of these pieces to a campaign in HubSpot this task is simple: Navigate to Marketing > Planning and strategy > Campaigns. Click the name of your campaign, and in the lower-half portion of the web page, you should see your list, including:
How many of each piece of content and/or asset is included.
How each item is performing (look to their corresponding metrics or click into individual assets).
Step 2: Compare performance metrics to benchmarks
To determine which parts of your campaign are underperforming, you need to locate the key metrics associated with that asset and compare them to your established benchmark. These benchmarks could be based on your historical performance (ideal), industry standards, or the goals set for the campaign. Then, select the worst of the bunch (i.e., the one that you really need to focus on) based on how bad they're missing the mark.
The following lists the key metrics associated with the most common lead nurturing campaign pieces and why they matter to your campaign's performance. You can find these metrics in HubSpot by navigating to each asset from your campaigns dashboard.
1. Landing page metrics
Form submission rate: The more forms website visitors submit, the more contacts—and eventually, the more leads—you'll gain. The whole goal of a landing page is to gather a contact's information via forms.
New contacts rate: Every form submission does not guarantee a new contact in your database. Rather, contacts who've submitted a form prior are counted as existing contacts, not new contacts.
Average page load time: Load time on any website page will affect both how search consoles prioritize the page as well as provide a good user experience.
2. Email metrics
Open rate: Open rate gauges the effectiveness of subject lines, preview text, and even the platform, which you send the email from.
Clickthrough rate: This analytic discerns what parts of an email a lead engages with and doesn't engage with, as well as if a goal is met (For example: A goal of high conversion for email would be met if a contact follows a CTA).
Deliverability: Look to delivery rate, # of contacts lost, hard bounces, # of emails marked as spam, and even unsubscribers to better understand lead engagement (For example: If an email has a high bounce rate and low deliverability, it might not be sending to quality contacts).
Click-to-conversion: If an email is connected to a workflow, you can see how far along in the workflow a lead travels due to the email.
3. Blog posts' metrics
Clickthrough rate: If links provided are relevant and offer further educational information to leads, then those leads should want to follow internal links, externals links, or CTAs. Do these links progress your lead through the buyer's journey?
Clicks-to-conversion: Again, attach blog content to workflows and gauge the path a lead takes. Do many leads follow the same path to convert, viewing similar blogs or other content along the way?
Views: The number of views your blog post has correlates directly how popular it is, and thus, how helpful your educational content is and how many possible leads might exist.
4. Social messages' metrics
Frequency of posts: The more frequent you post on social media, the more awareness you generate for your campaigns.
Average post reach: Are you posting during the best times of the day? Are people sharing your posts in vast quantities?
Clickthrough rate: Are leads following links back to your website? They should be, since that's the goal of social posts.
Post engagement rate: How engaging are your social posts? Do they garner likes, shares, or comments?
Post-share rate: Sharing posts spreads word-of-mouth marketing, which creates larger awareness and could help build your audience.
Click-to-conversion: Again, attach social posts to workflows to better understand the path a lead travels to successfully convert. Are your social posts effectively pushing this?
How Do I Optimize My Poor-Performing Lead Nurturing Campaign Pieces?
So you've figured out which pieces of your campaign are underperforming. Now comes the hard part — actually fixing them. I'm not going to lie to you: This can be a daunting task considering the number of things that can be tweaked, altered, A/B tested, personalized, added, shifted...you get the idea.
For every piece of content and/or asset included within your lead nurturing campaign, you should focus on optimizing them differently. So let's walk through how to actually adjust each individual content and asset to best perform in the future.
When optimizing your campaign, you don't need to make all the changes at once. They should be incremental and specific. Sometimes an "optimization" doesn't actually benefit your campaign. So choose wisely, and test.
Now, let's hop into it!
1. Landing page tips and tricks for optimization
Form submission rate: Adding elements like testimonials or lists of clients to a landing page helps to increase trust and build an emotional connection with your audience. You can also try including elements of urgency to nudge immediate action.
New contacts rate: Add a way for fans of your brand to share the landing page with other viable contacts.
Average page load time: Minimize CSS files for quicker-loading landing pages, scale images to smaller sizes, or deactivate plugins that are no longer used.
2. Email tips and tricks for optimization
Open rate: Incorporate short, actionable and relevant subject lines, and make the email come from a person rather than your brand's email.
Clickthrough rate: Ensure that the objective of your email is singular. This provides a clearer purpose to the receiver.
Deliverability: Send emails from a branded domain instead of from common email engines.
Click-to-conversion: Tone and style matters, so match the language you use in an email to that of landing pages and CTAs.
3. Blog posts' tips and tricks for optimization
Clickthrough rate: Write your blogs with a reader's interest in mind and establish a consistent format and style for your blog to follow.
Clicks-to-conversion: Be consistent with style and tone as seen in other pieces of campaign content, and only insert relevant links that bolster the campaign that a blog supports.
Views: Create a timeline or schedule for your audience to keep up to date with so that they can anticipate the next bit of great content you release. Optimize the blog for search engines and share them on your other awareness channels (e.g., social).
4. Social messages' tips and tricks for optimization
Frequency of posts: A calendar or schedule to follow for posting can greatly help prior to your campaign's launch.
Average post reach: Leverage your social posts by including them as part of your brand's wider awareness strategy. Consistent types of posts garner larger reach.
Click-through rate: Write your post to appeal to skim readers. Include newsworthy elements. Promote offers using brackets, such as [Video] or [Free eBook].
Post-engagement rate: Follow similar rules as told in clickthrough rate, and use language that asks your audience to engage with "likes" or "shares."
Post-share rate: Posts with video tend to offer a personalized, unique perspective that viewers will perceive as more engaging.
Click-to-conversion: Match tone and style between your social posts, blog posts, landing pages, and CTAs.
How Do I Know if My Optimizations Have an Impact?
Have you made all the necessary changes to your lead nurturing campaign? Were you able to follow the tips and tricks for optimization? Good!
But, how do you know if the changes you made are having a positive impact?
Measure and test. And there are some direct methods to discern the progress of your changes.
For email and landing pages, you can create A/B tests in HubSpot and see comparatively how different versions perform. A/B testing is the marketer's version of a controlled experiment. Also known as split testing, an A/B test allows you to test variations of some element of a campaign, like a landing page, alongside one another. The results will enable you to determine which version is the most effective option.
To gauge metrics and analytics of your campaign's other content and assets, you might export data that you find over their corresponding analytics pages to a spreadsheet to compare performance over time as you did when you initially compared them to your benchmarks.
Or, to gauge the effects of your lead nurturing campaign in your overall marketing performance, you should navigate to your marketing reports dashboard. There, you customize what items you track by:
Date range
Frequency
Comparisons to past performances
Also, there are a plethora of different reports you can set up, including but certainly not limited to the following:
Sessions by source (Organic Search, Email, Paid Search, Paid Social, Social, Direct Traffic, Referrals, and Other Campaigns) examines number of sessions per type of content.
Contact performance (# of Subscribers, Leads, MQLs, SQLs, Opportunities, Customers and Others) provides contact percentage-change for comparative date ranges.
Contacts by source with lifecycle stage (Including all previous sources and current stages) identifies the number of contacts per source for a date range.
Individual sources' performances (Email sends, Landing Page CTA clicks, or Blog's # of Subscribers) provides percentage-changes for individual sources and analytics in a comparative date range.
Use these customizable reports to better understand how your marketing is developing over time.
What Results Can I Expect?
Over a timespan of 8 months, optimizing and A/B testing my company's lead nurturing email newsletter, we've increased its open rate by 2.88% and click rate by 5.6%.
Of course, these email newsletters brought contacts and leads to blog posts and corresponding landing pages, which we also tested and optimized. In doing so, on our lead nurturing landing pages, we achieved an average form submission rate of 41.07%. This was a total 47.7% increase from our past year!
So needless to say, you really should consider testing and optimizing your lead nurturing campaign. Identify where your audience engages with your campaign, analyze which metrics of that content isn't performing up to par, and then, employ and test the strategies we've outlined for you.
Happy nurturing!
So with that, the Lead Nurturing With HubSpot series has officially come to a close. If you missed any of our previous posts in this series, here's what we've covered:
Equipped with your new knowledge from this series, it's time for you to start applying what you've learned. Go nurture those leads and see your metrics skyrocket!
Want to connect with others on HubSpot tips, tricks, and updates? Head over to the HubSpot Community to join a conversation or start one of your own.