Lead nurturing and content marketing go hand-in-hand, right?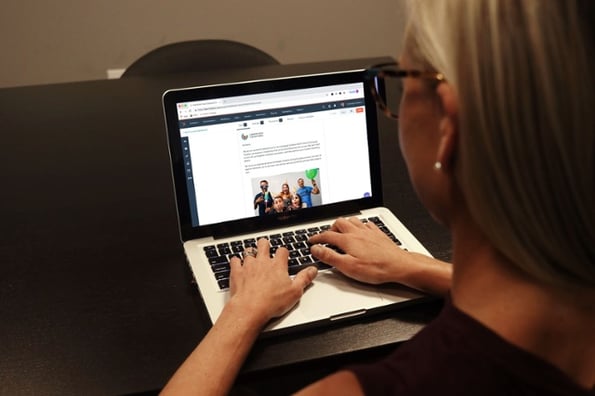 As a B2B professional, you may or may not be aware that educating your audience is a definitive way to gain more leads and conversions compared to flashy marketing techniques often associated with B2C strategies.
So, let's assume you have a content and lead nurturing strategy in place.
A visitor stumbles across one of your brand's social posts. They visit your website, view a few of your educational blogs, and find themselves at a content-gated landing page. They even fill out the form on the page, providing you their contact information.
Then, they go silent, failing to become a customer. That's unfortunate! But was all that work turning them into a lead a waste?
No — it doesn't have to be! B2B sales cycles can be long. So, just because they aren't ready to purchase right now, doesn't mean they never will. By creating a nurturing campaign using HubSpot workflows, you can continue to engage your leads, keeping you top of mind, and providing them the content they need to move closer to becoming a customer.
Follow along. Here's our how-to for creating nurturing workflows in HubSpot for B2B:
Step 1: Identify the Goal of Your Lead Nurturing Campaign
A good foundation for your B2B lead nurturing campaign is more than just the content you'll have in place. What would the purpose of that content be if you had no goal in mind? Thus, when creating a B2B lead nurturing campaign, know your goal beforehand, and ensure that your content targets the right audience's problems with the right solutions. Otherwise, your sales process won't guide your audience through the buyer's journey — say "sayonara" to strong conversion rates.
When setting goals, there are two types you should define:
Quantitative goals: Which are numerically measured so that you can easily track your audience's progress?
Qualitative Goals: Which reflect your lead nurturing campaign's bigger picture, to organize and maintain a lead's actions and details, and help marketing and sales teams collaborate?
You should also look at how each goal impacts each stage of your audience's buyer's journey and your sales process. How do they encourage a potential client's movement from one stage to the next? How do you effectually guide them? Is the contact property that you set for a lead appropriate to the type of workflow they're enrolled in?
Visit HubSpot's knowledge base to learn how to create goals in HubSpot for your team and how to manage them.
Step 2: Identify the Audience You Want to Nurture
Before you can craft any campaign, you must first know your target audience. This starts by developing your buyer personas. Buyer personas reflect your target audience.
A buyer persona is a semi-fictional representation of your ideal customer based on market research and real data about your existing customers. When creating your buyer persona(s), include the following:
Demographics
Behavior patterns
Challenges
Motivations
Goals
Once developed, you want to add your personas to your HubSpot account as a contact property and begin assigning created buyer personas to contacts within your HubSpot account. Depending on whether you want buyer personas to be associated with just a handful of contacts or if you want to build buyer personas with more complex criteria, HubSpot offers methods for each.
Now you can create active lists based on buyer personas, and then create and activate targeted nurturing campaign workflows using those active lists.
Step 3: Understand Each Stage of Your Buyer's Journey
If you're looking to nurture your target audience with workflows, you must look at every stage of the buyer's journey. Below are the three stages of the buyer's journey, along with some context about how a prospect is feeling and what their goals are:
Let's cover each stage in some more detail:
The awareness stage
The awareness stage of the buyer's journey is when people first become aware of their problem, or perhaps they're even unaware of their problem. Usually when a potential contact or lead experiences an indescribable discomfort, that is a good indication they face a challenge.
To solve for that discomfort, a potential buyer will try to better understand their challenge, its possible solution, and how to address either one. Thus, they're in the earliest stage of looking for answers to solve their problem.
So for this stage, focus on engaging unaware prospects and website visitors. This type of audience hasn't provided you with much more information other than how they interact in a minimal manner, such as coincidentally viewing one or two similarly focused blog posts on your website.
The consideration stage
The consideration stage of the buyer's journey is when people are clearly aware of their problem and are actively searching for solutions. While searching, they consider solution offerings from a variety of businesses and heavily engage with content that provides the most relevant and best answers to their problem.
So for this stage, focus on nurturing prospects as well as marketing qualified leads (or MQLs). Every action this audience takes, such as clicking a blog post or completing a quiz, can attribute to gaining more information about them. By also analyzing how your audience previously interacted with the awareness stage content, you can generally start segmenting them by sending relative pieces of content or assets.
The decision stage
The decision stage of the buyer's journey is when a person is just about ready to make a purchase. They're focused on finding a solution to their problem. So, what makes your brand and business the best solution?
For this stage, focus on nurturing sales qualified leads (SQLs) and even past customers. During this stage, you'll gauge your audience's interaction with your brand, eventually handing off the accumulated knowledge to your sales team. Send decision stage content to delight and fully position your brand in the customer's mind, such as providing direct comparisons against competitors or offering special deals on pricing pages.
Keep in mind, there's no guarantee that a contact will purchase when reaching the last stage of their journey. To increase the likelihood of a purchase, qualify your leads and customers even further with lead scoring. This will help your sales team ultimately provide targeted solutions for the lead's problem.
Step 4: Create and Promote Educational Content for Each Stage of the Buyer's Journey
So now that you have a good understanding of the buyer's journey, here comes the fun part: creating content for each stage.
Awareness stage content creation and promotion
Awareness stage content acts as a foundation for website visitors to become leads. However, they first need to have some awareness of your brand and be able to engage with you. At this stage, you want to offer educational content that helps your buyer identify what their problem or goal is and whether or not it's a priority.
Here are five content ideas that can help your buyer in the awareness stage and attract leads to your company:
Consideration stage content creation and promotion
Ideally, you should want to know your audience as well as possible. Therefore, shouldn't that mean directly engaging with and getting to know them as more than just a lead but rather as a person? Ask yourself: If I were facing the same problem that my consideration stage audience is facing, how would I want to be treated in that situation?
At this stage in their journey, your lead has identified their problem or goal and has decided to take action on it. They're now ready to evaluate possible solutions, and you're just the one to help them do that with premium educational assets:
Create your brand's email newsletter: Learn how to create an email newsletter so that your target audience is aware of your brand's current campaigns, can benefit from the educational content it promotes, and further build a relationship with your brand.
Promote an event with inbound marketing: Grasp how to promote an event step-by-step with inbound marketing in your HubSpot account so that your audience and leads can interact with your brand face-to-face, which builds a stronger, more familiar relationship.
An ebook: Learn how to write an ebook to promote within your HubSpot account, offering leads an educational guide to follow while also positioning your brand favorably.
Writing and adding whitepapers to your website: Understand how to write a whitepaper to capture more leads so that you can offer in-depth, specific problem-solving guides to leads, triggered by a download or form completion.
Showcasing and hosting webinars: Find out how to use HubSpot's integration with GoToWebinar so that leads can engage with your brand in a live manner while being taught educational, solution-based information about their problem.
Developing and creating case studies: Follow how to write a great case study to entice a lead with previous successful statistics of campaigns that you've helped other brands achieve.
Decision stage content creation and promotion
Decision stage content is like the cheering fan at the finish line in a foot-race of guiding potential customers through the buyer's journey and your sales process. It's that last little bit of encouragement. It's that last little bit of comfort knowing that they're being cheered for. So, create and promote your decision stage content with that in mind.
Here are examples of content that work well at this stage:
Product/service demos: Be conscious of how to create a product/service demo to positively position your brand in the eyes of your target audience and win their customer loyalty over competitors.
A well-positioned pricing page: Although a pricing page may be one of the last pages on your website a lead visits, make sure the location it's placed is accessible and the pricing structure is simple to follow so that leads can convert easily.
Free trials: This allows the buyer to try before they buy. You free your sales and marketing teams from

educating responsibilities

and empower the customer to learn autonomously.
Step 5: Set Up a B2B Campaign Using Email Lead Nurturing Workflows
To make sure your B2B lead nurturing email campaign engages with your target audience(s) at every stage of the buyer's journey and your sales process, you must engage or re-engage them with appropriate workflows. That's why a lead nurturing campaign is never optimal with just one workflow type.
Visit HubSpot's knowledge base to learn how to create a contact-based workflow.
Subscriber or welcome email workflows
This type of workflow engages with and converts visitors into contacts soon after they provide their information via forms. In response, use their contact information to welcome them as a subscriber to your email newsletter. You can also include CTAs in this email that link to other types of content from your website.
Perhaps that content is for the consideration stage, and they follow it and convert into an MQL. Perhaps it's for the decision stage, and they convert into an SQL. Or, perhaps they don't follow the link at all. Understanding the actions your contact takes allows you to better serve and nurture them with more accurate content.
Topic workflows
Topic workflows are used to gauge what type of content a contact is interested in. This workflow is able to target every stage of your audience's buyer's journey and your sales process. It's used for better lead scoring and segmenting.
Imagine the person you're trying to nurture just became a contact. You send related awareness and possibly consideration stage content that would be relevant to the page they first visited.
What if they don't follow that path?
Instead, after some delay in time, you'd send other topic workflow emails regarding sub-related content or even other pillar content to see if they'd engage with it instead. Based on the if/then principle:
If yes, they do follow the content, you can continue sending them content of that type.
If no, they don't follow the content, you should try sending them other types of content.
The "if yes" sequence will guide a contact, prospect, or lead from one stage in the buyer's journey to the next as you continue to feed them relevant content.
Asset offer workflows at every stage
Asset offer workflows are similar to topic workflows in the case that you're still sending your audience content. However, this workflow's audience is already segmented, such that you already know the content they're interested in.
The goal of this workflow is to successfully guide contacts and prospects into becoming MQLs and SQLs via an email workflow promoting an awareness stage offer, then an email workflow promoting your consideration stage offer, and (eventually) an email workflow promoting your decision stage offer.
This type of workflow is more like gift-giving than guiding. You're targeting your audience with exactly what they want, and based on their interaction with it, determining whether or not they're a right fit for your business. A several-day delay is heavily encouraged between each email so that your audience isn't overwhelmed with emails.

Engagement workflows
Engagement workflows are made to target your hot decision stage leads. They're in that final period of deciding whether to purchase. When you hit them with engagement emails, you're helping keep your brand top of mind.
At this point, you're going to be sending decision stage email offers to MQLs and SQLs.
The first email's goal is to position your business. Your lead is already fairly familiar with their problem and need, but now they need to know why your solution will be right for them. Therefore, target them with assets that will support this, like a case study.
The second email's goal is to offer a piece of content or asset that will show your possible solution in action. Gift them a free trial, demo, or consultation for your product or service.
The third email's goal is to fully position your business, knowing whether or not the lead was receptive to the previous two email offers. Include an asset that completely reflects this, like your product or service's pricing page.
These emails can notify your sales team as the lead progresses through the buyer's journey, notifying them about a lead's activities and properties. This way, they can support the lead when the time comes for a purchasing decision.
Re-engagement workflows
Re-engagement workflows are made to target your cold leads. These are leads that perhaps once were strong candidates for becoming your client or buyer; however, they fell out mid-way or during the awareness stage. There are several reasons why this might happen. Perhaps:
They find another business to be a stronger suit for solving their problem / need.
They no longer consider their problem / need to be of highest priority.
The product or service that they're looking to solve for their need is too expensive, thus out of reach.
To re-engage this audience, there are several choices of email types that you could send.
Your first re-engagement email could tell the receiver about general company, product, or service updates; lower prices or deals; or perhaps even your brand's story, re-engaging through sentimentality.
Your second re-engagement email could propose they take an interactive survey over platforms and tools like Survey Monkey or Typeform, determining whether they've solved their problem or need.
Your third re-engagement email could re-position your business among your audience, using conversational language. Perhaps it's a farewell email, a win-back email, or a reminder about the content that they last viewed, softly offering a final recommendation.
And yes, put delays in between the emails in this workflow! How long? Days at a time with the longest being a week in between.
Successful customer workflows
Successful customer workflows look to re-engage with your target audience once they've reached the end of the buyer's journey. It's aimed to delight customers with:
Gracious emails, saying thank you.
A survey-response email, asking about how or if they're enjoying their new product or service.
The promotion of a recommended product, discount, or upgrade, based on their response to the previous email.
You can tell the success of this workflow when a customer that you haven't engaged with in a while opens or responds to the email.
Step 6: Test and Adjust Your Lead Nurturing Workflow Strategy to Optimize for Success
How important is it to test and adjust your lead nurturing workflow strategy once it's in place? VERY.
The goal of your sales process is to convert as much of your target audience as possible, helping them move through their buyer's journey. To do that, you need your process to be as efficient as possible.
Testing and adjusting your lead nurturing workflow strategy is a huge benefactor for optimizing success, and if you perform this on an ongoing basis, you'll know:
When it's the right time to target your audience at every stage of your sales process.
What workflows and strategies to use for your overall B2B marketing campaign.
What content, assets, outreach, promotions, etc. works well or what doesn't, thus what needs to be kept, scrapped, or improved upon.
In the next blog of this series, we'll elaborate on how to use segmenting and lead scoring to better optimize your overall lead nurturing strategy, and in the one after that, we'll discuss testing and optimizing your entire lead nurturing campaign.
What Results Can I Expect?
B2B tech brand, PlanetTogether, faced stagnating growth due to a lack of lead flow and inability to operate a high-touch sales process. Unfortunately, they conducted sales activities manually. They wanted to automate their lead nurturing strategy and reduce friction in their buyer's journey, which in-turn positively affected their lead flow rate and how they qualified leads.
PlanetTogether shortened their sales cycle from 6 – 9 months to 3 months after implementing a lead nurturing campaign, which automated and replaced many of the touch points previously made by sales reps.
As you can see, implementing lead nurturing workflows into your marketing strategy is a game changer. You'll see high lead conversion rates, speedier sales cycles, and happier sales reps.
And that wraps up Part 2 of the series, Lead Nurturing with HubSpot. Here's what's coming next:
Part 3: How to Begin Lead Scoring to Fuel Your Nurturing Strategy
Part 4: How to Test and Optimize Your Lead Nurturing Campaign
You're halfway there!
Want to connect with others on HubSpot tips, tricks, and updates? Head over to the HubSpot Community to join a conversation or start one of your own.