By now, marketing teams all over the world are familiar with the concept of SEO. You know all about keywords and search engines and using high-quality links.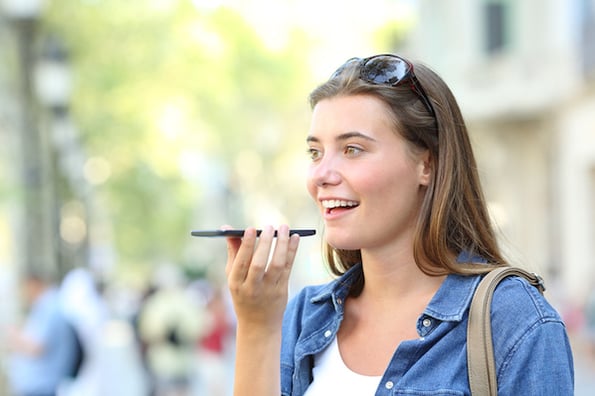 But are you prepared to market toward voice search?
A GlobalWebIndex search report revealed that 27 percent of consumers already use voice search on their mobile devices, and 34 percent confirmed that they are interested in having voice-based smart assistants in their homes.
That's on top of the nearly 53 million U.S. adult consumers who already use a voice-activated smart device at home. These numbers will only grow, so any business hoping to stay on top of consumer trends needs to be implementing an Alexa marketing strategy. And the best way to get started is by turning to the maker of Alexa itself -- Amazon.
In 2014, Amazon introduced the Echo, which was the first standalone device devoted to a smart voice assistant. Competitors like Google soon followed with devices like Google Home, and consumers responded enthusiastically. A study by eMarketer predicted that about 35 million people in the U.S. would use voice-activated devices at least once a month in 2017, up 128 percent from 2016.
If you think you might be interested in using voice-activated smart devices to supplement your marketing strategy in 2019, consider using Alexa Skills, which allows brands to provide customers with the ability to interact with their products or services in a conversational way. To learn more, keep reading.
Why You Should Have an Alexa Skill for Your Business
If you're reading this, there's a good chance you're in the same place as many marketers these days -- you might be on the fence about Alexa for business, wondering how to decide whether creating and operating an Alexa Skill is right for your team. To answer this question, it's critical you figure out whether Alexa Skill will allow you to reach your target audience.
For example, is your brand positioned toward consumers, or other businesses? While Alexa is becoming increasingly integrated with business tools, it is still primarily a household feature, so it makes the most sense for B2C businesses.
Additionally, there are two main purposes for using Alexa Skills -- building brand loyalty, or creating direct revenue.
Building an Alexa Skill for your brand can improve the convenience of your product or service, without necessarily driving revenue. Even without a direct tie to sales, improving convenience can nonetheless help you enhance your user experience, and make consumers more likely to interact with your brand without interrupting your daily routine.
Alternatively, you might use Alexa Skills to create direct revenue for your business.
How You Can Use Alexa for Business
Let's say you're a marketer for a regional bank. You create a Skill for a user to check his balance, direct a payment, or transfer funds using voice command. By making it more convenient for customers to manage their finances, your brand obtains a reputation for being innovative and helpful. This, indirectly, creates revenue by driving conversions.
Making money directly from your Alexa Skill is possible, as well. E-commerce businesses have more tools than ever to make online shopping easy for customers, and more profitable for brands.
For instance, Purina is a well-known leader in the pet food market. Despite its success, Purina chose to use Alexa Skills to improve its customer experience. The skill it created, Ask Purina, uses Amazon AI to answer customers' questions about products. Additionally, it serves as an authority on dogs in general. Users can "Ask Purina" about current or future products, and get answers to queries like, "What breeds are best with children?" or "Find me dogs that don't shed." With this Skill, customers can find the information they need, as well as a new reason to stay loyal to the company.
Tide has also created its own Alexa Skill. The company's Tide Stain Remover Skill offers its users step-by-step instructions via voice on how to eliminate about 200 forms of stains so users can implement the steps in real time. Consumers already recognize Tide as an expert in caring for stains -- this Alexa Skill is merely an extension of that, building on the company's reputation and improving goodwill with consumers.
Where You Can Implement Your Own Alexa Skills Strategy
Now that you know why you should have an Alexa Skill for your business, as well as how it can benefit you, there are a few different ways to strategize for your company's custom Alexa Skill. Here's how to get started.
1. Establish a content marketing plan.
The Purina example above demonstrates an actionable way to build a positive brand reputation without selling a product. Content marketing is an excellent way to build and nurture relationships with both current and prospective customers -- an Alexa Skill simply provides a convenient way to achieve that goal.
Identify the content your team already has and how it can be modified to fit a voice-specific strategy. Alexa Skills are activated when users ask specific questions or use particular "utterances" that you set, so make sure your best pieces of content include those phrases so your Skill will pull them up to deliver via voice.
Purina is a great example here -- the company has created content about dog breeds to showcase its expertise, and when customers ask, "Which dog breed is best for an apartment?" the company's Alexa Skill can deliver that content.
Content marketing campaigns are known to create more than three times the number of leads than outbound marketing does -- and they cost 62 percent less. Your Alexa Skills plan should complement your company's existing content strategy and should be a natural extension to the queries your customers are conducting in other formats.
2. Leverage Alexa for e-commerce.
Amazon has made voice technology easy for e-commerce businesses to roll out because it benefits Amazon, too. There are now several ways to make money with Alexa Skills. When people buy things online, chances are they're using Amazon to do so. If you sell products online, it might not be ideal to sell through Amazon, but it can be worth it if an integrated Skill can boost your sales by a large enough margin.
In 2018 alone, Amazon e-commerce sales totaled about $258.2 billion, an almost 30 percent increase from 2017. With Amazon taking up nearly half of the e-commerce market, it stands to reason that if you're operating within Amazon's platform, you'll be able to snag a piece of that pie. And with an Alexa Skill related to your product, users who use voice search and shop on Amazon will have an easier time ordering your products.
Take Tide, for example -- customers who use that company's Skill to find stain removal tips can also use their voice to order Tide products. That takes a step out of the purchasing process, allowing consumers to buy those products without pulling up the Amazon app or website and clicking through all the available options.
3. Unveil a voice-activated loyalty program.
Some brands are driving a higher level of loyalty with programs that offer credits or points to users who make purchases using Alexa Skill. With a voice-enabled loyalty program, your brand is more likely to stay top of mind among Alexa users when they need to stock up on a product like yours.
Bridge2 Solutions debuted its Points Pal offering in 2017 and is reportedly the first voice-activated reward experience. With Points Pal, brands can make interacting with their existing rewards programs possible with voice commands such as "Tell me my points balance", "Put this item in my favorites list", or "Let's pay for this using my points and credit card".
Considering that customers who are part of a loyalty or rewards program tend to spend more than customers who are not, setting up a loyalty program and making it accessible via voice can add a bonus benefit when you're setting up your Alexa Skill. Additionally, it's important you ensure the program can be launched across different smart assistants, so that even if your customers are away from their Echos, they can still keep track of their points using other voice-based services.
Not using an Alexa Skill for your business doesn't automatically mean you'll be left behind. But depending on your brand and the market in which you're operating, you might be -- especially considering the increasing number of consumers who own smart speakers and use them regularly. Optimize your Alexa marketing strategy now to avoid falling behind your competitors.