Envision your favorite website.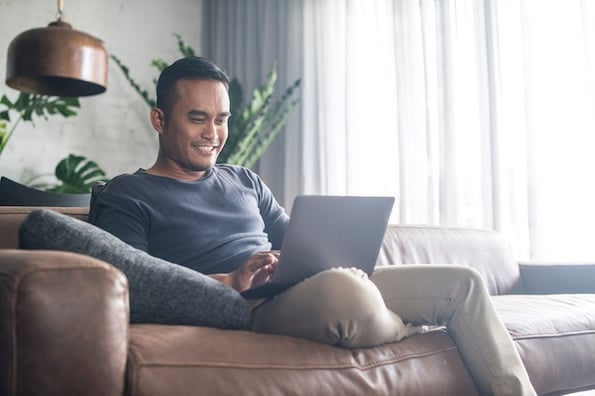 Does it have a theme? Is the content organized in a way that makes sense? Does it match the overall aesthetic and look of the company's branding? Are there images and other visual features paired with the written content?
All of these elements, which are common on successful websites, can easily be implemented on your own site with the help of a theme or template. And for those who create (or plan to create) your website on WordPress, there's even better news — the software makes it exceptionally easy to implement a theme or template on your site.
WordPress has an entire library of plugins and theme options available for you to install and use instantly. With these themes and templates, your business — no matter the size or industry — can have a website with a unique and visually pleasing appearance.
Below, we've listed 27 of the best WordPress themes and templates and categorized them by type. Whether you're looking for a multi-purpose theme or one made for e-commerce, creative content, or niche work, there is an option that will help you achieve the look and organization you are hoping for on your website.
Best WordPress Themes and Templates
Revolution Pro
StudioPress
Theme X
Pro Theme
Theme Fusion
Divi
Avada
Ux Themes
Overlay
Indigo
Salient
Undsgn
Pixelgrade
Bridge
Jupiter X
Kalium
Hestia
Ultra
Stylemix Themes
tagDiv
Create
UpSolution
GeneratePress
Blossom Coach Pro
Travel Agency Pro
Lawyer Landing Page Pro
Blossom Shop Pro
Multi-Purpose WordPress Themes
Multi-purpose WordPress themes are suitable for all industries. They're versatile and can fit the needs of any business.
Revolution Pro gives you a simple framework, the Genesis Framework, which you can build on with their themes. StudioPress allows you to use features to completely customize your website, access expert support whenever you need it, and work on multiple websites at once. There are also automatic, free migrations that save you time, as well as included SSL (secure sockets layer) so your site is as fast and secure as possible.
Revolution Pro is a part of StudioPress, which gives you access to more than 35 different themes suitable for any type of business -- from a startup, to a blog, to an enterprise. All themes are "Gutenberg ready" (Gutenberg is the WordPress editor) so you can spend less time on your website's content design and editing processes and more time on your business.
Source: StudioPress
StudioPress is unique because it gives you a very simple framework, the Genesis Framework, on which you can build upon with their themes. StudioPress allows you to utilize features to completely customize your website, access expert support whenever you need it, and work on multiple websites at once. There are also automatic, free migrations that save you time, as well as included SSL (secure sockets layer) so your site is as fast and secure as possible.
With StudioPress, you'll have access to over 35 different themes suitable for any type of business, from a startup to a blog to an enterprise. All themes are "Gutenberg ready" (Gutenberg is the WordPress editor) so you can spend less time on your website's content design and editing processes and more time on your business.
Source: Theme X
Theme X has an easy-to-use page builder, shortcodes that help you customize your site, and a responsive design. The theme also allows you to use their live previewer to see exactly what your website will look like with your logo, content, and images before publishing it online.
Theme X includes four "stacks" that allow you to choose from a variety of unique designs and layouts. Each theme allows you to customize your layout, move your navigation bar, and create custom pages for any business.
Source: ThemeCo
Pro Theme goes beyond the capability of Wordpress to give you the power to design and build your website header, content, and footer without a single line of code. In addition to the dynamic front end page builder experience, Pro also gives you access to dozens of premium plugins and over 100 design layouts ready for you to use.
Pro Theme is completely customizable to your liking and is a great option for professional website builders that want control over each and every part of their site.
Source: Theme Fusion
Theme Fusion makes it easy to browse all theme and template options, none of which require coding. It's customizable down to each element on your site and is a great option if you're looking for a multi-purpose, easy-to-use WordPress theme. It also has professionally created demos available for download so you can import them into your site and add whatever content you want.
Source: Divi
Divi is one of the most popular themes on the market today due to its versatility and ability to work for so many different types of businesses. It offers responsive design and editing, premade layouts, and minimal website page loading time. The theme has 46 content elements and 20+ premade theme layouts that you can mix and match to achieve any look you want.
Source: Avada
"This theme uses a drag-and-drop builder that makes it possible for nearly anyone to build, design, and customize a web page. I have no web design background, but when our web designers are on a tight schedule, Avada makes it easy for me to lend a hand and help them with their web design and development projects," says Keri Lindenmuth of KDG.
Over 450,000 websites use Avada, making it one of the most popular themes on the market. It's easy to use, versatile, and requires no coding knowledge. You can achieve virtually any look or style with Avada — it has dozens of customizable templates fit for any business.
Ecommerce WordPress Themes
Give your online store a unique look and great user experience with these themes fit for all of your e-commerce site needs.
Source: UX Themes
UX Themes is the creator of the Flatsome WooCommerce Theme for WordPress. The Flatsome Theme includes a responsive design and drag-and-drop page functionality, which means no coding knowledge is required.
UX Themes is ideal for e-commerce sites. Their themes have predefined layouts so you can quickly add your content and go live. There are also demos for each theme option so you can easily envision the look of your own website prior to making a purchase.
Overlay is built to be light and fast so your website is fast and has high performance. You can build a simple site or have a fully customized online store. You'll have full control of all the elements from your website's layout to spacing and full-color settings. Overlay offers deep integration with WooCommerce, Elementor, and other top plugins.
Source: Kaira Web
Source: Indigo
Indigo is quick to install, can be translated into any language, and is optimized for mobile. Your theme will be updated automatically, and Indigo's constant support provides you with assistance whenever you need it.
The theme is ideal for e-commerce sites because of its unique features, such as a contact form builder, access to Google Fonts, and the ability to upload custom fonts. There are also unlimited custom sidebar options to achieve any look you want.
Source: Salient
Salient has a unique visual design that includes a mobile video background so your video auto-plays on supported devices. This adds an experience many other WordPress themes don't provide. The theme also has an interactive design that's great for online shopping, item browsing, and making purchases.
Creative WordPress Themes
Whether you are sharing your portfolio, blog, or freelance work, these creative themes have layout options and visual features that will make your website stand out.
Source: Undsgn
Undsgn allows you to "test drive" the theme with all of your content prior to making a purchase. You can customize your navigation bars, fonts, colors, and images on each page of your website with this theme. You can also insert page redirects and change your menu styles within the theme so your site functions how you want it.. Undsgn works best for creative businesses, web-studios, and designers.
Source: Pixelgrade
Pixelgrade is the company behind Felt, an eye-catching magazine WordPress theme that allows publishers to properly showcase their content by placing it front and center. The theme allows for large visuals, ads (if you so wish), and collecting subscribers through the WordPress theme's built-in form tools. On top of this, it has full e-commerce capabilities, thus creating an online store is a breeze.

Source: Bridge
"The Bridge theme comes with around 350 demo sites so you can get the bones of a fully styled site and a working responsive design in no time." - Marcus Miller of Bowler Hat.
With interactive elements, the Google Font library, and custom menus, Bridge is a great theme option for anyone looking to implement a portfolio layout on their WordPress website and mobile site.
Source: ThemeForest
Jupiter X is a creative WordPress theme that is ideal for large businesses, freelancers, and marketers. You can choose from over 240 pre-built websites or build your own design from scratch with Elementor. You have unlimited possibilities with your header and footer design, blog styles, menus, pop-ups, forms, and more.
Source: Kalium
Kalium is one of the easiest themes to set up due to its "Premium Page Builder" feature that lets you build pages in a matter minutes. But if you do have time to spare, you can use it to create custom post layouts. Kalium allows you to select from multiple styles and formats so you can make the content you're sharing more exciting to view and read.
Kalium is a great theme option if you're looking to create a website for fashion, photography, travel, restaurant, freelance, or agency work. The theme has one-click installation and over 30 portfolio item types to choose from to help you customize your site.
Source: WordPress
Hestia is an SEO-focused theme with a Retina-ready design. It has a multi-purpose, one-page design that works best for creative businesses and startups. The theme also contains a blog page and several layout options for portfolio work.
Source: WordPress
Ultra has a straightforward, responsive design, drag-and-drop layouts, and a customizable homepage with a full-width headline. All Ultra themes are SEO-optimized and backed by an expert support team available whenever you may need it.
This theme has a clean design, which makes it easy to customize pages without having to write your own code. Ultra themes are ideal for creative businesses, portfolios, and blogs.
Niche WordPress Themes
If you work in a specific industry or require certain features from your WordPress theme due to your unique website needs, the following options for niche businesses may be right for you.
Source: Stylemix Themes
Stylemix allows you to create a tailor-made WordPress theme for your website. The theme works best for business, education, and sports and health websites. No matter which theme you choose, Stylemix ensures you get a professional and polished look with their editor, free updates and consultations, access to a ticket system and forum, and 24/7 customer support.
Stylemix has very specific themes that are helpful for niche businesses. The business category has themes that are tailored to industries like cryptocurrency, consulting, and car dealerships. Their education themes cover all levels of schooling, and the sports and health themes work for sports clubs, health coaches, and dentists, and doctors.
Source: tagDiv
tagDiv is a series of WordPress themes created specifically for news sites. The themes are fully customizable and include drag-and-drop features that allow you to completely rearrange your site's layout so publishing your news-related content is quick and easy. There are two options to choose from — one for newspapers and one for news magazines.
Source: WordPress
Create's WordPress theme has a responsive design, reliable support, and a large headline with a full-page background to give your website a unique look. The theme also comes with a built-in German translation.
Create has theme options that work well for large organizations and enterprises that want to create web portals — which are websites that contain and organize information from a wide group of sources in a uniform way. The theme allows you to add widgets to your sidebar and tailor it to your user's needs.
Source: UpSolution
UpSolution themes allow you to choose unique color combinations and animations to enhance your website's appearance and user experience. You can test out as many visual options you want and input all of your website's content prior to making a purchase.
UpSolution's two themes are tailored to different types of businesses. Impreza is a multi-purpose, creative theme ideal for startups, portfolios, blogs, and agencies. Zephyr is ideal for anyone looking for a material design theme (meaning it integrates with other technologies such as HTML5) so your website visitors have a better user experience tailored to their exact needs.
Source: GeneratePress
"GeneratePress is very well optimized … [it is] great for those that want light and speedy sites," says Marko Saric of HowToMakeMyBlog.com.
Since GeneratePress is "light" (the theme is only 30kb), it takes up minimal space and keeps your site quick and responsive. Hooks, filters, built-in fonts, and compatibility with a number of WordPress plugins make this theme ideal for businesses that want a website they can completely customize.
Blossom Coach Pro is a premium WordPress theme built for coaches, mentors, speakers, lawyers, consultants, therapists, and other such professionals and influencers. Although it is most suitable for influencers, this multi-purpose theme can be used for building other kinds of blogs and websites as well.
The theme incorporates features that highlight you and your services which helps in increasing your followers. You can display your services, achievements, client reviews, and put highly convertible newsletters on the more-effective areas to get more email subscribers.
Key Takeaways:
Responsive, SEO friendly and lightweight
One-click content demo import
Highly-converting Call-to-Actions (CTA)
Travel Agency Pro WordPress theme is an ideal option for travel and tour operators to build travel booking websites. It is powered by the popular travel booking plugin, WP Travel Einge. With this theme, you can add trips, trip types, destinations, and recommend trip packages to your visitors.
The theme offers features like advanced slider, video banner, unlimited color options, five header layouts, 12 homepage sections with sorting options, multi-language compatibility, unlimited sidebar option, and so on.
Key Takeaways:
Premade pages for destinations, trip types, activities, and more
Free Trip Search Add-on worth $39
SEO optimized and Schema ready
Lawyer Landing Page Pro is a premium WordPress theme built for law firms, legal officers, consultants, advisers, and other such kinds of professionals. It comes with a powerful options panel to customize your site as you like.
The theme has default and one-page website demos, nine predefined header layouts, seven predefined pages, 16 custom widgets, and a floating menu. Sections like the banner with a contact form, introduction, practice areas, attributes, services, accomplished projects, team introduction, and testimonials are aligned well to help you build a complete landing page for your business.
Key Takeaways:
Multiple Call-to-Actions
Free one-click content demo import
Built for lawyers and law firms
Blossom Shop Pro is a clean WordPress theme great for building online stores. You can use this WooCommerce compatible theme to build all kinds of online stores like fashion design, clothes, cosmetics, watches, accessories, furniture stores, and so forth.
Its powerful homepage design comes with multiple pre-made layouts of headers and body sections. You can show your products in different categories, display a quick view of products, highlight items in navigation, let your customers add products to wish-list, and do so much more.
Key Takeaways:
WooCommerce compatible to create online shop
One-click installation of pre-designed demo
Multiple header, slider and product layouts
With a great WordPress theme or template, your website will easily be transformed into the web home you always knew it could be. With different layouts, content options, and features to choose from, there is an option that will work for every business and industry. Give a few of the themes and templates mentioned above a try, or head to the WordPress theme and template library to review even more options, and get started designing your dream website today.