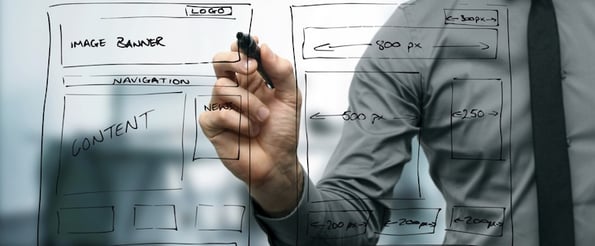 Think of the most successful salespeople you know. They're equal parts artist and scientist, skilled at building trust, telling their products' stories in a persuasive way, answering and overcoming objections and, finally, closing the deal.
If you're an ecommerce company, your website is your salesperson. And like a good salesperson, your site should bring your brand's personality to the forefront while leveraging a few fundamental tactics of artful online dealmaking:
1) Build Trust by Highlighting Your Brand Promise on Your Homepage
Strong salespeople never begin in the middle of the story. They start by presenting who they are and what makes their company different—in other words, their brand. Homepages are a great place to show off your brand message, best products, and any timely promotions you might have.
Do you offer an at-home trial or free returns? Are your products eco-friendly? The homepage is the place to establish what sets your company apart, typically using bold photography and punchy statements that can link to interior pages for more info. Making your return policy clear and easily accessible can also help build trust, as can having a clear value proposition.
2) Create a Complete Shopping Experience
Product pages are the meat of your sales pitch and should overcome customers' concerns and objections for purchasing the product. Having beautiful product photography is one of the quickest ways to increase sales. Not only does it help your brand build trust, it makes it easier for customers to make purchasing decisions as they can more clearly study the product. On product pages, use photos of the front, back, top, sides and bottom of your products to mimic the experience of looking at a product in person. If applicable, show the product in various stages of being open or closed with accompanying products or accessories. In addition, it's a good idea to show the product in use so that customers can get a sense of size and scale.
Do your products group naturally into "looks" or collections? Just as a brick-and-mortar shop owner might dress a mannequin or arrange a grouping of products in the window, ecommerce providers are increasingly upselling by adding the ability to shop entire looks or groups, rather than one product at a time.
Social proof—customer reviews—are also an essential part of the sales process and are particularly important for ecommerce, since the customer is purchasing the product without seeing it in person. One way to go beyond typical product details and general customer reviews is to enable customers to rate and review individual features of the product. For example, a clothing store might offer customers the ability to rate each item's width and length, fit, material and color. That way prospective buyers can decide whether someone else's three-star product might be a five-star product for them, or vice versa.
3) Seal the Deal With a Super-Easy Checkout
The checkout process is the most crucial element of an ecommerce site. If poorly implemented, none of the previous elements will matter. There are many factors that contribute to a great checkout experience, including speed, having a guest checkout option, easy form filling, progress indicators and a persistent cart summary. If you can offer free shipping or other features that reduce the objections to buying, conversions will go up even more.
Just like salespeople need to understand their customers' buying process, your checkout experience should depend on your customers' typical purchases. If they typically buy in large quantities, say a minimum of 10 products each, it's important to make sure it's easy for them to get items into the cart with varying quantities. In this situation, you might include quantity selectors inside the product tiles to save customers from having to click into another page to make quantity edits. These kinds of "minor" features often seem invisible, but combine to make a high-converting checkout process.
Of course, just as salespeople must be responsive to their prospects' questions and requests, your site must load quickly and your on-site search functionality must work properly.
And with all of these elements, you should A/B or multivariate test your ecommerce design elements and iterate –– every business is different, and it's possible you will stumble upon new best practices during your testing. This is a cost-efficient and effective way to truly know what makes your customers pull the trigger on a purchase.
Like any good sales pitch, an ecommerce site should be constantly evolving, with each design element purposefully chosen, tested and refined or replaced, all with the goal of driving conversions. When in doubt about a design choice, be sure you've answered these three questions: What does it make the customer feel about the brand and its products? Does it provide information the customer needs to make a purchasing decision? Does it make it easier to complete that purchase? Let the sales process be your guide, and you'll have the tools you need to craft a design that converts.