"Something that is conferred or bestowed especially on the basis of merit or need."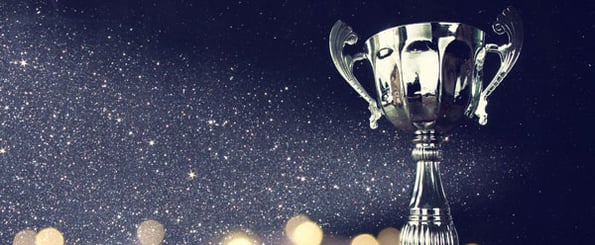 That's the Merriam-Webster definition of the word "award." And for such a brief statement, it packs a lot of punch -- especially with that "merit" part. After all, we all love merit-based recognition, especially at work. Being recognized for a job well done historically correlates with employee happiness. But when it comes to the world outside of the walls of your workplace, wouldn't a little bit of credit be nice there, too?
That's why there are formal marketing awards -- official ways of recognizing some of the most remarkable work done in the area, usually presented with some sort of trophy or plaque, as well as public proclamation as that year's "best of" something.
And as it turns out, there are tons of these programs dedicated to the marketing field -- so many, in fact, that narrowing it down to this list of 28 was quite the task. We think you'll find that there's something for everyone on this list, too, regardless of industry or specialty.
So go ahead -- apply yourself.
The Ultimate Directory of Marketing Awards
1) AMA Awards
The American Marketing Association (AMA) is a fairly sizeable organization. With over 30,000 members in more than 70 chapters, it's become a community of and resource for marketers -- one that celebrates the work we do.
It's no surprise, then, that the AMA actually has several categories of marketing awards -- those that apply to remarkable marketing examples, but also to industry educators and written work on the topic that's been published in the AMA's many journals.
For more categories, deadlines, and details, click here.
2) AVA Digital Awards
AVA's name comes from the roots of its award program -- "a celebration of the audio-visual arts." But as marketing evolved and its digital aspects became almost mandatory -- online ad spend, for example, is expected to outrank that of television this year -- it was determined that remarkable work within this category should be celebrated.
The AVA Digital Awards are comprised of six major categories -- general digital marketing, web-based production, digital video creation, video production, audio production/radio, and pro bono -- each of which contain their own individual awards, like "podcasts" under audio production/radio, and "social campaign" under general digital marketing.
Past Winner of Note: Valley Forge Tourism & Convention Board
"The Valley Forge Tourism & Convention Board is a private, nonprofit membership sales and marketing organization that actively supports the the Valley Forge area and Montgomery County, Pa., as a convention site and leisure visitor destination," reads AVA's website. It was the 2017 winner in the "Video for the Web -- Travel" category.
For more categories, deadlines, and details, click here.
3) B2B Marketing Awards
The B2B Marketing Awards make for perhaps the most prominent celebration of marketing to businesses, by businesses. They span a wide array of industries and verticals, recognizing exemplary work on limited budget campaigns, to thought leadership, to lead generation programs.
Past Winner of Note: "When You Move," by Digital Radish
Digital Radish was challenged to promote When You Move -- an app that helps buyers, sellers, and other digitally track every stage of a house move. It was the 2016 winner of the "Best Limited Budget Campaign" category.
For more categories, deadlines, and details, click here.
4) BMA Awards
The BMA Awards were created by the Business Marketing Association, another community of B2B marketers. It's another award program that celebrates work strictly within this sector, though the categories are a bit more comprehensive. BMA, for example, takes video campaigns into consideration, and also has awards for specific industries, like sports and community relations.
For more categories, deadlines, and details, click here.
5) CIM Marketing Excellence Awards
This U.K.-based award program celebrates remarkable marketing examples of all kind -- B2B and B2C, and in a variety of verticals. The list of the previous year's winners is diverse, to say the least.
From honoring a firm that went from the edge of bankruptcy to Agency of the Year, to highlighting campaigns that urged blood donations and affordable housing, it seems that CIM's award recipients certainly fit the program's credo: "That high standards of quality and integrity are vital to the success of marketing."
Past Winner of Note: "GREAT China," by VisitBritain
Britain's national tourism agency was tasked with creating a campaign geared toward the continually growing Chinese market. According to VisitBriain's website, it reached 300 million people through the agency's Chinese social media channels, and resulted in 1.3 million visits to the campaign site, as well as 27 million views of the launch video. It was the 2016 winner of the "Marketing Campaign of the Year SME" category.
For more categories, deadlines, and details, click here.
6) Communicator Awards
In creative areas of work, it's easy to feel like your work isn't appreciated. Just look at the skills reporting the highest rate of underemployment -- many of them are creative.
That's why it's so refreshing to see initiatives to specifically recognize this type of work, like Communicator. The purpose of its awards is to "give communications and creative professionals proof and validation that their work is highly regarded by their peers." Now, doesn't that feel better?
It makes sense, seeing as the program is overseen by the Academy of Interactive & Visual Arts, an organization that celebrates creativity. Like AVA, the awards themselves fall into seven major categories: Audio, digital, marketing effectiveness, video, design and print, integrated campaign, and mobile.
For more categories, deadlines, and details, click here.
7) Content Marketing Awards
You may have heard that there's an art to content creation and marketing -- after all, that's one of the things we love to do most around here. Naturally, we love the fact that there's not only a Content Marketing Institute, but that the same organization also has its own Content Marketing Awards.
While it might seem like a niche award program, the Content Marketing Awards actually recognize work in 92 categories, ranging from "Most Innovative Content Distribution Strategy," to "Best Infographic."
Past Winner of Note: "Building Icons – Colliers International," by Igloo Media
When commercial real estate firm Colliers International approached Igloo Media to tell their stories, the creative agency built the "Building Icons" campaign -- a series of videos that profiled Australia's most notable buildings and the architects behind them, which were shown on Qantas airlines flights after production. It was the 2016 winner of the "Most Innovative Content Distribution Strategy" category.
For more categories, deadlines, and details, click here.
8) Creative Disruptors Awards
A Google search for the word "disruptive" yields, among many results, this definition -- "innovative or groundbreaking." That's what the Creative Disruptors Awards set out to celebrate, by recognizing and highlighting work that challenges "the status quo."
While that might seem like a pretty general definition, this award program honors creative work that fits that description, with categories ranging from "Best Collaborative Partnership" to "Industry Influencer." Even better, certain categories are free to enter.
For more categories, deadlines, and details, click here.
9) Digiday Content Marketing Awards
Like many of the other content marketing awards listed here, the Digiday program honors remarkable work of this kind within the digital landscape.
With somewhat unconventional categories like "Best Use of Snapchat," the Digiday also takes into account excellent work that's been done offline with awards for things like experiential marketing. However, the emphasis is still largely on tech -- there's even an award for the "Best Content Marketing Tech Platform."
For more categories, deadlines, and details, click here.
10) Drum Marketing Awards
Now open to all international applicants, the Drum Marketing Awards are sponsored in part by the Drum Network -- a community that works to support marketing agencies with networking opportunities and other resources. The award program is part of those efforts, by giving the agencies who have executed remarkable work a "platform" to celebrate it.
The categories are diverse in nature, and seem to be updated each year according to the latest marketing trends. In 2017, for example, the "Best Use of VR" category was introduced.
For more categories, deadlines, and details, click here.
Past Winner of Note: "Bringing Insurance to Life" for AXA Business Insurance, by Equator
Educating the public on insurance is a tall order, especially when it comes to grabbing attention in a noisy, crowded market, with a less-than-sexy product. The answer for AXA was SEO -- and creating the interactive content that would draw that audience. The initiative resulted in a 75% year-over-year increase in organic revenue, as well as 68% year-over-year increase in organic sales. It was the 2016 winner of the "SEO Strategy or Campaign of the Year" category.
11) Effective Mobile Marketing Awards
In 2014, insights from comScore revealed that mobile use was officially outranking desktop as the preferred method of getting online. And in the years since, mobile marketing's importance has only continued to grow -- from SEO, to responsive design.
It almost seems inevitable that a celebration of the best mobile marketing would follow. Enter the Effective Mobile Marketing Awards -- the product of Mobile Marketing magazine, "a specialist in the delivery of mobile marketing and tech news and research." And with applicants from over 23 countries in more than 30 categories, the program encourages submissions from a diverse range of marketers.
For more categories, deadlines, and details, click here.
12) Effie Awards
"Effie," in this context, is short for "effectiveness," especially within marketing. Like the program above, these awards go to marketers whose work has been particularly effective in "contribut[ing] to a brand's success."
The Effies actually sponsor numerous award program, based on geography and industry, like healthcare or media. There are also multinational awards, like the Global Effie Awards and the Positive Change Effies, which celebrates marketing work that promotes positive environmental and social change.
For more categories, deadlines, and details, click here.
13) Facebook Awards
As of January 2017, Facebook continues to reign as the most-used social network worldwide. Its use is essential to marketers trying to reach a broad audience. And in 2012, Facebook launched what were then called the Facebook Studio Awards, "to recognize the agencies and brands that are pioneering this shift."
Today, they're more simply called the Facebook Awards, but still largely carry the same mission, which is to celebrate "the most creative, innovative, and effective marketing that makes use of the Facebook platform." Other than that, the criteria is somewhat vague, though there are different tiers -- like bronze, silver, and gold -- as well as different categories, like "Facebook For Good."
Past Winner of Note: "Eddie the Eagle Promotion," by Jimmy Beans Wool
There's a community for everything, and social media is the place for all of them. That's why yarn shop Jimmy Bean Wool knew that Facebook was a prime place to reach a community of knitters, where it's experienced a noticeable level of success. The makers of a satirical film, Eddie the Eagle, saw an opportunity for partnership, and reached out to Jimmy Bean to collaborate on a video series that would promote the movie. Since then, a microsite has been dedicated to the partnership. It received a 2016 honorable mention in the "Small Business" category.
For more categories, deadlines, and details, click here.
14) Halo Awards
And speaking of marketing for good, that's the entire credo of the Halo Awards -- to celebrate "corporate social initiatives and cause marketing." The program is the product of Engage for Good, which was previously known as the Cause Marketing Forum and is dedicated to, well, pretty much what the former name suggests.
As for the awards, the categories appear, on the surface, to be a bit more old-school in nature, though there are honors for digital and video campaigns. It is worth noting, however, that the awards self-admittedly emphasize B2C and B2E work, focusing on campaigns that aim to involve consumers or employees of a specific company. And while B2B companies are far from barred from the competition, it's worth scanning previous winners to get an idea of what kind of work tends to perform well.
For more categories, deadlines, and details, click here.
15) Hermes Creative Awards
This award program might be the broadest one on the list. The entry guidelines are as follows: "The competition is open to all individuals, companies and organizations involved in producing any kind of marketing and communication materials for external or internal audiences." The only real parameter, it seems, is that the work was produced in 2015 or later.
There are 195 total categories, including one that invites entrants to "write your own category." Given its broad application criteria, this program might be a good start for marketers who are new to the awards realm.
For more categories, deadlines, and details, click here.
16) ITSMA Marketing Excellence Awards
ITSMA is an organization dedicated to the support and advocacy of B2B marketers. Its Marketing Excellence Awards are an extension of that, and honor some of the best work done in this sector each year.
The award categories seem to have a business focus, as well, with a special celebration of small- and medium-sized businesses (SMBs). But it's one of the few programs where things like "Enabling Sales for Deeper Customer Engagement" and "Ensuring Customer Success" are celebrated, making it a great option for B2B firms that might not find the best fit in other award programs.
Past Winner of Note: "Delivering on CX for North Highland"
Consulting company North Highland's business was growing. But there were certain areas of expertise where its marketing initiatives weren't keeping up with that growth, like customer experience (CX). The firm took "a multi-pronged approach" to create thoughtful content -- online and off -- to "strategically align with cross-industry perspectives of CX leaders." The campaign was said to result in $1 million of new revenue from new CX business. It was the 2015 Gold winner of the "Small and Medium Businesses" category.
For more categories, deadlines, and details, click here.
17) Landy Awards
SEO, to say the least, is a pretty big deal these days. There are numerous publications, tools, and educational resources dedicated to it -- and it was only a matter of time before it got its own award program.
One of those resources, news website Search Engine Land (SEL), seems like a fitting creator of the Landy Awards -- a celebration of "excellence in executing organic and paid search marketing initiatives." But there's a charitable side, too. Third Door Media, which owns SEL, has promised to donate a portion of all entry fees and awards ceremony tickets sold to a charitable organization.
For more categories, deadlines, and details, click here.
18) MarCom Awards
With a name this general, it's no wonder that the MarCom Awards make for one of the largest of its kind -- about 6,000 entries are submitted each year from 34 different countries.
There are four main categories -- print, strategic communications, digital media, and video -- each of which has its own sub-categories, leading to a total of 321. Like some of its counterparts, the MarCom Awards also welcomes applicants to create their own categories, if their work doesn't fit any of the others listed.
For more categories, deadlines, and details, click here.
19) Marketing New Thinking Awards
Here's another award program that invites marketers to challenge the status quo. It's not just "about technology," the description reads. Instead, it's about encouraging "brands and agencies to break out from the norm, think and do different and carve out success for tomorrow."
That's reflected in the categories, some of which we haven't really seen in other programs, like "Data Creativity" and "Cultural Shift," the latter of which is a measure of how brands have actually shaped and changed a society's general behavior.
Past Winner of Note: "OVO Smart PAYG+," by OVO Energy
Source: Campaign
Gas and electricity might seem tricky to be creative about, on the surface. But not for OVO Energy. It saw an opportunity to provide a solution to the issue of prepaid home energy in the U.K. So it created the Smart PAYG+ program, which allows users to use pay-as-you-go technology track their home energy meters through a mobile app. Not only that, but customers could use this technology to "refill" their home energy remotely -- a previously unavailable solution. It was the 2016 winner of the "Mobile Innovation / Pioneering Tech" category.
For more categories, deadlines, and details, click here.
20) Masters of Marketing Awards
This program is the product of the Festival of Marketing -- a multi-day gathering of marketers to learn, network, and celebrate the work that they do. And while the awards themselves are separate from that event, they're an extension of that celebration, honoring "the work that combines creativity and innovation with effectiveness." There are various categories dedicated to different industries, as well as less conventional ones for "Rising Star" and "Brand Storytelling."
For more categories, deadlines, and details, click here.
21) Shorty Awards
Has there ever been an awards program with a cuter name than this one? Its charming nature aside, the Shorty Awards were actually created to honor remarkable work done in social media -- "on Facebook, Twitter, YouTube, Tumblr, Instagram, Snapchat, Vine and more."
The emphasis here, however, seems to be on recognizable names, with the program's general description boasting celebrities like Taylor Swift and DJ Khaled as previous winners. That said, it's not all about fame and glitz -- Nobel Prize winner Malala Yousafzai has also received a Shorty Award, and some of the categories appear to celebrate worthy causes.
For more categories, deadlines, and details, click here.
22) SMPS Marketing Communications Awards
The product of the Society for Marketing Professional Services, this award program is another that seems to be largely focused on B2B work. There are 20 categories, each of which are pretty general, ranging from "Social Media" to "Website."
The description also seems to be fairly corporate-leaning, so given that nature and the organization behind the awards, firms outside of the professional services realm might do best to look at some of the other programs on the list.
Past Winner of Note: "LandDesign Intranet," by LandDesign
Source: SMPS
Design firm LandDesign needed a way for employees to communicate internally, in an up-to-date way. It had made previous attempts to utilize and intranet system, but it was largely inactive. It overhauled and redesigned the system, which reportedly resulted in a tremendous amount of employee connection and engagement, and using it as a resource to explore HR, IT training, and marketing information. It was the 2016 winner of the "Web Site > Web Site-Internal" category.
For more categories, deadlines, and details, click here.
23) Summit International Awards
The Summit International Awards are actually comprised of three competitions under one umbrella -- the Summit Creative Award (SCA), the Summit Marketing Effectiveness Award (MEA), and the Summit Emerging Media Award (EMA).
Each competition is designed to celebrate remarkable work done within a specific area of communication, and has its own set of numerous categories. The SCA, for example, honors everything from interactive media to the "Best Idea Never Produced," while the MEA seeks out the best examples of things like broadcast advertising to logo design.
For more categories, deadlines, and details, click here.
24) The Marketing Society Excellence Awards
We know -- another program that celebrates marketing "excellence." This one, as the name suggests, is the product of the Marketing Society, which is a members-only community of "senior marketers," designed mostly to help them lead better.
Though the ceremony and judging takes place in the U.K., it's open to work carried out globally. The categories themselves also seem to place more of a focus on marketing leadership than some of the other programs, with awards for things like "Leading Individuals" and even employee engagement.
For more categories, deadlines, and details, click here.
25) The One Show
With its emphasis on "advertising, design, interactive and branded entertainment," the One Show might be one of the, well, showier award programs on this list. The award itself comes in the form of a shiny gold pencil, highlighting its somewhat ornate nature.
The awards are given out by the One Club, which is something of an advocacy organization for creative professionals, especially in advertising and design, That's reflected in the categories, which range from "Moving Image Craft" to "Cross-Platform."
Past Winner of Note: "Business as Usual: The Office Renew Series" for JLL, by Omobono
To help promote JLL's Office Renew initiative -- a program to help businesses create a workplace that focused on people and culture first -- Omobono developed the "Business as Unusual" video series to have a satirical look at everyday office antics. It was the 2016 winner of the "Online Films & Video / Short Form - Campaign" category.
For more categories, deadlines, and details, click here.
26) WebAwards
This award program is pretty much what it sounds like, and has fairly general entrance criteria -- "open to all organizations and individuals involved in the process of developing websites for organizations, companies and the government." The categories -- all 96 of them -- are organized according to industry, rather than a specific format of web development.
For all categories, deadlines, and details, click here.
27) Webby Awards
The Webby Awards, conversely, have grown to become what we like to think of as the Academy Awards of digital marketing. The program has been around for over two decades, and now receives more than 13,000 entries from 70 countries.
With that growth has also come an expansion of its categories, with the focus going strictly from websites to also include other areas of online marketing, like social media and mobile apps.
It's also known for its fun ceremony -- check out this short-but-memorable acceptance speech from "Agency of the Year" winner R/GA:
For more categories, deadlines, and details, click here.
28) Women in Marketing Awards
This award program is the product of the Women in Marketing organization, which was founded to support and recognize the work of women in this area of work. Naturally, the awards reflect that, and aim to honor, highlight, and celebrate the strongest work carried out by this population.
But the awards focus less on campaigns and examples of marketing, and more on the remarkable women who carry them out. With categories like "Equality Advocate of the Year" and "The One to Watch," there's definitely a human emphasis -- one that's somewhat difficult to find in many other award programs.
For more categories, deadlines, and details, click here.
Now, It's Time to Apply Yourself
Many industries and specific verticals have their own marketing awards, so for this list, we sought out the ones that were open to a broad range of marketers. As we mentioned earlier -- there's a little something for everyone, even beginners.
The deadline applications for these awards occur throughout the year, too, so it might be worth developing an award-specific calendar to help your team keep track of your favorites. And as your work evolves, you might find yourself wanting to throw your hat in the ring for more of these -- especially if you also find yourself with a growing budget.
Remarkable work deserves recognition. So go forth, and enter the race -- we look forward to seeing your name among the lists of winners.
What are some of your favorite marketing awards? Let us know in the comments.