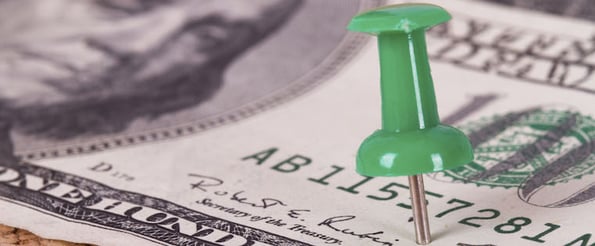 We've all heard the rumors, but yesterday it was confirmed. Pinterest announced that Buyable Pins are coming in the next few weeks. For consumers, this simplifies the steps from pinning to purchase. For ecommerce, Buyable Pins could change the way that people shop.
Here's a quick rundown on Buyable Pins and how they affect you, both as a consumer and a business.
How Does it Work for Consumers?
Next to the red "Pin it" button, there will be a blue "Buy it" button on pins. Any product with the blue "Buy it" button will be available for purchase, directly from Pinterest. Consumers can filter by price and see different color and size options right on the pin. Then, when they're ready to checkout, all they have to do is click the "Buy it" button and pay with Apple Pay or a credit card. Pinterest is working with payment processors and Apple Pay, so that the consumers' credit card information is secure.
This is initially being rolled out in the U.S. on iPhones and iPads. Desktop and Android users will have to wait for future releases to be able to "Buy it."
How Can Your Business Get Involved?
For the launch, Pinterest anticipates having more than 2 million buyable pins available by partnering with retailers like Macy's, Neiman Marcus, and Nordstrom, as well as companies on the Demandware and Shopify commerce platforms.
If you're a Shopify user, you just need to add the Pinterest channel. If you're a Demandware user, you need to contact your customer success manager. Not on Shopify or Demandware but eager to get involved? Pinterest has started a waitlist for businesses to sign up to be notified when future integrations are launched.
What Does This Mean as a Consumer?
For consumers, Pinterest has long been a place to keep track of shopping lists. Buyable Pins make it easier to go immediately from pin to purchase, removing the intermediate steps of trying to find the item online.
Additionally, the checkout process is natively built for mobile. Once a consumer has set up their personal information, Pinterest will store it. We've all struggled with typing in credit card information on our mobile device before, so this removes that pain point.
What Does This Mean for Your Business and Ecommerce?
Unlike Facebook's and Twitter's buy buttons, the Pinterest "Buy it" option is more likely to disrupt ecommerce. Simply, Pinterest is a platform where people go with the intention to consume, whether they're interested in recipes or DIY. The "Buy it" button streamlines the process for shoppers already pinning things to buy on Pinterest. Additionally, the checkout process is built for mobile, which reduces friction and shopping cart abandonment on mobile devices.
Notably for businesses, Pinterest isn't taking a percentage of transactions like most other ecommerce platforms. If your business fulfills the criteria, you can get set up with the "Buy it" button at no charge. However, this means that placement on Pinterest will become more critical to convert pins to purchases. Promoted Pins have prime placement, so they're likely to generate more revenue from the "Buy it" button. And, as brands vie for positions on the platform, they're more likely to generate revenue for Pinterest.
Finally, with Buyable Pins, businesses also handle shipping and customer service themselves. This ensures that the Pinterest channel fits seamlessly into existing ecommerce logistics.
What do you think about Buyable Pins? What do you think this means for consumers and ecommerce? Share with us in the comments!