You're almost there. You're in a meeting with the decision maker, demoing your product, handling any question they throw at you, and winning the business. At least, that's how it looks in your 4:35 p.m. daydream. Let's face it, sales is sometimes easier said than done. So, how do the best of the best come home with the contract? Here are three tactics to bring home the business and make you the ultimate dealmaker.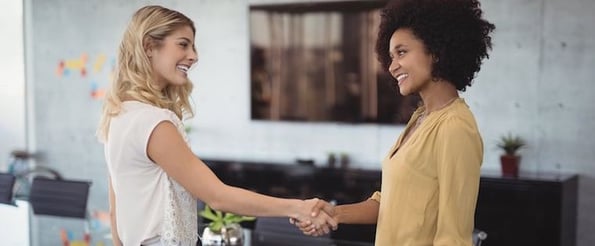 How to Become a Dealmaker
Flip positions into interests and objectives
Don't be the first to propose
Link and trade
Have your customer propose
Split the difference
Build agreement early
1. Flip positions into interests and objectives
People who say sales is all about listening are dead wrong. Listening doesn't get you anywhere. Learning is what gains you ground. It's important to learn the value proposition for your customer. What features matter? Which ones don't? This information helps you effectively position your demo to a final decision maker, and it enables you to put your best foot forward.
This also applies to objections. Your customer will often ask for things that don't matter. If you don't ask, the answer is always no, right? Start every meeting by honing in on why your prospect wanted to meet. What's wrong with their current system? What are they doing today they want to keep doing? This way, when they ask about a feature that doesn't matter, you can loop them back to the main reason they were interested in you. The key questions to ask here are:
"What's important to you in a solution?"
"What else is important?"
"Which of these is the most important?"
The goal here is to turn blanket statements like, "We need something for under $12,000," into underlying interests such as, "We only have $12,000 in the budget this year and are looking to solve this problem in the next month before our new product launch." This will help you see things from the other side and ultimately make a better proposal.
2. Don't be the first to propose
In deal-making, you rarely want to go first. If you do, you've suddenly provided more information to the other side without getting much back. Avoid this by asking about your prospect's budget or what they spent on previous solutions in the space.
An effective tactic against higher cost solutions is to guarantee price savings if the customer shares their bill with you. This puts you in a great position, as you immediately know the buying cycle and what your prospect has already budgeted for a product. As a high-value solution, you might need to demonstrate the value other similar companies received from your offering to benchmark your ROI potential.
Usually, you'll find yourself in a spot where you need to provide a quote. That's likely how you got your customer on the call in the first place. The trick to making a quality proposal is to have a firm foundation. If you have a firm understanding of the ROI your customer gets with your product, their buying cycle, and their budget -- all you have to do is ask for their business.
To do this, lay out your standard pricing, and ask how that stacks up with your prospect's budget. Don't make concessions without first hearing from the customer. You should have a decent sense of what they value, but this is where the rubber meets the road.
Rather than push back immediately against objections, remember to ask "Why?" Then, you'll likely have the opportunity to tailor any counter offer based on your interests and theirs.
3. Link and trade
At this point in the conversation, you should know what matters to your prospect and what doesn't. You've identified the items up for discussion (i.e., price, the timeline to implement, support level, feature availability, etc. ...), and you've confirmed what the prospect cares about.
Now it's time to compare which of these items is most important to you and which is important to the customer. This enables you to make trades with your customer, which leaves both parties better off.
Can you offer better support for a better price? Or perhaps you can speed up the timeline if the feature scope becomes more limited? Either way, you're now in a position to make a proposal even in the face of hard resistance on the initial pitch. You can also confirm these points during your call to improve your plan.
When using a link and trade, make sure:
You've clearly identified what's valuable to the other side
You see they're stuck on a few points and at a standstill moving forward
You've clearly gotten some value from the trade (if the customer thinks you've given them something for nothing, they'll wonder what else you have to give)
To initiate a link and trade, you must propose a hypothetical: "What if we could deliver this new feature you asked for if we lowered our service level and moved the price up by 10% for the term of the agreement. Would that be interesting?"
Give your prospect enough specifics for them to be able to give you real feedback. Too broad of a proposal, and the customer will not be able to give you any real insight. If the customer is interested in your new offer, ask for the signature to seal the deal. If not, ask what they would move around.
4. Have your customer propose
If you've laid out a proposal and are facing significant resistance, don't be afraid to ask the customer what a proposal they would sign off on would look like. This gives you a better indicator of your customer's baseline around price/scope and might still be well above your minimum threshold for the deal.
If it doesn't line up with what you can offer on cost, let the customer know right away and make a counteroffer. You'll be in a better position if you can successfully execute this tactic, because it gives you a firm baseline around customer expectations. And it saves you from ending up with a worse deal than the one your customer proposes.
This tactic won't work unless you've clearly presented the value of your solution. Without a clear ROI understanding, even $15/month will seem too high for your customer. Before going this route, always confirm the customer sees the value in your offering.
5. Split the difference
Now that you and your customer have gone back and forth on the proposal, consider splitting the difference. This cuts through most of the noise in a price negotiation. You jump right to the middle between the original price you used and the one your customer mentioned. This tactic works well, as it's usually a fair split.
However, if you've done more than one wave of proposals and counter-proposals, this isn't always a viable tactic. Say I share a standard proposal of $2,000/month, and the customer counters me with $1,000/month. If I then offer $1,700/month, and my customer says they'll split the difference with $1,350, I'm getting a bad deal.
Splitting the difference only works as an even split if you have each been giving ground equally. Remember this tactic, and how it will let you down if applied incorrectly.
6. Build agreement early
There's a lot to discuss in every deal. Since you've already identified the points that matter most to the customer and you, it should be easy to kick off the process with the issues that are less important. This might seem counterintuitive, as everyone wants to win a high-price deal, but by working out the small issues first, you'll build agreement early on.
This gives you a rapport with your customer and paints you as someone willing to work with them. It can also help you establish the link-and-trade tactic early on. When making a deal, momentum is your ally. Don't overlook ways to generate it early in the negotiation process.
With these tactics in your arsenal, any single account executive on your team can turn into a dealmaker. Give your team the ability to uncover interests from the discover call, and they'll learn more about your prospects than you thought possible.
Give them the insight to only propose after learning enough about ROI and budget, and they'll have the confidence not to drop the price right away. Lastly, give them boundaries to link and trade, and they'll become better dealmakers than you ever thought possible.
So, tell them to go ahead pick up that coffee, you have a team of closers on your hands.