It's no secret that the healthcare industry is complex. With hundreds of laws, policies, and regulations, the wide range of potential professions and jobs, and daily developments in diagnosis, treatment, and medication, healthcare organizations have a lot to keep track of — and doing so thoroughly and professionally is absolutely vital to their success and the health of their patients.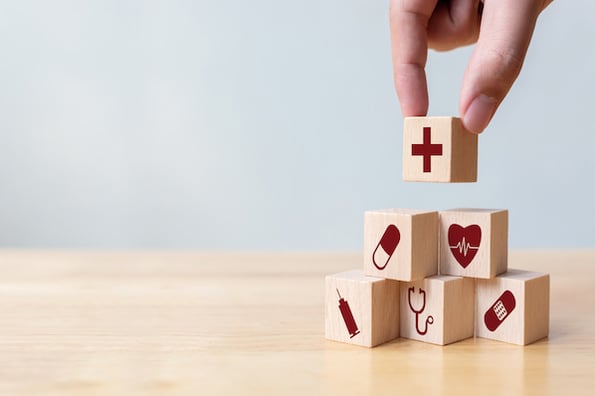 For example, a mistake in advertising can be detrimental to a company's image, but a mistake in healthcare can result in serious injury or illness — and that does more than impact a company's image. In fact, it can derail a healthcare company almost immediately and put them out of business.
That's why healthcare consultants are so valuable. Although becoming a healthcare consultant takes years of education, time, and skill development, it's a position that's crucial to the success of healthcare organizations across the globe.
Keep reading to learn about what healthcare consulting entails, what makes it a desirable profession, and how you can begin working in the field (if you aren't already).
What is healthcare consulting?
Healthcare consulting is the process of sharing expertise, giving advice, and guiding healthcare organizations to make business decisions that promote growth and benefit their customers and patients. Healthcare consultants are experts in the industry — they have the necessary education and background on healthcare laws, regulations, and policies to effectively help medical organizations and hospitals run their businesses efficiently and effectively.
Why healthcare consulting?
Working as a healthcare consultant is a highly-regarded profession. That's because it requires a certain level of education and expertise in order to be successful that isn't necessarily required in other fields and professions.
Wondering why you might want to work in this profession? Here are some benefits of being a healthcare consultant:
Provide insights and expertise regarding company decisions that directly impact customers, patients, and other external stakeholders
Work with a wide range of healthcare organizations as well as hospitals
Maintain strong job security — healthcare organizations, pharmaceutical companies, government agencies, and hospitals will always need industry expertise and advice
Have 10-year job growth of over 18%
Work in full or part-time positions for healthcare organizations, hospitals, or firms, or be self-employed
What do healthcare consulting firms do?
As a healthcare consultant, you can work for a firm among other consultants. There are small local firms that specialize strictly in healthcare as well as globally-recognized firms that offer consulting services across many industries including healthcare. All healthcare consultants have the same goal: Collaborate with clients to create and implement strategies to help them resolve their challenges and achieve their goals efficiently, effectively, and professionally.
Since healthcare consulting firms can employ up to hundreds of consultants, they're able to offer specialized support within various sectors of the industry. This means that, as a consultant at a firm who works within one of these specialties or sectors, you'll develop a greater level of expertise. This will make you even more desirable to work with for specific clients.
Here are some of the sectors that healthcare consulting firms specialize in:
Healthcare systems and processes (strategy, technology, revenue, performance, finance, sustainability, etc.)
Pharmacy
Clinical operations
Federal and state government agencies
Hospitals, physicians, and physician groups
Payer or insurance provider strategies
Delivery systems
Medical technology
Whether or not you think a firm is right for you, working in the healthcare consulting field requires the same background. Let's review the typical steps for anyone looking to get into a healthcare consulting role next.
How to Get Into Healthcare Consulting
The most important part of your experience and background when trying to kickstart your career in healthcare consulting is your education. You need a relevant bachelor's degree to begin working as a healthcare consultant.
1.
Earn a bachelor's degree.
To ensure your bachelor's degree is relevant for your desired position in healthcare consulting, choose a field of study related to the industry such as public health, business, or even nursing. Since healthcare is a complex industry, this will provide you with the necessary background you need to effectively assist your clients and meet their needs.
And speaking of this field being a complex one, a master's degree is something many of the top firms as well as big clients (such as major pharmaceutical companies and hospitals) look for when hiring consultants.
2. Obtain a master's degree (if you choose).
An advanced degree will make you more desirable among employers and clients and allow you to land positions with higher salaries and greater responsibilities. Examples of higher-ed degrees you might choose to earn include Master of Business Administration (MBA) or a Master of Public Health (MPH).
3. Determine which type of healthcare consultant you want to become.
Next, think about which type of healthcare consultant you want to become — as in, do you want to be self-employed, work for a company as an internal consultant, or work for a consulting firm? There's no right or wrong answer here. It's all a matter of preference based on your goals, aspirations, and work style.
For example, if you're someone who thrives in a structured work environment working alongside other employees, you might enjoy being at a major firm like McKinsey. If you're someone who wants complete flexibility to make your hours and choose your clients, working for yourself — or even a small firm — might be a good option.
4. Gain experience in the field and grow your network.
Once you choose your healthcare consulting avenue, it's time to start gaining real work experience. This will allow you to expand your knowledge and grow your professional network. It's also how you'll move up in the rankings, expand your responsibilities, become well-known and highly-regarded among clients, and achieve your greater career aspirations.
5. Consistently fine-tune your skills and stay up to speed with industry developments.
Healthcare consulting is a field in which you should consistently fine-tune your skills and knowledge — this is crucial because your clients will be ever-changing. Additionally, healthcare policies, laws, and legislation are bound to evolve over time, too.
Here are some examples of skills and knowledge you'll want to continually develop and improve upon throughout your career as a healthcare consultant.
Communication with a range of client types (and coworkers, if you have them)
Analytical skills (which strategies and processes could be improved upon, updated, or removed)
Healthcare laws, policies, legislation, etc. (local and federal)
Business and mathematical skills (budgeting and revenue)
Decision-making and critical thinking
Public speaking
Keep up with recent updates and health news
Begin Your Healthcare Consulting Career
Healthcare consulting is an impactful, well-regarded, and lucrative career path. You can educate a variety of client types on how to improve their operations, work within the boundaries of the healthcare policies and laws, and streamline company processes and strategies. You're bound to have an exciting and rewarding road ahead working as a healthcare consultant.