Which marketing tactics do you use as a realtor? For many, real estate postcards are a tool used in their marketing mix to share a new listing, promote open houses, and develop relationships with prospective clients.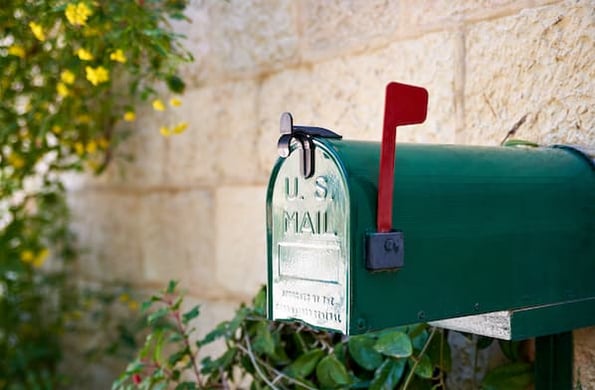 Postcards are a tangible item that prospects will read and pass along to others. And don't forget to send them to previous clients too. A study by the National Association of Realtors (NAR) found that 89% of buyers would use their agent again or recommend them to others.
Not only are postcards relatively inexpensive to create, but they also allow you to target specific cities, towns, and neighborhoods with your marketing efforts. I've compiled some of the best real estate postcard ideas that will inspire you to create your own.
11 Real Estate Postcard Ideas
1. Real Estate Postcards for Buyers
Source: Canva
Use a postcard to market your real estate services to potential buyers. And include your contact information on the back.
2. Real Estate Postcards for Sellers
Source: LanaMadeDesigns
Appeal to those who are selling their home and let them know you're there to help in the selling process. Offer a complimentary market evaluation to encourage them to reach out.
3. Rental Real Estate Postcards
Source: PostcardMania
Reach out to renters who might be looking to buy a home. Let them know you're there to help them through the home search and purchasing process.
4. Open House Real Estate Postcard
Source: GREL
Use postcards to spread the word about an open house you're hosting. And check out these open house ideas to make your next event a success.
5. Just Listed Real Estate Postcard
Source: Canva
Promote your real estate listings with postcards. Included a high-quality photo of the home to capture the attention of potential buyers.
6. Just Sold Real Estate Postcard
Source: Zazzle
Show prospects how quickly you sold a house in their area. They just might reach out and ask you to help them sell their home.
7. Recipe Real Estate Postcard
Source: PixelsPrinted
Delight prospects with this quirky postcard idea. You'll get your information in the hands of prospective buyers and sellers, and they'll have a new recipe to try.
8. Real Estate Agent Postcard
Source: Canva
No matter if you're a new or tenured realtor, sending out an informative postcard with your contact information will help you reach more clients.
9. Thank You Real Estate Postcard
Source: Vistaprint
Did one of your previous clients provide you with a referral? Send them a "thank you" postcard.
10. Seasonal Real Estate Postcards
Source: LanaMadeDesigns
Providing tips and recommendations will help you establish a connection with new prospects. This real estate postcard gives the recipient a checklist they can use to prepare their home for the fall and winter.
11. Holiday Real Estate Postcards
Source: LanaMadeDesigns
Send out some postcards around the holidays. It'll help you maintain relationships with your existing clientele.
Real Estate Postcard Example
Here's a real estate postcard I created using Canva. They have a wide range of templates you can use to design your own postcard.
Use real estate postcards to maintain client relationships and reach new prospects. And to learn more about marketing for real estate, check out these real estate marketing ideas next.