What Are Sales Resume Skills?
A history of achievement: Use specific anecdotes and numbers to tell a story of what you've achieved in your career and how you've achieved it.
Intellectual curiosity: Show you're not afraid of the unknown in sales -- and demonstrate how you tackle learning and becoming an expert in new things.
Appetite for closing: Avoid vague accolades like President's Club in favor of percent of goal, activity board metrics, and proof that you continually close larger deals.
"Good communicator," "skilled negotiator," "great at building rapport." These are line items I've seen a hundred times on sales applications sliding across my desk -- and they don't mean much. They're soundbites, buzzwords, and part of playing the game. But for a sales resume that's competitive, demonstrate these three unique qualities.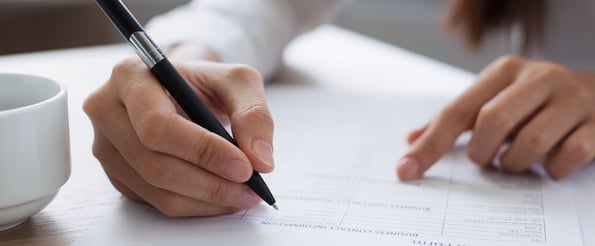 3 Sales Skills You Need on Your Resume
1. A history of achievement
People who frequently set and meet goals are more likely to continue this pattern. When updating a CV, resume, or LinkedIn profile, demonstrate your history of achieving goals -- both those you've set for yourself and those a manager has set for you.
When applying for your first job, don't be afraid to list school and sports achievements. As a hiring manager, I want to see that you're consistently practiced at winning. Many resume blogs urge you to pack your CV with jargon, but I'd advise against that. Here are some common "fluff words" to avoid.
Fluff words:
Goal-oriented
Highly motivated
High achiever
Consistently hit goals
Top performer
Replace them with:
"Ranked in the top three salespeople on our leaderboard three out of the last six months."
"Set a goal to be in the top five on our activity board last quarter, and ranked first or second, three months in a row."
"Maintained a 3.8 GPA during college, while managing a 20 hour/week job, and a position on the intramural volleyball team."
Your resume should tell a story, and the best stories evolve. Tell the reader how your career has changed and why. I want to see that, with every passing job, you're going after bigger sales with bigger clients in bigger industries.
If your career has taken a less traditional path, make sure to explain why. If you took two years off to teach English in Thailand, tell me which skills from that experience have made you a better salesperson.
Did living in a country where you don't speak the primary language make you a better communicator? Did you become an expert on reading body language? Did you have to make small "sales" in your classroom to increase student buy-in during lessons?
Tell me a story so good I want to know more.
2. Intellectual curiosity
Salespeople can't be intimidated by not knowing things. It's common to be in a presentation or demo in which you receive questions you simply don't have an answer to. Your resume should show you can handle the unknown without trepidation.
It should also exhibit a thirst for getting to the bottom of challenging questions, and your level of comfort with handling challenging situations in a room full of executives or peers. To demonstrate intellectual curiosity on your resume, here are a few words to avoid and best practices to keep in mind.
Fluff words:
Always learning
Networking expert
Great at persuasion
Always researching the customer
Building a personal brand
Replace them with:
"I was recently asked to step into a product specialist role. I had little experience in this area, but immediately immersed myself in our product suite to become an expert. Now, I'm a valuable source of information for our whole sales team."
"I was making a final pitch in front of five executives and received a question I did not know the answer to. I stayed calm and replied, 'That's a great question, I'll check with my team and get back with an answer by the end of the day.' The prospect was so impressed with my honesty, I had both an answer to their question and a copy of the signed contract by the end of the day."
"In college, math was my worst subject. Instead of giving into my weakness, I joined a study group, set up bi-weekly meetings with my professor, and worked with a tutor. I might not have been the star student, but I passed that class with pride."
By highlighting sales or personal challenges where you dug in and produced positive results, you'll show potential employers your curiosity and determination.
You should also demonstrate curiosity by curating industry articles and your own content on social media -- especially LinkedIn and Twitter. This gives you clout with potential employers, prospects, and other salespeople. It shows you're reading, sharing knowledge, and spending time learning how to be a better salesperson.
3. Appetite for closing
A successful career in sales requires a lot of passion. If it's just a nine-to-five job for you, burnout is inevitable. Anyone can use "passionate" language on a resume, but what I look for is numbers. If I scan a resume and don't see percentages, I move on. Here are some things to avoid.
Fluff words:
Exceeded quota
Made President's Club
Always meet goals
Team work
Maximize sales
Replace them with:
"In the first three quarters of 2017, I was 106%, 108%, and 103% of goal, respectively."
"In Q1 of 2018, I closed X% of my demos, putting me in the top three of our sales department."
"In 2017, I was tasked with closing more enterprise business. By the end of the year, I accounted for X% of our organization's total enterprise goal."
I'm more likely to interview someone who listed any of the percentages above, over a candidate who simply said, "I earned a spot in the President's Club twice in a row." Percentages are more attractive because they show you're aware of numbers over vanity metrics. If you're not highlighting specific numerical achievements in sales, my only assumption is you have none.
Whether you're applying for your first or fifth job in sales, your resume should always evolve. It's a living, breathing document, so treat it as such.
Get rid of stale buzzwords that do nothing to differentiate your successes and achievements. Replace them with vibrant stories and attention-grabbing numbers that prove you're a cut above the rest.