Scaling a Business
Scaling a business is not the same as growing a business. Scaling your business means you're able to handle an increase in sales, work, or output in a cost-effective, reasonable manner. Your company can handle growth without suffering in other areas (e.g., employee turnover because of heavy workloads or a product that can't be produced fast enough to meet demand).
When leading a young sales team or startup, it's easy to focus on two things: product-market fit and scaling the business. David Skok, of Matrix Partners, argued at SaaStr Annual 2018 that businesses should connect the two by searching for repeatable, scalable, and profitable growth.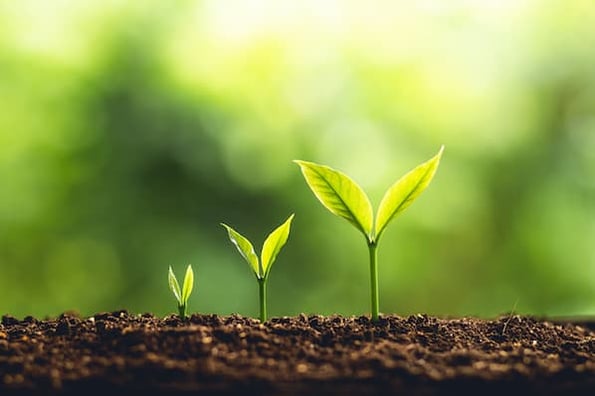 Often, once a business finds product-market fit, they immediately hire 10 salespeople to grow the company. But this skips several important growth phases and can permanently stunt company performance.
So, before building a sales army, he recommends ensuring your sales strategy and market fit is repeatable, profitable, and scalable. Here are six steps you can take to get there.
How to Scale Your Business
Identify milestones
Focus on risk reducers
Increase bookings
Find your ideal customer
Optimize for the buyer
Don't hire salespeople too early
1. Identify milestones
To do this -- and do it well -- Skok recommends linking capital with each phase of your company's growth. Begin by identifying when you'll run out of cash. Then, work backward to define milestones you need to hit and a timeline for when you need to hit them. This should give you a fully budgeted roadmap for moving forward and allow you to plan enough time for fundraising.
Skok also warns against viewing valuation as a number that only goes up. Instead, when speaking to investors or board members, focus less on your valuation and more on how risk changes your valuation over time.
2. Focus on risk reducers
Risk reducers signal healthy growth. A risk reducer is any company attribute that reduces risk for investors or customers. For example, share a number of recent customers with potential investors and make sure each is referenceable.
Similarly, share how your usage numbers are increasing over time. This provides data-backed proof your customers realize the benefits of using your product -- and want to use it more. These risk reducers show investors customer success is proof of greater market potential.
3. Watch for an increase in bookings
You'll know your sales organization is thriving when bookings begin to increase. More bookings should equal new ARR (Average Rate of Return).
To achieve an increase in bookings, Skok recommends making early access sales, ensuring customer success, identifying a predictable, repeatable strategy, and making that strategy profitable.
This should provide you with a well-defined path to success. Then, it's time to hone the profile of your ideal customer.
4. Identify your ideal customer
Identifying your ideal customer will take time. But this step -- and its inevitable mistakes -- move your business toward sustainable growth and devoted customers. Skok offers three tips to keep in mind when identifying your ideal customer:
Pick one target market - Don't sell to too many different groups. Understand your ideal customer and select a repeatable, profitable, and scalable way to sell to them.
Find a single use case - Similarly, if you sell to a variety of use cases, you haven't proven your process is repeatable. You've introduced too many variables that will make it more difficult to optimize for your target buyer.
Message your product well - Be clear when communicating your business benefits to your buyer. Make them concise, attention-grabbing, and differentiated from your competitors.
Once you've identified your ideal customer, build your sales funnel. While many sales organizations take a vendor-centric approach to funnel design, Skok recommends using a buyer-centric lens.
So, before building a sales funnel that orbits around your needs as a business (i.e., a prospect fills out a form on your website, your sales team immediately schedules a demo, and 30 days later they become a customer), study your buyer's behavior.
Would your demos be more qualified if you had a discovery call first? Is a 90-day sales cycle more realistic for your buyer? Consider these things as you're building your funnel.
Now's also the time to build a buyer persona. Consider what your ideal customer cares about, how they buy, and what processes they use. Once you know the answer to these questions, solve for your sales cycle -- and shorten it.
5. Optimize for the buyer
Once you've identified your ideal buyer and their needs, optimize how you market and sell to them.
Do they conduct consumer research on peer-to-peer review platforms? Build out your profile on prominent sites and ask customers for reviews. Do they educate themselves by reading blogs and industry publications? Build a company presence on each.
Skok also advises regularly checking your initial lead source on Google Analytics. This allows you to fix your lead funnel in real time.
6. Don't hire salespeople too early
The number one mistake most founders make? Skok says it's hiring sales staff before the company's ready. He warns against thinking more salespeople will lead to more business. Instead, he recommends ensuring your product is ready to be sold.
When asked what the ideal sales staff should look like for an early stage startup or young company, Skok said, "Founders should prove they can sell the product before they hire any salespeople."
Once they've identified a predictable, repeatable motion -- it's time to hire a sales director and an SDR who can build processes and lead growth. Skok calls the first two sales hires the "pathfinder and trailblazer."
They're not like ordinary salespeople, he explains. They don't need to follow a playbook to perform. Instead, they help the organization understand how to sell better. They build the playbook as they go.
When in doubt, work backward from the bottom of the funnel. Start with how much revenue you need to generate, identify the number of deals you need to get there, and consider how many demos, calls, and emails it'll take to achieve your revenue goals.
Are those goals achievable with your current headcount? It might be time to hire. But make sure everyone on your team is pulling their weight. You don't want to hire salespeople simply because one of your reps isn't working hard enough.
In closing, Skok said the end goal for every startup should be to turn your product/service into the salesperson. It should be so good, it speaks for itself.
The more phases of the sales process you can take salespeople out of -- focusing their time and attention on more valuable actions -- the better, stronger, and more lucrative your business will be.