Have you ever had a really great — and I mean really great — experience with a company? So great that you want to tell the world about it?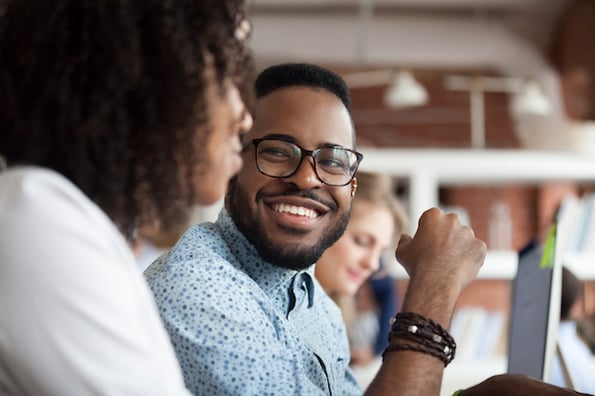 That's what inspires advocacy marketing.
When customers promote a business, they become brand advocates. And these people have power — over 90% of consumers trust recommendations from friends and family over any other type of marketing.
Let's discuss how you can turn your customers into your biggest advocates.
Continue reading or jump ahead:
What is advocacy marketing?
Advocacy marketing is a marketing strategy that incites and equips customers to generate buzz around your brand through social mentions, reviews, and word-of-mouth marketing. In other words, it's providing products, experiences, and customer service so good that customers can't help but share in person and online.
Let's get into why this type of marketing is effective and important for businesses to prioritize.
Why is advocacy marketing important?
Brand advocates are highly valuable brand assets.
Why? Here are a few reasons:
Your most loyal customers tend to spend more than the average customer.
They're typically well-versed on your brand and your products.
Brand advocates are a great source of information for leads and prospective customers.
They also contribute positive reviews and help boost brand awareness.
The Effectiveness of Advocacy Marketing
Advocacy marketing is every marketer's dream — it's cost-effective and high-yielding.
The data speaks for itself: Brands see a 650% ROI for every dollar invested in advocacy marketing. When it comes to attracting new customers and boosting revenue, it's worth the work.
Ready to get started? We've compiled a list of tips to help.
How to Create Customer Advocates
Provide an excellent product or service.
Deliver an unforgettable brand experience.
Operate with a customer-first mentality.
Collaborate with marketing and sales.
Make it easy for customers to become advocates.
Proactively seek out brand advocates.
Give your customers a voice.
Here are seven ways you can motivate customers to become advocates for your business.
We'll review each in more detail below.
1. Provide an excellent product or service.
It all starts with your product or service.
While fantastic marketing and delightful customer experiences are important, all of that goes to waste if what you're selling isn't top-notch. Before working on how you're marketing, focus on what you're selling.
Pro tip: Conduct UX research to gather feedback on product functionality and design. And use that feedback to ensure your products are helping the end-user reach their goals.
2. Deliver an unforgettable brand experience.
Every interaction a customer has with your business contributes to their experience.
Whether it's what your customers first see when they walk into your storefront or a conversation they have with your customer service team, make sure these experiences are unforgettable — in a good way.
This will make it easy for customers to share positive stories about your brand.
Pro tip: Identify what your core customer service standards are and make sure they're ingrained in every touchpoint along the customer journey.
3. Operate with a customer-first mentality.
A customer-first company culture creates a natural sense of loyalty and reciprocity between your brand and your customers.
One key way to build this culture is to genuinely listen to your customers and make them feel heard in the process. For example, you can do this by publicly responding to social media questions and comments in real time.
Another way to build this culture is by consistently sticking to your word as a brand. Like if you say you're going to ship your products within a certain timeframe, stay true to that.
When customers feel they can rely on a brand, they're more likely to advocate for it.
Pro tip: Advocacy is heavily fostered through customer service, so make sure your support teams are on board and understand your customer-first mentality goals.
4. Collaborate with marketing and sales.
Advocacy marketing is a cross-company effort.
Your marketing and sales teams are also facilitating customer communications, and those interactions impact CX too. Make sure everyone is aligned on your advocacy marketing goals so your strategy is cohesive across the board.
Pro tip: Create a campaign designed to identify your customer advocates, and incorporate a reward for participation. Your marketing team can help disseminate it, and your sales team can use it as an incentive for prospective customers.
5. Make it easy for customers to become advocates.
Some customer advocates are so thrilled by their experiences with your brand that they'll do whatever it takes to share them.
Others love your brand but will only share their experiences if it's easy (or incentivized).
Either way, it's best to remove any barriers your advocates may have when it comes to sharing information and experiences about your brand.
Pro tip: Create a branded hashtag or offer some pre-written content that customers can use when posting about your products or services online. Social sharing links like ClickToTweet can also help lower the lift for your advocates.
6. Proactively seek out brand advocates.
You can't use brand advocates to generate excitement about your brand if you don't know who they are.
Take the time to identify your customer advocates so you can reach out to them when it's time to promote a new product or support a new initiative.
Pro tip: Use software, like The HubSpot Marketing Hub Social Inbox, to regularly track who's engaging with and advocating for your brand online.
7. Give your customers a voice.
You may be surprised at how many customers are willing to share positive feedback about your brand if they had the forum to do so.
Give them that opportunity. Regularly send out customer feedback surveys — like NPS and customer satisfaction surveys — to gather insights from your customers about how they feel about your products and your brand.
Pro tip: Take advantage of the many survey tools and software available to help you manage your surveys, track responses, and measure customer sentiment.
Examples of Advocacy Marketing
1. Tarte's Influencer Trip to Dubai
Tarte Cosmetics is a cruelty-free makeup, skincare, and beauty brand. And in 2023, Tarte organized a trip to Dubai that essentially disrupted TikTok.
In partnership with Sephora Middle East, Tarte hosted a three-day Dubai trip for a group of popular creators from around the world. Everyone was treated to a luxury experience including premium flights and private beach villas.
The goal? To promote the upcoming launch of their new foundation.
What we like: Although the approach was controversial (and arguably a little extreme), it generated a ton of buzz. Tarte provided the ultimate incentive for existing brand advocates to create excitement around the new product.
2. Apple's Product Advocacy
Apple is arguably one of the most popular global brands. They release new products yearly, and most stores battle a humongous line of customers waiting for the latest release.
It's no secret that Apple has created a brand that people love to share, and they took advantage of that through their recent Shot on iPhone challenge.
This challenge invited iPhone 13 Pro and iPhone 13 Pro Max users to share photos they took with their iPhones on social media using the #ShotOniPhone hashtag.
The winning photos were used across Apple's online channels and digital campaigns. They were also featured in print at their in-store locations and on public billboards.
What we like: The authenticity of this content created buzz around an already well-known brand, and it was super easy to participate. This propelled more customers to share photos and more iPhone users to buy the new model.
3. Ledo Pizza's Social Media Giveaway
Ledo Pizza is a (very good) pizzeria and restaurant chain that originated in Maryland and has recently expanded along the east coast.
Every so often, Ledo promotes a giveaway on Twitter that incentivizes customers to retweet and follow their account in exchange for a chance to win a $50-$100 gift card.
They also have several partnerships with local sports teams that help add visibility to their campaign. Like the University of Maryland's men's basketball team for example.
What we like: Ledo does a good job of tying their advocacy marketing into current events (e.g., March Madness) and meeting customers where they are. They're always part of the local conversation when it comes to pizza and sports.
Harness the Power of Advocates
Advocacy marketing isn't as much a marketing strategy as a way of doing business.
When you offer an unbeatable product and unforgettable customer experience, it's easy for customers to fall in love with your business — and tell others why they feel the way they do.