With the rise of customer empowerment, the success of a business now depends on more than just its product and price. While your company should still offer a great product and pricing strategy, you also focus on customer experience and how you can use service to support sales.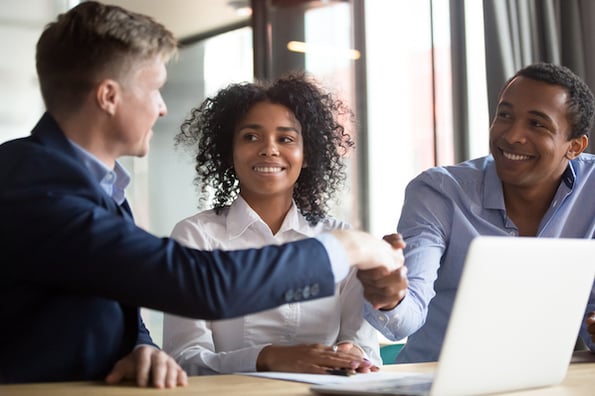 Today, consumers have more choices than before, which makes it easy for them to abandon businesses when they're dissatisfied. On top of that, they're liable to leave a damaging online review on their way out the door, losing you potential leads in the process. This places pressure on businesses to meet customer needs and deliver a delightful pre- and post-purchase experience.
In fact, if we look at this graphic, we can see that growing firms have adopted a customer-centric approach and are using customer experience to differentiate themselves from their rivals.
With developments in digital technology, it's never been easier to leverage outstanding customer service as a marketing and sales tool. By placing customer service at the center of your sales strategy, your company will have a differentiator that helps you stand out in your marketplace.
If you want to build a service strategy that supports sales, there are lots of places to look for inspiration. In this post, we'll review five companies that executed this strategy and highlight what you can take away from them.
How to Align Customer Service With Sales
1. Focus on customers over competitors.
Company: Amazon
Amazon offers an excellent example of how obsessing over customer service can lead to sales success. Under the stewardship of Jeff Bezos, the firm has grown at an astonishing rate and that's mostly thanks to his customer-centric philosophy, which he often discusses:
"It's our job every day to make every important aspect of the customer experience a little bit better." - Jeff Bezos, CEO of Amazon
To keep improving customer experience, Amazon has embraced change by constantly pushing boundaries and trying new things. Rather than replicating what its competitors are doing, Amazon introduces innovations for its customers.
One of its most high-profile success stories is Amazon Prime. What started as a membership-only delivery service morphed into an all-encompassing customer loyalty program. Prime members can now stream movies, order food, and more. And, that's all come about due to Amazon's willingness to innovate and serve customer needs.
Prime is now more than just delivery. Amazon, though, is still leading the way in the area of logistics and inventory management, thanks to its use of inventory management software.
A recent Amazon partnership in India provides a great example of this. The firm announced in January that it was teaming up with thousands of local stores, known as Kirana stores, which are ubiquitous across India.
The partnership brings those stores into Amazon's logistical and delivery network within India. They become new storage and delivery points for products bought in India via Amazon. According to Bezos, who announced the partnership on Twitter, it's a win-win for both Amazon and these local businesses.
By understanding a specific element of Indian culture, Amazon found a new way to serve its customers. It shows how putting your customers above other concerns can be an engine for global sales success.
2. Blend your company culture with customer values.
Company: Patagonia
Patagonia is an outdoor clothing retailer that has 30 stores across the US and an annual turnover of around $800 million. One of its secrets to success is its connection between the company's culture and its customers' values.
For example, as a well-known brand, Patagonia champions green initiatives. It uses reusable and recyclable materials to manufacture its gear. The company also tries to cut its carbon footprint as well as other impacts its supply chain has on the environment.
These efforts show Patagonia customers that the organization has a clear and defined corporate culture. The company is driven by an environmental vision that's also shared by its customer base.
And, Patagonia takes things one step further, too, by adopting a service strategy that invites customers to share in its vision.
Patagonia's customer service team helps customers get the most out of their clothing. It promotes a "buy less, buy quality" philosophy, which helps customers be more environmentally friendly. The central plank of this effort is the company's "Worn Wear" initiative, depicted in the image below.
As part of this program, the company encourages customers to "trade-in" their older gear. The best of these returned items get sold as part of the "Worn Wear" product line, while the rest gets used to make new, "Recrafted" apparel. Customers who trade in items get store credit in return.
Patagonia also takes "Worn Wear" events on tour around the US. Customers can trade in items at pop-up locations or get them repaired. At the same events, experts also teach customers how to look after and repair their gear.
In many ways, Patagonia's customer service encourages customers to buy fewer items. It also helps them get more from their gear and become more eco-friendly. That builds customer loyalty as well as customer advocacy, and it provides an innovative customer experience that connects customers with the company's culture.
3. Become obsessed with customer service.
Company: Apple
It's tempting to assume that Apple's success comes from its tech prowess. After all, the devices the brand sells are cutting-edge and innovative.
But, much of Apple's popularity comes from its reputation as a superior service provider. After Steve Jobs took the helm in 1997, Apple was obsessed with beating its rivals in customer service.
If we look at the graphic above, the opening of brick-and-mortar Apple Stores is the first indication of the brand's focus on customer service. Even in a digital era, the number of Apple Stores has continued to grow ever since the first one opened in 2001.
The reason is quite simple; By having its own retail locations, Apple has complete control over its customer service operations. Anyone who buys Apple products has a distinct location where they can receive support, and Apple can maintain its high-quality standards for customer service without working with a third-party provider.
For example, Apple employees go through rigorous training for working with customers. The core of the training is a focus on the firm's five "steps of service," which spells out the acronym listed below.
Approach customers with a personalized, warm welcome
Probe politely to understand all the customer's needs
Present a solution for the customer to take home today
Listen for and resolve any issues or concerns
End with a fond farewell and an invitation to return
These steps demonstrate Apple's customer-first strategy. It's notable, too, that there's no "S" step telling staff that they must sell to every visitor. Rather than having to meet sales targets, the staff is told to focus on customer needs and concerns.
By adopting this obsessive customer-first culture, Apple has become synonymous with exceptional service. As a result, its customers often display stoic loyalty. Many Apple fans refuse to use tech from any other company and they're also as vocal in extolling the brand's virtues. If you adopt the same customer-obsessed approach, you too can gain advocates that are just as devoted.
4. Leverage customer service to reduce churn.
Company: Dollar Shave Club
Every company can put customer service at the center of its business processes. It isn't just a tactic for traditional e-commerce retailers. In fact, Dollar Shave Club was one of the first direct-to-consumer subscription firms that leveraged its service team to reduce customer churn.
Most subscription-based business models rely on customer retention. Dollar Shave Club members pay a dollar each month for a membership, and for that, they get one of the company's razors. Then, for as little as three dollars, members receive the fresh, sharp blades to replace over time.
Dollar Shave Club's service is affordable and convenient. The company's branding and marketing are also second to none. In the eight years since its launch in 2012, the firm has built a recognizable and playful brand.
Subscription services, though, are notoriously precarious. Research from Mckinsey found that more than a third of consumers who sign up cancel in less than three months. To tackle this customer churn, Dollar Shave Club focuses on its customer experience.
The shaving brand collects customer feedback across a variety of channels. That data helps Dollar Shave Club deliver a best-in-class customer experience. It's that kind of experience that boosts retention and decreases churn, which always spells success for a subscription-based firm.
If you run a business with a similar model, Dollar Shave Club is worth analyzing. It shows how you can use data to improve customer experience swiftly. That enhanced experience, as a result, can help you combat churn and keep turnover high.
5. Invest in a "Wow" philosophy.
Company: Zappos
Zappos is an online shoe and clothing retailer that operates in a very competitive industry. To gain a foothold, the company had to take on big, established brands that held a strong influence over the market. Competing with those brands in terms of price or quality wasn't a viable option for Zappos, so it turned to an alternative route to attract customers. Now, Zappos is now worth over $1.2 billion and produces revenue of more than $2 billion each year.
Zappos succeeded because of its commitment to customer service. It used its customer service department to differentiate itself from other companies in the marketplace. The ethos of the business gets summed up by its widely advertised "Wow Philosophy," depicted in the image below.
To deliver "happiness to customers," Zappos goes to extremes to ensure its staff are all on the same page. New employees all partake in an intensive four-week training program and each new hire is offered $2,000 to quit before the end of the training. The idea behind this approach is that only people who really want to work for Zappos will stay the course. With a loyal and dedicated team, Zappos can deliver on its promise of 'Wow' customer service.
Your customer service and sales strategies aren't two separate ideas. In fact, the right customer service strategy can – and should – support your sales. As we discussed above, some of the world's biggest brands have put customer service at the center of business and what they've achieved can act as your company's roadmap to success.
For more tips, check out these other ways to align sales and customer service.