Every business wants to differentiate from its competitors, but many companies struggle to find new ways to do so. Marketers will typically look to roll out a new deal or sale, thinking a discount will make their product or service stand out.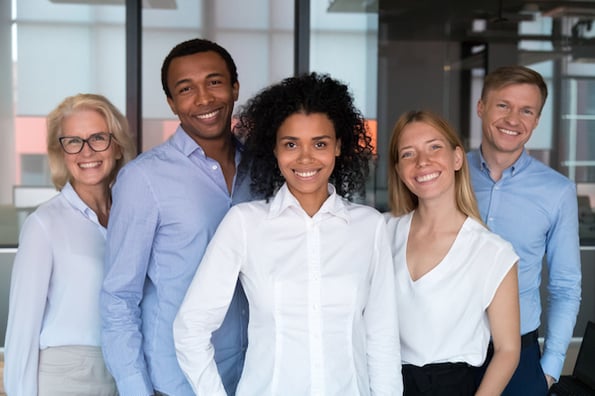 In situations when you're in need of some short-term sales, that may do the trick. But, if you're looking for long-term solutions a great place to start is with improving your customer service department.
Your customer service team plays a major role in customer delight and has plenty of opportunities to create memorable customer experiences. Improving your efforts in this area of your business can make a significant impact on customer satisfaction as well as customer loyalty.
In this post, we'll cover some of the unique ways your company can improve customer service and create positive experiences that are personalized for your customers.
How to Improve Customer Service
Offer tiered customer support options.
Standardize customer incentives.
Prepare response templates to provide clear and consistent solutions.
Automate communications.
Provide an omni-channel experience.
Train your team to adopt software.
Invest in customer service training.
Leverage proactive customer service.
Share customer reviews and testimonials.
Create self-service resources
One of the best ways for your business to stand out from competitors is to offer a unique customer experience. Your customer service department is a great place to start as it presents many opportunities to influence the customer's journey.
If your customer service team can capitalize on those timely opportunities, you stand a better chance of delivering a more memorable customer experience.
To help your company differentiate itself from the pack, here are some non-obvious ideas for improving customer service and how you can use common customer service tools to implement them.
1. Offer tiered customer support options.
You can create subscription-level customer support plans instead of providing the same level of customer service to all clients. For example, the tiered options could be phone support only, phone and email support, and phone, email and social media support for the highest tier. The lowest tier is guaranteed to every customer and the others are available with an additional purchase.
Here are a few reasons why tiered plans work:
Depending on the number and types of plans purchased, you can estimate the case volume that your support reps will have to cover.

Knowing the approximate workload, you can distribute and manage your staff accordingly, which will lead to decreased resolution times. Managers will know how many customers are subscribed to each tier and can assign more experienced reps to handle harder problems in higher tiers.

Reps will know exactly which tools or products the customer has access to and can plan their troubleshooting accordingly. This creates a smoother customer experience and improves the chances of a first-interaction resolution.
Tools for a Tiered Customer Service Program
To run a successful tiered customer support program you'll need to monitor each customer's plan and deliver every promised benefit for each subscription level. To do so, you can use customer service tools like entitlements and Service Level Agreements (SLAs).
Each customer in your database has info on their entitlement or subscription plan. When they contact you the system identifies them and brings up their information. To comply with entitlements' service conditions, your customer service tool has SLA's. They define how fast customers need to be served (depending on their plans) as well as monitor whether these conditions are met.
2. Standardize customer incentives.
If you make a mistake, you should offer customers incentives that can redeem your company's good name. But it's very important not to give away too many incentives on the spur-of-the-moment decisions without setting up a system to manage them.
If you respond to every customer's issue with, "Sorry, here's a discount," you risk irritating them even more because it feels like you're making them an inauthentic offer just to get them to go away. When customers contact support about a problem, they need an actual solution, not a consolation.
To really nail incentive offering, you need to standardize it. First, you look at the types of problems that come to your support center. Then, evaluate how severe each one is and rank them. Then, match incentives with the severity of each problem type. This system will create an objective way to offer incentives. You should also prepare for uncommon cases. You can set up an agent-manager approval process so that all cases not covered by your incentive policies are still redeemed adequately.
Tools for Customer Service Incentives
You need to reflect this system in your customer service tool (with the help of knowledge management features) so your team can easily access it without switching tools. Right now, features for incentive approval are usually not available for customer service tools as an out-of-the-box functionality, thus requiring customizations or add-ons. As a workaround, you could use a CRM or quote tool in place of an incentive approval process to keep track of uncommon offers.
3. Prepare response templates to provide clear and consistent solutions.
When customers use digital channels to contact support with a certain question, reps tend to send them a link or a document that contains an answer. Quite often, customers get intimidated or confused by these articles because the text is too long or too technical to understand. While the rep believes they provided the right answer, the customer still needs to ask additional questions to obtain the information that they're looking for. The result is customers get irritated because they need a quick solution or answer, not a 20-minute read.
Rather than overloading the customer, your team should provide helpful and easy-to-follow answers. To achieve that, you can provide reps with a wider choice of pre-written answer templates. This gives them a format for presenting information that won't overwhelm the customer.
Customer Service Tools to Minimize Inconsistency
To achieve this you can leverage artificial intelligence (AI) capabilities that are most likely available in your customer service tool. AI technology — like chatbots — can recommend answer variants based on the reps' previous replies to questions of the same kind. The beauty of AI is that you can set it up to filter its replies so that it doesn't only give a customer a link or document. Also, it will allow you to build chatbots that can succinctly answer the most typical questions of your customers.
4. Automate communications.
Bringing more automation into customer service communication can keep your reps from having to answer the same questions repeatedly and mistreating customers, be it through unhelpful answers, down-talking or even lashing out at them. Standardizing communication between rep and customer can be accomplished by implementing answer templates on AI.
The trick with automating communication is keeping it personal because no customer wants to feel unimportant. Taking this into account, you should work on the phrasing of your templates and personalize them by setting up placeholder fields to bring up customers' names from your CRM.
You can also automate how often your team contacts customers while resolving cases. Surely, they shouldn't leave your customers hanging, but on the other hand, they shouldn't bother customers too often either. So, you can set up a reminder within your customer service tool for employees to reach out to their customers in accordance with your chosen frequency.
Customer Service Tools for Automating Communications
A comprehensive system of templates, as well as AI-powered replies, will cover a good share of possible customer interactions, decreasing the chance of mistreatment. If you use chatbots, they can provide customers with answers to the more common questions. That way human reps won't get fed up parroting answers to the same questions over and over.
5. Provide an omni-channel experience.
You can use multiple communication channels to find and solve customer problems. These channels can range from simple ones, like phone, email, and web, to complex channels, like IoT sensors in your products. The point is to cover all channels consistently — meaning that no matter which channel your customer uses to contact you, the quality of customer service should be the same.
Customer Service Tools for an Omni-Channel Experience
All customer service platforms have specific functionality to help manage multiple channels. It's done with the help of omni-channel features that bring all customer inquiries into the system and ensure automatic case creation and assignment based on employee expertise.
6. Train your team to adopt software.
Adopting the right software can play a major role in the improvement of your customer service teams. As we've mentioned in each section, service technology can help your team easily implement all of the recommendations that we have made so far.
However, customer service software neither magically makes problems disappear nor improves customer service on its own. It's not software but people that do the work. So, you need to make sure your team adopts your customer service platform and rely on it in their everyday processes.
Tools for Customer Service Training
Proper user training and continuous use of your service tools can embed these programs into your customer service teams. And, when reps get the hang of it, you can use gamification features to reinforce reps' technical knowledge of the platform and also motivate them to perform better.
7. Invest in customer service training.
While customer service tools put your team in a position to succeed, good customer service still depends on human interaction. If your reps aren't effective communicators, it won't matter if they have the best tools on the market. They need to understand soft skills, as well as technical ones, if they want to deliver delightful experiences.
Soft skills are taught through customer service training, and it's worth taking time out of a rep's schedule to have them improve their skills. Customer service reps should focus on topics like emotional intelligence, conflict management/resolution, and communication through written mediums. These skills are extremely useful for customer-facing personnel.
Customer Service Tools to Train Your Team
There are plenty of free and paid online customer service training programs that can educate your team. Or, you can hire a professional service to come to your office and work personally with your reps. Even a couple, quick customer service training lessons can serve as daily exercises that keep reps sharp and attentive to details.
8. Leverage proactive customer service.
Proactive customer service is a fundamental function of customer success teams. Businesses use it to clear roadblocks before customers encounter them. This, in turn, reduces friction within the customer journey and ensures long-term success.
Companies that capitalize on proactive customer service experience higher satisfaction rates and develop stronger customer rapport. In fact, 68% of customers say their perception of a brand increases when they receive proactive service notifications.
Customer Service Tools for Proactive Service
One common tool used for proactive customer service is email. If you have a marketing email tool, you can send updates out to your entire customer base. And, with a shared inbox, your reps can manage responses so customers can ask questions right from the email they received. This way, you can notify customers about product launches and maintenance actions before they discover them first hand.
9. Share customer reviews and testimonials.
It's important to create two distinct processes for sharing customer reviews. The first one should outline how reviews will be shared internally. These are typically negative reviews that point out significant flaws in your product or service.
The other distribution path is customer-facing. These are reviews that you want customers and leads to see because they showcase how great your company is. Posting them to your website, or converting them to testimonials, can be a great tool for educating people who are interested in your business. And, 64% of customers will check your company's reviews before visiting your stores.
Tools for Sharing Customer Reviews and Testimonials
To share customer reviews, you first need to collect them. Customer feedback software can help you create surveys and distribute them to customers. Or, you can look at third-party providers, like Google Reviews, and upload their comments to your website. Some customers will be more inclined to trust these reviews because they were left by willing, unbiased participants.
10. Create self-service resources.
40% of consumers now prefer to use self-service resources over traditional customer service mediums. Why? Because when customers can solve their own problems, they typically save time and energy doing so. They don't have to open a support ticket nor do they have to wait endlessly for your team's response.
And, as the chart below shows, a fast resolution rate is the most important factor determining a customer's experience.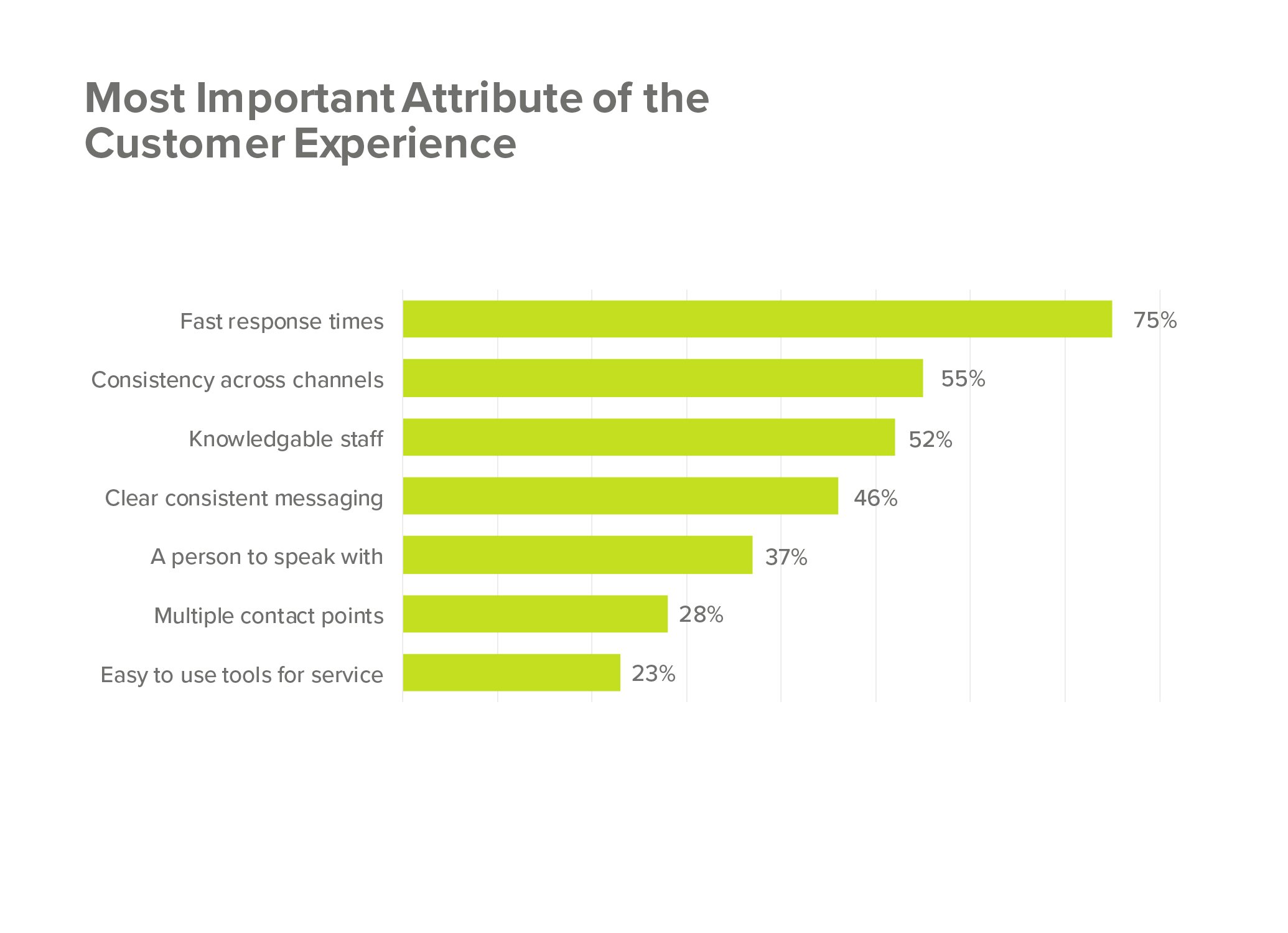 Image Source
Tools for Creating Self-Service Resources
Most help desk software can build self-service resources. To do this, have your team record common service inquiries then write the solutions down in a knowledge base. This resource will act as a reference that customers can use for FAQs and simple roadblocks. Not only will this save time for your customers, but it will also reduce caseload for your support team.
To learn more about improving the customer experience, read our ultimate guide to cross-channel marketing.