It doesn't take a "surprised kitten" video to prove that online video content is insanely popular. Cisco estimates that as much as 82% of web traffic is devoted to video, and Statista found that 27% of internet users watch over 10 hours of video content each week. And, in 2019, 85% of marketers used video marketing, and of those that didn't, 59% expected to start in 2020.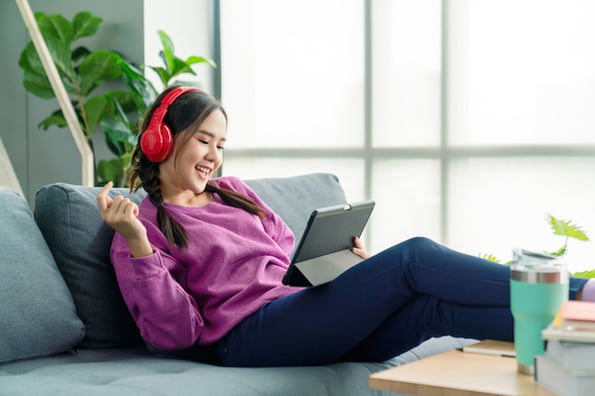 There's plenty of demand for online video, which creates an opportunity for brands to grow their customer base by using it to engage new target audiences.
But, YouTube and Facebook ads aren't the only way to leverage online video content. While video has the potential to captivate a new target audience, it can also be used to retain existing customers and improve the customer experience.
In this post, let's look at some ways you can create engaging video content that dramatically improves your customer experience — helping you increase sales and customer retention rates.
How to Use Video to Improve Customer Experience
1. Focus on customer education.
A lot of online video focuses on making a sale which can be effective if used with the right timing and context. There's other video content, however, that takes a more educational route and it's just as captivating — if not more — than promotional video. Rather than trying to promote a sale or deal, these videos provide customers with helpful information (and usually, a bit of entertainment) to nurture leads.
These videos are called "explainer videos" and they offer an overview of the company and its products and services. These videos typically use animations or clips of the product or service in action to provide a clear understanding of what the company does. In an Unbounce case study, one brand was able to increase its conversion rate by 20% simply by adding an explainer video to its homepage.
Many brands use explainer videos to create vlog-style content that educates customers on topics related to the brand and its offerings — think of a lawn maintenance company providing video tutorials on seasonal landscaping tips. This content encourages repeat engagement and helps establish your brand's credibility.
Educational videos can also make a difference after you have onboard your customers. Studies have found that as many as 68% of customers prefer "self-service support" when initially trying to resolve a problem. This is a big reason why FAQ pages and knowledge base resources are quickly being seen as a must-have for every company website.
And, video can greatly enhance the effectiveness of your online knowledge base. Videos provide quick and engaging instruction that's easier to digest than downloading a PDF manual. From troubleshooting instructions to FAQ responses, the visual nature of video is ideal for helping customers retain information and resolving concerns on their own.
The result: less work for your customer support team, and more satisfied customers.
2. Consistently create high-quality content.
If you want to optimize the success of your online videos, you'll need to prioritize two components: quality and consistency.
The good news is that you no longer need to have expensive equipment to give your videos a professional look. One particularly useful tool is Boosted, which is an app that offers customizable templates for creating marketing videos. The app provides default music and video clips, or you can add your own footage and stills during production. Boosted customizable color pallets, fonts, logos, and even frame dimensions make it easy to create and edit a video that's optimized for any social media platform.
For brands that need to record product demonstrations, Snagit is a great resource, as well. This tool lets you add a voice recording or visual instructions to screenshots and screen recordings. You can use this app to create a product walkthrough or tutorial video, or you could use it to guide a customer through confusing troubleshooting steps.
If you're filming your video in-house, it's important to follow video production best practices. Educational and promotional videos will require a lot of planning, so, review your script and rehearse before you start shooting. Be mindful of the setting, particularly the lighting, and any issues that could interfere with the audio. Even seemingly simple things like making sure you have the right camera focus and adhering to the rule of thirds will go a long way in giving your video that polished, professional feel.
Businesses should have a goal to upload new video content at least once per week — and possibly even more frequently if you're building a video library for your knowledge base. A consistent output will keep you top of mind with your customers as they continue to engage and get value from your videos week after week.
3. Use video to supplement your services.
The COVID-19 pandemic has completely changed the way many of us do business — especially for service-oriented entrepreneurs. Businesses that once relied on in-person meetings quickly found themselves unable to do so when stay-at-home orders came into effect.
Businesses turned to services like Zoom to stay in contact with team members but quickly found that video conferencing was also a great way to maintain their connection with socially distanced customers.
Writing for Strategy + Business, digital transformation expert Olaf Acker notes,
"A customer who contacts a call center might be delighted to have the option of a video call with a real person who's also working from home and is willing to take as much time as needed to address her question. The video creates a human connection, and the entire CX shows that the company cares — it's willing to prioritize the quality of the interaction over call-volume efficiency."
This strategy can be especially effective for solopreneurs. After all, a marketing consultant can still communicate with clients through a video conference and deliver a comparable experience to an in-person meeting. A recent study from vcita found that one-third of SMBs started offering their services online for the first time this year, with 60% saying that more than half of their appointments now take place online.
Even as life shifts back to normal, many brands will continue to benefit from video conferencing services. By cutting out travel time and making your team more accessible, you'll make meetings more efficient and show customers that you value their time.
4. Host a live stream.
Live streaming has grown in recent years since more people are connecting with brands and influencers in real-time. In fact, one out of every five videos on Facebook is now a live stream. YouTube has also jumped into the live streaming game, and some platforms, like Twitch, are exclusively dedicated to live video for specific niches.
As with other video formats, live streaming presents new opportunities to reach customers and improve their experience with your brand. You can host a live FAQ or AMA (ask me anything) event, a webinar discussing topics relevant to your brand, or even partner with social media influencers for product launches and tutorials.
These videos allow for more direct engagement with your brand. It gives customers a glimpse behind the scenes and helps them feel more connected as they interact with your content in real-time.
Dmytro Spilka, Founder and Lead Developer of Solvid Online Tools, notes,
"The biggest and the most powerful advantage of live streaming is that viewers consume content on your time, and not on their time. This means that you're only engaging with people who care about you, your brand, and people that find your content extremely useful. You're automatically targeting content at the people who are more likely to convert and follow you further."
Live video streams can also be repurposed to create additional content later on, such as short video clips and blog posts. This allows you to provide value to all customers — not just the ones who caught the live stream.
Integrating Video Into the Customer Experience
Online video can be so much more than just a digital version of a TV ad. By using video in creative ways, you'll open new avenues for reaching your customers. You'll demonstrate your industry knowledge and customer service skills, and form powerful connections that help you build and maintain a loyal customer base.
For more ways to use video, learn how to provide live video streaming support.