It has never been more important — or more difficult — to build a great customer experience.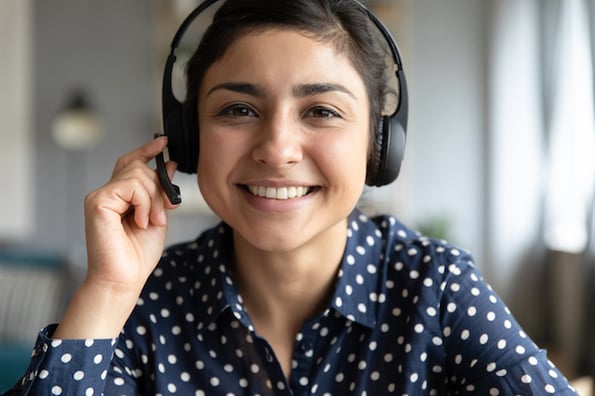 The economic, health, and societal crises that have been unfolding since the beginning of 2020 have shown us just how vital it is for companies to have a deep understanding of their customers' needs and the right systems in place to support them during times of uncertainty.
Over the past two years, we've been in awe of the customer service teams that have changed policies and pivoted operating models in a matter of weeks, all while managing an increased volume of support queries. It's a powerful reminder of just how essential it is for businesses to have a passionate, empathetic support staff that's always ready to solve for the customer.

Now, as we enter a more hybrid workforce and a state of new normal. service teams are again seeing all new challenges and opportunities. So, we decided to survey hundreds of service professionals to learn all about the new and ongoing trends shaping their industry.
State of Customer Service Report
This year's State of Service survey had over 1,400 respondents, representing companies ranging in size from one to 10 employees up to over 10,000 employees.
The company size with the greatest representation was 1,001-5,000 employees (21% of respondents), and there was notable representation from 251-500, 501-1,000, and 10,000+ employee segments (all representing 12%+ of total respondents).
We surveyed service leaders in the United States, United Kingdom, Canada, and Australia, with the majority of respondents coming from the U.S. (63%). We also asked our respondents to self-report their company's growth over the last five years: exponential, high, low, or no growth.
Two-thirds of respondents reported that their customer service organization reports into customer service/support teams. Respondents were nearly evenly distributed across seniority, with 28% of respondents reporting to VP or C-level executives, 30% reporting to a director, and 36% reporting to a manager (6% reporting to "other").
You can download the full report and it's findings here, but below are some of the most striking data points and what they mean for the customer service industry.
Service teams need more time.
A whopping 43% and 51% of agent-level respondents and high growth and low growth companies, respectively, said that not having enough time in the day was their biggest day-to-day challenge. This was agents' second biggest challenge faced, following only "dealing with upset customers."
When entering service leadership, the need for more time intensifies. Across all growth segments, lack of time was the number one challenge.
Customers Crave Authentic Experiences
A whopping 88% of survey respondents agree that customers have higher expectations than they did in previous years. Meanwhile. 79% say customers are more informed than they were in the past.
With customer expectations continuing to surge each year, it's a particularly challenging time to be a customer service professional. The level of service that might have been acceptable to a customer 10 years ago, could now result in complaints. Today, customers demand responses in minutes, not days. They expect self-service options, but also want service staff to be readily available to help with complex issues. And, they want every interaction they have with a business — whether it's with marketing, sales, or service — to be contextual and personalized.
Ultimately, customers want a great experience and will be wary of scenarios that don't feel helpful, transparent, or authentic. And, whether an experience with a brand is good or bad. they're likely to tell their friends, loved ones, social media followers, and online review sites about it. In fact, 85% of service professionals we surveyed agree that customers are more likely than ever to share positive or negative experiences with others.
Service Teams Struggle to Be Seen as a Growth Investment
To grow a business, you must bring in more customers than you lose. Said in another way, you must retain as you gain.
And, the last two years essentially taught us that customer service is vital to helping brands retain and grow relationships with customers, especially in times of crisis.
Still, there's a growing number of companies that view customer service as a cost center.
In 2021, nearly 40% of survey participants said their companies thought of service as an expense rather than a growth opportunity, up a whopping 8% from 2020.
Viewing service as an expense is completely counter-intuitive given the continued increase in customer expectations and a growing desire among companies to prioritize customer experience.
And, while these increases are likely linked to our ongoing economic environment: now is not the time to be making cuts to your service team. It's precisely during times of uncertainty that companies need well-resourced, motivated, and empowered service staff that are ready to solve for the customer, especially as demand continues to rise.
Recommendations for Service Teams and Leaders
Although our report took note of common challenges, like lack of time or struggles for service teams to be seen as key company growth players, there are a lot of great opportunities that service teams can take advantage of in 2022. Here are just a few, based on what we learned from survey respondents:
Prioritize retention and relationships
Customers are loyal to brands that value their opinion and provide helpful, authentic experiences. And, loyal customers can bring revenue, as well as good reviews, and even referred customers, to your company for a long period of time. This is likely why customer success and customer retention are among the top three 2022 priorities of service professionals we surveyed.
Streamline tasks to focus on customer experience.
CX is the top priority service professionals are focusing on in 2022. However, it takes time to build an excellent experience. (And, as data above shows, time is the one thing service teams can't get enough of). To give themselves more time to focus on deeper customer experiences, teams are continuing to invest in tools like:
automated ticketing systems that eliminate time spent filtering and organizing service queries
Knowledge bases, chatbots, and other resources that help customers answer their own questions.
CRM software to help streamline customer management and relationship-building processes.
By leveraging the tools above, customer service professionals can both streamline tasks and begin to focus on bigger-picture projects, like improvving or building better customer experiences.
Track and share your successes.
The best way to justify more investment from business leaders is to show that your team is, in fact, helping them grow their customer base and increase steady revenue. Whenever possible, don't let your key projects, strategies, or metrics live in a team-only silo.
If you're a leader, make sure your results, and your team's results, are shared with decision-makers on your company's wider leadership team. If you're a rep or agent, be sure to share your accomplishments with your manager, colleagues, or via internal blogs or team emails to ensure people around the company know how you're successfully retaining, gaining, delighting loyal customers.
How Companies Can Solve for the Customer in 2022
To truly solve for the customer, companies must first solve for their staff. This goes beyond making sure that service professionals feel appreciated and are motivated; it means putting systems in place that empower them to do their best work.
According to our current and past research, more companies are putting processes in place to formally track customer feedback. The monitoring of customer satisfaction, online reviews, and NPS have all increased year over year, indicating a growing desire among companies to leverage the value of feedback to improve customer experience.
Ultimately, service teams have an opportunity like never before to not only help their customers navigate these uncharted waters, but to drive their business forward by delivering remarkable customer experiences.
After all, that's the key to growing better. For even more data and insights on the State of Customer Service, download our State of Customer Service 2022 report here.