One of the biggest WordPress website mistakes you can make is setting it up to be nothing more than a digital brochure when it can be a dynamic marketing, sales, and service asset. With this in mind, there's one untapped resource to improve the experience on your website: live chat. With live chat software, you can have real-time conversations with your customers.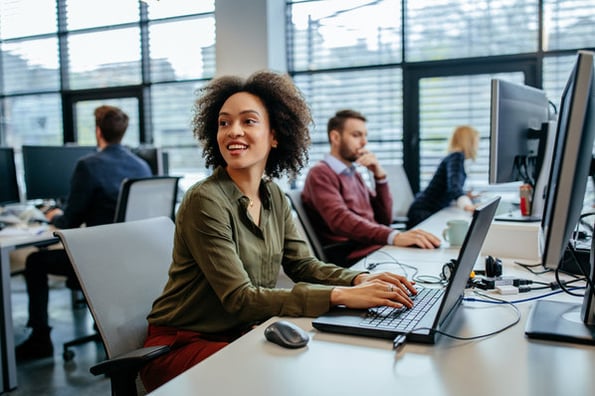 Why Use Live Chat on Your WordPress Website
Unlike support tickets or email, live chat software allows your reps to be easily accessible to visitors on your page and only takes a few clicks for a website visitor to receive help. But is it really worth the bother of installing and managing? We think yes. Here's why:
1. Chat helps get questions answered.
Regardless of where in the buyer's journey a prospect is, they have questions they need answered and objections to be overcome. Just imagine if your website had the ability to handle some of those questions and objections in a way that's low-stress for the prospect and low-management for you. That's where live chat comes in. You can quickly solve their issues and/or direct them to the right answers to their questions.
2. It improves the service experience.
Your website isn't just a hub for promotional material. It can function as a dynamic resource hub for your prospects and customers, providing them with what they need no matter where they are accessing it. Live chat an effective way to meet prospects where they are and/or provide support to existing customers. These interactions can transform website visitors into brand advocates. For more information about this, check out our article on live chat's advantages in customer service.
3. You can use it to gather marketing data.
Traditionally, you might gather inbound leads from your website with an opt-in form, but that's only if they are compelled enough to exchange their information for the content you're offering. With live chat, you can gather their information in exchange for providing them with helpful service, which they are already motivated to do when they engage with the chat.
During the conversation, you can ask specific questions to supplement what you know about the prospect/customer. This data can be used to personalize your lead nurturing campaigns and sales process. You'll be able to identify which prospects are the right prospects, where they are in their journeys, how to prioritize these new leads, and what valuable information you can use to get those leads to close.
4. It increases conversions.
According to HubSpot research, 82% of consumers consider an immediate response from businesses "important" or "very important" when they have marketing or sales-related inquiries. By not meeting this need, you could be missing out on the opportunity to provide an excellent experience to win over buyers.
Live chat is a great channel to bridge the gap because of the benefits stated above. Some studies report adding live chat increases conversion rates by 20%, with visitors who engage with a live agent 2.8 times more likely to purchase a product and spending 60% more per purchase (Campaign Monitor).
5. Customers expect you to have it.
42% of customers prefer live chat as a communication channel (HubSpot Research), and it was found even back in 2013 that 33% of customers expect live chat on websites (Forrester).
6. You'll get a competitive advantage with a growing channel.
Despite the statistics above, only 9% of websites use live chat to provide support, and 21% of chat support requests for those that do remain unanswered. The live chat industry is growing, and there is a big opportunity to gain a competitive advantage with it.
All in all, live chat builds better relationships with prospects and customers. Let's learn how to add live chat to your WordPress website. If you're more of a visual learner, check out this video as you follow along below.
Add Live Chat to Your WordPress Site
Log into your WordPress account and select Plugins on the left sidebar.
Click Add New and search for the plugin you want.
Install and activate the plugin.
Create and publish your chatflow.
Check whether your chat software is live on your site.
Test its functionality.
1. Log into your WordPress account and select Plugins on the left sidebar.
Like many WordPress features, live chat can be added to your site using a plugin. To kick off this process, click on Plugins from the left sidebar menu.
Doing so will take you to your Plugins page, which lists all the plugins you currently have installed.
2. Click Add New and search for the plugin you want.
In the top left corner of your Plugins page, you'll click the Add New button, which takes you the WordPress plugin marketplace.
In the top right corner, you can search the marketplace for the live chat plugin you want.
There are a number of live chat plugins to choose from, but we recommend searching for and using the HubSpot – CRM, Email Marketing, Live Chat, Forms & Analytics plugin.
The advantage of choosing HubSpot is that all live chat conversations are synced with your CRM platform, allowing you to use the information along with a host of other tools to maximize your ability to convert leads, close deals, and provide better support to your customers. You can also set up automated chatbots to respond to your visitors when you're offline. Best of all, HubSpot's live chat software is free and easy to set up.
3. Install and activate the plugin.
Whatever plugin you choose, you'll need to install it to your WordPress account in order to use it.
Once you've installed and activated your plugin, you can then navigate to it in the left sidebar menu or through the Plugins page under Installed Plugins.
If you've chosen HubSpot to be your live chat software, you'll need to log in to your HubSpot account to finish the installation process.
Doing so will connect your website to HubSpot and give you access to live chat features and other tools.
4. Create and publish your chatflow.
Each plugin will have their own different process for setting up and customizing your live chat software. Here's how to do it using HubSpot:
Go to HubSpot > Live Chat in the left sidebar menu.
Click Create chatflow button in the top right corner.
Choose Website.
Follow the prompts to customize the chat flow to your liking.
After you complete your chatflow, toggle the switch in the upper right-hand corner to take the chatflow live.
For more information on specific features or the overall process of building a chatflow using HubSpot, click here.
5. Check whether your chat software is live on your site.
In a separate browser tab, go to your WordPress site. Most chat software appears in the bottom right corner of the page when set up correctly.
6. Test its functionality.
You'll want to check that everything is working correctly and behaving the way you expect. Enter into a conversation as if you were a website visitor or customer and go through the process as if you were initiating the chat.
Ask yourself:
Is the chat presented and functioning the way I expect?
Will my prospects and customers be able to use this effectively?
Does everything in the back end functioning appropriately?
Some troubleshooting may be required, but if you're not finding any issues, you've successfully installed live chat! If you're using HubSpot's plugin, you can chat with your website visitors directly from the Conversations inbox in your HubSpot account.
Live chat helps you communicate more effectively with your visitors. You can nurture leads toward conversion and then delight them with superb customer service. Building better relationships helps you transform your WordPress site into a tool that helps grow your business.
Editor's note: This post was originally published in September 2019 and has been updated for comprehensiveness.