Think of WordPress backups as an opportunity to safeguard the hard work you've put into crafting your site. You won't be in a tough spot if an emergency such as a security breach, malware issue, or human error occurs. WordPress backups ensure that your site data is accessible if you need to go into recovery mode to get your website up and running again.
The best way to backup a WordPress site varies depending on who you ask, so learning about several backup options will help you select the best one for you. Alternatively, if you want to guarantee your site's safety, you may opt to use several WordPress backups. We've outlined the best WordPress backup techniques, so you have the resources necessary to make the best decision for your website.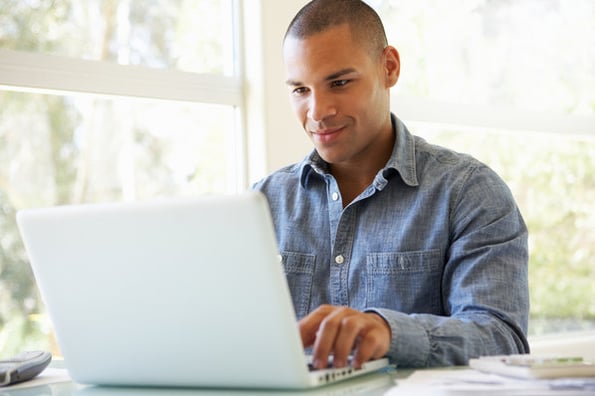 Why are WordPress backups essential?
Most hosting companies offer automated website backups, but if the provider crashes, you won't have the ability to immediately regain access to your site. That's where WordPress backups come into the picture. You can rest assured that a hosting provider malfunction doesn't mean trouble for your WordPress site when performing your backups.
If you're wondering if WordPress backups are worth the additional effort, the answer is an easy yes. If anything goes wrong, you can restore your website promptly so your business won't miss out on revenue opportunities due to the unnecessary downtime from the crash.
In addition, hacking is an ongoing threat that businesses face. The Identity Theft Resource Center's Data Breach Report indicates that in 2021 alone, 1,862 data breaches occurred. That's a 68% jump from 1,108 in 2020, demonstrating an alarming trend.
Unfortunately, every industry is susceptible to hacking, which means that no matter what you do, you must work extremely hard to ensure access to your site isn't lost. If your website crashes, your users' experience will be interrupted, and your business could lose revenue or your customers' trust.
When to Backup Your WordPress Website
It's impossible to predict when a situation like this would occur, which is why it's helpful to backup your website as frequently as possible. However, manually backing up your WordPress site could be time-consuming, so daily (or even weekly) backups might not be feasible. When to backup your WordPress website depends on how willing you are to risk crucial information. If your site is relatively static, perhaps a weekly backup is sufficient. But if you're running an online shop or a blog, a once-weekly backup will likely prove inadequate.
The absolute bare minimum of when to backup your WordPress website is at least once weekly, but keep in mind that you probably will still lose relevant data. For this reason, daily backups are optimal. While committing to such frequent WordPress backups is an additional step, consider protecting what you've built. Keep in mind that the best way to back up a WordPress site is the one that is most convenient for you. Luckily, there are quite a few options.
What is the best way to backup a WordPress Site?
There are several ways to backup a WordPress site. The main three are manual, free, or paid plugins. Each option has its pros and cons, so pay attention to what you value most to make the right choice.
Manual WordPress Backups
If you opt for manual WordPress backups, you'll have to save a copy of your site daily by physically backing up your site. The pros include having a complete, comprehensive backup of the latest version of your site. The cons are that this option is time-consuming and that human error is possible, so you might accidentally save an incomplete copy of your site. (Later in this article, we'll walk you through the process of manually backing up your site, so you know what to do.)
Paid Plugins for Wordpress Backups
There's a plugin for everything. So unsurprisingly, there's an option to help you backup your WordPress site. A paid plugin for WordPress backups might be the correct route for businesses looking to save time. For one, this process is more straightforward and more time-efficient. Unlike free backups that sometimes only protect a fraction of the content, a paid plugin will most likely secure your entire site. The con to this is that you'll have to add the plugin to your overhead.
Free Plugins for WordPress Backups
Plugins are an easier, faster way to complete WordPress backups. A plugin significantly simplifies the process for businesses that don't have the time or resources to manually backup their content. However, most free plugins will only capture a portion of your website data. The result could be that your database is only captured and not your media files or themes. If you want to ensure this does not happen, manually back up the site or opt for a paid option.
How to Backup a WordPress Site
Because the best way to backup a WordPress site varies depending on prioritizing completeness or convenience, it's up to you to decide which option you want to use moving forward.
How to Complete WordPress Backups Using a Plugin
While WordPress offers many features, there's still no magic button you can click to create a backup of your current website. There's where WordPress plugins come in handy. These software bits add helpful functionality to your website without having to code.
There are many different WordPress plugin options available, but the most downloaded backup plugin is the UpdraftPlus WordPress Backup Plugin. If you're looking for other plugins for WordPress backups, check out our comprehensive guide.
Here are the steps you'll need to take to complete a WordPress backup with the assistance of a plugin.
1. First, log into your WordPress dashboard.
2. Navigate to the Plugins tab. Then click the Add New button.
3. Search for "UpdraftPlus." Once it appears in the results, click the Install Now button.
4. Click Activate to automatically redirect to the tab listing all the installed plugins on your site.
5. Now, it's time to configure the plugin's settings. You might see a pop-up with a Press here to start button! If you don't, click the Settings link.
6. If you'd like to perform a backup immediately, click the Backup Now button.
7. If you'd like to schedule auto backups, you can set your backup schedule under the Settings tab.
8. Next up, choose where to save your backups by selecting a remote storage provider. For the sake of this demo, we'll choose Dropbox.
9. Once you make your selection, a new section will appear with a link to authenticate your account with the provider after you save your settings. No action is necessary now.
10. Select which files you want to include in your backups.
11. Save your settings by clicking the Save Changes button.
12. Once you click Save Changes, a pop-up window will appear, asking you to verify your account with whichever remote provider you selected.
13. To complete the process, click on the link. It will automatically open a new window asking you to fill in your account information.
14. Grant UpdraftPlus.com access to your remote provider and click Complete Setup.
15. You'll then be redirected to your WordPress dashboard and see a success message for authenticating your account.
While this successfully sets up the UpdraftPlus plugin for WordPress backups, WordPress's official documentation notes that even with the assistance of a backup plugin, a manual backup every once in a while is essential.
If you're looking for a step-by-step video tutorial, this one can help.
How to Complete WordPress Backups Manually Using cPanel
Login to your cPanel.
Under Files, click File Manager.
On the left panel, find the public_html folder and expand the folder by clicking on the + symbol. Select the folder with your website's name.
Right-click your website's folder and select Compress.
Select Zip Archive and click Compress File(s).
After the compression is complete, select the zip file and click Download on the top menu bar.
Now, place your backup in a secure location on your hard drive.
Your manual backup is complete! Repeat this process as frequently as necessary
Most hosting providers offer cPanel to manage your website. Its intuitive interface makes it easy to backup your files. If you don't have a cPanel, learn how to backup your website with phpMyAdmin here.
1. Log into your cPanel. (Go to www.yourdomain.com/cpanel.)
2. Under Files, click File Manager.
3. On the left panel, find the public_html folder and expand the folder by clicking on the + symbol. Select the folder with your website's name.
4. Right-click your website's folder and select Compress. (Compressing the files decreases the amount of time it will take to save the backup.)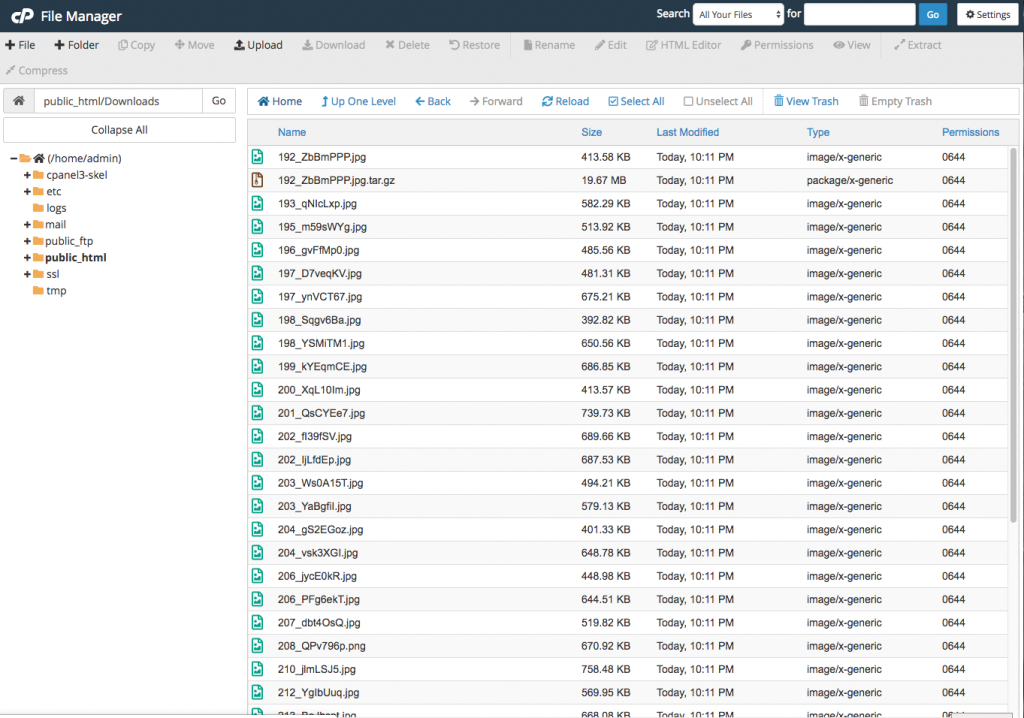 5. Select Zip Archive and click Compress File (s).
6. After the compression is complete, select the zip file and click Download on the top menu bar.
7. Now, place your backup in a secure location on your hard drive.
Next Steps for Manual WordPress Backups
Once you've completed a manual WordPress backup, you can take some additional steps to guarantee that your site is as secure as it can be. Think of these as preventive measures to reduce the likelihood of using one of your backups to get your site up and running again.
Consider multiple WordPress backup options.
The saying 'the more, the merrier' applies to WordPress backups. Some people opt to have a paid plugin and a manual backup available. If anything were to happen, your site would be accessible on one or the other.
Update your WordPress backups when significant updates occur — or at least once monthly.
Ideally, you'll update your WordPress backups daily. Once weekly could also work depending on how frequently your site is updated. However, if that's not possible due to financial or time constraints, be sure to backup your site once a month or when significant updates occur.
Encrypt your data.
If you're concerned about potential hackers violating your backup, ensure it's encoded into a random message and features password protection. Encryption software will help you successfully do this.
Protect your backup by keeping it in multiple secure locations.
It's best practice to keep multiple copies of your backup — and ideally, this will include cloud and local storage. Some options include Google Drive, Dropbox, or a hard drive.
Make sure your backup works.
Imagine needing a backup file to bring your website back to life, and when you do, the backup isn't successful. Luckily, combating this is simple. Just test your backup to ensure it functions properly and has everything you need.
WordPress Backups Help Secure Your Content
Now that you know how to backup a WordPress site, it's time to put it into practice. WordPress backups will help ensure your content is never out of reach and if your hosting provider crashes, you won't have to start from scratch.