Having a fancy WordPress website for your online business is great and all, but are your visitors actually doing what you want them to? In other words, are they engaging with your content beyond just scrolling?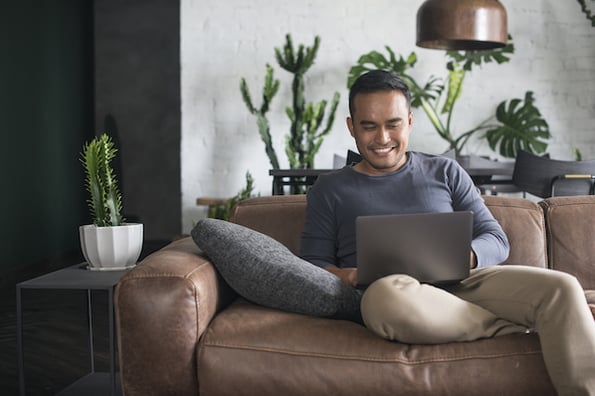 If this form of engagement is lacking, try placing calls to action (CTAs) on your website. A CTA is a page element that encourages users to take some specific action. This action could be anything — signing up for an e-list or event, downloading a guide or ebook, or acquiring a discount code. Whatever the action, a user shouldn't need to search hard for it, which is why your CTAs need to be placed strategically and designed thoughtfully.
CTAs can take many forms, including banners, popup, slide-in, or inline text. For example:
A pretty clear CTA, right? With WordPress plugins, you can add the same thing to your site with no coding needed. We've compiled 14 of the best plugins for placing CTAs to help guide visitors down the buyer's journey and convert them to customers and promoters of your brand.
Best Call to Action WordPress Plugins
HubSpot WordPress Plugin
Bloom
Monarch
WP Notification Bar Pro
Ultimate Blocks
MailOptin
Easy Social Share Buttons
Thrive Leads
Opt-in Content Locker
OptinMonster
Hello Bar
Simple Side Tab
Convert Pro
The HubSpot WordPress plugin is a free solution for WordPress CTAs and lead generation. Our plugin enables you to capture visitors with custom forms and popups, which, when completed, send information straight to your account in HubSpot CRM. This way, you can follow all customer interactions with your online business.
With this powerful plugin, you can also view analytics to track engagement with your CTAs and see which actions are converting best. And, the HubSpot WordPress Plugin integrates fully with other leading plugins for online businesses, like WooCommerce and Gravity Forms, as well as prominent WordPress builders like Avada and Elementor.
Pro tip: The HubSpot WordPress plugin will also let you use HubSpot email marketing, live chat, and analytic tools on your WordPress website.
Bloom is a dedicated email opt-in plugin from ElegantThemes aimed at growing your email subscriber base. With Bloom, you can place email opt-in CTAs throughout your WordPress site, or select certain pages to place your CTAs while excluding others for more targeted placement. You can even show different CTAs based on actions the user has already taken on your site.
You don't need to be a graphic designer to build your CTAs — Bloom provides over 100 templates for popup, inline, fly-in, and widget area CTA displays, all highly customizable. When you've built your module, simply insert it where you want with a shortcode. Bloom even offers gated content CTAs, which require users to provide their information to receive your resource.
After collecting customer information via your Bloom CTA, store it on one of many software integrations, including HubSpot, Salesforce, Constant Contact, or Mailchimp.
Bloom comes with a Divi subscription, which retails for $89 per year or a one-time payment of $249. To learn more about Bloom, check out our full review.
To get your brand name to the masses, you need to provide visitors the option to share your content on social media sites. Monarch from ElegantThemes is one of the most popular social media plugins for WordPress, and offers you a comprehensive solution to social sharing.
Monarch includes a number of different designs for the share buttons, and tight control over the placement of these buttons thanks to an intuitive interface. It works with nearly any social media site you'd need, from Facebook, LinkedIn, and Twitter to Reddit and Pinterest. All buttons are fully responsive, which is a key consideration in our increasingly mobile tech-scape.
Monarch is backed by strong development and service teams, so this product will be sure to grow in the future, you can expect quality support if needed. Like Bloom, Monarch comes with Divi, which is $89 per year or a one-time payment of $249. We've also reviewed the Monarch plugin in detail.
WP Notification Bar Pro lets you add unlimited customized message bars to your WordPress website. These bars span the page, and are very effective for grabbing users' attention. If you want to deploy high-visibility CTAs, try this tool.
This plugin offers a variety of content types for your notification bars: simple text, email opt-in, social media links, search form, and even a countdown CTA for time-sensitive offers. Inserting a CTA is easy — just customize the CTA's color and content, then place the code that's generated for you.
You can target these message bars only to certain pages, and even display or hide them based on the device or traffic source. For example, if a user came from a social media channel, you might want to hide the social media banner and avoid redundancy. There's even an A/B testing option and analytics to help optimize your CTAs.
WP Notification Bar Pro subscription pricing starts at $19 per year for one site.
Ultimate Blocks is a free blocks plugin for the WordPress Gutenberg editor. It's specially designed for bloggers and content marketers, and introduces modules for you to create an engaging page or post.
Ultimate Blocks currently offers 20 new blocks for the Gutenberg editor, including a CTA block, social share block, a click-to-tweet block, a button block, and a styled block for notifications. All blocks are mobile-responsive and customizable in their size, color, and font.
MailOptin is a lead generation and email automation plugin for WordPress that lets you to place customized email opt-in CTAs on your web pages. It integrates with the WordPress Customizer so you can seamlessly add CTA types like slide-ins, notification bars, inline CTAs, and lightbox popups. These are all customizable to match your site's theme and easily integrate with email marketing, CRM, and analytics software.
A MailOptin subscription starts at $79 annually for one site, which includes the lead generation tools I've described. There's also a free version with similar but limited functionality.
Easy Social Share is another plugin for spreading awareness of your brand through social media. This plugin works with more than 50 social networking sites, and offers dozens of customizable display options for your social media buttons.
As for the buttons themselves, this plugin lets you place share buttons, heart/like buttons, email buttons, click-to-tweet buttons, and bookmark buttons. You can also change your comment section to show Facebook comments or embed your Instagram feed to display more visual content. All buttons can be placed virtually anywhere on your page.
Easy Social Share Buttons retails for $22 on the Envato market.
Thrive Leads is a popular email lead generation plugin from Thrive Themes, creators of the WordPress page builder Thrive Architect. Use this plugin to create a strong email list that helps grow your customer base.
Thrive Leads comes with a huge list of readily available templates, along with a drag-and-drop interface powered by Thrive Architect. With these tools, you can create a sleek email subscription form in just a couple of minutes. You can also try other CTA types for your campaigns. These include slide-ins, lightbox CTAs, and notification bars.
Thrive enables targeted CTA displays on a per-page or a per-user basis, so users with different access levels on your site can see different CTAs. For example, you wouldn't want current subscribers to see a subscription form — you might try bringing them to a landing page instead. Experiment with your CTAs using Thrive's A/B testing tool, and view results with their reporting feature.
Thrive Leads is priced starting at $67 for one site.
If you want to hide certain offers behind a form or other type of CTA, you can use the Opt-In Content Locker plugin. It restricts access to only those who subscribe to your email list, and is one of the easiest ways to gate your content. This plugin will even remember users who have already subscribed and make the content available to them every time they land on your site. If you're worried about SEO, don't — it won't lock the content for the search engines.
To make the list building and email marketing easier for you, this plugin integrates with all leading email marketing services like MailChimp, GetResponse, iContact, Campaign Monitor, and Benchmark.
Opt-In Content Locker starts at $17 for a regular license.
At nearly one million downloads, OptinMonster has set the standard for WordPress popup builders. It's lightweight, user-friendly, and boasts significantly more flexibility in its design features than competing plugins. Its popup types include lightbox, content gating, and even a mobile popup for smartphones only.
This tool offers a detailed A/B testing to determine which forms work best for your site, and also comes with a built-in analytics feature to provide detailed insights on views and overall conversion rates. And, it supports the leading email service providers and CRMs.
A monthly OptinMonster subscription starts at $14 for a single site for its essential features. To get the most out of this plugin for your organization, upgrade to one of its higher-tier plans.
Hello Bar aims to get full-page popups, notification bars, and slide-ins CTAs on your website faster than any other plugin option. To use this tool, go to hellobar.com and create an account. Once signed in, build your CTA, then copy the CTA code and paste it into your pages.
On top of speed, Hello Bar highlights its high number of trigger options and targeting parameters — these will put your CTAs in front of visitors when shown to be most effective, like when about to exit a page or your website.
For pricing, Hello Bar offers a free version, but know that this is limited to 5,000 views per month and 10 popups. Paid versions, starting at $29 per month, grant access to unlimited popups, higher caps on CTA views, and more advanced testing, design, and targeting capabilities.
True to its name, the free Simple Side Tab plugin adds a vertical side tab to your WordPress pages and posts, which can act as a global CTA. The side tab stays in place as visitors scroll down the page, so it's always visible and ready to be clicked, even on smartphones.
This plugin provides you the option to choose which side to place the tab and set the background color of the tab to match it with your site. You can also deactivate the tab for certain pages, like your homepage.
If you want a basic one-time CTA tool and can spare the fancy extras, Simple Side Tab gets the job done.
Topping off our list is Convert Pro, an all-in-one lead generation and email opt-in plugin from the developers of the acclaimed Astra theme. Like some other plugins we've discussed, Convert Pro lets you create many different types of CTA modules (popups, email forms, slide-ins, inline, and more) from templates from scratch. The difference is that Convert Pro utilizes the Astra drag-and-drop builder for its CTAs. If you're a fan of this builder, you'll be able to quickly adopt the tool.
Convert Pro also emphasizes its advanced targeting and personalization technology in its CTAs, responsive design, native A/B testing, and integration with Google Analytics for real-time performance analysis.
Convert Pro retails for $79 annually, or for a one-time payment of $399 for lifetime access.
Take Action With CTA Plugins
Implementing CTAs is a matter of trial-and-error, with lots of testing, re-testing, designs, and re-resigns. That's why it's so important to choose a flexible, capable WordPress plugin for this functionality. Plus, plugins are a better option than creating CTAs with your WordPress theme alone since, if you ever decide to change your theme, you won't lose your CTAs in the process.
Long story short, the right CTAs will make it clear to users what your business can offer to them, and how they can get it as soon as possible. If you want visitors to take action, it doesn't hurt to ask.