Flat design is a popular design trend that's focused on usability.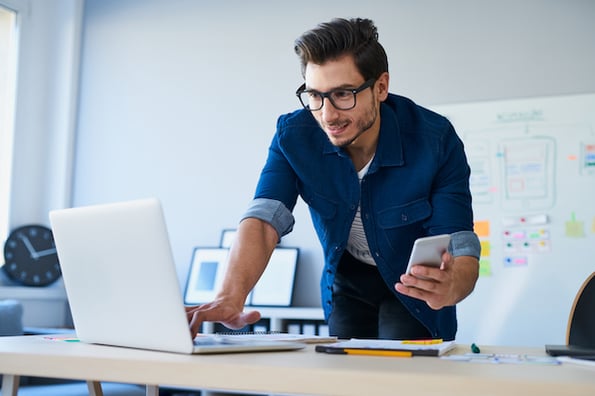 Although it's been around for nearly a century, flat design only gained prominence when Microsoft released Windows 8 in 2012 and Apple released iOS7 in 2013. So what is this trend embraced by two of the biggest tech companies?
Flat design is a minimalist style that does away with drop shadows, reflections, bevels, gradients, and other effects that make a user interface seem three-dimensional. The goal is to remove anything that might distract the reader from what really matters: the content. To that end, flat design embraces bold typography, bright colors, and simple icons.
Flat design also ensures that the content on a website can scale smoothly to different screen sizes. Since simple shapes and minimal textures can load faster and perform better than decorative elements like textures and shadows, flat design helps ensure that users have an optimal experience on any device.
For these reasons, flat themes are an excellent choice if you want to make your WordPress site look professional on any modern device. There are plenty of options available in the official WordPress directory and third-party marketplaces. Let's check out our top picks below.
Top Flat Design WordPress Themes
The best WordPress themes are not necessarily the most expensive. Below are a collection of free and premium WordPress flat themes to show that you can find the perfect option for your business on any budget. Let's get started.
Divi is one of the most popular premium themes for WordPress. Not only is it among the fastest loading themes, but Divi is also incredibly versatile, offering over 800 pre-made designs. Some of these designs are packaged into "full website packs," which offer a homepage, landing page, "About Us" page, blog homepage, contact page, and other layouts designed for unique business niches.
To customize these packs or single designs, you can use the Divi builder. The Divi builder is a front-end visual editor with over 40 elements that allows you to make changes in real time. Many of these elements are considered "rich design" — the opposite of flat design — and include drop shadows and gradients. You can ignore these elements or use them to create a balanced design that combines the clean and simple visuals from flat design with the subtle depth and dimension of rich design.
Divi also differentiates itself from other themes with responsive editing. That means, in addition to having a responsive design, Divi allows you to edit how your site appears on difference devices. You can change the size, rearrange, or remove certain elements on mobile devices, tablets, and other smaller screens without affecting how they display on desktop.
Here's a look at the landing page demo from the Elementary School layout pack on a desktop.
For more information, check out this Divi theme review.
Zelle Pro is a one page WordPress theme specifically created for small businesses. It comes with all the sections you need on a business site, from portfolio to testimonials to an "About' section. Each section makes use of bold typeface, simple icons, and bright colors so you can present your products, team, and other content in the clearest possible way.
You can also rearrange and customize any of these sections using Zelle Pro's extensive theme options panel. This panel includes unlimited color options, interactive elements, and animation effects like parallax scrolling, which you can use to add texture to your flat design. By striking the right combination between flat and rich design, you'll delight your visitors without distracting them from your content and calls-to-action.
Below is the live demo.
Jupiter is one of the most popular multipurpose WordPress themes in the ThemeForest marketplace.
What sets Jupiter apart from other themes is that it comes with Elementor. This integration with a drag-and-drop website builder means that customization options are virtually unlimited. With Jupiter, you can completely customize a web page, from the header to the footer and everything in between, without needing to code.
While you can start from scratch, you don't have to. Jupiter comes with over 300 pre-built websites, which fall under different business categories like "corporate" and "creative." You can choose one that matches your business niche, then make it your own. You might replace different parts of the pre-built site with Jupiter's page block templates for hero sections, testimonials, pricing tables, newsletter forms, and more. Then add visual effects like parallax scrolling, sticky elements, image hotspots, and unfolding columns. These animations can enrich your flat design and ensure your site reflects your unique brand.
Here's a look at the Astrology demo. This mock-up site uses a hero section with a video background and floating particles to draw the reader in.
H-Code is a flat design theme that's packed with features and customization options so you can display your content in interesting but intuitive formats.
This multipurpose theme offers a combination of 60 multi-page and one-page templates. Once you select the demo that suits your business needs and brand, you can customize every detail with the bundled Visual Composer drag-and-drop plugin. You can add image galleries, grids, counters, sliders, and accordions to display different information. For example, you might use a slider on your homepage to display multiple hero images with different CTA buttons rather than just one. You might use counters in your "About" section to show how many projects you've completed, clients you've worked with, or awards you've won. And you might use a grid to showcase your portfolio or products and services.
Here is a look at the menu section of the Restaurant demo. Notice the dots at the bottom? That means this is a slider. You can click each of these dots to check out the breakfast, lunch, and dinner menu for this mock restaurant.
X is one of the fastest-selling themes in the ThemeForest marketplace. Because of its flat design and pre-designed website packs, it appeals to all types of businesses. Restaurants, tech companies, salons, bands, gyms, and non-profits all use the X theme to build a site for their business.
Like Divi, X is a multi-purpose theme that comes with a front-end page builder. Called "Cornerstone," this builder offers advanced functionality including inline editing, dynamic and nested content, custom fonts, global blocks, and dark mode. The latest version comes with even more features including a new layout tab, row layout element, Flexbox functionality, and an Elements API. All of this functionality is designed to allow you to create what you want, how you want.
Another thing that sets X apart from other themes is its fluid responsive design. Fluid design is different from responsive design because it doesn't merely change every so often at fixed breakpoints. Instead, the design is percentage-based so that it looks great on all screen sizes, even the "in-between ones" like the 27" iMac, 11" netbook, Kindle Fire, and Android phone.
Below is the Auto theme, which strategically uses a bold red color in combination with the parallax effect and strong typeface to keep readers engaged with the content.
Uncode is one of the best creative WordPress themes in the Theme Forest marketplace.
It offers over 70 demo sites, running from travel to agencies to magazines and much more, that you can import in one click. If you'd rather not work with a pre-designed demo, then you can use any of Uncode's 400 wireframe layouts for portfolio, blog, and news pages as well as elements like headers, icons, call to actions, pricing tables, and galleries.
Using these demos or wireframe layouts, you don't have to start from scratch to create truly unique websites. You can use Uncode's built-in front-end page builder to add and reuse content blocks, menus, and adaptive images and create custom layouts. Grid, masonry, carousel, and slide layouts will help you showcase your portfolio and blog in clean and eye-catching ways.
Here's a look at the Blog Masonry demo below.
Illdy is a free multipurpose WordPress theme that's best suited for business sites, portfolios, and other creative websites.
Built on the Bootstrap framework, Illdy is fully responsive and mobile friendly. Since you don't have to worry about site performance with this theme, you can focus on customization. Using the WordPress Customizer, you can create your website in live preview mode to see your changes in real time. You can tweak the different sections on the homepage, including the hero image, projects grid, and testimonials, to showcase your unique products and team.
While Scalia is one of the best corporate business WordPress themes, it is also well-suited for other types of businesses, shops, and blogs.
To ensure you can build a website for whatever business niche you're in, Scalia offers over 5 demo websites and a total of 150 pre-designed templates. You can start with a demo or template and completely customize it with the integrated Visual Composer plugin. While each of these templates use font, color, and icons to create a clear visual hierarchy and make the page easy to navigate, you can change the colors, rearrange the sections, add sliders, and anything else you want to reflect your brand's unique look and feel.
Here's a look at the Stylish Blog demo.
Created by Themify, Corporate is designed for businesses to promote their products and services.
In addition to a flat design, this theme offers a wide range of features so you can create a site that provides visitors with the information they need about your business. For example, you can make a video background, add animation effects, or showcase testimonials from your clients in a slider.
To make these customizations, you can use the Themify Builder. This builder has drag-and-drop functionality, reusable layout parts, and responsive grids and styling. It also has a back-end and front-end edit mode so you can design page layouts in the back end and make live edits on the front end.
Below is the main demo for Corporate.
Olsen can provide a clean and minimalist design for your lifestyle or fashion blog. This theme's unique homepage layout options, post layouts, and grid system are perfect for displaying and organizing large amounts of content and images.
Once installed, Olsen adds more than 80 customization options to the default WordPress customizer. This allows you to customize the header background image, typography, colors, navigation menu, and other widgets of any layout without needing to code.
All of these layouts and customization options are available for Olsen Pro, but there is a lite version for those on a budget.
Here's a look at Olsen's demo.
Kalium is one of the best themes for small businesses and for individuals looking to build a portfolio. Offering over 100 customization options, 21 demo sites, and an array of portfolio, project, and blog layouts, it can help you create a truly unique website or portfolio. Agencies, restaurants, bookstores, car dealers, gyms, photographers, musicians, artists, freelancers, and more have all used this theme.
Part of Kalium's wide appeal is that anyone can use it, no matter what their level of technical skill is. Users with web development experience can use custom CSS to create a site that looks exactly the way they want while those lacking technical experience can use the Visual Composer page builder to easily drag and drop elements on the page.
Below is a freelancer's portfolio demo.
As the name suggests, Flat is a flat design theme. It's characterized by bright colors, bold typeface, and simple icons, just like the other themes on this list.
What sets this theme apart are the animation effects you can add to engage your visitors as they scroll down the page. You can add fly-in, fade-in, slide-in, or drop-in effects to your images, titles, or other elements. You can add animated circles and progress bars to make your Features and Team sections more interactive.
To add these effects and make other customizations, you can use the Themify Builder and switch between back-end and front-end edit mode.
Here's a look at the Team section of Flat's colorful demo site.
KALLYAS is a best-selling flat theme used by over 40,000 site owners.
KALLYAS offers over 70 award-winning demo sites that you can install in one click. These demos are designed for a variety of business niches, including construction, digital media, fitness, furniture, restaurants, lawyers, and more. Once you pick the demo site that meets your needs, you can customize it with KALLYAS's built-in editor, the Zion builder.
Like the Divi and Cornerstone builder, it works on the front end so you can make live edits. Unlike those builders however, the Zion builder contains over 100 content blocks and elements. That means you can add and customize call to action buttons, sliders, image galleries, and many more elements without touching a single line of code.
Here's a look at the online shop demo for KALLYAS.
Flat Commerce is a free theme that you can download directly from your dashboard or WordPress's official theme directory. Its simple layout and typography are perfect for online shops that want to feature lots of product and customer images.
Today, online shops need to be prepared for traffic coming from desktop, mobile, and other devices. That's no problem with Flat Commerce. This theme is based on responsive design in which each element has been carefully configured to display optimally on all devices and platforms. Take a look for yourself in the demo below.
Story is a powerful multipurpose WordPress theme that can be used to create any kind of business or personal website.
This theme offers 22 demo options for specialized sites. Some are for creative agencies, others for photography portfolios or travel blogs, and more. You can install any of these demos in one click and customize them to reflect your unique brand.
For example, you can add a full-screen slider, custom headers and background sections, testimonials, pricing tables, a portfolio gallery in a masonry layout or different column layouts, and whatever else you need to showcase your business.
Below is the full-width page demo, which uses bold typography and pop of color to establish a clear visual hierarchy that encourages visitors to click the "Learn More" button.
Aurum is a minimalist WooCommerce theme designed to provide customers with seamless shopping experiences.
Aurum offers demos for bookstores as well as fashion, jewelry, and tech shops. Once you pick the the demo that most closely aligns with your business niche, you can customize it using the premium drag-and-drop Visual Composer plugin, which comes bundled with this theme.
In addition to having a responsive design, Aurum is also touch-optimized so your shop looks and performs great on any device your customers are using.
In the Fashion demo below, you can see how the typography, line icons, and grid layout make this shop look professional and easy to navigate.
Herald is an online newspaper and magazine theme that can help you create and organize a content-rich site.
It offers more than 500 variations for blog layouts. Meaning, you can present your content in sidebars, grids, or sliders. You also have different style options for the posts themselves. On the homepage, you can display your posts as excerpts with images above or to the side or without any images at all. Or you can display them as images with the title, byline, and publish date overlaid on the images. You can also display authors and categories instead of blog titles and excerpts in these modules.
No matter what layout or module you choose, you can catch your reader's eye with high-res images, brightly colored category tabs and names, and titles that change color when the mouse hovers over them. You can take a look at some of these features in the demo below.
Shapely is a one of the best one page WordPress themes for business websites.
It comes with a range of homepage widgets for adding a portfolio, parallax image, testimonials, products and services, call-to-actions, clients — in short, everything you need to showcase your business. For your blog, portfolio, and shop pages, you can use Shapely's grid layout to display your posts, projects, and products on the page.
Like the other flat themes in this list, Shapely is responsive and mobile friendly so it looks stunning on any device. See for yourself below.
Choosing a WordPress Flat Theme for Your Site
Flat design is ideal if you want a clean, sophisticated look for your WordPress website.
All of the themes mentioned above use large font, bright and contrasting colors, and simple icons to establish a strong visual hierarchy and reduce clutter on the page. This can help provide the best possible visitor experience on your site and guide their attention to important elements on the page, like call-to-action buttons.
Once they convert into leads, you can manage their contact information with HubSpot's free WordPress plugin.