As the expression goes, "Don't judge a book by its cover." Well, people still do, and the same goes for featured images on your WordPress website. When paired with an engaging title, the right featured image captures visitors' attention.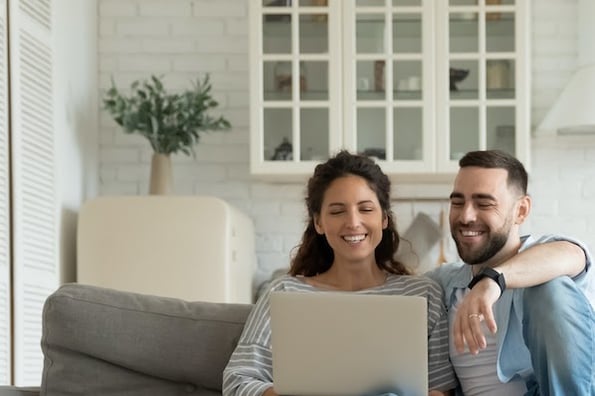 When they click your article, the featured image is one of the first things visitors see and may affect their perception of your content before they even start reading.
All of this is to say that you need to get your WordPress featured image sizing right. In this guide, I'll explain how to adjust the size of your featured images to best suit your pages and posts. But first, let's discuss the purpose of featured images and how to set them on your WordPress site.
What is a featured image in WordPress?
A featured image visually represents a post or page on your WordPress website. Featured images usually appear on your website at the top of posts. They also appear when you share your posts outside of your WordPress site, like on social media or news websites. The purpose of the featured image is to draw readers to your content and signal what your posts are about and reinforce your site's tone and branding.
In most cases, your active WordPress theme determines if and how you display featured images on your site. Since featured images are so important, most reputable WordPress themes have them enabled.
Still, there's a good chance that your featured images will look different across themes, so it's essential to ensure the files you intend to use as featured images are optimized.
Where a featured image might appear on your site depends on your theme, but you can typically expect to see your image appear in at least these three places:
Anywhere on your website that links to the blog post associated with the featured image, such as your homepage, a search results page, or a recommended posts area. In this context, the image serves as the "thumbnail" for the piece.
At or near the top of your posts or pages. The exact positioning will vary by theme.
When you share your posts on other online channels, like Twitter or LinkedIn. If you set a featured image, these platforms will make it the thumbnail by default.
You might also see your featured images in other locations on your site, like image galleries, background images, or image sliders on your homepage.
Here's a basic example of featured images on a WordPress homepage using the Hever theme:
How to Set a Featured Image in WordPress
To add a unique custom featured image to a post or page on your WordPress site:
Open the editor for the post or page.
Click the gear icon in the top right corner to open the settings panel.
In the settings panel under the Post tab, select Featured image > Set featured image.
Upload your featured image or select one from your media library.
In the Alt Text field, add alternative text that describes your featured image. Informative, accurate alt text is a key step to optimizing your WordPress site's SEO.
Add a Title, Caption, and/or Description if desired.
Click Set featured image.
Back in the editor, click Preview to see your featured image in context.
You can replace or remove your featured image in your posts' settings, which are located under Post > Featured image.
WordPress Featured Image Size
A good starting point for your WordPress featured image size is 1200 x 628 pixels. These dimensions tend to work well across WordPress themes and page layouts, and also look good when shared on social media feeds.
Here's what a 1200-by-628-pixel featured image looks like in a post with the Twenty Twenty-One Theme:
However, the best featured image size for your specific site might vary depending on your theme layout and personal preference. For example, you may prefer a different aspect ratio (1200 x 628 translates to about a 16:8.4 aspect ratio). Or, you may want to tailor your featured image dimensions to look best on the social media platform you share content on the most.
Also, your theme's specific layout might default to WordPress' featured image dimensions or have their own dimensions. In most cases, it's possible to change your featured image size to your liking.
WordPress Thumbnail Sizes
WordPress thumbnails and featured images share a default size of 150 x 150 pixels.
This size is great for some users, but as with all other image resolutions, no single option is appropriate for all types of designs.
Thankfully, you can change the thumbnail size by going to Settings > Media > Image sizes > Thumbnail size and changing the width and height of your thumbnail.
WordPress Image Sizes Explained
Your image's size in pixels is as important as its file size. If the image size isn't right, it'll result in a blurry image, throw other page elements out of line, and leave users unsatisfied.
There are four predetermined image sizes in WordPress. These are:
Thumbnail size: 150 x150 pixels
Medium size: Maximum 300 x 300 pixels
Large size: Maximum 1024 x 1024 pixels
Full size: The original size of the image
WordPress Featured Image Sizes by Theme
Divi Featured Image Size
Divi has default layout settings. It has a content width of 1080 pixels and a gutter width of 3. We recommend that your images, including featured images, be at least as wide as the column they will be placed in.
The size of your featured image depends on the Divi Module. Here are some examples.
Blog module with full-width layout: The image width should be equal to the size of the column width.
Blog module with grid layout: The image width should be equal to the size of a single post column width.
Portfolio module: The image width should be equal to a single post column width.
Post title module: The image width should be equal to the column width.
X Theme Featured Image Size
X Theme is a highly responsive theme, which is why the featured image size is calculated based on the layout. Generally, an image size of 900 pixels (with any height) is suitable for desktop and mobile.
Here's what some of the featured images look like on X Theme's Gym demo.
Elementor Image Sizes
The featured image widget in Elementor is a theme element and is used to display the post's featured image dynamically.
You can change the featured image size by opening the Elementor drag-and-drop editor, clicking the Featured Image element, and selecting your preferred image size. Like in the WordPress media library, you can choose among several sizes:
Thumbnail size: 150 x150 pixels
Medium size: 300 x 300 pixels
Medium-Large size: 724 x auto pixels
Large size: 1024 x 1024 pixels
Full size: The original size of the image
How to Change Featured Image Size in WordPress
Altering the look of your featured images is a significant change to the appearance of your site, so let's take the process set-by-step. We also recommend testing these modifications on a WordPress staging site to hide any formatting errors from the public until you take your changes live.
1. Choose an image that represents the post.
The featured image is crucial because it's the first thing readers will see, and it sets the tone for the whole post. Furthermore, this image appears wherever your post appears, whether on social media, search pages, archives, and more.
Therefore, it's imperative to choose an image that represents your post. Consider such questions as:
Is it compelling?
Is the image relevant?
Is it high-quality?
Find out more about how to select the perfect image for your next blog post.
2. Ensure you have commercial rights to use the image.
Before you set a featured image in your next WordPress post, you should ensure that you have the commercial rights to use it. Not all images on the internet are free to use, and violating copyright laws can be costly and damage your reputation.
Images licensed under Creative Commons are free to use as long as they're correctly attributed. You can also find suitable stock photos from Unsplash, Getty, and other stock photo websites.
3. Understand WordPress image sizes.
To change the size of featured images on pages and posts, it's essential to get a handle on WordPress default image sizing.
When you add an image to your media library, WordPress automatically makes three copies of the original image in three dimensions:
Thumbnail size, cropped to 150x150 pixels by default.
Medium size, with a maximum width/height of 300 pixels by default.
Large size, with a maximum width/height of 1024 pixels by default.
These copies are created so the image can be used in different sections of your website without needing to resize the original image each time, which would decrease page performance.
For example, imagine uploading a 2000 x 1200 pixel image as a featured image. This relatively high resolution makes sense when placing the image full-width on the top of a post. However, it would be impractical to squeeze this large image into a smaller area, like an image gallery. That's why WordPress makes smaller versions of the same file.
While WordPress' image resizing is often helpful, the default sizes won't work perfectly for featured images on every WordPress site. For instance, your WordPress theme might require larger or smaller dimensions for your featured images in different places on your site. In this case, the theme might automatically overwrite the default WordPress image sizes.
Alternatively, you might want to adjust these dimensions manually. Again, this is easy to do in WordPress — let's learn how.
4. Change your featured image dimensions.
To change the sizes of your featured image, the first place you should look is your theme. Many themes add their own featured image dimensions to be used in place of the WordPress defaults. Check the options under the Appearance tab in your WordPress admin dashboard, and look for options to toggle the featured image size within your specific theme.
If no option exists in your theme settings, you can change the default featured image size in your WordPress settings.
To change the default images sizes in WordPress:
From the WordPress dashboard, select Settings > Media.
In the number fields next to Thumbnail size, input the desired dimensions for your featured images. (Note: WordPress uses the terms "thumbnail" and "featured image" interchangeably.)
6. Reformat your old featured images.
Default image sizes are only applied when you upload images to WordPress, so the new dimensions will only apply to images uploaded after you change these settings. To resize your old images to the latest specifications, re-upload them manually or use the Regenerate Thumbnails WordPress plugin to handle this for you.
When uploading new featured images from now on, size them at least as large as the featured image dimensions you've set to avoid blurry or warped photos.
Also, consider cropping featured images to the WordPress thumbnail dimensions before uploading to avoid issues with auto-cropping. But, again, some experimentation will probably be necessary here to achieve a good fit.
How to Optimize WordPress Featured Images for Search
You've got your featured image sizing sorted out, but we're not done just yet. Featured images have the potential to attract not only readers but search engines too. You just need the right alternative text and title.
Alt text serves two purposes:
It describes the image to those who might not view it clearly, including readers with visual disabilities and slow internet connections.
It helps search engines like Google list websites in results pages.
The chances of your content showing up in search results is higher if you use clear alt texts containing relevant keywords.
For example, the alternative text in this blog post is "two people sitting on a couch and using a computer to adjust WordPress featured image size." This description (1) tells the reader the contents of the image, and (2) includes essential keywords for this article that signal its relevance to Google.
Similarly, putting relevant keywords in the featured image title also helps search engines index your pages. For example, I've titled the featured image of this article "WordPress-featured-image-size" for this purpose.
Note that all non-decorative images on your website should have alternative text and descriptive titles, not just your featured images. To learn more about images and SEO, see our guide to optimizing images for Google Search.
Do your featured images size up?
For most WordPress websites, featured images are a no-brainer. They engage and inform your visitors, unify your brand, provide a professional look, boost SEO, and increase the overall value of your website for your leads and customers.
It might sound nit-picky, but the look, layout, and meta-details of your featured images matter a lot. A warped, blurry, or poorly formatted image suggests you haven't put enough work into what comes after it. How can you show the value of your content if you don't nail the first photo?
Editor's note: This post was originally published in July 2020 and has been updated for comprehensiveness.