Twitter was one of the first social media platforms I ever joined, but it wasn't nearly as fancy as it is today. Now, there are a variety of features you can use to take your ecommerce business to the next level.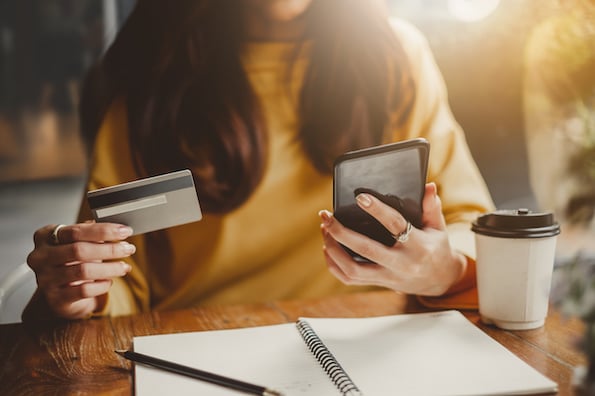 In fact, according to Twitter, its users are 2.7x more likely to purchase a product after seeing it on the platform. Partner with influencers and that purchase intent increases by 5.2x! Needless to say, Twitter can be a powerful marketing tool for your business, whether you're new to the platform or growing steadily.
Without further ado, let's walk through some strategies and examples to help you perfect your Twitter presence.
Twitter Ecommerce Marketing Strategies
1. Design an eye-catching profile.
To start, your Twitter profile should be optimized to make a great first impression and eventually generate sales. To do this, you'll need consistent branding across your profile layout, which means your cover photo and profile picture should be complementary and visually appealing.
The profile picture will likely be a picture of your logo or something that represents your business while the cover photo will further communicate your brand, mission, or message.
As for your bio, this section is like the elevator pitch of your business. Think of this section as another opportunity to spark interest in those who come across your profile. You can use keywords relevant to your business here for a more targeted approach. Also, don't forget to add a link to your ecommerce site so people know where to find your products!
Lastly, you can use the pinned tweet feature to keep a tweet at the top of your profile. This feature is great for emphasizing a message or promoting new products.
Here is an example of a well-optimized Twitter profile from Away, a travel & luggage ecommerce company:
Source
2. Engage with your fanbase.
What's great about Twitter is that it's made for 24/7 interactions and constant activity, whereas very frequent posting from brands on platforms such as Instagram and Facebook may feel disingenuous and spam-like.
This perk means you should always be interacting with your followers and fans. To do this, keep an eye out for your mentions (tweets including @yourusername) and respond to them. You can also retweet and favorite mentions to give a nod to these users.
Another way to engage with your fanbase is by sending interactive tweets. Question prompts or Twitter polls, tweets where you can create polls and see instant results, are perfect for this.
You can ask about topics related to your product or even something entertaining relevant to your industry. Polls are also another way to gather opinions, so there's some bonus market research! Here's an example of a poll that Old Spice included in one of their Tweets:
Are you Ultra Smooth or After Hours #SmellLikeYourOwnManMan

— Old Spice (@OldSpice) January 23, 2020
3. Grow your following.
Beyond your existing followers, it's also important to grow your audience to increase your brand awareness and attract more customers to your ecommerce store. From a technical standpoint, having more followers also allows you to distribute your content and get the word out about whatever it is you sell faster.
Garner new attention by participating in Twitter conversations relevant to your business. A strategic way to be part of the conversation on a large scale is by using trending Twitter hashtags. With trending hashtags in your tweets, you're tapping into an entirely new network of people who may find interest in what you have to offer.
On a smaller scale, you can reach new users by searching keywords relevant to your ecommerce business using Twitter's search function. You'll find conversations and questions about these keywords that you can offer some value in, which may lead someone to tap on your profile and give you a follow in return. You can go about this practice yourself, but here are some social listening tools to lend a hand.
To acknowledge new followers, set up your account with automated direct messages, which send new followers a customized message. Your message should be friendly, welcoming, and show appreciation for the new follow. An automated DM that feels sincere can begin a relationship and move a prospective customer forward in their buyer's journey.
4. Schedule your content.
With Twitter, the more active you are, the better. Having constant activity boosts your brand reputation and keeps your business top of mind for prospective customers, assuming your tweets are meaningful and speak to the audience. You can enlist a social media management tool to help you maintain your presence by scheduling your posts in advance.
There are also optimal posting times on Twitter you can take advantage of when scheduling your content. B2C companies experience higher clickthrough rates on weekends while B2B companies see more success on weekdays. B2C companies also find the best times to post in the day to be 8 to 10 a.m., 12 p.m., and 7-9 p.m.
Scheduling your content is also a great way to plan ahead for special occasions such as holidays and cultural events. Joining conversations regarding these topics is another opportunity to promote your ecommerce business, so think in advance of how you want to craft your message.
Though scheduling your content can make your workflow more efficient, it doesn't mean you can just schedule and forget. Twitter is a platform that is very much about the here and now as news and trending topics change by the hour. A mix of scheduled posts and live tweets are a perfect combination to grow your exposure.
5. Make the best of Twitter Ads.
Twitter offers a variety of ads depending on your objective. For ecommerce, the best types of ads are awareness and website click campaigns which promote your brand and generate conversions respectively.
For awareness ads, you will be billed for every 1,000 impressions and for website ads, you will be billed for every click to your website. You can also use remarketing in your ads to target people similar to those who have visited your website.
When creating ads, there are several tips to keep in mind for best performance. Twitter users crave short and sweet content, so keep your ads concise and to the point. You also want to make sure your ad copy is friendly, human, and approachable to match Twitter's conversational atmosphere.
Beyond text, visuals are also a helpful tool to use since images and videos can speak louder than words. They can also be a great way to provide better context for your audience. Below is an example from Daily Harvest of a website click campaign so you can see how all of these characteristics of an effective Twitter ad complement each other:
Skip the shopping, chopping, and prepping and stock your freezer with delicious, good-for-you food built on organic fruits and vegetables. Delivered & ready in minutes.
☑️$25 OFF your first order
☑️Plant-based
☑️Dairy-free & gluten-free

— Daily Harvest (@DlyHarvest) May 6, 2020
For a step-by-step outline on how to set up Twitter Ads, check out our simple guide.


Twitter Ecommerce Marketing Examples
Amassing 1.1million followers, Amazon's Alexa is a fan favorite on Twitter for its funny and conversational tweets. Just a look at Alexa's profile can provide a good idea of the account's personality.
Source
To break it down, the branding of this account is well done because the bio is written in such a human tone and is comparable to the typical Twitter bio of any other person. Additionally, its Twitter handle, @alexa99, is like what you would find of the average Twitter user handle, making the account much more relatable.
Alexa is also no stranger to sending polls and asking prompts to create engagement with its fans. Its prompts are also personal and lighthearted, so users who choose to share their opinions are happy to do so and feel like they are part of the conversation.
🎵
🎵
🎶
┏┓
┃┃╱╲ in
┃╱╱╲╲ this
╱╱╭╮╲╲ house
▔▏┗┛▕▔ we
╱▔▔▔▔▔▔▔▔▔▔╲
dance when Alexa plays music
╱╱┏┳┓╭╮┏┳┓ ╲╲
▔▏┗┻┛┃┃┗┻┛▕▔

What song are you asking DJ Alexa to play? 💬🎤

— Alexa (@alexa99) May 14, 2020
Source
Zappos is known for its phenomenal customer service, which certainly carries over to their Twitter. The Zappos Twitter account managers focus on social listening and reply to their mentions or relevant tweets almost every hour, allowing them to win over new fans and continue to impress loyal followers.
Below is an example of how Zappos uses social listening:
We will let you in on a secret... Santa works for us over summer because he's bored. *DO

— Zappos.com (@Zappos) June 22, 2020
Although Zappos was not directly mentioned with an "@," they were still quick to hop in and provide a solution for the potential customer. Zappos also put the cherry on top by providing a direct link to solve the customer's problem, accelerating the customer's buying process while standing out against its competitors.
Above is another example of Zappos keeping in touch with customers. They replied in a witty way and also retweeted the customer's mention. It may be easier to leave a satisfied customer be, but why not join the party and celebrate their satisfaction with them?
Source
Beyond celebrating customers, it's also important to show customers your values and your support for them. In light of the continuing Black Lives Matter movement, Warby Parker has used Twitter to show their stance through words and actions.
June 13, 2020
The above shows Warby Parker's statement on the Black Lives Matter movement. The company not only shows solidarity but has also gone beyond performative activism by sharing what actions they will take to tackle the issue.
As a business with influence and power, their allyship and support for anti-racism speaks volumes to their target audience and has the potential to dramatically improve their customer and employee relations.
Source
Right off the bat, Fenty Beauty differentiates itself by using a hashtag in its bio. This makes the brand easier to find for people who are searching for cruelty-free beauty products on the platform. However, if you choose to put hashtags in your Twitter bio, one is enough. Try not to flood your description with hashtags since it can be off-putting.
What the Fenty Beauty Twitter account does well while selling beauty & cosmetics products is show real use cases of their collection that other customers can relate to.
@rihanna's 👸🏽 back and she's showin us how she gets her lips lookin juicy using our new no-fuss #SLIPSHINE Sheer Shiny Lipsticks ✨


Check it out now at https://t.co/CPcjVbHVDr 💻 pic.twitter.com/PZkDAiRJxu

— Fenty Beauty (@fentybeauty) June 21, 2020
In the above example, Rihanna, founder of Fenty Beauty, shows a short demo of one of the company's lipsticks. This video is an effective way to reel in people who may be on the lookout for similar products. On top of that, video content on Twitter is a useful tool to cut through the text-focused platform and grab the attention of more potential customers.
For your ecommerce business, consider how you can show your audience why they should care about your product through your tweets. This could be in the form of video demonstrations or perhaps a before and after comparison.
Source
Chewy is an online one-stop-shop for all pet needs, from pups to lizards. Chewy's Twitter account lives up to its slogan and brings together pet owners of all kinds. Pet owners tweet at the account and, similarly to the previous accounts we reviewed, Chewy replies in a way that feels personal. Here's an example of what I mean by this:
Hey Teri, we'll always be here to help with anything and everything you may need. Losing a furbaby is never easy, but we hope the memories you two built together over the years can continue to bring comfort and warmth to your heart. We'll continue to be here for you, too. ❤️

— Chewy (@Chewy) June 24, 2020
In this customer interaction, Chewy was able to provide a solution while showing empathy, something customers often crave from businesses.
Chewy also takes advantage of their large Twitter following to promote their blog posts, which provide helpful information for the various types of pet owners their target audience includes. Their insights are relevant, valuable, and prove how much the company cares for pets and parents.
While we're all wishing for the return of afternoons spent at the dog park, it's important to ease your pet's reintegration into the outside world.

We hope you continue to find moments of comfort with your pet.
https://t.co/wuwvFtMBuD

— Chewy (@Chewy) May 23, 2020
Phew! That'll give you plenty to think about. If you want more examples of successful Twitter accounts, we've got you covered here. At the end of the day, Twitter is a top social media platform that can bring your business values and mission to life.
It's also a powerful marketing tool to tune into your audience, build relationships with your followers, and boost sales. For more detailed information on exactly how to raise brand awareness and increase sales on Twitter, see our ultimate guide to Twitter marketing.