Cooking is my favorite pastime. It's so much fun to find new recipes and learn about new ingredients. Plus, (usually) the results are delicious. Finding new recipes and ingredients is nothing short of delightful.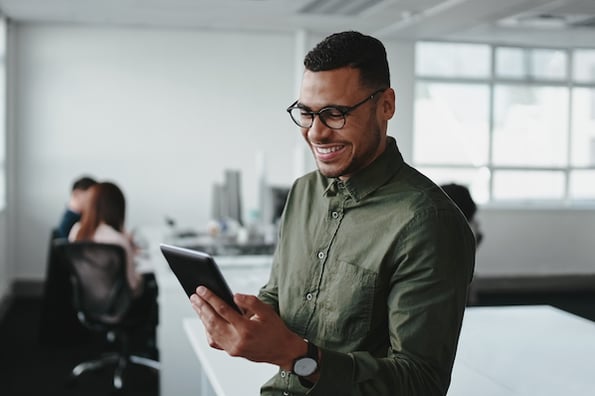 One meal I love to make is grilled cheese — but not just any ole' grilled cheese. Instead, I use plant-based ingredients and add two condiments: butter, and mayonnaise (trust me).
If I were making grilled cheese for me, I'd have to add some things. First, all of my ingredients have to be plant-based due to my dietary restrictions. Second, I'd add two more condiments: butter and mayonnaise (trust me).
On its own, cheese and bread is a great duo. But with a few additions, a nice duo becomes an excellent mix — one that I'm always excited to eat.
Like a perfect sandwich, every marketing structure calls for good strategies, or "ingredients," that make it great. Those "ingredients" are generally referred to as a marketing mix, and can be summed up in four categories: Product, pricing, placement, and promotion.
While the marketing mix describes the basics for product marketing, it doesn't have room for services marketing. That's where the extended marketing mix comes into play. And, just like my vegan grilled cheeses, a few additional changes can elevate your service marketing structure to the next level.
Here, let's dive into what extended marketing mix means, and how it can help
Extended Marketing Mix vs. Marketing Mix
The marketing mix pillars work together to help you make business decisions that'll define marketing strategy and activities. Identifying these pillars points out what you need, where your company excels, and where it can improve.
The four pillars of the original marketing mix are as follows:
Product — This is what your company sells.
Place — This identifies how you will sell the product to customers in their preferred way to shop. For instance, will you sell your product on a website, or in a brick-and-mortar shop?
Price — This determines how much money you need to sell your product for to hit revenue goals while remaining within price ranges determined by the industry at-large.
Promotion — This is where you flesh out the methods you use to engage customers. Promotion, selling, PR, sales, and ads are how businesses commonly communicate with their target market.
Notice how the marketing mix naturally works together. Products need a price, place to be sold, and promotions to reach an intended audience. Promotions need a product, price, and place to make that messaging effective. Ultimately, any way you look at the mix, you'll find how the other three fit.
On the other hand, the extended marketing mix is just that — an extension of the original pillars. Instead of just four components, there's an additional three. These three allow for a more complete, updated mix.
The extended marketing mix came along when marketers noticed the original was outdated and needed a few extra pillars. With the additions, the marketing mix now allows for services marketing.
We're committed to your privacy. HubSpot uses the information you provide to us to contact you about our relevant content, products, and services. You may unsubscribe from these communications at any time. For more information, check out our
Privacy Policy
.
What is the extended marketing mix?
The extended marketing mix describes three more P's added to the original four. People, processes, and physical services make room for services marketing and round out a complete marketing mix method. Marketers can use the extended marketing mix to flesh out a structure if their business sells a service instead of a physical product.
People — Describes the people behind the company. No matter the role, the people working with the product are as essential as customers. They advocate for the company and communicate the business' value to their customers.
Example: The baristas at my local coffee shop create an exceptional customer experience. Of course, the lattes are good, but my favorite barista greets me by name and knows my order, and that ultimately keeps me coming back. A company is only as good as the people behind the scenes.
Processes — Identifies how you will meet customer expectations. Outline what you will do to deliver a fantastic consumer experience every time. Consider creating standard operating procedures (SOPs) to solidify processes.
Example: Let's revisit the coffee shop scenario. Baristas have a recipe to follow when making various drinks that make sure the customer gets their order the way they expect.
Physical Evidence — Notes the physical elements needed to complete the mix. Even if a company provides services, there are physical aspects that companies use to delight customers and set themselves apart from competitors, like promotional materials.
Example: The coffee shop in my neighborhood thrives and defines itself with being a local business among the mass of coffee chains in my area. Everything is local — the beans, the mugs, and the decor comes from the Boston area — and that's how it's different from a massive chain.
The extended mix, like the original, works with the rest of the mix.
First, let's talk about how the three Ps can intertwine. People at your company have to follow the processes set in place, using physical evidence. We can also say the processes set in place define the role of people and physical evidence.
If we look at the both mixes, we see the same. Companies need the right people to execute promotion of the product or service. To put the connection between the mixes in a different way, the extended mix is a customer-facing toolkit for enhancing the marketing mix.
The extended marketing mix helps companies define their marketing strategy in a well-rounded system. Identifying each portion of the mix gets you one step closer to a functional, complete marketing plan.
Consider using the extended marketing mix to help you make business decisions that sets your company apart from competitors. For instance, fleshing out the tools needed for promotion involves coming up with an individualized marketing campaign audiences love.
Marketing mixes are considered a foundational part of any organization. If you are just starting to define a business plan, use this strategy to help with budgeting for marketing. The different elements of the mix helps figure out costs.
Every pillar, especially price and promotion, help you determine where to allocate your budget. For example, you have to determine a fair price for your product, and finalize how much you're willing to put towards other factors, such as promotion and physical evidence.
Now that you know a little more about the extended marketing mix, are you going to use it to figure out your next campaign's expenses? Remember, this strategy isn't just for start-ups. If you're struggling to define a successful strategy, identifying these pillars can be a helpful organizational tool.
Marketing mixes and their extension. Cheese and bread. Chai leaves and hot water. Duos are best when they work together — how are you going to make your marketing mixes work together for your company?