I have this little problem.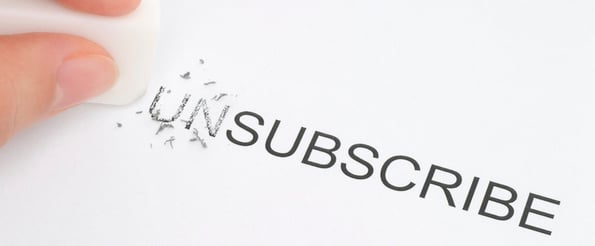 I'm subscribed to a LOT of newsletters — but many are inconsistent. Sometimes they write incredible content. Sometimes they suck.
But I don't want to unsubscribe just in case they publish something incredible. Regardless of whether each article is good or bad, they all have a similar trait …
Newsletters take up a MASSIVE amount of space in my inbox.

When trying to achieve the mythical inbox zero, having 27 newsletters a day in my inbox certainly doesn't help get there any faster. So I transformed my email system to help me:
Receive only ONE email that aggregates the best newsletters, instead of receiving 27 separate emails.

Unsubscribe from all the crappy, outdated newsletters I never read anymore, all from one screen.

Save great newsletters to read later when I'm bored, not when I'm focused on an important project.
I tend to have a SQUIRREL(!) brain (when a dog is doing something, sees a squirrel, and starts chasing it). In other words, I get distracted easily. With this super simple productivity change, I avoid such distractions, don't miss important information, and my inbox gets 27 fewer emails per day.
It's really easy and quick to implement, using two simple productivity tools called Unroll.me and Pocket.
Step 1: Use Unroll.me to unsubscribe from useless emails.
The first step to relieving my inbox from massive amounts of email is using Unroll.me to unsubscribe from all the newsletters I once subscribed to (or was automatically opted in), but don't want anymore.
First, create an account by entering your email address. If you're a Gmail user, it will ask for permission. Click Allow.
It will then start scanning your email, showing you how many subscriptions are linked to that email account.
Ashamed to say, I had a horrendous 223 emails I was subscribed to. (How does that happen!?)
You'll then see a screen that lists all of the subscriptions you have. Simply hit the Unsubscribe button for anything you don't want anymore.
Finally, I also believe in Brian Balfour's "two strike rule" for newsletters: If I receive a newsletter twice, and both times I didn't learn something valuable or new, I unsubscribe from it.
A big aggressive? Probably. But it works.
Step 2: Aggregate your favorite newsletters as a "Roll Up."
After you've purged your inbox from all the unnecessary subscriptions, use Unroll.me to create a "Roll Up" of your favorite subscriptions. Basically this puts all of your favorite newsletters into ONE email that you'll receive as a daily digest every day, instead of getting each newsletter as a unique slot in your inbox.
To set this up, simply go back to the screen that lists all of your subscriptions and click "Add to Rollup."
Those newsletters now skip your inbox and go straight into the "Roll Up" daily digest.
And BOOM — just like that — you'll get wayyyy less emails than you normally would. For me, it's about 27 fewer emails:
Step 3: When an email sounds interesting, use the hidden "Save to Pocket" feature.
After I get my daily "Roll Up" digest, there are some articles that sound interesting … and some that don't. When something sounds interesting, I'll save it to Pocket straight from my inbox.
If you don't have Pocket (a Google Chrome extension) yet, download it. After it's downloaded, you'll be able to right-click any link and see an option that says Save to Pocket.
After clicking that, it's automatically added to my Pocket. Now I'll read them later when I'm bored or have downtime. This helps my SQUIRREL(!) brain stay focused on important projects while keeping my inbox more in control.
According to research from University of California, Irvine, it takes an average of 25 minutes for our brains to re-focus after a distraction.
Thus, saving to Pocket helps avoid these disastrous black hole browsing distractions we get from newsletters. You know, when you say "oh I'll just read this now, it will only take a minute …."
Then 45 minutes later, you come to your senses as your three minutes into a strange video of cat puppets playing jazz music, asking yourself how in the hell you got here.
Once you set up this process:
You won't miss out on any awesome newsletters.

You'll receive much fewer emails.

You won't get distracted by newsletters, falling into the trap of "oh I'll just read this now, it will only take a second … "